One Comment
Weekend College Wrap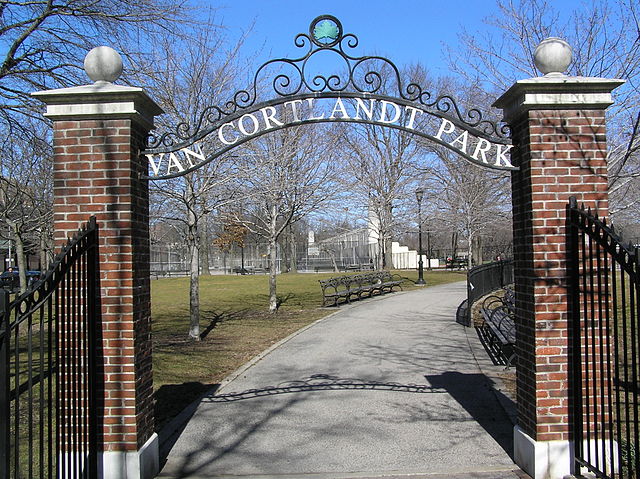 Jesse Squire | On 09, Sep 2013
Cross country races in New York's Van Cortlandt Park started in 1913. The 2013 season has already begun.
The biggest news in college cross country this week had nothing to do with actual race results. This isn't exactly surprising given that we're still in what amounts to the pre-season; not until September 27th will any meet results count towards at-large qualifying for the NCAA Championships. But it would still qualify as big news even during the midst of the season.
On Thursday, Oregon announced that Eric Jenkins has transferred from Northeastern. He comes in as a junior and will have two seasons of eligibility remaining in both cross country and track. At least on paper, this immediately makes the Ducks a threat to any team in the nation save Oklahoma State.
Who is Jenkins, you ask? In terms of cross country accomplishments, he doesn't have much to point to. He redshirted last fall and was 67th at the 2011 NCAA championships. On the track, though, he's shown tremendous speed. He first gained wide notice by finishing a surprising second in the 3000 meters at the 2013 NCAA Indoor Championships before being disqualified for interference. He followed that up with a blazing 13:18.57 for 5000 meters in April–which makes him the tenth-fastest collegian of all time, and it was the fastest time ever run by an American under the age of 22. He didn't do so well at the NCAA Outdoor Championships, finishing just tenth, but he's a obviously a big-time talent.
The timing of the transfer is a little strange. Rumors started swirling a few days before the official announcement, and Northeastern already had his name on their 2013 roster at TFRRS.org. In high school, Jenkins broke all kinds of New Hampshire records but still didn't get wide notice given PRs of 4:15.10 for 1600 meters and 8:53.10 for 3k. No one is ignoring him now.
Oregon also added some transfers on the women's side: Lindsey Crevoiserat and Julia Zrinyi, both from Connecticut, and Samantha Murphy from Illinois. Murphy, an 800 meter specialist, will be a big addition for track, while Crevoiserat and Zrinyi have cross country experience at the NCAA level (Crevoiserat was 42nd last year). These transfers help the Ducks and the possibility of a national championship defense just got better.
What about Arkansas? The Razorbacks used to own men's college cross country (and track too), but they've been just one of many good teams in the last few years. Last year's squad finished tenth, tieing the Hogs' best result since 2006. No doubt the retirement of legendary coach John McDonnell had something to do with it, as successor Chris Bucknam has recreated the program away from endurance and towards power and technique, but the Hogs were already on a slight downswing in McDonnell's last years. Remember that Arkansas dominated NCAA cross country from the late 80s through 2000, when US distance running was at its lowest point since the 1950s. Is it possible that the rest of the country simply caught up?
In any case, the Hogs are a team to watch this year. Winning the national title is a long shot (a true statement for every men's team but Oklahoma State) and even a top-four podium finish at the NCAAs might be a tall order. But they looked good on Friday while winning a triangular against Missouri and Missouri Southern, with Stanley Kebenei and Kemoy Campbell taking a comfortable 1-2 finish. This was Kebenei's first NCAA cross country race after dominating the junior college ranks, and Campbell was 17th at last year's meet. Top ten is a good goal for the Razorbacks–and if they can get to ninth, it would be the best result since the second-to-last year of McDonnell's long tenure.
Awards
Men's Team of the Week: Portland Pilots
Portland, ranked 8th in the latest coaches poll, knocked off #12 Oregon at Portland State's Viking Classic. It's early and it has little to no meaning, because no nationals qualifying points were on the line and because both squads held back many of their top runners. But these are local rivals with seriously unequal resources, and you take any win you can get.
Women's Team of the Week: Oregon Ducks
Currently third in the coaches' poll, Oregon went 1-2-4-5 against Portland, Portland State and Oregon State at the Viking Classic while holding out most of their top runners.
Men's 1-2 Punch: Arkansas' Stanley Kebenei and Kemoy Campbell (see above) finished less than a second apart but ten seconds clear of the field in their triangular against Missouri and Missouri Southern.
Women's 1-2 Punch: William and Mary's Elaina Balouris and Emily Stites both broke the 2-mile course record at Richmond's Alumni Open. They are the 6th and 14th returning runners from last fall's NCAA Championships.
Course of the Week: Lamb's Creek
One of the wonderful things about cross country is that every course is different, and that diversity should be celebrated. This week's course is Lamb's Creek, the home course for D-II Mansfield University of Pennsylvania. The dedicated cross country facility is part of the Lamb's Creek Recreation Area near Tioga Lake. According to GoMounties.com, "[t]he flat, spectator friendly course is 99% grass and features a running lane of 18 feet throughout the entire run. 60% of a race can be viewed from a single location." It hosted this weekend's Flatland Invitational and the 2009 D-II Atlantic regional.
Comeback: Molly Grabill, Oregon
Grabill finished second at Portland State's Viking Classic, her first race back after a protracted absence. Last fall, she was in a car crash when a large rock was thrown off an interstate overpass, went through her windshield, and hit her in the face. Grabill lost control of the car and it rolled on the highway shoulder, and she suffered a broken jaw and facial lacerations and was hospitalized for two days. She sat out the 2013 track season, but she's back and running now.
New Course: Miami
For decades the Redhawks ran home meets through the western portion of the Oxford, Ohio campus, but construction created a need for a new course. This weekend's meet inaugurated the new course and Miami made it an alumni event, with a ribbon-cutting ceremony and more. One of the alumni holding the ribbon was Bob Schul, history's only American Olympic champion at 5000 meters.
A Busy Season Begins
The 100th anniversary of cross country racing at Van Cortlandt Park is already underway, and two college meets were held there this weekend: invitationals hosted by D-I Fordham University and D-III Baruch College. There's no way to know for sure, but it seems likely that more people have run a cross country race at Van Cortlandt than at any other course in the world.