No Comments
The Monday Morning Run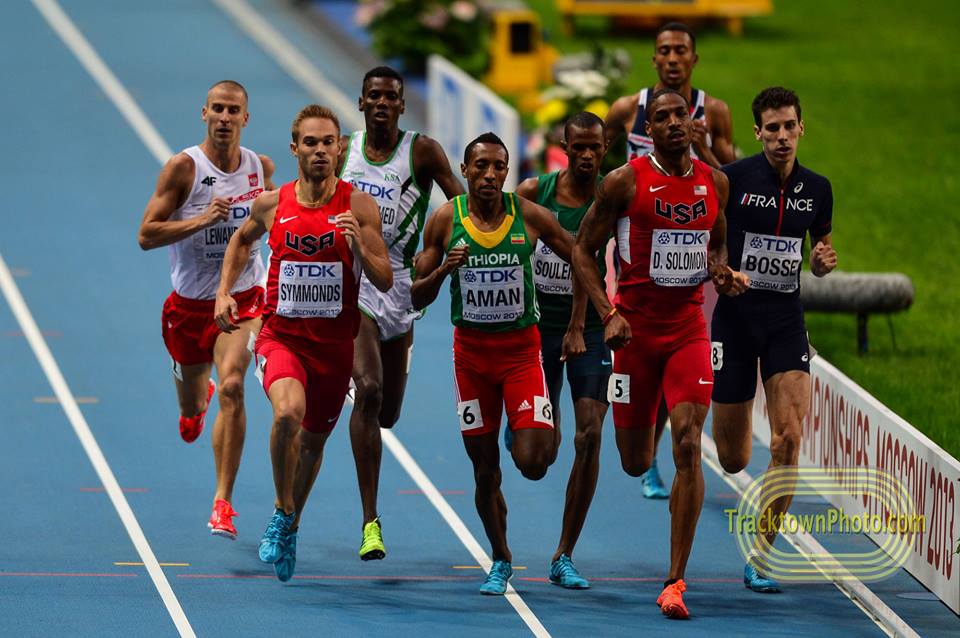 Kevin Sully | On 09, Sep 2013
Photo courtesy of TrackTownPhoto
The Diamond League officially concluded last Friday with the Belgacome Memorial Van Damme Memorialmeet in Brussels. I'm sure there will be a random meet in Denmark or Italy next week, but is terms of major competitions, the 2013 track season is wrap. We start the Morning Run in Brussels before we look ahead to the fall marathon season and then even farther in the future to the 2020 Olympics in Tokyo.
Brussels
-Most of the blame for the collision in the women's 1500 will go the large field size. 17 runners is an awfully big number, but the slow pace was also responsible for the crash that took out several runners including Jenny Simpson. After an opening 400 of 64-seconds, the pace lagged and the leaders went 69 and then 68 creating a huge group at the bell. Abeba Aregawi stayed on her feet and went on to win the race in 4:05.41. Simpson, soldiered on after the fall and finished 10th in 4:10.70. Video of the race below. GIF of the fall here.
-Just prior to the meet, there were rumblings that this race was an American record attempt for Galen Rupp. However, Bernard Lagat's 12:53 was never under serious threat as the pace wasn't nearly quick enough. Yenew Alamirew took the win in 12:58, Lagat finished second and Rupp faded to fifth after leading at the bell. Evan Jager set a huge personal best of 13:02 to finish eight. When Rupp outkicked Lagat in the 5,000 at the Olympic Trials it was thought to be a changing of the guard moment. Since then, Lagat hasn't gone quietly. He has bested Rupp several times since then including the US and World Championships this year.
-Mohammad Aman won again in Brussels with the fastest time in the world this year–a Rudisha-less year, but Aman still walks away with a World Championship and a Diamond League title. Nick Symmonds ran the second best time of his life and placed second. After an extremely successful 2013, Symmonds will now turn his attention to the American record in 2014.
-Last week, I made the case why Zuzana Hejnova should/could win women's athlete of the year. That argument was in vain because it is clear that Shelly-Ann Fraser-Pryce will run away with the honor. It is hard enough for a hurdler (or a shot putter in the case of Valerie Adams) to outshine a sprinter. When you look at Fraser-Pryce's season that task becomes next to impossible. In Brussels, she flirted with her personal best and eviscerated the field–winning in 10.72. Her three golds in Moscow were good enough, but her consistent performances throughout the season in both the 100 and 200 put her over the top.
-It was another close women's 400, although this time it didn't quite come down to a lean. Natasha Hastings surprised Amantle Montsho to win 50.36 to 50.41. Add up the margins of all of Montsho's losses this year and you have a very low number.  Hastings strategy is this race was interesting. She got out to characteristic fast start, but once she made up the stagger on Christine Ohuruogu she seemed content to stayed by her side around the final curve.  From there, Hastings took off and made her final push to the finish.
-Oh yeah, Usain Bolt won again. The bigger Bolt news was his announcement that he might retire after the 2016 Olympics. The best type of retirement announcement is a retirement announcement made three years in advance. Nick Zaccardi recaps all of the other highlights from the Bolt press conference.
Rieti
Two stars that missed the World Championships this year ended their season on a high note on the fast track of Rieti. How quick is Rieti? A brief look shows that Nesta Carter and Ryan Bailey both ran their personal bests there and Asafa Powell's second fastest time ever comes from the 2007 edition of the meet.
In a surprising late season performance, the injury plagued Walter Dix ran 9.99 for a big win. He also raced in the only camouflaged bodysuit in existence.
An even bigger story was the reemergence of South Africa's Caster Semenya in the women's 800. Semenya, who didn't even qualify for the World Championships ran 1:58.92 and won by almost half a second.
Full Rieti results here.
Fall Marathons
Two of three major fall marathons announced their fields recently. Patrick Makau, Wilson Kipsang and Florence Kiplagat headline the Berlin Marathon, while Chicago counters with Tsegaye Kebede, Moses Mosop, Emmanuel Mutai and Rita Jeptoo. Since these two races are only two weeks apart, let's see how they match-up against one another.
Chance for a World Record:
Berlin has the better time trialers and the faster course. Kebede set a course record in Chicago last year, but I don't think they will get the pace they need in the first half to be anywhere near the world record. Berlin always has a plethora of rabbits and the competition often comes secondary to the quick time. No chance for a women's world record in either field.
Advantage: Berlin
Better men's field:
After Wilson Kipsang and Patrick Makau, Berlin's next fastest are Geoffrey Kipsang and Eliud Kipchoge. Both are relatively new to the distance, so we may see a big breakthrough from one of them. The rabbits will grind the pace down to the point where there may only be two in contention in the final 10 kilometers.  Chicago has four men with personal bests under 2:05 and two others that have broken 2:06. Throw in half-marathon world record holder Zersenay Tadese and there are at least seven men who can win the race.
Advantage: Chicago
Better women's field:
Chicago features a rematch of last year's nail biter with Atsede Baysa and Rita Jeptoo facing off again. The margin was only one second last year and Jeptoo looked great winning the Boston Marathon in April. After Baysa and Jeptoo, five other women have broken 2:25, but none have had a stand out performance yet. Florence Kiplagat and Sharon Cherop are the biggest names in the women's field in Berlin. Helah Kiprop will make her marathon debut. You had me at Kiprop.
Advantage: Push
Better American men's field:
Dathan Ritzenhein will look to build on his track season and get another personal best on the Chicago course. Matt Tegenkamp will make his marathon debut and certainly has the credentials in the shorter distances to indicate that he could run well under 2:10.
Are any American men running Berlin?
Advantage: Chicago
Better American women's field:
It is rare for an elite American to run a fall marathon somewhere other than Chicago or New York. That is why Desiree Davila's decision to race Berlin is so intriguing. She didn't finish the Olympic marathon, but is wasn't too long ago that she finished second in Boston and almost made history for the United States. If healthy, this will probably be her best chance at a fast time.
None of the American women entered in Chicago have a personal best under 2:29
Advantage: Berlin
Watchability:
I'm assuming that both will have the same online streaming options. Thus, I'll go strictly off time zones.
Advantage: Chicago
Tokyo 2020
By now, everyone is well aware that Tokyo was awarded the 2020 Summer Olympics. A few track related subplots:
-Opting for the tradition finish, the marathon course will reportedly begin and end at the National Stadium in Tokyo. In 2012, London chose a more scenic route, which meant the Olympic stadium was not included. For my money, the leading runner emerging from the bowels of the stadium is one of the most exciting moments in running. Glad there will be a finish on the track.
-American distance running fans will remember Tokyo as the site of two monumental/incredible/ridiculous/are you sure Wikipedia isn't lying to me….results from the 1964 Olympics. In those Games, Bob Schul won the 5,000 and Billy Mills shocked the field and took gold in the 10,000 and caused the greatest announcer freak out in track and field history. LOOK AT MILLS LOOK AT MILLS!! Americans are as close as they ever have been to wining medals in those two events, but recapturing the magic of '64 isn't likely unless the United States annexes Kenya and Ethiopia in the next seven years.
-Who will carry the hopes, and the burden, for Japan in the track and field competition? The results are mixed when reviewing other "hopes of nation" athletes. Cathy Freeman somehow managed to keep calm and pulled off a thrilling gold in the 400 in Sydney. In 2004, Ekaterini Thanou and Kostas Kenteris had the world's most inconvenient motorcycle accident that happened to coincide with a drug test. However, Greece still won eight medals in track and field that summer. Liu Xiang's Achilles tendon didn't cooperate in Beijing and his painful exit in the hurdles made every nation sympathetic. Which bring us to last summer in London. Jessica Ennis and Mo Farah could fairly be considered co-"hopes of the nation" on the track. They both delivered.
For 2020, (I know we are skipping 2016, at this point I have no idea who Brazil will pin their hopes on, Fabiana Murer?), a safe bet is on a marathoner. Since the 1992 Olympics, Japan has won eight track and field medals. Of those eight, five come from the marathon, including two gold medals in the women's marathon. Japan's success in the marathon and half-marathon is well documented. Now that they are hosting the Games, will more of their top runners take a chance at the track? Japan has only one medal in the 5,000 and 10,000 from the Olympics or World Championships.
Outside of the distance races, two other runners could be primed for 2020. Yoshihide Kiryu 10.01 will be 24-years-old in 2020. This year, at the age of 17, he ran 10.01 in April. The time was disallowed due to an invalid wind gauge, but Kiryu did gain valuable experience later in the summer when he competed in the World Championships. In Moscow, he ran 10.31 and didn't advance out of the heats. With that time, Kiryu looks more in line with his counterparts from other countries. The fastest American high school time in 2013 was 10.27 by Trayvon Bromell.
Takahiro Matsumoto could also still be a factor in 2020. Last year he was second in the World Junior Championships and in 2011 he was third in the World Youth Championships. He will be 26 in 2020.
If none these options work, Japan could always trot out Koji Murofushi. The hammer throwers two medals account for 25% of the country's all-time total. At 45 years of age, he would have experience on his side.
Other News
-Both Asafa Powell and Sherone Simpson's B sample tested positive.
-Jesse Squire recaps the week in NCAA cross country including Oregon landing a big name transfer.
–Mary Cain appeared on the Fox Sports1 program "Crowd Goes Wild" where she was tasked with answering trivia questions while she ran on a treadmill. Her opponent in this game was a male member of the cast who immediately lost all credibility when he began running in a collared shirt.
Much has been made of Mary Cain's poise this season, her first year racing against professionals. However, this might have been her best performance yet. A recap:
The segment begins. Cain is walking on treadmill, listening to the explanation of the rules. Her opponent, wearing the aforementioned collared shirt and fake hair enters. The host (not Regis Philbin) says the question will be high school level and the speed of treadmill will be 12 miles per hour.
First question to Mary:
Host: What is the center of an atom called?
Cain: (while looking down, perhaps trying to increase the speed) Nucleus
Host: AU is the name for which element on the periodic table?
Running comfortably now
Cain: Gold
Treadmill begins to slow down. Treadmill stops. Regis does nothing. Mary Cain has outrun the FS1 exercise equipment. The female host proceeds anyway.
Host: Who painted "Starry Night"?
Cain: (Looks down at treadmill) It stopped. Oh, Van Gogh. (no hesitation).
Pushes buttons on the treadmill while shuffling her feet. (Veteran move, don't want to be caught flat-footed if the machine restarts again.)
Cain: Yeah, mine stopped.
Finally gives up and continues jogging in place. Opponent flies off the back of his treadmill. Game is over. Cain wins. Regis wonders why he left morning talk show for this.