No Comments
The Weekend's Best Matchups: Indoor Gets Into Third Gear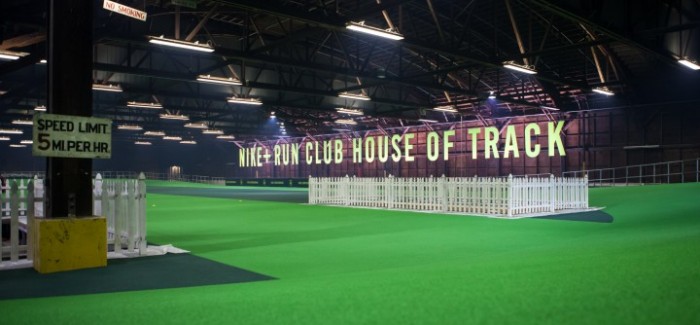 Jesse Squire | On 05, Feb 2016
Indoor track is gaining speed as we get closer and closer to the World Indoor Championships in Portland.
Last week I said the indoor season was getting into second gear. This week it's in third gear, and that's where you really feel the acceleration. The pros are ramping things up and there are some great races lined up for this weekend.
Often I break the top competitions down into chronological order, and this week they come from a small number of meets. The first of them is the last shake-out for the track that the world's best will run on in March.
TrackTown USA High Performance IV
Friday night beginning at 5:30pm local time (8:30pm ET)
House of Track, Portland OR
Meet website
Little by little, the four weekly high-performance meets held in this downtown Portland warehouse have attracted more and more talent. Times listed below are Pacific, so add three hours for Eastern time.
7:00pm: Men's 3000 meters, Lalang vs Centro
Star miler Matt Centrowitz will go head-to-head with Lawi Lalang, the umpteen-time NCAA champion when he was at Arizona. There is no shortage of talent in this race: milers Pat Casey and Ben Blankenship, roadie Stephen Sambu, and Canadian long-distance ace Cam Levins plus many more.
8:15pm: Men's 400 meters, Loxsom vs quarter-milers
800 meter specialist Cas Loxsom is scheduled for a 400/1500 double and is going up against some tough 400 stars, such as Mike Berry and hurdler Jeshua Anderson.
8:50pm: Men's 800 meters, Wheating vs comeback
Andrew Wheating first made waves eight years ago at the Olympic Trials, and has been up and down quite a bit since then. Too much of his tremendous talent has fallen to injury. Two weeks ago on this same track he ran well enough to bring hope that he's coming around. He faces good half-milers such as Harun Abda and Tyler Mulder, but the reality is that he's racing something much bigger than them.
9:15pm: Women's 60 meters: Felix vs Gardner vs Prandini
This is the race of the night. Allyson Felix is one of the biggest names in track and field, but 60 meters is an awfully short distance for her. English Gardner and Jenna Prandini were the NCAA 100 meter champs for Oregon in 2015 and 2013 and they might be the USA next big sprint stars.
9:27pm: Women's 800, Lipsey vs Rowbury
Shannon Rowbury is dropping down from her typical 1500 meter distance, while Lipsey is an 800 specialist.
Army vs Navy
Saturday at 11:00am (men) and 2:30pm (women)
Wesley A. Brown Field House, Annapolis MD
Meet info
If you're like me and you think Army-Navy is THE best college football game of the year, then this meet is worth your time. No other dual meet rivalry is this intense or as important to the competitors as Army-Navy.
Armory Track Invitational
Friday and Saturday, almost literally all day; pro races from 1:30 to 3:00
Armory Track and Field Center, New York City
USATF.tv webcast from 1:00pm
Meet website
This is one of those indoor meets that runs all damn day, but the feature races are scheduled into a very tight time frame. So you can watch the webcast without it eating up your whole afternoon. These are the best races on the schedule.
1:50pm: Men's 800 meters, Robby Andrews vs Robby Andrews
Robby Andrews is the most exciting middle-distance runner around. His late-race charges from behind are amazing, but sometimes he can't quite make it happen.
2:02pm: Women's 800, Wilson vs Roesler
Ajee Wilson and Laura Roesler are the future of this event for the USA. Wilson had a hot start last year and was close to the best in the world until a midsummer fade, while Roesler lost most of last year to injury.
2:07pm: Women's 3000, Hall vs Tully
Nicole Tully and Marielle Hall were first and second at last year's USATF championships 5000 meters. Jordan Hasay and Canada's Jessica O'Connell add considerable depth to the race.
2:19pm: Men's mile, Hunter vs sub-4
Virginia high schooler Drew Hunter ran a stunning 7:59.33 for 3000 meters last week, a new national high school record, either indoors or out. The hype is that he's chasing the rare high school sub-4:00 mile and I don't think it's just bluster.
Meyo Invitational
Invitational sections on Saturday from 2:00pm to 4:30pm (Eastern time)
Loftus Sports Center, South Bend IN
Live webcast via Flotrack (subscription required)
Meet website
This is one of my favorite college meets. While it is one of those ridiculously long all-day meets, the "invitational sections" are held in a tight 2½-hour window. The PA announcer is one of the best in the business and the college kids come out to the meet and get crazy.
2:40pm: Women's Meyo Mile, O'Connor vs Sifuentes
New pro Leah O'Connor and Canadian veteran Nicole Sifuentes are probably the best milers entered in the meet's featured race—and they are alumni of rivals Michigan State and Michigan. The Meyo Mile is one of the great traditions in college track; the fans come onto the track to push the runners through a tunnel of cacophony.
3:10pm: Women's 3000, Finn vs Seidel
While the Meyo Miles are the most fun, this is the best race of the meet. The home crowd will be pulling hard for the Fighting Irish's Molly Seidel, the NCAA cross country champion, and Erin Finn runs for archrival Michigan.
Indoor Meeting Karlsruhe
Saturday beginning at 7:00pm local time (1:00pm ET)
Dm-Arena, Karlsruhe GER
Meet website
Webcast info
This meet kicks off the IAAF World Indoor Tour, and there are five matchups I'm following.
1:21pm ET: Men's pole vault, Barber vs Holzdeppe vs Lavillenie
Shawn Barber (Canada) and Raphael Holzdeppe (Germany) are the top two vaulters of the early indoor season, but Renaud Lavillenie (France) is still the world record holder and the man everyone watches.
2:42pm: Men's 800, Sowinski vs Kszczot
Adam Kszczot (Poland) is the best half-miler in the race, but Erik Sowinskis (USA) is a great indoor runner.
2:59pm: Men's 60 meters, Collins vs Rodgers
Kim Collins (St. Kitt's & Nevis) is an ageless wonder at 40 years old, while Mike Rodgers is a former world indoor champion.
3:09pm: Women's 60 meters, Schippers vs Asher-Smith
Dafne Schippers (Holland) won the World Championships 200 meters last year and is a good 60 runner as well. She goes up against Dina Asher-Smith, who set the British 100 meter record last summer.
3:21pm: Men's 3000 meters, Ndiku vs Alamirew vs Choge
This is a rematch of Wednesday's race in Dusseldorf, where Augustine Choge (Kenya) beat Caleb Ndiku (Kenya) and Yenew Alamirew (Ethiopia), all three running the year's three best times.
USATF Cross Country Championships
Saturday from 9:00am local time (Noon ET)
Rivers Edge Golf Course, Bend OR
USATF.tv webcast from 3:00pm ET
Meet website
Next week's Olympic Trials marathon has cut down the entries quite a bit, but these are still good races. Times are local, add three hours for Eastern time.
1:20pm: Women's senior race, Van Alstine vs Mattie Suver
Amy Van Alstine (Norther Arizona Elite/Hoka One One) is the favorite, based on her win at December's USATF Club Cross Country Championships. She should have a good battle with Mattie Suver (American Distance Project/Asics), who has been 26th and 34th at the World Cross Country Championships. I see the men's race (2:10pm PT/5:10pm ET) as a wide open contest between Craig Lutz, Christo Landry, Cameron Marantz, and Donnie Cowart.