No Comments
The Weekend's Best Matchups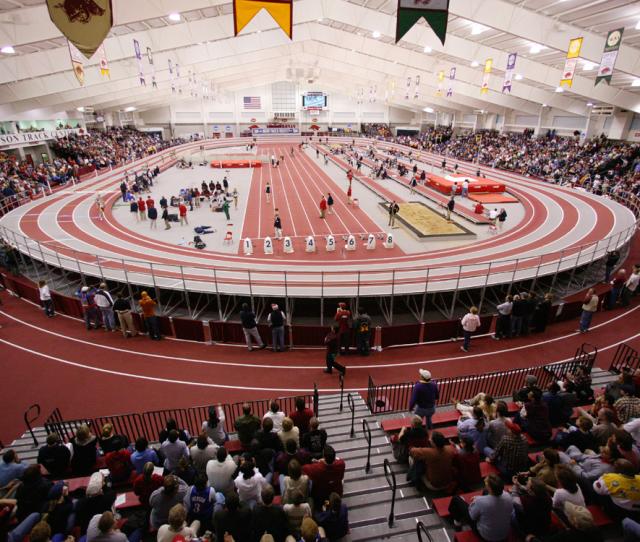 College track gets a classic #1 vs #2 showdown this weekend in Fayetteville.
Instead of trying to rank these matchups as I often do, I'll instead put them in chronological order.
Arkansas vs Florida
Razorback Invitational
Randal Tyson Track Center, Fayetteville, Arkansas
Friday and Saturday
Meet website | Live results | Webcast link
Arkansas and Florida are the #1 and #2 men's teams in the latest USTFCCCA ratings, and unlike many college track meets this one will have a champion. As if that isn't enough, #5 Texas A&M and #6 Florida State will be competing as well. The individual races will be hot, so many that you should just read the USTFCCA's meet preview.
Megan Goethals vs Emma Bates
Women's Invitational 5000 meters, UW Invitational
Dempsey Indoor, Seattle, Washington
Friday, 5:40pm local time (8:40pm ET)
Meet website | Webcast link | Meet preview
Goethals and Bates are two of the best college distance runners not named Abbey D'Agostino. Bates had a breakout cross country season, finishing runner-up at the NCAA Championships, while Goethals missed the season with injury. Last spring, though, Goethals ran a great 5k/10k double at the NCAAs, finishing 5th and 4th in the two events. In the longer race she is the second-best athlete returning for the 2014 season, behind–guess who–Emma Bates.
Army vs Navy
Wesley A. Brown Field House, Annapolis, Maryland
Saturday, 11:00am
These two teams are not championship contenders, nor are any of their athletes. But you simply will not find a more intense meet in all of college track. Winning against Army or Navy is the single highest athletic honor that can be earned at either of these military academies, better than being an All-American or national champion. The Army-Navy dual meet series can claim alumni such as Buzz Aldrin and Jimmy Carter (in cross country), and it was the subject of a lengthy Running Times article two years ago.
Ryan Whiting vs David Storl
Men's shot put, Weltklasse in Karlsruhe
Europahalle, Karlsruhe, Germany
Saturday, 6:46pm local time (12:46pm ET)
Meet website | Webcast link
Storl was the upset winner at last year's Worlds over Whiting, who was the year's dominant shot putter for pretty much the rest of the season. Storl is already off to a good start, with a couple of competitions over the 21 meter mark and wins against top European fields. This will be Whiting's season opener. This is the weekend's only competition matching up the world's undisputed #1 and #2 athletes.
Bernard Lagat vs Yenew Alamirew
Men's 3000 meters, Weltklasse in Karlsruhe
Europahalle, Karlsruhe, Germany
Saturday, 8:19pm local time (2:19pm ET)
Alamirew was the new find of the indoor season a few years back and hasn't progressed much since then, but he's still a dangerous runner and one of the best in the world. Lagat isn't quite what he used to be either, but he's also still a contender in virtually every international race. This could be a partial preview of the World Indoor Championship final.
Lawi Lalang vs Chris Solinsky
Men's Invitational 3000 meters, UW Invitational
Dempsey Indoor, Seattle, Washington
Saturday, 4:10pm local time (7:10pm ET)
This is the tale of two athletes on the mend. It has been nearly four years since Solinsky's breakout season, when he was the first American under 27:00 for 10k and followed it up with a sub-13:00 in the 5k. Injury in 2011 sidelined him for much of the next year and it's been a long comeback road ever since. Lalang is one of the greatest college runners of all time, but he also missed last fall's cross country season due to injury.
Emma Bates vs Alexa Efraimson
Women's Invitational 3000 meters, UW Invitational
Dempsey Indoor, Seattle, Washington
Saturday, 4:35pm local time (7:35pm ET)
Like I said above, Bates was runner-up at the NCAA cross country championships. In fact, the only other time she was beaten all season was at Oregon's Bill Dellinger Invitational, when she was outkicked by high schooler Efraimson. So this is a rematch. Ephraimson is still just sixteen years old and is already the third-fastest US high schooler of all time at 1500 meters, behind only Mary Cain and Jordan Hasay.
A.G. Kruger vs Enekwechi Chukwuebuka
Men's elite weight throw, Findlay Open
Robert A. Malcolm Athletic Center, Findlay, Ohio
Saturday, 7:45pm
This competition will line up some of the best men's weight throwers in the USA: American record holder Kruger, 2014 US and collegiate leader Chukwuebuka (Purdue), D-II leader Justin Welch (Findlay), and D-III leader Sean Donnelly (Mt. Union). Half of the USA's top throwers this year will be competing. Chukwuebuka's best marks this year are better than all but one of Kruger's competitions last year, so he probably comes in as the favorite despite Kruger's status as a three-time USA champion in the event.
The meet will also include an elite women's weight throw (6:00pm), featuring collegiate leader Dani Bunch (Purdue), plust elite shot put competitions for women (3:45pm) and men (5:15pm).
Silke Spiegelburg vs Fabiana Murer
Women's pole vault, Russian Winter
CSKA Arena, Moscow, Russia
Sunday, 5:00pm local time (8:00am ET)
Meet website | Webcast link
With the recent news that world record holder Yelena Isinbayeva is pregnant, these are the two best pole vaulters outside of North America. Murer hasn't yet begun her season and Spiegelburg has only one meet under her belt, so it's hard to tell exactly whether they'll battle it out for the win–especially since the field includes two more vaulters ranked in the All-Athletics top ten (Anastasiya Savchenko and Nikoleta Kyriakopoulou).
Natasha Hastings vs Francena McCorory
Women's 800 meters, Russian Winter
CSKA Arena, Moscow, Russia
Sunday, 6:25pm local time (9:25am ET)
Hastings and McCorory are probably the two best American quarter-milers right now, and they certainly are the two best who are taking the indoor season seriously and maybe the two best in the world. If so, this is a preview of the finals at both the USA and World Indoor Championships.
Mohammed Aman vs. the clock
Men's 600 meters, Russian Winter
CSKA Arena, Moscow, Russia
Sunday, 6:45pm local time (9:45am ET)
There are a few other competitors of some note entered (Poland's Adam Kszczot, US record holder Erik Sowinski) but Aman, the World 800 meter champion, shouldn't be pushed. His only competition is the world indoor record, 1:15.12 by Germany's Nico Motchebon in 1999.