4 Comments
The Monday Morning: Yelp reviews for 2015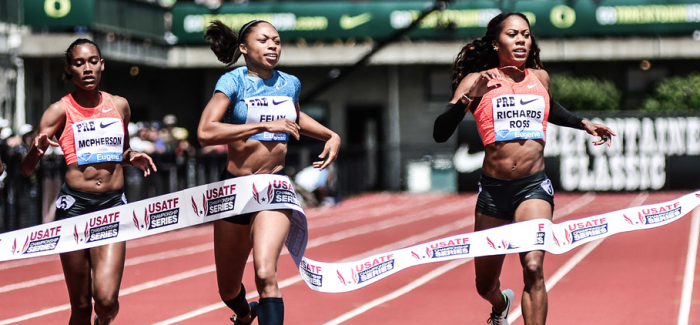 Kevin Sully | On 28, Dec 2015
In the last installment of The Monday Morning Run of 2015, my House of Run co-host Jason and I mashed up two things we love–track and field and Yelp–to review athlete's seasons. We only covered 10 topics, so feel free to leave more in the comments section if you have the desire to compare runners to restaurants. It does promise to be the most useless list of all the end-of-year recaps you will read on the internet. Enjoy!
Usain Bolt
I went to Bolt's because I've been hearing about it for the past eight years. We finally got around to trying it in 2015. People said they changed the chef recently so it's not the same as it used to be, but we had to give it a shot anyway. I mean, it's still Bolt's, right? So my gf and I went one day to check it out.
First off, the ambiance was impressive, very fancy, a lot of awards all over the walls and even some stuffed pumas. But that's when the problems started….the wait took forever as there were only five tables in the restaurant. FIVE! The waiter would go stretches where we wouldn't see or hear from him for what felt like weeks.
The entree, to put it nicely, was horrendous. I don't know if it's because it was overdone or because of expectations, but nothing lived up to the hype. Just meh.
We had completely given up hope, but decided to order dessert just to get the taste of the rest of the meal out of our mouths. I mean, it couldn't get anymore bleh, right? Then something incredible happened!
My god I don't know how they did the dessert, but it was amazing. It came completely out of nowhere. I mean there's no way a rational person could have thought this dessert could have come from the same restaurant that produced the rest of the meal. Based on this alone, I'm going to try the location in Rio next year.

Allyson Felix
It's actually two restaurants in one location (wine bar and a full service restaurant), but due to some stupid health code thing only one is allowed to operate at a time. Crazy, I know. I found this out when my party of 10 showed up and realized that only the wine bar was open…super bummer:::(((((((( Hopefully this gets fixed by next year cause then you are looking at deliciousness on a whole 'nother level.
Anyway, the wine bar was fantastic. Smooth, efficient and hit all the notes. Could they handle two locations? Absolutely, they just need to be given a chance.

Genzebe Dibaba
After major success with Tirunesh's a couple of years ago, the Dibaba family has opened a second location called Genzebe's that some people say is even better than the original. As a devotee of Tirunesh's, I found this hard to believe. There were just so many must haves on that menu.
Come to find out, there are actually some differences between the two. First off, where Tirunesh's was known for large portions in a sit down meal, Genzebe's is a tapas style menu that will actually leave you wondering what dish she does best. Personally, I had to go two or three times before I settled on what I was confident in telling others was go-to order. The service is unbelievably fast–record breaking even. Everything you taste will leave you wanting more and it will make you wonder what kind of miracles she could work with other types of food. One of the best restaurant experiences of my life.

Ashton Eaton
Only open with the full menu once, maybe twice per year. The limited hours and seasonal menu mean you only get it at it's best in the late summer. On the flip side, everything is good on the menu. EVERYTHING.
There's nothing they can't do. Omelettes. Fajitas. Sandwiches. I heard a rumor that the chef cooked so hard in February that he almost lit his New York kitchen on fire. His own flame was so powerful, even he couldn't harness it. Hope he's ok.

Nick Symmonds
In dispute with the city over a zoning ordinance. Has yet to reopen. Will review again next year, hope it's open when I go back.
Eliud Kipchoge
I was so used to places like this coming and going in this neighborhood. A great spot pops up, is the "in spot" for a few years only to be replaced by something even better. Makau's, Mosop's, Mutai's (both locations)….rinse repeat, all awesome and all no longer around.
Here's what was different about Kipchoge's. When I went I almost felt like they were adding a degree of difficulty to prove how good they were. Let me explain–my cousin and I (he's from out of town and is a big time foodie) were halfway through our meal when the power went out in the kitchen. I was skeptical at first when our waiter said this because come on a place this popular can't figure out how to keep the power on? Seemed like something that happens at a rookie restaurant.
Anyway, we talked to the group at the table next to us and they said it was true. No power. We all expected this to put the kibosh on the meal. Instead, they kept on churning out the dishes, without missing a beat. Then, the lights went out in the dining room, meaning the power was out in the whole restaurant!!!! We stuck around mostly out of curiosity to see what would happen. To our surprise, the wait staff and the cooks kept chugging along somehow and were serving food at the same level as if it were a normal night!!!
When I left, I didn't know how to categorize the meal. Best I ever had? No. Best without the benefit of all the required equipment working? Definitely.

Jessica Ennis-Hill
Back and just as good as before. Critics have been harsh, which comes when you are located in that part of town. KJT's is cooking up the same stuff down the street, but it's not quite there yet. Both will be fighting for the same customers next year.

David Rudisha
Old stalwart, been coming to this place since 2010. A bit more inconsistent than in the past….the wait staff was a little slower than I remember and our table had to send one of our starters back because it was cold. The style is distinct though so that's a plus. In short, not as good as before, still better than the rest.

Justin Gatlin
After Gatlin's amazing first restaurant was closed down due to illegal food additives (if you don't know the story look up the SALCO scandal–the controversy that involved salad dressings and ruined the reputation of a bunch of chefs) many thought he was out of the business for good. But after four years, he started popping up in food trucks and smaller restaurants hoping to get another shot. He scored a head chef gig in 2014 and after very consistent and promising reviews, he reopened his own restaurant in 2015.
And it wasn't without controversy, some folks will always think the good food is a little too good….especially that garlic bread. I tried to give Gatlin's the benefit of the doubt and went in on a Friday. It was super packed (turns out everyone is interested in this place) and the atmosphere in the restaurant was great. The potential was there and the build-up was immense.  BUT……..the presentation was mess on the signature dish, which definitely took away from the experience.  I'll give it another chance next year, maybe it will fare better when it doesn't have as much attention.  


Russia
(The Yelp page of Russia has been taken down after allegations of payoffs for positive reviews. Yelp takes the integrity of its service seriously and is vigorously investigating these claims.)