One Comment
The Monday Morning Run: World Championships Preview Quiz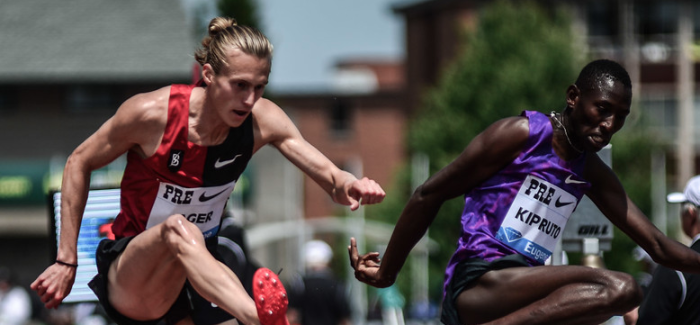 Kevin Sully | On 17, Aug 2015
To help you look back on the season thus far, and get ready for the World Championships, a brief quiz. But not just any quiz, one that you would have completely failed if you took it at the beginning of the year. Not included are questions regarding how many doping scandals will crop up during the final month before the World Championship, or what will cause Nick Symmonds to miss the meet entirely.
Enjoy!
1) The reaction to Usain Bolt running 9.87 in late July will be…..
a) Apathy
b) Disappointment
c) Optimism
d) Rage
When Bolt logged back-to-back 9.87s at the London Diamond League there was universal excitement throughout the track and field world. That kind of time in July from Bolt (in a championship year nonetheless) should have fallen somewhere between a yawn and concern. But after a year of struggles from Bolt, including a brief moment when it looked like he may not even finish the season because of issues with his back, a sub-10 was enough to provide some optimism that he can get into the 9.7s and challenge Justin Gatlin.
Alas, this is where we are in the men's 100m.
9.87 off an abbreviated schedule is still fast–fast enough to close the gap between him and Justin Gatlin to a respectable distance. Unless something dramatic happens in the next five days, track has backed up into the dream match-up that has been brewing the last two years.
Bolt is a little slower than expected and Gatlin a bit faster, but that should only maximize the drama. If their seasons were reversed, the result wouldn't be in doubt. Bolt's championship success would magnify the gap, not shrink it. Instead, it's Gatlin who is the clubhouse leader.
Since Bolt's 9.87, both men have rested their respective cases. Gatlin enters the World Championships with a win streak that dates back to 2013 and a season punctuated with times in the 9.7s. Bolt counters with his long legacy and pretty much just those 9.87s in London. He also carries the brunt of the pressure. That's commonplace for him, but having the expectations of a favorite with the credentials of an underdog is a position he's never been in before. Because it's Gatlin he's up against, Bolt isn't just racing Gatlin for gold. He's thrust into the role of guardian of the sport. Even Seb Coe said that Bolt needs to come through in Beijing, not because he wants to see him win a race, but because of the feared calamity of a Gatlin victory. Bolt's role has been distilled down to that of a defender. Win the race, good….beat Gatlin…even better.
All that is overblown, of course. A Gatlin victory won't spell the demise of track and field. It creates an uncomfortable headline and takes attention away from the most iconic athlete the sport has, but it also generates even more for a potential interest in a Bolt response in 2016. If track is worried about losing fans, having the villain win isn't the worst outcome.
2) Other than Shelly-Ann Fraser-Pryce, Jamaica's best chance for a gold medal is….
a) Usain Bolt
b) Yohan Blake
c) Asafa Powell
d) Elaine Thompson
Blake isn't racing, Bolt is 50/50 at best to beat Gatlin and Asafa Powell would need some magic he's never had before to get atop the podium. The best chance falls to Thompson, someone you'd never heard of before this year. She's entered in just the 200m–an event that the best runners have fled from en masse. Allyson Felix, Tori Bowie, Shaunae Miller all aren't running the event. Shelly-Ann Fraser-Pryce has a wildcard entry, but has said repeatedly that she has no interest in the 200m. No, she doesn't want your free lunch coupons either.
That leaves Thompson, Dafne Schippers and the three Americans as the most likely candidates for the medals. One of those Americans, Candyce McGrone, has the best time of the year behind Felix, 22.08. Schippers has clocked a 22.09 and Thompson, 22.10. Thompson has the fastest 100m season best of that group, a 10.84 in the "B" heat at the Prefontaine Classic.
Jamaica will need the help from Thompson in these championships. Aside from Fraser-Pryce, all of their other medal options are up in the air. Sure, Bolt could win gold, but it's also conceivable that he drops out of the top three. Who knows how he will run in the 200?
Jamaica's men's 4 x 100 team looks to be a step below the US this year. Unless they drop the baton, I don't see how a team of Gatlin, Tyson Gay, Mike Rodgers and Trayvon Bromell loses in Beijing. The women's 4 x 100 for Jamaica might have a better chance, but they don't have much depth behind Fraser-Pryce and Thompson.
The attention is still at the top, so if Fraser-Pryce and Bolt run well then there won't be much concern over the health of Jamaica's sprint empire. But these championships aren't shaping up to be their best. I don't think that has long-term repercussions. Jamaica's youth sprint system is still incredibly deep and will see a bit of bounce when the first generation of athletes who grew up watching Usain Bolt and Shelly-Ann Fraser-Pryce gets older. In the short-term, any issues with the medal total in Beijing will have to do with Bolt and Veronica Campbell-Brown's decline and the concurrent struggles of younger runners like Warren Weir and Yohan Blake.
3) The top rival for Kirani James in the men's 400m is……
a) Lashawn Merritt
b) Wayde Van Niekerk
c) Deon Lendore
d) Tony McQuay
Since 2011, the best head-to-head rivalry on the track has been Merritt and James in the 400. At the beginning of the year, that didn't seem likely to change. James was still in his prime and Merritt looked robotically program to run 44 seconds 10 times a year for the next decade. James has held up his end, getting off to a quick start and only losing once on the season so far. Merritt has struggled. He lost his US title to David Verburg and is tied for sixth on the yearly list of best marks. All season long Merritt had the wild card to Beijing in his backpocket and maybe that slowed his preparations and we are going to see a revitalized and refreshed Merritt at the World Championships. That would stand as his only reasonable shot at gold.
Meanwhile, Van Niekerk has been the revelation of the season across men's sprinting. He gave James his lone loss of the season and did it in a meet that mattered, the Paris Diamond League where he ran 43.96. 10 days after Paris, Van Niekerk ran 19.94 in the 200m joining a very short list of men who have broken 44 in the 400m and 20 in the 200m.
James hasn't been seen on the Diamond League circuit since the loss in Paris. When he shows up in Beijing it will feel like an entire season has passed. Van Niekerk ran, and won, the 400m in London so there is at least some assurance that he isn't a one month wonder. With a longer than usual layoff between the last Diamond League meet and the beginning of the World Championships, it's tough to forecast who will have an advantage. Will it give Merritt and James time to regroup? Does Van Niekerk turn into a ball of nerves during the layoff, or will it allow him more time to widen his gap?
4) Which events will Allyson Felix run at the World Championships?
a) 200m, 4 x 100, 4 x 400
b) 400m, 4 x 100, 4 x 400
c) 200m, 400m, 4 x 400
d) 200m, 400m, 4 x 100
Ok, you might have got this right, but there were plenty of indications throughout the year that she wouldn't run the 400m. There were also very brief moments when the 200/400 double looked possible. Most of the those times centered on a two-week period when Felix and coach made conflicting statements on the feasibility of running the 200m semifinal and the 400m final on the same day (thus making Felix and Bobby Kersee the millionth sprinter/coach pair to disagree about how hard running a 400m really is).
We aren't getting C or D from above, which would have been the preferable choices for all of us who don't actually have to run two races in an hour. But her ultimate decision, B, is much better than if she went with the 200m again.
In this season, the 200m in this season would have been too easy for Felix. The 400m at least adds a degree of difficulty.
Felix trying to conquer the 400m is a compelling story, but it will be one of many. A possible individual double, including the additional relay medals, would have made her the story of the World Championships. The 200/400m is riskier than a Genzebe Dibaba double (particularly if Felix had to race Fraser-Pryce in the 200m), less controversial than Justin Gatlin and more challenging than Mo Farah winning the 5,000m and 10,000m several days apart. Short of a world record, Felix's performances in the 200/400 could have owned these championships.
Enough of what's not happening…..Instead, Felix gets her second chance at a major 400m title. The last time she ran a championship 400m she was so close–losing by a few tenths to Amantle Montsho. I think she wins gold this year and when she does we can already set our sights on schedule change for the 2016 Olympics.
5) The world leaders will be missing from which events?
a) Women's 200m
b) Women's 400m
c) Women's 200m, women's 400m
d) Women's 200m, women's 400m and women's 110m hurdles
We are .02 seconds away from the world leader in all three from above watching the race from the sideline. Felix leads the world in the 200m and is running the 400m. Francena McCorory didn't make the team in the 400m. Sharika Nelvis leads the world in the 100m hurdles (12.34) and will run in Beijing, but Jasmine Stowers missed making the team despite her season best of 12.35.
In the 200 and 400, it goes beyond just the top of the list. Two of the top three fastest woman of the year won't be in the 400m and the 200m is pretty depleted as I mentioned above.
The Felix shuffle made this scenario probable, but I don't think anyone had Francena McCorory and Sanya Richards-Ross off the team regardless of what Felix did. That women's 400m looked like the easiest to predict entering the US Championships.
6) Entering the World Championships, the world leader in the men's 800m comes from which country?
a) Kenya
b) Ethiopia
c) Botswana
d) Bosnia and Herzegovina
Come on down, Amel Tuka…… Bosnia's new star has the fastest time in the year, a 1:42.51 in Monaco. That was the fastest 800m of the year and even though it didn't include David Rudisha, all of the other main players were there. Nijel Amos, Ayanleh Souleiman, Ferguson Rotich and Mohammad Aman all finished behind a man who didn't break 1:46 until this year. That victory alone might be enough to see Tuka as a contender for gold, or at the very least a lock for a medal. And he would be that except we know so little about him.
Before this year, his best mark was 1:46. Other than the race in Monaco, his next best times this season are 1:43.84 and 1:44.19. Good, but by themselves not enough to put him ahead of Aman, David Rudisha and all the other experienced half-milers.
The 800m is already a race of wildcards. Historically, it's best runners span multiple continents and employ every strategy imaginable. There is no one way to win an 800m race and there is no prototype of a runner that takes hom gold. This season, it's even more mysterious without Rudisha reigning over the event. It gets more convoluted with someone like Tuka who has equal chance winning the gold medal as he does flaming out in the preliminary rounds. The easy call is to stick with the person who has won the most major races that year.
This season, that's Amos. His approach to the race has been simple. Find David Rudisha's shoulder and stay behind it for 700 meters. If Rudisha isn't there, Amos locates whoever wants to lead and repeats the same process.
Of all the ways to lose, that has to be the most infuriating. But Rudisha looks powerless to stop it. He's tried running away from Amos post-2012 Olympics and it hasn't worked. Barring a significant jump in fitness, Rudisha's prospects hinge on Amos making a tactical mistake or someone else disrupting the race (Tuka?) so that a bit of chaos ensues.
The weird part of that option is that Rudisha thrived in calm and controlled races from 2010 through 2012. The typical 800m theatrics didn't exist for those three years when he was present. Rudisha squeezed all the drama and potential for chaos out of the race with a 50-second first lap and then squeezed some more. Rudisha leading a race was the same thing as saying Rudisha was going to win the race. It didn't take long for him to get to the front and shape the race in his image, often towing others along to fast times.
It will be much more complicated in Beijing.
7) Kenya and Trinidad & Tobago have the top two marks in which event?
a) None, you're crazy
b) 4 x 400
c) Some sort of sprint/distance biathlon thing?
d) Men's javelin
Julius Yego and Keshorn Walcott sit atop the javelin world with both men logging 90-meter throws this season. Neither men represent javelin powerhouses. Walcott is the 2012 Olympic champion and Yego was fourth at the last World Championships. Tero Pitkamaki of Finland and Vitezslav Vesely of the Czech Republic have racked up numerous big wins on the season, but it is only Yego and Walcott who have broken 90-meters in 2015.
This is what is cool about track and field–countries with divergent strengths in track and field can cross paths in an event that nobody associates with either. And that's my promotion for the javelin….
8) Mutaz Essa Barshim will _________ before the World Championships?
a) Break the world record
b) Run the table
c) Be beaten only by Bohdan Bondarenko
d) Lose multiple Diamond League meets
Barshim is reeling heading into these championships after making earlier exits at several Diamond League meets. He looked great early in the season, but since his 2.41m clearance at the Prefontaine Classic in June, he's been sliding backwards. The big jumps aren't there and neither are the wins. And Barshim's not just losing Bohdan Bondarenko, who was supposed to be the Dan to Barshim's Dave this year. Jacorian Duffield, Marco Fassionatti, Gianmarco Tamberi all have taken down Barshim. Those aren't household names in the high jump.
Before the year, Barshim was main opponent was the ghost of Javier Sotomayor and, occasionally, Bondarenko. Sotomayor's world record now takes a back seat to winning gold in Beijing. But if it's troubling that a bunch of different people have beaten him, the good news is that no one person has stepped forward as the clear main rival. It's been defeat by committee for Barshim.
Bondarenko's best jump of the year is 2.37m. He's been mostly absent from the Diamond League. Guowei Zhang was runner-up to Barshim at the Prefontaine Classic and has jumps of 2.38m and 2.36m. Fassionatti and Tamberi have cleared 2.33m and 2.37m respectively. I'm still sticking with Barshim, but it looks like any one of six or seven men can win a competition that was supposed to only have two possible outcomes.
9) Which event does the United States have the best chance for a gold medal?
a) Men's steeplechase
b) Men's 1500m
c) Men's 400m
d) Women's 1500m
The US is strong across the aboard in Beijing. I only count two running events where I would be surprised if they won a medal–the men's 800m and women's 5000m. Of course they aren't going to hit in every event, but they have a strong possibility to get someone on the podium in the other 20 individual events and four relays.
Here is each event's best hope for a medal. Some have more depth than others, but there is at least one in virtually every event.
100m- Justin Gatlin
200m- Justin Gatlin
400m-David Verburg/Lashawn Merritt
800m-???
1500m- Matthew Centrowitz
5000m- Ryan Hill/Galen Rupp
10,000m- Galen Rupp
110H- David Oliver
400H- Bershawn Jackson
3000m steeplechase- Evan Jager
100m- Tori Bowie
200m- Jenna Prandini/Candyce McGrone
400m-Allyson Felix
800m-Alysia Montano
1500m- Jenny Simpson/Shannon Rowbury
5000m- ????
10,000m- Molly Huddle
100H- Dawn Harper Nelson
400H- Shamier Little
3000m steeplechase- Emma Coburn
Back to the question at hand. If I ranked these choices at the beginning of the year I would have said men's 400 first (because of the historic success of the US in the event and Merritt looked no worse than second), the women's 1500m second (unpredictable event, but two of the top five runners in the world), the men's 1500m third and finally, the men's steeplechase.
Now, when it comes to gold I think the listen gets flipped almost completely on its head. Evan Jager's domination pre-stumble in Paris was enough to make me believe he can win the whole thing. If he stayed on his feet in Paris, he's two seconds better than everyone else on the year and is the clear favorite entering the World Championships. I was optimistic about Jager's chances at the beginning of the year, but I thought top three was more realistic than gold.
The other three events have gone the other way. Genzebe Dibaba entering the women's 1500m makes it close to unwinnable unless she spots the field a 50m lead. Asbel Kiprop has looked mighty good his last two times out and as much as I shouldn't doubt Centrowitz in a championship, beating Kiprop, Ayanleh Souleiman, Silas Kiplagat and everyone else in the men's 1500m is a tough task.
And is Verburg or Merritt the best American in the 400m? That battle may ultimately settle bronze not gold as Kirani James, Wayde Van Niekerk, Steven Gardiner, Machel Cedenio could push the US out of the medals entirely. That's right, the US has a better chance for gold in the men's steeplechase than the men's 400m. The circle of track……..
10) The most intriguing World Championships double will be…..
a) Mo Farah
b) Genzebe Dibaba
c) Usain Bolt
d) Justin Gatlin
If Felix was an option, it's Felix (see question #4). She's not on the board so I think the choice another fairly uncommon double, Genzebe Dibaba in the 1500m/5000m. Farah's been superb this year, but he's doing something we've already seen before. Ditto with Bolt and Gatlin, though their battle will get the most attention from the mass audience.
Dibaba cast off the 1500m earlier in the year with eyes on the 5000m. Quickly, that appeared to be the correct decision. She spooked the world record on three occasions and also completely obliterated her closest rival, Almaz Ayana. At that point, the women's 5000m looked all but settled and perhaps that's when Dibaba also began looking at adding another race. What use is great fitness if you are only going to use it to win one gold medal?
She didn't need any races to acclimate to the shorter distance. In short succession there was a 3:54 in Barcelona that made you think she could scare the world record and then a 3:50 in Monaco that made you kick yourself for being so circumspect about her chances.
Dibaba's world record run of 3:50.07 is the performance of the year. It was also enough to convince that her that she maybe/probably/definitely has a shot at the World Championships 1500m.
The drama is a front-loaded in Beijing. The 1500m with its quirks and eccentricities is the harder test even though Dibaba is the world record holder and ran 6 seconds faster than any other woman this season. She gets to tackle that race first and if she wins there the 5000m should fall in line unless Ayana is able to take advantage of tired legs.
Remember it is Ayana, not Dibaba, who is the world leader in the 5000m. Dibaba's wicked kick turned their only race against each other this year into a blowout, but Ayana is going to be able to make Dibaba use all of her talent to beat her. In any other year, Ayana's greatness results in a gold medal. This year, it will probably only be used to help showcase how incredible Dibaba is.