2 Comments
The Monday Morning Run: Triple jumping to history, Gatlin puts pressure on Bolt, Ayana 3rd all-time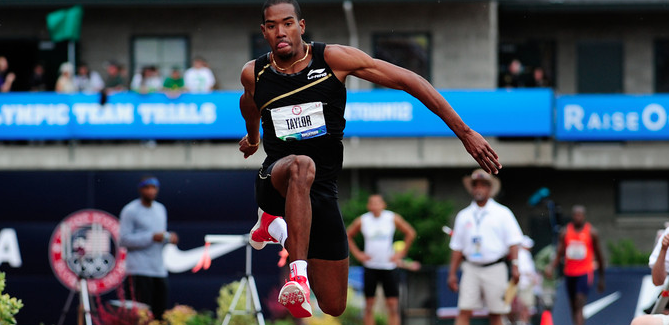 Kevin Sully | On 18, May 2015
The track weekend got off to a stormy start when lightning and rain caused the cancellation of the Hoka One One Mid-Distance Classic. As a resident of Los Angeles, where the meet was held, I feel partly responsible for the poor weather. The forecast all week called for hail and dark clouds, but I had my doubts it would materialize.
Unfortunately, it was spot on and Los Angeles picked a great time for its once every five year thunderstorm. The cancellation meant no 5,000s and it also cut the final two heats of the men's 1,500.
The first flash of lightning was followed an uncomfortably short few seconds later by a rumble of thunder. That prompted the first delay. Throughout the next eighty minutes there were plans to resume the meet, but the bad weather never relented. Occidental College, the host of the meet, had graduation that weekend so postponing the meet and hosting it at the same site was out of the question. It certainly could have been rescheduled for a time later in the summer, but the whole purpose of the meet is to run fast times right now, so delaying it wouldn't serve a purpose.
Luckily, the rest of the weekend went much smoother in the track and field world. Here's a look back at the some of the highlights from Los Angeles, Doha and Shanghai.
The Medalists
The top three performance of the week
Gold: Men's triple jump
In track and field, the events that are the least relatable are sometimes the most fun to watch. Running is great. We all can appreciate it because we've done it in some form or fashion. But something like the triple jump or high jump is so different from our normal everyday movements that it's jarring when you see it at its highest level. Take the men's triple jump competition from Doha.
By marks, it was the best ever. Pedro Pablo Pichardo and Christian Taylor both jumped over 18 meters and posted the third and fifth best jumps of all-time. Pichardo's moment came in the third round when he jumped 18.06. Taylor waited until his final jump to join the 18 meter club with a mark of 18.04. That club had three members entering the competition in Doha. Now it has five.
These are just numbers though and don't convey how extraordinary these two men were on Friday. Here is Taylor…..
And here's Pichardo. Check out the third phase of his jump. He hangs in the air like Michael Jordan over Craig Ehlo.
Silver: Justin Gatlin
Gatlin flew to a personal best of 9.74 in the 100 at Doha. The warm weather, the tailwind of +.9 and a phenomenal drive phase helped Gatlin eviscerate Asafa Powell's world lead and move him into a tie for the ninth fastest mark ever in the 100 meters.
Gatlin's run puts pressure on Usain Bolt–real, actual pressure for the first time since Bolt came to prominence in 2008. The Olympics/World Championships test the nerves of every athlete, even the heavy favorites, but there was never really a doubt in any of Bolt's races that he would win as long as he didn't false start or fall down.
That's now changed.
Because of public perception, Gatlin has the benefit of still being the underdog, while actually being the faster runner. All this is, of course, predicated on Bolt and Gatlin staying roughly where they are currently. Plenty can happen in the next few months and you only need to go back to the last championship year, 2013, to see proof of that. The three person match-up between Bolt, Tyson Gay and Yohan Blake turned into a vintage track disappointment with Gay getting busted for doping and Blake ending his season with injury.
For this year, I'm extremely curious how Bolt will respond because we've never seen him in this position. The perception about him is that he always does enough to win. Assuming Gatlin stays healthy, that will mean a time in the 9.6s or low 9.7s. I'm not sure he still has that gear. He's broken 9.70 three times in his career, but hasn't done it since 2012. Gatlin looks like the younger of the two and doesn't appear tired from his undefeated 2014 season.
This also spells trouble for Bolt in the 200. Gatlin's finish at the World Relays was very fast, but difficult to quantify. Through the lens of the 9.74, the relay leg looks even better. His 200 meter potential right now is scary. He is also only .06 seconds away from the American record in the 100.
All of this brings us to the former doper's paradox, explained succinctly here by Tim Layden of Sports Illustrated.
Justin Gatlin can't win. Run slow: It's because he's not doping anymore. Run fast: It's because he is doping again. Issue will not go away.

— Tim Layden (@SITimLayden) May 16, 2015
Bronze: Almaz Ayana
Just as it looked like Genzebe Dibaba was going to coast to 5,000 meter gold, and possibly set a world record along the way, Ayana popped up and ran 14:14.32 in Shanghai. That is the third fastest mark all-time and puts her just over three seconds back of Tirunesh Dibaba's world record from 2008.
Ayana's race on Sunday was a carbon copy of the races Dibaba has been running– a solo run from the front, huge margin of victory (14:40 was second place) and a blazing fast time. Dibaba didn't race in Shanghai, but did run 14:18 this winter on a track that requires twice as much turning. I'm sure when she put that time on the board she didn't anticipate anyone being close to her this year, at least when it came to the time trial style of racing that she is especially comfortable with.
When Dibaba and Ayana do face off, the competition from each other will provide the needed company over the five laps to push one of them to a world record. Or, they will avoid each other all summer and run a tactical 15:10 at the World Championships. I'm hoping for the former and preparing myself for the latter.
Surging……
-Jasmine Stowers
12.40, 12.39 and now 12.35 for Stowers in the 100 hurdles. It all appears so effortless for her. Maybe it's her height or her smooth technique, but there looks like there is virtually no work being done to clear the barriers. In Doha, she beat a field that will probably be better than one she will face at the World Championships. Sally Pearson, Dawn Harper Nelson, Queen Harrison and Tiffany Porter were all there. Stowers still won by about two tenths of a second.
Now the attention turns to records and wondering how long Stowers can hold this form throughout the summer. Her season so far looks an awful lot like Brianna Rollins's American record/gold medal summer of 2013.
Rollins was still in college that year and she tore through the first part of the season and set the American record in late June. After a layoff, she was still great in Europe and at the World Championships, but her fastest times were from June. Stowers is a year out of college and doesn't need to worry about conference championships or the NCAA meet. Theoretically, she won't need to take break after USAs and can keep dropping time all the way to the World Championships.
-Allyson Felix 21.98
Here's Felix spending 200 meters being much better than her competition.
She ran 21.98. With Shelly-Ann Fraser-Pryce and Veronica Campbell-Brown middling, there aren't many that will be in the same frame as Felix in the 200 this season. If there was ever a year for the 200/400 double, this is it.
-Hagos Gebrhiwet
Nobody followed the rabbits in the men's 3,000 in Doha so a fast time was out of the question. There was still a large group at the bell with Mo Farah in good position. It was Gebrhiwet who popped out of the pack and made a move with 150 meters remaining. Farah couldn't quite catch him despite working really hard over the last 100 meters to close the gap. Gebrhiwet last lap was 54 seconds.
None of that shouldn't overshadow his best accomplishment of the evening–a truly world class flower toss. Fast forward to 9:35 on the video below to see Gebrhiwet chuck the bouquet with nice height and distance all while never breaking stride.
-Women's 400
Even without Felix, this event has been fun. Sanya Richards-Ross and Francena McCorory have met three times and there have been three different results and three different types of races. Their latest meeting in Doha saw McCorory lay off the pace early and catch Richards-Ross in the last 100 meters, winning in 50.21.
That was the complete opposite strategy in Kingston when McCorory had a sizable lead coming off the final curve only to falter badly down the homestretch.
-Bershawn Jackson
Doha marked Jackson's fourth win of 2015 and the continuation of his undefeated season. He came back on Javier Culson after an eventual third 100 meters and pulled away to win in 48.09. That time bumps collegian Michael Stiegler off the top spot on the world list, which means the top two hurdlers in the world are separated by 9 years in age. Jackson is making the most of his experience–running well-thought out, patient races every time he has toed the line this year.
-Rogue Rabbits
Usually when a rabbit goes rogue it's because the pack didn't follow them and they hang on for dear life over the last few laps.
Virginia Nyambura tried a different strategy in the steeplechase in Doha. She paced the required number of laps, then stayed out front. With about two laps remaining she blended back into the main group. When the number of contenders shrank, Nyambura was still there. The favorite Hiwot Ayalew looked to put the race out of reach. Somehow, Nyambura had more left and passed Ayalew on the homestretch to take the win in 9:21.52.
In the process, she took 37 seconds off her personal best and ensured that she will never be asked to pace a race again.
Slowing…..
-Mo Aman
Seventh in the Doha 800. I thought that wearing the green of the Oregon Track Club would be worth at least second. I was wrong. Unfortunately for my fantasy team, I was very wrong.
Nice run for Ayanleh Souleiman to win in 1:43.78. I still can't figure out if he is an 800 or 1,500 runner. We all need to stop putting this man in a box!!
-Mary Cain
Two years ago at Occidental College, Mary Cain destroyed the American junior record in the 1,500 and finished second overall in 4:04.62. At the time, it was the best race of Cain's life and a sign of what would come that summer–more records, more fast times and a berth on the team for the World Championships. She had so many great performances in 2013 that it's hard to single out one as the moment of Mary Cain's ascension. As great as the race at Oxy was, it was sandwiched between a US indoor title and a sub-two minute 800 at the Prefontaine Classic.
The Oxy race is more relevant now, not because of the American junior record, but because it creates a point of comparison. At the same meet on Friday, she ran 4:16.48 and finished 11th out of 12. The pop that was there in 2013 didn't reveal itself and she was never in contention. So far this year, she hasn't had a breakthrough performance and seems stuck in the 4:15 range. The season becomes very short when you measure success by qualifying for major championship teams. Competitions take place all the way through the summer, but if she isn't sharp five weeks from now at the USA Championships, then a major goal of the season will be lost.
-Veteran American 100-meter hurdlers
The ascension of Stowers and Sharika Nelvis means some very established names are going to get squeezed out of the American team for Beijing. This is nothing knew, nobody is allowed to get comfortable in the event, but it is no less shocking each time it happens.
If the US gives the bye to Brianna Rollins (both Rollins and Dawn Harper Nelson are eligible), and if Stowers and Nelvis hold their top two spots, then there is only one spot remaining between Harper Nelson, Queen Harrison, Lolo Jones and four other women who have broken 12.80 this season. The wild card is collegian Kendra Harrison who has run 12.50 and 12.62. It's possible that she can hold that form until USAs and then the American team will look drastically different than the group they sent to Moscow in 2013.
-Men's 400 meters
We sang its praises when it was up, it's only fair to knock it down now that it is no longer the best rivalry on the track. There exists the possibility of Lashawn Merritt getting traction in the next few months and making things competitive with Kirani James again this season. However, I think it is just as likely that someone else besides Merritt comes up to challenge James. In Shanghai, Merritt finished third behind James and Tony McQuay–almost a full second behind James and closer to fifth place than he was to first.
I'm not giving the gold to James yet, nor am I saying that Merritt is completely out of it. I'm simply arguing that the head-to-head, back-and-forth duels that took place on a regular basis over the last two years are coming to an end.
Winners who didn't win
-Christian Taylor
18.04 in the triple jump and you finish second??
There are plenty of silver linings for Taylor including refreshing a personal best of 17.96 that had been hanging around since 2011 and moving within five centimeters of Kenny Harrison's American record.
-Sharika Nelvis
She ran 12.54 to finish runner-up to Stowers. Without her in the race, it would have been a complete blowout. Nelvis can take some comfort in knowing that if she is anywhere near Stowers this year then she is doing pretty good.
-Jenny Simpson
Simpson was a close runner-up in the 800 at the Hoka One One meet. She ran 2:00.79 and couldn't quite close on heat winner Maggie Vessey who ran 2:00.70. Combining all the heats together, Simpson was second and ahead of Chanelle Price and Treniere Moser.
Simpson also should be encouraged by the results from 1,500 in Doha the next day. Dawit Seyaum won the race in 4:00.96 with Sifan Hassan second and Abeba Aregawi seventh. The time is a world lead, but nothing for Simpson, or any American, to be overly concerned about. The last three years someone has posted a time well under four minutes in the first two Diamond League meets of the season. Compared to that, Simpson's competition in the 1,500 is much more manageable in 2015.