No Comments
The Monday Morning Run: Bekele debuts, Florida Relays recap and London Marathon preview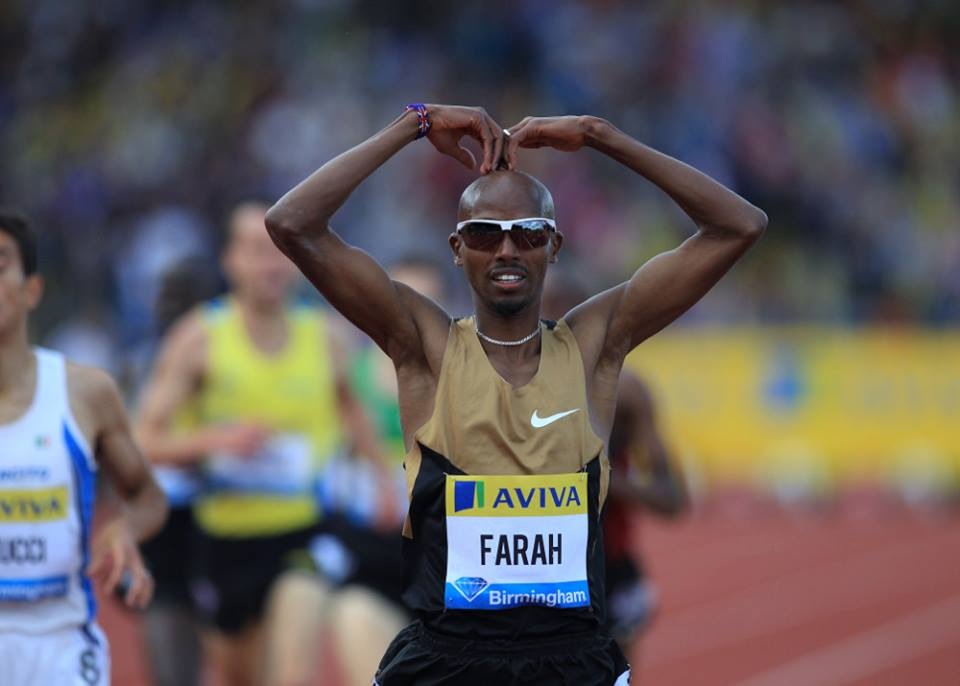 We are halfway through our tale of two debuts. Kenenisa Bekele delivered in his first attempt at the marathon yesterday and now Mo Farah will take his turn this weekend. Those two athletes bookend our weekly recap.
The Medalists
The top three performances of the week
Gold: Kenenisa Bekele
Bekele got everything he wanted out of his first marathon. He controlled the race, set a course record of 2:05:03 and earned an easy win in Sunday's Paris Marathon. Bekele passed the halfway in 1:02:09 and was free of all his competitors by the 30K mark. 2:05:03 is the sixth fastest debut of all-time and a better first effort than Patrick Makau, Haile Gebrselassie, Sammy Wanjiru and Wilson Kipsang.
Notable marathon debuts: Bekele 2:05:03 Makau 2:06:14 Gebrselassie 2:06:35 Wanjiru 2:06:39 Kipsang 2:07:13 Kiprotich 2:07:20 Tergat 2:08:15

— Jon Mulkeen (@Statman_Jon) April 6, 2014
Though interesting, comparing debuts is a flawed practice–highly dependent on the athlete's age and the conditions on race day. Even still, a fast debut doesn't indicate continued success.
Among the runner who recorded faster debut time than Kenenisa, so far only Dennis Kimetto improved his debut time

— K Ken Nakamura (@KKenNakamura) April 6, 2014
The man who previously held the course record, Stanley Biwott, still hasn't run faster than the 2:05:12 he recorded in Paris.
After Sunday, we know for certain that Bekele isn't averse to the marathon distance. Even running 2:05 once shows he has the durability to withstand marathon training.
What is less clear is how he would fare in a more competitive field. Also unknown is how his marathon career will progress beyond Sunday. Will Bekele start racing major marathons, or will he avoid deep fields and go after the world record in more manageable races like Gebrselassie did? The big money is in London, Boston, New York, Chicago and Berlin, but maybe he could command just as big of a payday at Dubai, Rotterdam or Frankfurt.
Silver: Joanna Atkins
Even amongst track fans, Joanna Atkins wasn't well known before the indoor season. She won the won NCAA 400 in 2009 and was on the 4 x 400 team in Moscow at last year's World Championships, but hadn't done in between.
In Albuquerque at the US Indoor Championships, she upset Natasha Hastings to finish second and grab a spot on the World team. There Atkins made the final, but placed sixth. Despite the setback in Poland, she still looks like a name to watch in 2014.
At the Florida Relays on Saturday Atkins set personal bests of 11.09 and 22.27 to win both the 100 and 200. The whole meet produced fast times, but the wind was legal in each of her races. Atkins's marks took a huge chunk of time off her previous bests (11.30/22.68). Late winter/early spring of a non-championships isn't the best time for a professional sprinter to hit their peak, but maybe this is just the beginning for Atkins.
Bronze: Joyce Chepkirui
She set out with the goal of challenging the world record in the half marathon, but Chepkirui had to settle for a course record of 1:06:19 at the Prague Half Marathon. Chepkirui led from the gun and eventually won by over two minutes. In doing so, she became the eighth fastest woman all-time in the half marathon and produced potentially the fastest ever time from someone being paced by their husband.
In the men's race, Peter Kirui rang up another impressive performance. He set a personal best of 59:22 to win by over 30 seconds.
Surging….
Boogie Fast Track Club
Brianna Rollins, Kristi Castlin and Queen Harrison combined for a world best time in the shuttle hurdles at the Florida Relays. There probably was a fourth runner on their relay team, but none is listed in the results. The way Rollins ran last year maybe she ran on the lead-off and anchor legs? That would probably be against the rules though. Their time of 50.66 takes over a second off the mark set by Nia Ali, Yvette Lewis, Castlin and Harrison, but I'm sure all the shuttle hurdle historians out there already knew that.
Collegians Running Like Pros
As always, for the Daily Relay's comprehensive NCAA recap check out Jesse's Monday posts. Trayvon Bromell came down to earth at the Florida Relays, a week after he tied the world junior record of 10.01 in Austin. This week, he ran 10.17 into a slight headwind–a ways from 10.01, but still good enough to win against a tough field.
Bromell aside, Dedric Dukes was the star of the meet. The Florida junior won the 200 in 19.97 into a .6 m/s headwind. Barring an injury, both Bromell and Dukes will have plenty of chances to run in Europe this summer if they so choose.
Also in Gainesville, there were several star-studded 4 x 400 relay teams, although most of the biggest names were split between several squads. Lashawn Merritt, Christian Taylor, Jeremy Wariner, Lalonde Gordon, Demetrius Pinder and Manteo Mitchell all competed. None of their teams could contend with Florida who ran 2:59.73 with Dukes, Najee Glass, Hugh Graham Jr. and Arman Hall.
Women's Shot Put
No, I can't explain why Nadzeya Ostapchuk received a four-year suspension instead of a lifetime ban after her second positive drug. And yes, I'm as upset as you that the rumored boxing match between her, and current ruler of the shot put circle, Valerie Adams never happened.  Though they won't be trading blows in the ring, Adams took a shot at Ostapchuk when the suspension was announced this week.
4 years is not enough..WTF!!! Oh well, it doesn't change what I do tomorrow!!! #drugcheat #belarussians

— Valerie Adams (@ValerieAdams84) April 1, 2014
Since Ostapchuk's suspension in 2012, the women's shot put has become a one woman show. At World Indoors this year, Adams's worst throw would have won the competition. I'm not suggesting that there should be leniency for the sole purpose of creating a more competitive event, but maybe those in charge of the length of suspension were getting as bored as we were watching Adams win by meters.  Just think, we are only three years away from having some highly competitive, and morally dubious, women's shot put action.
Slowing….
Following the USATF's response to the disqualification controversies in Albuququerque has been a lesson in public relations. First, there was defiance. Then, it was oblivious silence as everyone with a blog or a Twitter account berated their lack of transparency. Now, the message seems to be focused on creating a sense of inclusion and togetherness with the athletes.
"The athletes who comprise the AAC and TFAA are the very people who set our bylaws that govern the competitions from which they gain their livelihoods. USATF has appointed a working group to look at the specific events taking place in Albuquerque, and athletes will and must be part of that. In the larger scheme, change cannot possibly happen without athletes working together and speaking with one voice. As a group, they can vote for changes in the structures that affect them."
The statement is correct when it states that athletes help write the bylaws. However, admitting they made a mistake with regards to Andrew Bumbalough's disqualification still remains a relatively simple task. One that doesn't require a working group, a panel or voices from the athletes. If the USATF can't do that, then there is little chance that they will be moved on bigger, more systemic issues that athletes and fans have complained about. Likewise, if athletes can't push the USATF to correct this mistake then the TFAA will need to look at how much influence they actually hold.
Boycotting the US Championships has been mentioned on social media (and referenced indirectly by TFAA President Adam Nelson in a Wall Street Journal article when he says "Nothing is off the table"). Sitting out US Championships in a non-championship year exposes the athletes to the least amount of risk. But because of that, it will also create a much smaller wave than if they decided to form a protest in a bigger meet.
Revelations
–David Rudisha is taking his competition so seriously that he is training in sandals. Those aren't even Tevas.
–Yohan Blake doesn't touch his chest while bench pressing. Everything my weight training coach told me in high school was a lie! (:20 of video).
-Every year since 2009, triple jumper Christian Taylor has run a 400 at the Florida Relays in 45 seconds. This year he won his section running 45.37, only .18 behind Arman Hall who was on the World Championship team last year. Bet he would make a pretty good 400-meter hurdler as well.
Miscellany
–At the Stanford Invitational Laura Thweatt won the 1,500 in 4:15 and returned later to place third in the 5,000 with a time of 15:23. Maggie Vessey won the 800 in 2:03.58. Faster action in Palo Alto to come at next month's Payton Jordan meet.
–Janet Bawcom broke the single-sex American 10 mile record at the Cherry Blossom 10 Mile Run in Washington, D.C. Bawcom led from the gun and finished in 52:12. Including mixed gender races, Bawcom's time is the six fastest American mark. Sara Hall was also under the old record, finishing second in 52:54.
In the men's race, there were no single-sex American records. Christo Landry won the race in 46:41.
The Week Ahead
All of the attention will be focused on the London Marathon this Sunday. In the men's race, which starts at 10:00 a.m. local time, Haile Gebrselassie is scheduled to set the pace and take the field through 30-K at world record pace. The women's race begins at 9:15 a.m. local time and features the defending champion Priscah Jeptoo and the debuting Tirunesh Dibaba. Elite start lists can be found here and here. For a more comprehensive look at the entire, the official media guide has all the facts and figures you could ever want. I ran through some of the major players below. They are listed in no particular order.
Men
Wilson Kipsang
Best Race: 2013 Berlin Marathon, 2:03:23
Last Race: Granollers Half Marathon, 1:01:18
This Race: Kipsang won this race in 2012 and was part of the lead pack that melted down with the fast pace in last year's edition. This is his first marathon since his world record, but nobody will defer to him in this field. He does have a good mix of experience in time-trial and championship races, making him adaptable for however the race develops once the Gebrselassie steps off.
Mo Farah
Best Race: 2012 Olympics, 5,000/10,000
Last Race: New York City Half Marathon, 1:01:07
This Race: His fall and (literal) collapse in the New York City Half Marathon put a scare into the British fans. Even with the stumble, he still finished within 20 seconds of Geoffrey Mutai so there should be no reason for panic. A bigger concern for Farah is how he will handle miles 13-26 on Sunday, particularly if the pace is actually under 62 minutes halfway. The home crowd and gold medal fervor have combined to make Farah a bigger favorite than he should be. One sportsbook lists him at 3/1 odds to win the race. Realistically, a top five finish and a time under 2:06 would be a successful debut.
Tsegaye Kebede
Best Race: 2013 London Marathon, 2:06:04
Last Race: N/A
This Race: Kebede has finished in the top five 12 different times in a major marathon so it is diffcult to see him not being a factor on Sunday. Last year he held it together when the field fell apart, but his 2:04 personal best shows that he can win any type of race.
Geoffrey Mutai
Best Race: 2011 New York City Marathon
Last Race: New York City Half Marathon, 1:00:50
This Race: Mutai looked to be on a downward slide until he dominated the 2013 New York City Marathon. If that is same Mutai we seen on Sunday, he will be very difficult to beat. In his one appearance in London he did not finish the race. Was that an aberration or does the course/weather/pacing in London not jive with Mutai?
Emmanuel Mutai
Best Race: 2011 London Marathon, 2:04:40
Last Race: Eldoret Half Marathon, 1:03:58
This Race: Like Kebede, he rarely finishes out of the top five. Unlike Kebede, he never wins. Well, that isn't entirely true. He won London in 2011 and set a still standing course record. Since then though he has finished second at Chicago (2013), New York (2011) and London (2013).
Stephen Kiprotich
Best Race: 2012 Olympic Marathon, 2:08:01
Last Race: Paris Half Marathon, 1:02:51
This Race: Unless they kick out the pacemaker and limit the field three Kenyans and three Ethiopians, I don't give Kiprotich much of chance. He is phenomenal in championship races, Olympic gold and 2013 world champion, but hasn't been a factor in any other major marathon.
Ibrahim Jeilan
Best Race: 2011 World Championships 10,000
Last Race: RAK Half Marathon,1:01:47
This Race: Is he here just to harass Mo Farah? Jeilan, who is the last man to beat Farah in a championship race, is the other big name debutante and had his typical low-key lead-up. It would be foolish to completely rule him out, but his tune-up race doesn't inspire much confidence.
Ayele Abshero
Best Race: 2013 London Marathon, 2:06:57
Last Race: Egmond Aan Zee Half Marathon, 1:02:51
This Race: His first, and only, big marathon win came on the flat and fast course in Dubai in 2012. Placing third in last year's London field proved he wasn't a one race wonder, but his results have been few and far between.
Feyisa Lelisa
Best Race: 2012 Chicago Marathon, 2:04:32
Last Race: RAK Half Marathon, 59:51
This Race: Only 24, Lelisa has already started 12 marathons and between Chicago and London he has three top-five finishes.
Stanley Biwott
Best Race: 2012 Paris Marathon, 2:05:12
Last Race: N/A
This Race: In his last two marathons, Biwott has been the poster boy of the run-as-fast-as-you-can-for-as-long-as-you-can style of Kenyan running. Unfortunately for him, as long as you can meant about 30-35K. Can he get it right this time and resist the urge to push the pace at 25K?
Women
Priscah Jeptoo
Best Race: 2013 New York City Marathon, 2:25:07
Last Race: RAK Half Marathon, 1:07:02
This Race: After her massive negative split in New York, she is a pretty significant favorite to win the race. Last year in London she blew away the field and won by over a minute.
Tiki Gelana
Best Race: 2012 Olympic Marathon, 2:23:07
Last Race: Marugame Half Marathon, 1:08:53
This Race: In 2013, a collision with a wheelchair racer spoiled her race in London, but everything since her Olympic gold has been a struggle. She ultimately finished 16th last year and did not finish the World Championships.
Florence Kiplagat
Best Race: 2011 Berlin Marathon, 2:19:44
Last Race: Barcelona Half Marathon, 1:05:12
This Race: Enters the race red hot after setting the world record in the half marathon in February. Her marathon results are impressive and stretch back to 2011, including a fourth and sixth place finish in London.
Aberu Kebede
Best Race: 2012 Berlin Marathon, 2:20:30
Last Race: RAK Half Marathon, 1:09:22
This Race: The least known of the women mentioned. She hasn't made a splash at London yet, but she has won Tokyo and twice in Berlin.
Edna Kiplagat
Best Race: 2010 New York City Marathon, 2:28:20
Last Race: N/A
This Race: Like a hybrid of Kebede and Emmanuel Mutai in the men's field, she is frequently at the front of the pack of a major marathon. At 34, her chances of winning a big one are starting to dwindle.
Tirunesh Dibaba
Best Race: Too many to choose from
Last Race: Great North Run 1:06:56
This Race: While we are talking hybrids, Dibaba's first marathon is a mash-up of Farah and Bekele's debuts. Dibaba is the past and present in long distance track racing and is jumping up to the marathon despite still being the best 10,000-meter runner in the world.