One Comment
Five Things We Learned Saturday at USA Outdoors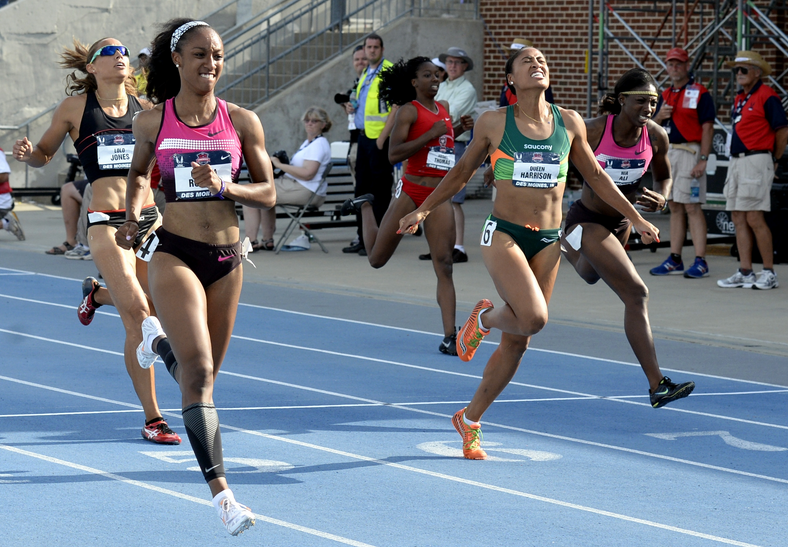 Kevin Sully | On 23, Jun 2013
Photo courtesy of trackandfieldphoto.com
Five quick thoughts on Saturday's action from US Championships in Des Moines….
Brianna Rollins's 2013 is looking an awful lot like Aries Merritt's 2012
Last year, Merritt found his rhythm early in the summer and reeled off eight sub-13 second performances in the 110-meter hurdles. He punctuated his season with a gold medal in London and a world record in Zurich. Since indoor season, Rollins has been on a similar roll. Saturday, was her her greatest performance yet, an American record of 12.26 and the fourth fastest mark of all-time.
The main difference is Merritt was an experienced professional and wasn't coming off a long collegiate season like Rollins just did. Questions remain for Rollins for the rest of the summer: Can she hold her form all the way until the world championships in August? Or is she going to take some time off from racing before building up again for Moscow? Will she try to capitalize on her current form and go for the world record immediately? It is only .05 away.
From a team perspective, the Americans look as strong as ever in the high hurdles. Even though veterans Lolo Jones and Kellie Wells missed the team finishing 4th and 5th, the United States could still sweep the event Moscow. Much of that, however, rests solely on whether Australia's Sally Pearson can recover from her hamstring injury that has kept her off the track for much of this year.
The Nike Oregon Project is having a great meet
The Portland-based group got off to a strong start on Thursday when Galen Rupp, Dathan Ritzenhein, Jordan Hasay and Tara Erdmann all finished in the top three in the 10,000. The strong performances continued on the penultimate day of the meet.
Matt Centrowitz showed his typical poise and won a crowded, deep and tactical men's 1500. In the women's 1500, Treniere Moser and Mary Cain (Cain is technically not an official member of the Nike Oregon Project, but is coached by Alberto Salazar) took control of the race in the last lap and finished first and second. Tactics also played a huge part in the women's race with an excruciatingly slow first lap of 85 seconds.
We are no closer to learning about Mary Cain's future plans
On this site, we have covered the "Should she skip collegiate running?" debate extensively so I won't go too much further here. Running professionally makes more sense for Cain from a competitive and logistical standpoint. Her performance today only strengthens the claim that she is more than ready to compete against, and train with, professionals on a daily basis.
I'm not sure when the other side will come around. Maybe if she makes the final in Moscow? If she medals? It could be that no accomplishment from the 17-year-old will make them change their mind. They see college as a valuable life experience in the development of young people. It is hard to argue with that.
The "go to college" crowd did get one good sign after Cain's race. Tim Layden of Sports Illustrated reported that Cain was carrying a stuffed duck named Puddles in the interview area. Yes, the same name of the mascot of the University of Oregon. Start the speculation now.
Tyson Gay is confident in his health
Remember the 2008 Olympic Trials? The one where Tyson Gay ran a wind-aided 9.68 in the 100 and then a few days later didn't make it around the curve in his 200-meter heat. He doesn't seem to recall.
After his 9.75 in the 100 on Friday night Gay returned to the track on Saturday to run heats of the 200. It is a bold move in a sport that puts so much emphasis on caution and planning for the worst. Kudos to Gay for sticking to his word. Before the meet he said he wanted to run the 100,200 and 4 x 100 in Moscow and he hasn't wavered from his plan. Hopefully he, and his hip, makes it through two more curves on Sunday.
USATF Should Clarify the Wild Card Policy
This one is a little inside baseball, but it has impacted several races in the meet thus far. The previous stated wild card policy for the US Championships (please correct me if I'm wrong) is that reigning world champions who have a wild card must compete in an event in the US Championships to be eligible for the free pass. I'm against the concept of byes, but I can see the desire of USATF wanting to have their biggest names compete at the nation's most important  meet.
The problem is the athletes aren't competing so much as they are appearing. Like any policy in track and field smart coaches trying to minimize risk for their athletes immediately exploited it. Some athletes drop after the first round of an event, which displaces another runner and leads to general confusion amongst those who don't follow the sport consistently. Some don't run at all. Carmelita Jeter and Lashinda Demus were granted a medical waiver and didn't even need to compete this weekend.
Simple solution: eliminate the appearance rule entirely or, if you want them to appear (or even race) compensate them. They are, after all, world champions.