One Comment
The Monday Morning Run: 26 Thoughts on the Chicago Marathon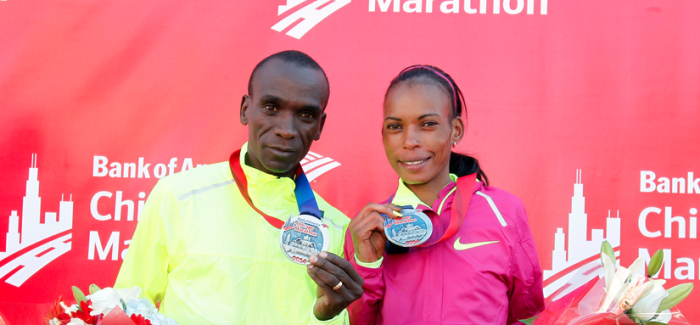 Kevin Sully | On 13, Oct 2014
Photo Via Bank of America Chicago Marathon
In the insanely fast climate of the marathon, Sunday's race in Chicago didn't produce an easy headline.  There were no course records.  The world record was never threatened.  Kenenisa Bekele, the biggest star in race, was not a factor down the stretch.  Both the men's and women's races were decided before the final miles.
In essence, the Chicago Marathon was a trip back to a few years ago when expectations before each race were tempered.  With that, we look deeper for the story lines and discuss Bekele's future, Eliud Kipchoge's strong finish, Amy Hastings's resurrection, the new queen of Chicago and a pesky wind that the many runners cited for the modest times.
1) As we struggle with new ways to describe how fast marathoning has become, let's try this angle. Eliud Kipchoge wasn't the favorite in the race, didn't run a personal best and yet he still ran the third fastest time in course history–2:04:11. If not for Dennis Kimetto and Emmanuel Mutai kicking through the 2:04 barrier last year, Kipchoge would have the course record and we would probably be talking about him as the best marathoner in the world.
Instead, we toss another 2:04 in the pile and remember this men's race mostly as one where Kenenisa Bekele didn't meet expectations.
2) Bekele dropped off the pace around 30K and finished in 2:05:51– a long way from his pre-race goal of breaking the course record. "When they picked up the pace, my body was not reacting," he said of the move led by Kipchoge, Sammy Kitwara, Dickson Chumba and Bernard Koech.
The commentators speculated that Bekele might be sick during the race. He didn't mention any illness after the race, he simply said he was never comfortable and had trouble sleeping because of the time change.
3) In terms of his future in the event, Bekele said he needs to analyze his training after Chicago. He also noted that other runners usually take a couple attempts to fully transition to the marathon. The problem for Bekele is time. He is already 32-years-old and has so many fast miles on his legs.
No doubt he can improved mentally through repeated attempts of the marathon, but can his body hold up to the stress? Haile Gebrselassie's is the example most frequently cited as someone took awhile to get it right on the roads. But that is a tough model to follow. In terms of longevity, Gebrselassie is unmatched. There is no guarantee that Bekele can replicate Gebrselassie's durability even though Bekele ran faster times on the track.
4) I'd be surprised if Bekele came back to Chicago any time soon. Aside from the time change, he also didn't like the wind or the temperatures. Unless there are major sponsorships concerns, expect him in Berlin next September.
5) I feel like I've been watching Eliud Kipchoge race for the last 15 years and yet he is only 29. After a long and successful career on the track he has made quick work of the marathon.
When people have unrealistic expectations of marathon debutantes, it's because of someone like Kipchoge who has seemed to immediately master the event. Here is his career progression:
2013 Hamburg: 1st, 2:05:30
2013 Berlin: 2nd, 2:04:05
2014 Rotterdam: 1st, 2:05:00
2014 Chicago: 1st, 2:04:11
#ChiMarathon @EliudKipchoge should have started marathoning 6 or 7 years ago.

— Chris Nickinson (@chrisnickinson) October 12, 2014
6) Kipchoge's 5K splits: 14:44, 14:46, 14:46, 14:46, 14:40, 15:04, 14:46, 14:31, 6:18 (2k) Dennis Kimetto's course record splits from last year fluctuated between 14:38 to 14:46 with a final two kilometers of 6:27.
7) Rita Jeptoo blew the race open in miles 24 (5:07) and 25 (5:11) and won in a comfortable 2:24:35. For most of the race, she was running in a pack with Florence Kiplagat, Birhane Dibaba and Mare Dibaba and was content with the slow pace. She admitted after the race that everyone was looking at her to increase the pace. Once she did decide to make her move, it was swift and decisive.
8) Other Jeptoo facts. She clinched the World Marathon Majors title and is on a four race winning streak. Also, she referred to herself as the Queen of Chicago during the finish line interview.
Rita Jeptoo's winning margin in Boston this year – 1:02 Rita Jeptoo's winning margin in Chicago today – 1:02 — Jon Mulkeen (@Statman_Jon) October 12, 2014
9) There were two Dibabas in the mix, but not those two Dibabas. Mare placed third in 2:25:37 and Birhane was second in 2:27:02. More evidence for Jason's potential reality show "Keeping up with the Dibabas." I don't care if they aren't all related.
10) Equalling your personal best in a marathoner (especially one that is geared for time) has to be a maddening experience. Not so for Amy Hastings who tied her fastest time ever on Sunday with a time of 2:27:03, good enough for fifth place.
After the last two years, she was very happy to be back running at a high level.  Since she ran 2:27:03 in 2011, she has only finished one marathon. Her schedule was disrupted in 2012 when the New York City Marathon was cancelled. The following year, her season "just went bad" with her lone highlight coming on the track when she qualified for the World Championships in the 10,000.
On Sunday, Hastings lead for the first 8 miles of the race, running around 2:24/2:25 pace with the help of a male pacer at her side. Then, Jeptoo and Co. swallowed her up and Hastings looked to be going backward. She rallied and ran a 17:19 5K in between 25 and 30K–cutting the lead in the main pack to just two seconds.
At 30K, Hastings almost drew even with the leaders, but here more cautious instincts took over as she tried to stay within herself. She slowed the next 10K, splitting 17:35 and 18:05, but held on to run 2:27.
Now that her resurrection is complete, Hastings's path to Olympic team looks pretty smooth. With only Shalane Flanagan firmly ahead of her in the pecking order she is in just as good a position as she was in heading into the 2012 Olympic Trials.
11) After Hastings, there was a significant drop to the next American woman. The gap was five minutes back to Clara Santucci who ran 2:32:31 for sixth place. 2012 Olympian Lisa Uhl was the 13th American in 2:40:51.
12) Bobby Curtis ran 2:11:20 and lopped more than two minutes off of his self described "weak" personal best. He was the only American in the top ten, placing 9th.
This breakthrough puts Curtis atop the second tier of American marathoners (the first tier right now includes Meb Keflezighi and a healthy Dathan Ritzenhein and Ryan Hall). Entering the race, there was a log jam of nine Americans between 2:13 and 2:15. Nick Arciniaga and Ryan Vail will run next month in New York City, but after Chicago you can make a strong argument that Curtis is America's third best marathoners. Maybe even second.
13) The next six American men finished between 2:13 and 2:16 led by Jake Riley who ran 2:13:16 for 11th place. Matt Llano, who was aiming for a sub 2:10 performance in his first marathon, struggled in the final miles and ran 2:17:43.
14) The temperature at the start was 46 degrees with winds of 8 miles per hour. Toni Reavis proclaimed that the marathon gods were "smiling on Chicago." At the finish the temperature was still under 50 degrees. Windier than Berlin, but still a really good day for racing.
15) Wind….wind….wind. Everyone was glowing about the weather in the lead-up to the race through Sunday morning. By elite standards though, it wasn't perfect. Eliud Kipchoge, Priscah Jeptoo and Florence Kiplagat all brought up the wind with Kiplagat summing it up the best by saying, "This is the city of the wind so I have to prepare myself."
The Americans didn't seem as concerned with the conditions. Bobby Curtis called the wind just a "bit of an annoyance" and Amy Hastings said it was "a little windy but you can't ask for better conditions." One elite told me after the race that it felt like the was always blowing in his face regardless of the direction he was running.
16) The last few miles of the men's race with Dickson Chumba, Eliud Kipchoge and Sammy Kitwara running in a group provided a unique scene. Three elite runners at the end of a race wearing three different colored jerseys.
I'm still confused why sponsors wouldn't want their top stars to stand out–especially someone like Kenenisa Bekele whose accomplishments made him the headliner of this race. Wouldn't Nike want to prominently feature the best runner of all-time?
And yet, he was in the same electric yellow singlet as Eliud Kipchoge on Sunday. Thankfully for the casual spectators, there was a bit more diversity in the top three.
17) Kipchoge's final margin was 17 seconds, but his win seemed much more dominant. He put seven seconds on Sammy Kitwara between 35K and 40K and padded his lead even further in the final two kilometers, smiling as he ran down Columbus Drive toward the finish.
18) Bernard Koech is easily your winner for blow up of the day. Koech was with the lead pack at 35K and then he ran a 16:39 5K split, losing over two minutes on three runners in front of him. Prior to that point, Koech's slowest split was 15:09.
Things didn't get much better from there. He struggled home in 8:19 for the last two kilometers. That's 2:54 marathon pace.
19) The word "respect" is used more in the marathon than in any other event in track and field. It's a humbling distance and even the most modest goals can go up in flames on race day. Every year it seems a different American man talks about running 2:10 or 2:12, only to fall well off pace. Conversions from track times or shorter distances don't seem to mean much. 2:10 remains a very significant barrier that few Americans have ever beaten.
It's the reason why even though he will be north of 40, Meb Keflezighi is still a favorite to make the Olympic team. It's also why I have a hard time putting together a top three just 16 months before the Olympic Trials.
20) The half-marathon splits were slower than planned, but the men and women both ran incredibly fast out of the gate. The men shot out with a 4:34 first mile (1:59:38 marathon pace!!). They immediately came back down to earth with a 4:52 second mile. I'm not sure how much damage the 4:37 did to the field, but it probably didn't help instill any confidence in the pacesetters.
The women took off with a 5:17, not nearly as fast as the men, but still in the 2:18 range. Once they backed off from that, it was clear that the course record was not in range.
21) On the broadcast, Greg Meyer said that the men's pacers lagged throughout the race and needed prompting from the elite field in order to keep the pace fast enough. Just before the half marathon mark, you could see a man in the lead vehicle gesturing out the window to speed up the pace. They were supposed to hit halfway in 1:01:40 and ended up coming through in 1:02:11. Even with a significant negative split, there was no chance that they were setting the course record–makes you appreciate the job that the running metronomes did in Berlin.
22) In paced men's races, you are safe fast forwarding your DVR to the 30K mark. The race in Chicago (or Berlin and London) really doesn't begin until the rabbits step off and someone makes an irrational move to the front. There is very little action in the first ⅔ in the race. Even if the rabbits are off pace, the group typically stays intact. The only surprise on Sunday was Wesley Korir dropping off the pack. Other than that, it went to form. It's was a 30K warm-up/grind down and then a 12K race.
23) I thought attending the race in person would shield me from the "missed move" syndrome that we all experience when watching marathons from our couch. The media center had 11 television monitors, each featuring three feeds. There were also two leaderboards that were constantly updated with splits and paces.
This was a sure thing. In this room, there was no way I could miss the crucial moment of the race. Then, at 30K, all the cameras went out on the men's race.
When they came back on Bekele was out the back and the race was down to three runners. Later, all the cameras from the course went down and they had only the helicopter shot for several minutes.
If I don't want to miss anything I guess my only option is to hitch a ride on the lead vehicle or physically stand at the 30K mark and hope that is where the move will occur.
24) Another win for a Kenyan in their increasingly one-sided rivalry in the marathon. An Ethiopian man hasn't won a major marathon since Tsegaye Kebede won London in 2013. An American has won more recently than an Ethiopian.
25) Rabbit drama. Through a translator, Mare Dibaba said that she thought the pacemakers were favoring the Kenyan athletes. Rita Jeptoo, a Kenyan, said that the pace was slow partly because the rest of the pack was waiting for her to push the pace as the favorite. Regardless, the halfway split of 1:12:35 was well off of the scheduled 1:09:00.
Race director Cary Pinkowski said the paces were discussed at the technical meeting, which all athletes attended.
26) In major marathons there are winners and then there are winners. Bib #332 ended up running 2:55, but we will always remember him as the guy who ran next to Amy Hastings in a Mona Lisa jersey.
But the Mona Lisa jersey MT @scottybush: Is anyone thinking @HastyHastings might be inspired?!? #ChiMarathon pic.twitter.com/O7IvxdDK0G

— Chris Nickinson (@chrisnickinson) October 12, 2014