No Comments
College Recap: Where Do We Stand?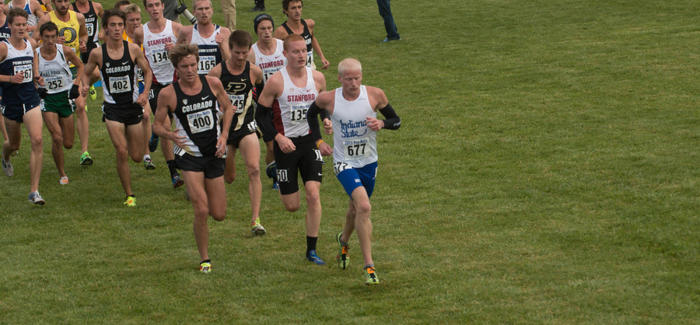 Jesse Squire | On 13, Oct 2014
This weekend, all the nation's top teams will be in the Midwest, either at Indiana State or Wisconsin. (Photo: XCTownUSA.com)
Right now we are seven weeks into the collegiate cross country season. Basically nothing happened this last weekend because virtually all of the top teams are gearing up for their first true test, either the Adidas Invitational at Wisconsin or the Pre-National Invitational at Indiana State.
There's still a lot of running to be done and lots can change between now and November 22, when the NCAA Championships will be run in Terre Haute. But who should we watch for and why? Here's how things stand right now.
Men
The Favorites
Colorado Buffaloes
Why they'll win: They have everyone back from last year's championship team plus they return a 2012 All-American who redshirted the 2013 season. Coach Mark Wetmore has a reputation for getting his athletes to improve from year to year and to always come up big at championship time. There is talk of this being one of the greatest college teams ever.
Why they could lose: They might have everyone back from last year, but last year's win was a fluke: their total of 149 points was by far the highest winning score in NCAA men's championship history. In only six other years would that have been good enough for second place. The Buffs lack a true front-running star, which means it's going to be very hard for them to score much less than 80 points or so.
Will run at Pre-Nationals
The Challengers
Oregon Ducks
Why they'll win: Two certified stars in Edward Cheserek and Eric Jenkins mean they could score as little as five points through their first two runners. That means they'd only need to average 25 points for their third, fourth and fifth runners to be in scoring range for victory, and they have a truckload of track stars who could do it.
Why they won't win: That's still a tall order. Only one of their other runners, steeplechaser Tanguay Pepiot, has ever finished remotely close to the 25th scoring place at an NCAA cross country championship. And track is not cross country.
Will run at Pre-Nationals
Stanford Cardinal
Why they'll win: They have three extremely good runners in twins Jim and Joe Rosa and Harvard transfer Maksim Korolev. They're better through three runners than Oregon is, and they've got good runners behind those three; while sitting their top 4, they still beat multiple ranked teams at the Washington Invitational.
Why they won't win: History. 47 of the last 50 men's NCAA champions finished in the top ten in the previous year, and Stanford was 19th last year. Besides, which Maksim Korolev will show up? The fall 2013 version, who had a brilliant season capped by a 3rd place finish at the NCAAs, or the version of every other season, who ping-ponged back and forth between the sublime and the ordinary? And are some of those guys sitting out because they're resting or because they're hurt?
Will run at Adidas Invitational
Northern Arizona
Why they'll win: The Lumberjacks, last year's runners-up, bring back three runners who finished in the top 25 scoring positions and add another (Louisville transfer Tyler Byrne).
Why they won't win: They haven't looked very good yet this year, and star Futsum Zienasellassie is coming off a very average track season–whereas in 2013, when he finished fourth at the NCAAs, he was coming off a very good track season.
Will run at Adidas Invitational
Fighting for the podium
If you can't win, the next best thing is to finish in the top four and snag a trophy and podium finish. Who are the outsiders who could knock off one of the four teams above?
Oklahoma State
The Cowboys have finished in the top four in six of the last seven years, and they've got the individual parts necessary to compete with the best. Besides returning four of their varsity seven from last year, they add Vegard Oelstad, last year's NCAA D-II runner-up at Western State.
Portland
The Pilots are looking at the best season in their long history of success. They bring back six of their top seven from last year's seventh place team (best in school history). They haven't lined 'em up and gone at a tough race yet, though, so right now what they have this fall is anyone's guess.
Will run at Adidas Invitational
Villanova
The Wildcats have one of the NCAA's great distance running traditions but haven't been in the top ten since 2001 and haven't been on the podium since 1992. They have an individual title contender in Patrick Tiernan, and it's a whole lot easier to get to the 200-to-250 points necessary for a top-four finish if the top guy adds almost nothing to the total. A bevy of other track stars make this a sleeper team.
Hoping for top ten
There are no formal awards for a top-ten finish at the NCAAs but it's a major and noted accomplishment, a worthwhile goal in its own regard. Here are some teams that I think could do it.
Syracuse
They're ranked #6 in the lastest coaches poll but I did not mention the Orangemen as podium contenders. I don't know why I'm so meh on them but maybe it's because last year's 10th-place finish was the best they've ever done.
UCLA
UCLA? Yes, UCLA. SoCal isn't a hotbed of college cross country these days but it used to be. The Bruins had top-ten finishes three years in a row in the early 80s, and there was a time when teams like USC, Long Beach State, Cal Poly and San Diego State regularly finished in the NCAA's top ten. But that was when Californey was the place you ought to be and everything Golden State was the shizz. (It's not quite that way anymore; 2010 was the first congressional reapportionment since the Civil War that Cali didn't add seats.) If the Bruins can finish in the top ten—and they sure look like a top ten team right now—they'll be just the second non-Stanford men's team from California to do so in more than two decades.
Will run at Adidas Invitational
Wisconsin
The Badgers had two long win streaks broken last year, ones at the Great Lakes regional (eleven straight) and the Big Ten Championships (fourteen straight). They did manage to keep another quieter streak going with their eighteenth consecutive NCAA Championships top-ten finish, which I find more remarkable than the other streaks. It took a near-miracle of coaching by Mick Byrne to pull it off. Right now the Badgers are tied with UCLA for #9 in the coaches' poll and get their ranking off little more than reputation, but it's a reputation that is well earned.
Will run at Adidas Invitational
Michigan
New head coach Kevin Sullivan has the Wolverines looking tough and ready to push for a Big Ten title and top ten NCAA finish. Here's what Let's Run had to say last week about the Sully's predecessor, Alex Gibby:
Gibby was at Michigan for four years. During the final three years, the Wolverines were third, second and second at Big 10s and last year's runner-up showing was the first time in 15 years that Wolverines beat Wisconsin at Big 10s. Despite all that, he was shown the door by track and field head Jerry Clayton. Life is officially unfair.
I have two thoughts about this. One is that I think the coaching change had more to do with track than cross country. The other is that continuing a streak of fifteen years without a Big Ten title and ten years without an NCAA top-ten team will get you fired in Ann Arbor in virtually any sport, especially one in which Big Ten teams regularly compete for and win national titles. Both of those were in reach last year and the job didn't get done. In this case the firing was harsh but I wouldn't call it unfair.
Will run at Adidas Invitational
Indiana
For a team that returns six out of seven runners from an NCAA 8th-place finish (and all of their top five), the Hoosiers look like hot garbage right now and their ranking (23rd) reflects it. I don't expect them to continue on like this, though, and a rebound into the top ten is more than possible.
Will run at Pre-Nationals
BYU
Graduation hit the Cougars hard, as they lost four of their seven from last year's 4th-place team. Even so, they finished just 15 points behind Michigan at the Notre Dame Invitational.
Will run at Adidas Invitational
Iona
The Gaels always seem to be in the top ten at the NCAAs and they have a top freshman in Gilbert Kirui. It's hard to know what to expect out of this team right now, though.
Will run at Adidas Invitational
Providence
The same goes for the 13th-ranked Friars. Too early to tell.
Will run at Adidas Invitational
Women
The Favorites
Michigan Wolverines
Why they'll win: Improvement. Two years ago the Wolverines had a strong group of seniors that won the Big Ten title and finished fifth at the NCAAs, then followed it up with distance relay victories at the NCAA Indoor Championships and Penn Relays. Last year's group was young and inexperienced and a step back was a reasonable expectation, yet they outdid their predecessors with a 4th-place finish at the NCAAs. They're all back and they all have made another step up, none more that sophomore team leader Erin Finn.
Why they could lose: Not enough room left for more improvement. They already appear to be firing on all cylinders and that means they have nowhere to go but backwards.
Will run at Pre-Nationals
Michigan State Spartans
Why they'll win: Teamwork. The closest thing to a star that the Spartans possess is Leah O'Connor, who won the NCAA steeplechase title last spring, and they bring back former Big Ten champ Sara Kroll, who had been their #1 runner in 2011 and 2012 before redshirting last fall. Their only weak spot last year was their fifth runner who is also the only one they lost to graduation; put Kroll in her place at last year's NCAAs and they would have been second.
Why they could lose: Inexperience. Their highest finish in at the NCAAs in school history is fourth, way back in 1981 at the first NCAA women's cross country championships.
Will run at Adidas Invitational
The Challengers
Oregon
Why they'll win: They have the parts to make a run at it if both of the teams above leave the door open. Most notable are Waverly Neer, a graduate transfer from Columbia who ran 15:37 on the track last spring, and freshman Sarah Baxter, one of the greatest high school runners in US history.
Why they won't win: When the best finish any of your runners have ever had at an NCAA Championships is 40th place, you're looking at an uphill battle.
Will run at Pre-Nationals
Georgetown
Why they'll win: At the Battle in Beantown, coach Mark Smith said "We were 20 points behind the best team in the country [Michigan] and we didn't run two of our top runners".
Why they won't win: The Hoyas don't have any chance unless those other two are healthy and race-sharp, and even then it might not be enough.
Will run at Pre-Nationals
Arkansas
Why they'll win: Domonique Scott and Grace Heymsefield give the Razorbacks two low scores up front, and the team will roll into Terre Haute without the stress of a difficult conference or regional meet.
Why they won't win: They just don't seem to have the depth.
Will run at Adidas Invitational
Fighting for the podium
I list five teams fighting for the top four places. Who else could upset the apple cart and win one of the trophies up for grabs?
Florida State
The Seminoles lack the kind of fifth runner needed to finish in the top four. But of all the weaknesses to have, it's probably the easiest to fix. Providence had that problem last year and found a fifth runner that took them to a championship. It's a deadly problem though, and still not terribly easy to fix.
Will run at Adidas Invitational
Stanford
The Cardinal was a title contender until stars Aisling Cuffe and Cami Chapus came up with stress fractures. It's unlikely that either will be back this season, but if so they might be able to help the team get on the podium. Superstar freshman Elise Cranny will be an individual title contender and a very low score out of your #1 runner makes a bigger difference at an NCAA Championships than pretty much anywhere else.
Will run at Adidas Invitational
Colorado
The Buffaloes are #7 in the rankings, which appears as a long shot to make the top 4, but coach Mark Wetmore's teams usually finish the season strong. Anything could happen with them.
Will run at Pre-Nationals
Hoping for top ten
Iowa State
The Cyclones have good depth and, currently ranked #8, should be able to get the job done.
Will run at Adidas Invitational
Virginia
The Cavaliers have run just one race, one that wasn't terribly competitive, and it's hard to tell exactly what they have. They appear to be a contender for a top-ten finish.
Will run at Adidas Invitational
New Mexico
A win at the Notre Dame Invitational, both for the team and for top runner Rachel Arter, suggests the Lobos are one of the better teams in the country. On the other hand, the competition they faced was substandard for a Notre Dame Invitational.
Will run at Adidas Invitational
Syracuse
The team is #12 in the latest national coaches' poll but didn't look all that great in their lone race so far this year, the Battle in Beantown. We'll find out more about them this weekend.
Will run at Adidas Invitational
North Carolina
Coach Mark VanAlstine thought the Tar Heels' third-place finish at the Roy Griak Invitational was an underachievement. If true, then they're a contender for top ten at the NCAAs.
Will run at Adidas Invitational
Washington
The Huskies ran with a very tight pack at their own Washington Invitational, so depth is a strength. Right now they look like no better than fourth in the Pac-12 but that tells you just how strong the conference is.
Will run at Adidas Invitational
CIS
Every week I'll take a look at a non-Division I level of collegiate competition. This week it's Canadian Interuniversity Sport, the top level of college sports in the Great White North.
The CIS is somewhat analogous to the USA's NCAA Division II or NAIA in that there is scholarship money available to athletes, but not much of it in cross country. The CIS's 54 member institutions are organized into four regional conferences: Atlantic (AUS), Quebec (RSEQ), Ontario (OUS), and the west (CWAA).
One major difference between Canadian and US collegiate running is that the CIS sanctions cross country and indoor track and field but not outdoor track. The spring season just isn't long enough to justify it (example: Edmonton, home of the University of Alberta, averages 1.2 inches of snow in May). The result is that outdoor track for young adults is based around summer competition organized by clubs, most of which are affiliated with university teams. It allows for a nice mix of team-oriented competition and individualized development.
This year's CIS Championships will be held on November 8, hosted by Memorial University of Newfoundland at St. John's' Pippy Park Golf Club. (It's about as far east as you can get in Canada and closer to Ireland than it is to Winnipeg.) There is no formal qualifying procedure; anyone team willing to go can run, but with Canada's long travel distances and modest budgets, only the real players tend to show up. As always, the team to watch comes from the Toronto exurb of Guelph.
The Guelph Gryphons dominate CIS cross country to a degree that few teams in any college sport ever have. They have swept the men's and women's titles every year since 2006 and have never scored more than 33 points during that streak. Coach Dave Scott-Thomas has created a year-round all-level running program in Guelph that includes the community, the university team, and the Speed River Track & Field Club. The latter group is the summer club for the university team but also includes two of the fastest marathoners in Canadian history (Reid Coolsaet and Eric Gillis) plus a 3:56 miler (Taylor Milne) and many more Olympians and international runners. Asking if Guelph is going to win the CIS Championships again is like asking if the sun will rise in the east.
Over the last few years, many of us have wondered just how good Guelph's teams are in comparison to the best NCAA teams. The Gryphons regularly cross the border and take on US competition, but their early and compressed season means they've generally run in meets like last weekend's Paul Short Run at Lehigh, where the NCAA teams are often running partial squads and/or at less than full effort. So we've never really gotten a definitive answer, but this year we might. They're coming to Wisconsin's adidas Invitational next week and will be the only non-Division I team in the race. A top-five finish isn't a crazy thought; a week ago the Gryphon women beat #5 Georgetown and #6 Florida State.