2 Comments
The Monday Morning Run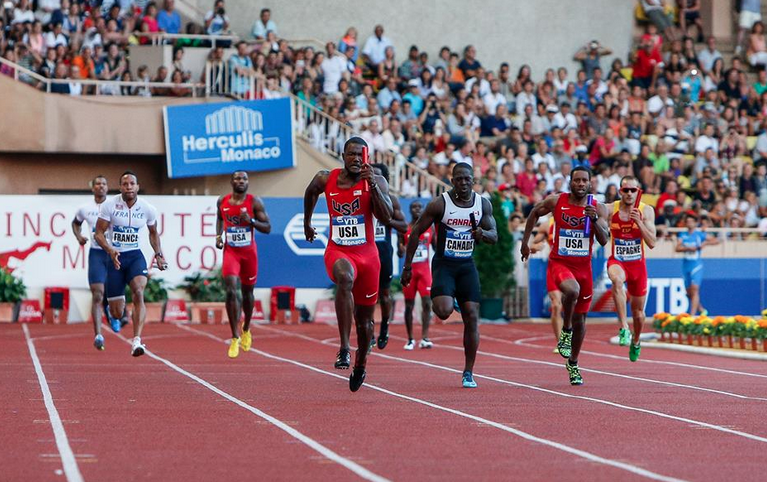 Kevin Sully | On 22, Jul 2013
Photo courtesy of IAAF's Facebook 
If you were playing a version of Mad Libs based on events from the last week in track and field you would have quite the array of words or phrases to choose from. PEDs, bar fight, Italian hotel room, drug raid, anti-aging doctor, injections, press conference walk-out. The last eight days have not been kind to the sport as it continues to sputter just three weeks out from its World Championships. The less salacious news wasn't altogether positive as well. David Rudisha, world record holder and renowned jaw-dropper, is injured and will be unable to defend his title. Yohan Blake, the only real threat to Usain Bolt without Tyson Gay, also officially withdrew from the meet this week citing a hamstring injury.
It appears the anticipated post-Olympic hangover has morphed into some strange stomach virus that has persisted well into the summer. It is fitting then that this week's Diamond League meet in London is billed as the Anniversary Games–an attempt to scrape the last bit of excitement from the stadium that hosted a phenomenally entertaining track meet last year. In those ten days in London, everything seemed oddly perfect. The home team had a great night winning three gold medals. The star of the Games, Bolt, put on his normal show. There were world records, limited controversies and the United States even completed their hand-offs.
This year it has been a constant stream of negative press, kicked off by the Oscar Pistorius murder investigation in February and bookended by last Sunday's doping trifecta.
During the week, Nick Zaccardi of NBC posed an interesting question on Twitter:
Who are the 10 most recognizable track and field athletes in the world? How many of them are questionable or out of world championships?

— Nick Zaccardi (@nzaccardi) July 17, 2013
My initial attempt at a list was too US-centric. The worldly Zaccardi countered with a more accurate top ten. I added Tyson Gay to his list because even before the positive drug test I felt he was a bigger name globally than Caster Semenya.  Here is the top eleven in no particular order.
–Oscar Pistorius: See above
–Liu Xiang: Injured
–Caster Semenya: Hasn't qualified for the World Championships yet
-Lolo Jones: Bobsledding (and winning bar fights…track strong!)
-Jessica Ennis: Questionable with injury. Hasn't competed since London.
-David Rudisha: Injured
-Yohan Blake: Injured
-Tyson Gay: Drug suspension
-Usain Bolt: Competing
-Allyson Felix: Competing
-Mo Farah: Competing (more below)
Add in Veronica Campbell-Brown (drug suspension) and Sanya Richards-Ross (injured) and the list tips even farther in the no-show direction.
Are some of these absences indicative of a natural transition from one era to the next as athletes age or have bad luck with injuries? Certainly. But the lack of big names combined with all the other negative headlines could make for a Moscow malaise.
Monaco
-Last Friday's meeting in Monaco tried its best to get the attention back on the athletes who are still competing. Did it succeed? Probably not, but the meet did showcase some of the season's best performances. In the men's 1500 the pace making looked to be insane right up until the point it became insanely brilliant. Asbel Kiprop wisely stuck behind rabbit and then hung on the final 500 meters to win in 3:27.72. The time moves Kiprop to fourth on the all-time list. Behind Kiprop, Mo Farah finished in a European record of 3:28.81.
Strangely, Farah now sits higher on the all-time 1500 list (6th) than he does in the 5,000 (31st) or the 10,000 (15th). I'm not sure what we can make of those numbers other than Farah just ran a blazing 1,500 and the conditions, pace making and timing haven't quite yet aligned for him to take a real crack at a fast time in the longer distances.
Even more bizarre is the thought of Farah making his marathon debut next April while he is still so close to his peak in the mid-distance. I think it is safe to assume we haven't seen a marathoner with this level of speed.
-With Farah dabbling in the short stuff, Edwin Soi won another Diamond League 5,000. The marquee Americans struggled in the race as Galen Rupp placed sixth in 13:05 and Bernard Lagat failed to finish. The surprise of the race was Lawi Lalang.
The NCAA champion hung with the lead pack until 600 meters to go and placed 5th in 13:00.95, a personal best. Lalang has already beaten Kenenisa Bekele this year and in Monaco was just behind last year's bronze medalist, Thomas Longosiwa.
I'll say it again, the 2013 Arizona Wildcats could trot out a pretty good team to World Championships with Lalang, Brigetta Barrett (who won her first Diamond League high jump) and Georganne Moline. Lalang unfortunately won't be in Moscow to join his former teammates, but I'm sure Bahrain and Qatar have already sent him friend requests on Facebook.
-In the women's 1500, the Americans made their case why they should have 5 6 7 entrants in the World Championships. Jenny Simpson won the race, but behind her Americans took third through fifth and all broke 4:02.
Today was 1st time that 4 US women ran sub-4:02 in the same race.

— Jesse Squire (@tracksuperfan) July 19, 2013
One of those women, Gabriele Anderson, did not qualify for World Championships. Two of the others, Shannon Rowbury and Brenda Martinez qualified in other events. As with the men's 1500, a disclaimer is in order when using rabbited Diamond League races to predict what will happen in a championship meet.
-On the topic of American depth, Queen Harrison lead a 1-2-3 sweep in the women's 100-meter hurdles. Sally Pearson finished fifth in 12.75. Since her return, Pearson has run five times between 12.67 and 12.76. Good enough to make a final in Moscow, but not nearly what she will need to earn a medal especially when Brianna Rollins is still running under 12.5.
-Also in Monaco, the US women also unveiled what appears to be their "A" team for the 4×100 relay with Allyson Felix, Carmelita Jeter, Octavious Freeman and English Gardner combining for an easy win. The American men used Charles Silman, Mike Rodgers, Mookie Salaam and Justin Gatlin to breeze to victory.
In more relay news, the Tampa Bay Times reported that Jeff Demps, who did not make the final of the 100 at the US Championships in Des Moines, will also be part of the American relay pool in Moscow. Gay is the only withdrawal I am aware of so there must be more injuries to some of the finalists.
About that press conference
In the Monaco pre-meet press conference, the managers of Shelly-Ann Fraser-Pryce and Carmelita Jeter stated that their athletes would not field any questions regarding doping. An understandable, but altogether unreasonable request to make toward media whose job it is to cover the sport, warts and all. Simon Hart of the Daily Telegraph referred to doping in the press conference's second question and both women walked.
Jesse Squire has a full breakdown of the petulance. Or, if you want a more succinct version here is Sports Illustrated's Tim Layden making great use of all 140 characters.
Track and Field needs strident, smart voices on doping. Not imperious no-comments and walk-offs that foster mistrust.

— Tim Layden (@SITimLayden) July 18, 2013
 Watch/Read This
–Ross Tucker of the Science of Sport writes about the Paralympian who could medal in the Olympics in 2016.
–David Epstein of Sports Illustrated sheds some light on Tyson Gay's positive drug test.
-From KOAT7 in Albuquerque, "Runner Poops in Yard." In this case, the title does tell all.