No Comments
The Michigan Track Classic: A Surprise Success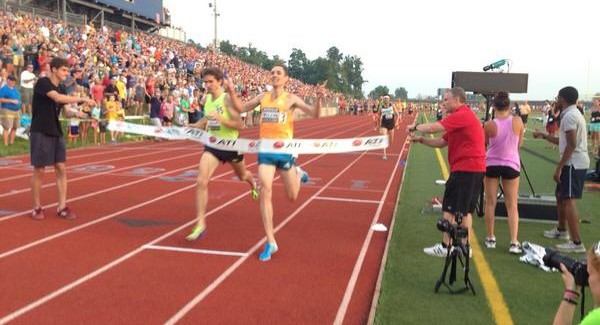 Jesse Squire | On 11, Aug 2014
Photo via Run Michigan twitter
Last night I attended the Michigan Track Classic, a meet that has gone from nonexistence to a major event within the span of barely over a year (and just three races). About five thousand excited fans jammed a high school stadium to loudly cheer on high-quality men's mile and women's 800 races. How did this happen? And how can we get more of it?
The Scene
I arrived at Saline High School about 45 minutes before the meet was scheduled to begin and a large crowd was already gathered. It was a festival atmosphere. Sponsor tents were set up and t-shirts were on sale. The stadium's bleacher seats were already full.
Saline (pronounced like Celine, as in Dion) is a suburb of Ann Arbor, where meet organizer Nick Willis starred at the University of Michigan and still resides. It was immediately obvious why the meet was here and not at UM's track. Michigan's facility, historic Ferry Field, seats maybe 600 fans and has inadequate parking for a major event. Saline High School's track stadium has much more seating plus grassy hills alongside the track for even more fans and voluminous parking for all of them. Here, the track has broad "European-style" turns and a good surface, and the adjacent football stadium served as athlete warmup space. It's the best place in southeast Michigan for a meet like this.

When race time came, athletes were introduced one by one as they ran down the homestretch and high-fived even more fans who were allowed down on the track in the outside lanes. The races were no-nonsense affairs with pacemakers and deep fields; the women's 800 had seven sub-2:00 runners, led by 2014 world leader Ajee Wilson, and the men's mile had fourteen entrants with 1500 PRs of 3:38 or better, headlined by Willis, the Olympic silver medalist who recently ran 3:29.
Michigan alum Becca Addison paced the women's 800 through 400 meters but no one went with her, and when she dropped off it left Wilson in the lead, followed closely by Charlene Lipsey. Though Lipsey held close through 600 meters, the result was never in any real doubt, as Wilson pulled away down the homestretch to a relatively easy 2:00.29 win over Lipsey (2:01.15), who was nearly nipped at the line by Kate Grace (2:01.22). Morgan Uceny got the crowd doing the wave in the brief break while the men's field was being organized.

The men's mile, named for longtime Michigan coach Ron Warhurst (who still coaches Willis) was led by local athlete Luke Pawlaczyk through 700 meters and Ohio State alum Jake Edwards through 1000. When he dropped out it left Willis in the lead, a position he says he doesn't tend to take. But he'd promised a fast time and felt it was his responsibility to make it happen. He was followed closely by Cory Leslie and Garret Heath.
Leslie began to fade as they approached the bell in 2:55.87 (he would finish tenth) while Heath and Kyle Merber were the only two able to stick with Willis around the bend. "Merb" fell off on the backstretch while Heath held on, but he could not muster enough to pass Willis. The winning time for the meet organizer was 3:53.50, the fastest mile ever run in the state of Michigan. Heath (3:53.61) and Merber (3:55.08) were also under the old record, run by new UM coach Kevin Sullivan back in his Wolverine days.

The races were the show, but they weren't even the coolest part of the meet. That came after the races, when the spectators were allowed down on the track and infield to meet the athletes. Willis took at least a hundred kids with him on a victory lap. Most of the athletes stayed around for autographs and pictures and questions for an hour or more. A lot of new track fans were made last night, and it was a smashing and resounding success.
How did we get here?
All of the athletes agreed that it was a fantastic atmosphere, just short of the level of Hayward Field or NYC's Armory and the big relay meets but clearly better than anything else in the USA. Morgan Uceny compared it to the small European meets in places like Belgium and Scandinavia, where the fans know the athletes and get to interact with them. With track and field so clearly struggling elsewhere, how did this happen?
That's an awfully good question. They called this the first Michigan Track Classic, but it's an outgrowth of the Running Institute Mile that Willis organized in the same venue last August. He needed a high-quality race to tune up for the World Championships, pulled together the best stateside field he could get, and invited the public to come watch. The athletes were stunned when an estimated 3,000 fans showed up. They had stumbled into success and decided to keep it going.
Willis decided to keep it simple and grow the meet slowly, so only a women's 800 was added for 2014. T-Mobile USA CEO John Legere generously provided a $24,000 prize purse for the meet and the top six finishers in each race walked away with cash ($5,000 for the winners, which is pretty good for a small meet). Tickets were $5 and the gate helped cover meet expenses, the largest part of which is athlete travel costs.
Still, why were there so many people here and why were they so enthusiastic? It may simply be an accident of time and place.
First of all, running is very big in the Ann Arbor area. The county has a population of about 350,000 but supports the high-quality Ann Arbor Track Club and a large number of running-specialty shops; the Tortoise and Hare and four Running Fit locations, plus two more independent shops opening within the next month. High school cross country has high participation rates and is quite competitive. Two universities with long traditions in track and field, Michigan and Eastern Michigan, are at opposite ends of Washtenaw Avenue. Ordinary college kids are out running nearly any time of day or night. And a decent number of pros live and train here.
However, running is big lots of other places in the USA and it can't make progress as a spectator sport. One other thing that worked to gain traction for last year's meet was the inclusion of Michigan alumni like Willis and Nate Brannen. Wolverine fandom runs deep in southeast Michigan and the block M gets some attention regardless of the sport. This year's meet kept that going by inviting others with local connections, like Dexter native Lex Williams and UM alumni like Nicole (Edwards) Sifuentes and Geena (Gall) Lara.
But I think the biggest single factor in this meet's success is the timing, and I think this because of the huge turnout by high school kids. They were the vast majority of those in attendance. High school runners are all jazzed up for cross country right now, but school hasn't yet started and they still have plenty of time to have fun. The choice of day of the week helps too; Sunday evening is traditionally the time when people have the fewest other things going on. So we have a ready-made audience of young athletes who really want and need something to do. The up-close-and-personal and meet-and-greet atmosphere helps ensure that the new fans made here keep on coming back, too.
Where do we go from here?
First of all, should we get excited about 5,000 people or should we track fans be embarrassed that a crowd like that is considered big? It all depends on context. For a small meet organized on a shoestring budget, it sure is a big deal. Minor league baseball and hockey and mid-major college basketball would be thrilled to have 5,000 raucous fans for a single game, and this was an event that barely took half an hour and put on with very few resources. Think about the ratio of fans to athletes: take 5,000 fans to see two races featuring 23 athletes and pro-rate that turnout to a meet the size of a Diamond League or World Challenge affair and you'd be looking at 30,000 fans, a number exceeded in US spectator sports only by pro and big-time college football or the year's biggest baseball or MLS games. So yes, I do think this should be considered a resounding success.
In terms of this particular meet, Willis has definite plans to keep it going and to expand next year to maybe four races or so. He still wants it to be a quick and small affair, and part of the reason is that too many races and too many athletes reduces the amount of personal interaction between the athletes and fans. It would seem obvious to add more middle-distance races, but hurdle races were mentioned as a possibility. UM alumni Jeff and Tiffany Porter still live and train in the area. The athletes I talked to last night all planned on coming back for next year's meet, so getting good fields should not be difficult.
When it comes to trying to export this kind of meet elsewhere, I think the idea should not be duplication but adaptation. The biggest thing is to know your audience and to know when they have time for you. Like I said above, most of the fans who came are kids excited about running and during a brief time when they don't have other distractions. It should also be noted that August is a time without football, basketball or hockey, and Sunday night is a time without baseball or auto racing. There just weren't any other sports competing for eyeballs last night.
Willis got the word out about this meet four months ahead of time and used social media to promote it, but he also used more traditional media outlets too. He made sure that start lists were well known more than a week in advance and was disappointed in himself that it took an hour to get results on the website. He used 21st-century ticketing techniques; many attendees bought theirs online and showed up with bar-coded printouts. This meet succeeded where the American Track League appears to have failed by doing the basic legwork of self-promotion and communication. An innovative format doesn't do any good if no one knows about it.
Results:
SOS Rehydrate Women's 800
1. Ajee Wilson (adidas) – 2:00.29
2. Charlene Lipsey (adidas) – 2:01.15
3. Kate Grace (Oiselle) – 2:01.22
4. Heather Kampf (Team USA Minnesota) – 2:01.78
5. Erica Moore (Brooks Beasts) – 2:02.28
6. Katie Mackey (Brooks Beasts) – 2:02.69
7. Nicole Sifuentes (Canada/Saucony) – 2:02.72
8. Moran Uceny (adidas) – 2:02.90
9. Geena Lara – 2:04.76
10. Phoebe Wright (Nike) – 2:05.40
Pace: Rebecca Addison
Running Institute Ron Warhurst Men's Mile
1. Nick Willis (New Zealand/adidas) 3:53.50
2. Garret Heath (Brooks Beasts) – 3:53.61
3. Kyle Merber (Hoka One One) – 3:55.08
4. Mac Fleet (Oregon Track Club) – 3:56.77
5. Jack Bolas (Furman Elite) – 3:57.39
6. Dorian Ulrey (Nike) – 3:57.52
7. Craig Huffer (Australia/Running Institute) – 3:58.07
8. Lex Williams (Running Institute) – 4:00.17
9. Riley Masters (Brooks Beasts) – 4:01.88
10. Cory Leslie (Furman Elite) – 4:05.88
11. Liam Boylan-Pett (New Jersey New York TC) – 4:09.43
12. Josh McAlary (Playmakers Elite) – 4:11.87
13. Ian Boyle – 4:20.94
Pace: Jake Edwards (Columbus Running Company), Luke Pawlaczyk (Very Nice TC)
Interview with Nick Willis:

Interview with Ajee Wilson: