One Comment
Athletech: Phil Johnson, Photographer (TracktownPhoto)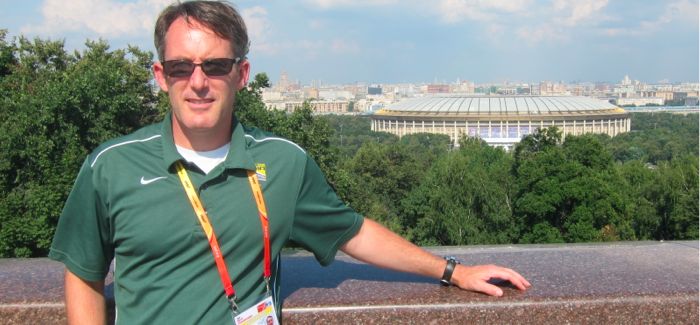 Welcome to Athletech, where we discover the gear and technology the running and track & field community uses to get stuff done. If there is someone who you'd like us to feature, tweet their name to us @DailyRelay with the tag #Athletech.
1) Who are you and what do you do?
My name is Phil Johnson (
@tracktownphoto
). My day job is working as a nurse and I took up sports photography as a hobby in 2008. In 2010, I started 
TracktownPhoto.com
 as a place to share my photos. Since then, I've had the opportunity to photograph everything from middle-school sports to the Olympic Trials and the World Championships of Track and Field. I've also had several images used on billboards, in magazines and all over the web.
2) What hardware do you use?
I use two computers for my photography work. I have an 
eMachines desktop
 that I bought several years ago.  It has only 2.0GB of RAM and I'll admit it won't be long before I send it out to pasture. The other computer I use is an 
ASUS Notebook U80V
, U80A Series with 4GB RAM and a 2.10GHz processor running Windows Vista. It's lightning fast compared to my desktop, but still quite a bit slower than either of my stepkids computers. All of my data is kept and backed up on 
WD My Passport external hard drives
. I have 5 or 6 of them with data from back to 2008 (and duplicated in most cases). For shooting, I use 8 & 16GB 
SanDisk Ultra Compact Flash cards
for my D4 and D3 and 16GB
SanDisk Ultra SD cards
for my D600.
For shots taken near the discus and hammer throw ring, I use a remote cage that I constructed myself using metal shelving and hockey sticks. The remote is a
Alzo Digital remote
which costs about 1/10th the price of the
PocketWizard
and has worked well.
My phone is an
iPhone 3GS
 with shattered case. The phone keeps on working great, so haven't bothered to get a new one. It's the model with 32GB flash memory, which many of the much newer models don't have. In it's current state, I do get a bit embarrassed from time to time when I use it.  Sometimes, I hold my finger over the shattered part of the case.  I'll probably be forced to upgrade this year.
3) What software do you use?
TracktownPhoto.com runs on WordPress and is pretty simple way for me to update and display my most recent photos.
4) What would be your dream setup?
Thankfully, as far as camera equipment, I'd have to say that I'm currently using my dream setup.  At major events, as I mentioned, I'm very lucky to have the support of Nikon Professional Services to fill the gaps in my equipment needs.  If there's a dream setup that I don't have but would like, It's clearly computer related.  Though I seem to do just fine with my dinosaurs, I'm quite sure that faster processor speeds and graphic card capability would speed up my workflow and make the process a bit smoother.