3 Comments
NCAA Championships: Thoughts on Day 1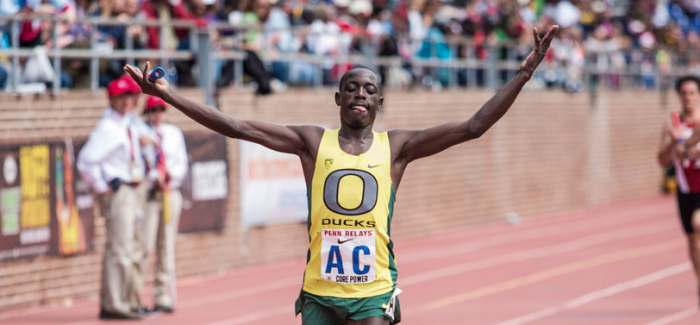 Jesse Squire | On 09, Jun 2016
Edward Cheserek won yet another NCAA title last night, but he can't do it all for his Oregon Ducks if they are to retain their team championship.
Just like all of you, I'm following the NCAA Championships at home this year. I have lots of thoughts about yesterday, the first day of the big show.
TV coverage
You may be aware of this old trope:


That's how I feel about the TV coverage of the NCAA Championships. We're getting a lot of it, basically full coverage of every running event over four days, plus ESPN3 streaming coverage of the decathlon/heptathlon and field events. But good lord, it is awful.
Larry Rawson was once a pretty good announcer, but that was so long ago that hardly anyone under the age of 50 can remember it. Dwight Stones cares and tries, but play-by-play is not his strength; in an ideal world he'd be given the Mike-Fratello-with-a-telestrator job, breaking down field event technique. And these broadcasts are far from ideal.
First off, there's Rawson's diarrhea of the mouth.
@tracksuperfan The problem with Rawson is he talks down to the fan like they don't know how far a track lap is.Or a mile.

— Ashley Conklin (@Ashleyrgsports) June 8, 2016
The problem is the morons who continue to hire him. He's not good enough for USATF…think about that for a second. https://t.co/Yb1VlZJ638

— Jesse Squire (@tracksuperfan) June 8, 2016
@BigTimeTrackFan @tracksuperfan @HouseofRun Rawson just said that the hammer thrower threw the hammer "238 feet per second"

— Ray (@HouseOfRay) June 9, 2016
@acexc31 @HouseOfRay @tracksuperfan watching DVR right now. Said NCAAs "all about speed." So style points eliminated this year…helpful.

— Scott Cichon (@scichon25) June 9, 2016
@scichon25 @HouseOfRay @tracksuperfan sorry last one… "5 qualifying spots are definites based on finishing top 5"

— Aaron B (@acexc31) June 9, 2016
Besides the stupid, there was the ignorant. My brother tells me that Rawson found it notable that Akron's Clayton Murphy already has Olympic qualifying times. Well, the guy was a Worlds semifinalist last year and the top finisher from the entire western hemisphere. In that context, it would be remarkable only if he didn't.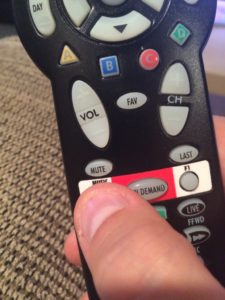 I had to depend on others for information on how bad the announcing was, because I quickly decided that neither Stones nor Rawson could tell me something I didn't already know. As with a few classic 1980s shows such as Hee Haw and Solid Gold, the NCAA telecasts were best enjoyed with the sound turned off.
Even that didn't eliminate the awfulness. There was the usual poorly-timed commercial breaks and camera shots that ignore the importance of eight-place scoring. There were a couple of on-screen graphics that were just plain wrong. Florida's Arman Hall was identified as a member of the 2013 World Championships gold-medal winning relay in the 4×100 relay (he's a 400 runner), or LSU's Nethaneel Mitchell-Blake as being entered in the 100 meter hurdles (he's not a hurdler, and men don't run that distance anyway).
However – and I cannot stress this enough – there is a lot of coverage, it's all live, and it's on ESPN's top-tier channels. There were multiple field event feeds. I'm very happy that I get to see all of this, I just think the coverage is frustratingly lazy and unimaginative. It's like having a massively talented athlete who does well on talent alone, but doesn't take things seriously enough to perform anywhere near as well as he could.
Team competition
Yesterday I identified five teams as having a chance at the men's team championship: LSU, Arkansas, Oregon, Texas A&M and Florida.
LSU has yet to score, but got both relay teams into the final, two qualifiers in the 200 and 400, and one each in the 100 and 110 hurdles. More importantly, they all ran very well. Nethaneel Mitchell-Blake looked like a potential winner in both sprints and Jordan Moore was the #2 qualifier in the hurdles. Some of these events are a bit of a crapshoot – the 100 and 4×100 especially – but the Tigers are the team to beat right now. I have them projected for 64 points, and no other team has a ceiling that high.
Oregon did OK, not great. They got three unexpected points (one in the pole vault, two in the javelin) but Matthew Maton didn't get to the 1500 final, where he was expected to score. They got Devon Allen (110 hurdles) and Marcus Chambers (400) to their finals and Edward Cheserek got one win (10k) and looks like he'll probably be in position for a second, but they're down to only two other chances to beat the formcharts: Mitch Modin in the decathlon (unlikely to score) and Jake Leingang in the 5k. I have them projected for 52 points and they can't go much higher. I think the Ducks only have a shot at the championship if LSU starts beating themselves.
Arkansas helped themselves a bit. They got six unexpected points out of Gabe Gonzalez in the 10,000, they got two finalists in each of the 100 and 200, the 4×100 was the #2 qualifier, and they got a surprise steeplechase finalist in Frankline Tonui. I have them projected for 52 points and the Hogs have some chances to beat that projection by quite a bit.
Florida got all their hoped-for qualifiers through and looked good in doing it, but they just don't have enough to make a run at the championship unless the Gators achieve perfection. I have them projected for 47 points.
Texas A&M's position was already precarious coming into the NCAAs and at this point I think they're basically out of it. They got zero points in yesterday's pole vault and long jump, and they did not get some projected scorers through in the 400 and 800. I have them projected at 41 points and getting past 50 is going to be all but impossible.
Yesterday's finals
10,000 meters: There were lots of questions about Edward Cheserek's fitness coming into this meet but he answered them with yet another NCAA Championships victory, and yet again doing it with a decisive move before the homestretch. The Oregon star described himself as being at 90% fitness, but 90% of Ches is better than 100% of the rest of the field was last night. Most of the top distance running talent has opted for tomorrow's 5000 meters, and that may turn out to be a real contest.
Results | Let's Run recap
Hammer throw: Oklahoma State's Nick Miller was the pre-meet favorite and won as expected. Other than a first-round foul, he was never worse than second and his best throw, 73.98 meters (242′ 8″) came in the final round. Cornell's Rudy Winkler was second, and Oregon's Greg Skipper scored six important points for the Ducks in third.
Results
Pole vault: Tennessee's Jake Blankenship was another pre-meet favorite who came away with a win. Swirling winds kept the heights down; Blankenship's winner was at just 5.60 meters (18′ 4½").
Results
Javelin: Mississippi State's Curtis Thompson went from fourth to first on the second-to-last throw of the meet, and his distance of 77.64 meters (254′ 9″). He had to sweat out the measurement when Texas A&M's Ioannis Kyriazis put up a big throw in the final round, but the Aggie ended up being 16 inches short of the win.
Results
Long jump: Arkansas' Jarrion Lawson won at the end of a very full day. He trailed after the early rounds, but no doubt that was due to the effects of running three semifinals (4×100, 100, and 200) and once he got some rest he recorded the only two 8.00+ jumps of the meet and won easily.
Result
Shot put: Virginia's Filip Mihaljevic won as expected and it was almost never in any doubt. Chuk Enekwechi went from sixth to second on his final throw, which meant he scored 11 points in one day for his Purdue Boilermakers since he was also sixth in the hammer.
Yesterday's semifinals
TCU's Ronnie Baker was everyone's favorite to win the 100, but he didn't make it to the finals. He was a bit slow out of the blocks and never accelerated enough to be in position.
Texas' Senoj-Jay Givans ran 9.96 in the 100 meter semis, the fastest of the year in college track. Does that mean he's the favorite? Or does it mean he showed his hand in the semis? I don't know, but I'm not sure how confident I'd be about a guy whose last win in a sprint final was nearly 16 months ago.
Texas A&M freshman Donovan Brazier ran shockingly fast early in the indoor season, then mostly disappeared. When he reappeared at the NCAA indoor championships he was an injury-induced DNF. He's back now and ran 1:45.07 to win his heat – and only four times in NCAA Championships history has the final been faster than that.
The final looks like a battle between Brazier and Mississippi State's Brandon McBride, who not only controlled his 800 semifinal but ran a great 45.36 leg in the 4×400 semis too.
Devon Allen ran 13.38 in the 110 hurdle semis, one of the fastest semis ever at the NCAAs and far better than anyone else. #2 favorite Isaac Williams of Houston did not qualify to the final.
Attendance
The announced attendance total of 9,201 is the third-best Wednesday total in meet history.