No Comments
NCAA Championships Fan Guide -- Day 2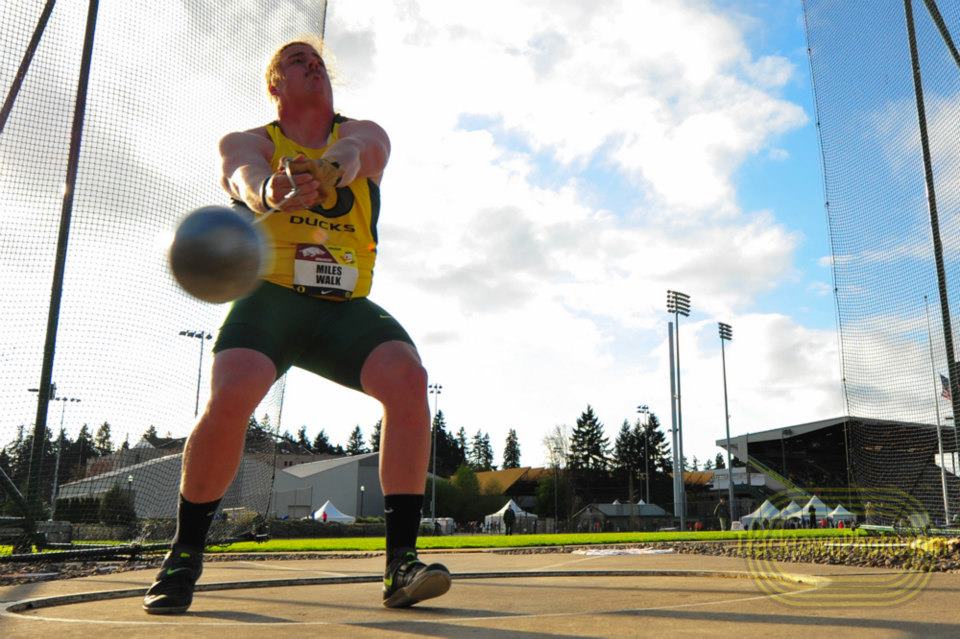 Jesse Squire | On 06, Jun 2013
The NCAA Championships kicked off yesterday with a crowd of 9,001 at Hayward Field, a remarkable total for a day that was mostly qualifying rounds and featured few Oregon favorites.
Today's action continues the buildup to Saturday's finale. There's a lot going on and I'm here to guide you, the fan, through everything that's happening.
If you want to watch the action online, you've got lots of choices. From 11:00am local time (2:00pm ET), the Pac-12 will have a webcast with five different feeds for all the action. ESPN3.com will take over at 3:50pm local time (6:50pm ET) for a single-feed webcast.
Of course you want to keep open a window with the live results.
For all the other stats and info you could ever want, go to the USTFCCCA's National Championships Central and the Track and Field News homepage.
Let's get to it!
Team update
After one day of action, the team championship picture has gotten a little more clear, but not much.
In men's action, Oregon's title hopes took a hit when Michael Berry failed to qualify for the 400 meter finals. The battle looks to be between SEC rivals Arkansas, Texas A&M and Florida. Here is what I have right now in terms of "points on the board" and projected final scores, which will be updated each day.
| | | |
| --- | --- | --- |
| Team | On the board | Projected |
| Texas A&M | 0 | 60 |
| Arkansas | 5 | 56 |
| Florida | 0 | 50 |
| Oregon | 0 | 42 |
On the women's side, it looks to be a two-way battle between Kansas and Oregon. The Jayhawks lost out on expected points in the 400 when Diamond Dixon failed to qualify for the 400 meter finals, but got unexpected points out of Heather Bergmann in the javelin. The Ducks ran well in qualifying rounds and got an unexpected point in the javelin out of walk-on four-sport star Liz Brenner.
| | | |
| --- | --- | --- |
| Team | On the board | Projected |
| Kansas | 17 | 56 |
| Oregon | 1 | 56 |
| Arkansas | 0 | 42 |
| LSU | 0 | 40 |
| Texas A&M | 1 | 38 |
Decathlon day 2
Begins at 11:00am local time (2:00pm ET) and runs all day
Live results
Based on yesterday's results and scoring potential in today's events, I'm projecting this to be a battle between Curtis Beach (Duke) and Johannes Hock (Texas). Current leader Jeremy Taiwo (Washington) has a chance as well.
The key event might be the pole vault, a somewhat unpredictable event where athletes can make PRs or early exits. If Beach gets over 5.00 meters and neither of the other two contenders do, then he's in the driver's seat. But if Hock or Taiwo have a career day in the event, then they're in charge. Hock will make up a ton of points on Beach and Taiwo in the javelin but give a lot of them back in the 1500 meters.
Scoring opportunities: Arkansas (Kevin Lazas) and Oregon (Dakotah Keys) . Lazas needs a big pole vault to get on the scoreboard and Keys needs a big everything.
Heptathlon day 1
Begins at noon local time (3:00pm ET) and runs all day
Live results
Favorite: Makeba Alcide (Arkansas). She won the SEC with a score of 5968, more than 150 points higher than anyone else has scored all season.
Challengers: Erica Bougard (Mississippi State), Keia Pinnick (Arizona State),. These two were first and second in the pentathlon at the NCAA indoor championships.
Long shot: Vanessa Jules (Marshall). This is the first national championship for the senior, who added nearly 600 points to her PR at the Conference USA Championships.
Scoring opportunities: Kansas (Lindsay Vollmer). Vollmer is picked for 4th by Track and Field News but is ranked 8th by seasonal best score. The Jayhawks are hoping for points here.
Men's Hammer
1:30pm local time (4:30pm ET)
Live results
Favorites: Tomas Kruzliak (Virginia Tech), Nick Miller (Oklahoma State). The Slovak and Englishman are the only collegians over 70 meters this season.
Challenger: Jeremy Postin (Florida). Last year's runner-up, Postin is probably the most consistent of the other throwers.
Long shot: Greg Skipper (Oregon). The only freshman in the top fifteen will be throwing at his home facility.
Scoring opportunities: Florida (Postin, Kyle Strawn), Oregon (Skipper). Track and Field News predicts all three to score.
Women's Discus
1:30pm local time (4:30pm ET)
Live results
Favorite: Anna Jelmini (Arizona State). Last year's runner-up is undefeated against collegiate competitors in 2013–and her biggest threat, Texas A&M's Shelbi Vaughan, didn't qualify to Eugene.
Challengers: Jessica Maroszek (Kansas), Beth Rohl (Michigan State). Maroszek beat Jelmini at the west preliminaries.
Long shot: Alexis Cooks (Akron). The MAC champion won the east prelims.
Scoring opportunities: Kansas (Maroszek). Kansas is a field-event heavy team.
Running event semifinals
4:00pm local time (7:00pm ET)
200 meters, 1500 meters, 100/110 hurdles, women's steeplechase, 4×400 relay
Live results
Men's semis:
Most of the 100 meter finalists will be back for the 200 heats, plus quarter-mile star Bryshon Nellum (USC). Led by Mac Fleet, Oregon has three qualifiers in the 1500. Florida, Oregon and Texas A&M all have high hurdlers who should get through to the finals, and of course all the top teams are represented in the 4×400.
Women's semis:
Oregon needs English Gardner to get through in the 200 meters but use as little gas as possible while doing so. Texas A&M has four entries in the 200 and could get a pile of qualifiers. The Ducks need both Anne Kesselring and Becca Friday to get through the 1500. Clemson's Brianna Rollins should roll through the hurdle semis. If the Ducks' Megan Patrignelli can get through to the steeplechase final it could be a big plus for Oregon. Again, all the top teams are in the 4×400–but will Oregon coach Robert Johnson rest English Gardner in the semis, and how much of a roll of the dice is it if he does?
Men's Long Jump
4:30pm local time (7:30pm ET)
Live results
Favorite: Damar Forbes (LSU). The failure of Florida's Marquis Dendy to advance out of the east prelims leaves Forbes as the lone 27-footer in the competition.
Challenger: Mike Hartfield (Ohio State). Earlier this year, Hartfield broke one of the oldest major-college school records on the books: the outdoor long jump mark set by Jesse Owens in 1935.
Long shot: Jarrion Lawson (Arkansas). The freshman took fourth at the NCAA indoor championships and bronze at last year's World Junior Championships.
Scoring opportunities: Arkansas (Lawson, Tarik Batchelor, Raymond Higgs). This could be a very big event for the Razorbacks.
Men's 10,000 meters
4:30pm local time (7:30pm ET)
Live splits
Favorite: Lawi Lalang (Arizona). With miler speed and cross country toughness, it's hard to see Lalang being beaten.
Challenger: Girma Macheso (Oklahoma State). Long a cross-country star, Macheso has now run under 28:00, the only collegian to do so this year.
Long shot: Zach Mayhew (Indiana). The Hoosier had a great cross country season last fall, winning the Big Ten and finishing 13th at the NCAA championships.
Scoring opportunities: Oregon (Parker Stinson), Arkansas (Solomon Haile). Both are capable of scoring well but a lot can happen in 25 laps.