One Comment
The Weekend's Best Matchups: World Juniors, Commonwealth, Roads and more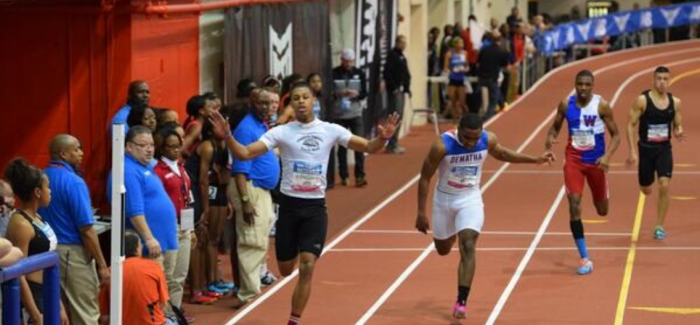 Jesse Squire | On 25, Jul 2014
Thank God it's Friday.
It's a big pause in the Diamond League schedule right now but there's still plenty of action. The World Junior Championships run through the weekend, the Commonwealth Games begin, and there's quite a bit of action on the roads too. I've plucked the "great eight" matchups of the weekend for you, and the best one is tonight.
Trentavis Friday vs Zharnell Hughes
Men's 200 meters, IAAF World Junior Championships
Hayward Field, Eugene OR
Friday, 8:10pm local time (11:10pm ET)
IAAF World Juniors live results/blog/radio
TV/webcast info
The World Junior Championships are the biggest event of the weekend and, from an American perspective, this is the biggest showdown of the meet. The USA has lost ground on the Caribbean in the sprints over the last few years, but could make it up in the future if this week's results have any predictive power.
Friday is a recent high school graduate who hit the magic 10.00 mark in the semifinals at the US Junior Championships, only to false-start out of the final (and out of the US team). He redeemed himself with a win in the 200 meters and enters as a co-favorite.
Hughes holds the Jamaican high school championships record at 10.12 seconds but does not represent Jamaica. Rather, he's from the tiny island nation of Anguilla and earned a scholarship to attend the IAAF's Regional High Performance Training Centre in Jamaica. He skipped a chance to run at next week's Commonwealth Games in order to concentrate on the World Juniors.
The rest of the weekend's top matchups, in chronological order…
US women's throwers vs. the world
Friday, IAAF World Junior Championships
In the big picture, the weakest part of the US program has always been the women's throwing events. You can count the number of Olympic and Worlds medals won by Americans in those events on the fingers of one hand. The USA is beginning to catch up with the rest of the world but has yet to produce a consistent title contender.
Two US women have a chance to win throwing events on Friday night. Raven Saunders comes into the shot put final (9:35pm ET) as a slight underdog against reigning World Youth champion Emel Dereli (Turkey). But Saunders is on a tremendous improvement curve over the last year, after adopting the spin technique, so anything is possible. Note that the only other US World Junior champ in this event is Michelle Carter, the women whose high school records were broken this year by Saunders.
Stanford freshman Valarie Allman comes into the discus final (10:45pm ET) with the world's leading junior mark, but she still faces major competition from four different continents, most notably in Germany's Claudine Vita.
Molly Huddle vs Amy Hastings
Women's race, USA 7 Mile Championship
Bix 7, Davenport IA
Saturday, 8:00am local time (9:00am ET)
Race website
Hastings won the US road 10k title three weeks ago and is the only athlete entered who has much chance against Molly Huddle, who just broke her own American 5000 meter record last week. Huddle has branched out to many different distances too, going up as far as a half marathon, and should have no trouble with the 7-mile distance. There is no official (or even unofficial) American record for 7 miles, but the best I can find is 36:13 by Lynn Jennings at the '92 Falmouth road race.
A subtext to this race is a fight for the lead in the USA Running Circuit points standings. Both of the leaders are here, Sara Hall and Mattie Suver, and whoever finishes first out of the two will overtake the lead.
Heather Kampf vs Michigan
Women's race, Ryan Shay Mile
Charlevoix, Michigan
Saturday, 10:30 AM
Race website
Kampf has become the USA's queen of the road mile and has won titles all over the country. She comes into this race in the resort town on Lake Michigan as a prohibitive favorite, but her main competition will have a local flavor. Tops among them is Amanda Eccleston, a Michigan native who ran for Hillsdale College and the University of Michigan, plus current Wolverine Shannon Osika and former Wolverine Danielle Tauro. The race is held in memory of Ryan Shay, a Michigan native who died of a heart attack during the 2007 Olympic Trials marathon.
USA vs Jamaica
4×100 relays, IAAF World Junior Championships
Saturday, 8:20pm ET
The USA appears to have the most sprint talent at the World Juniors this time around, but the Jamaicans aren't pushovers and will always bring tough teams. The Jamaicans have had the upper hand in this rivalry at the senior level over the last six years or so, but maybe the tide begins to turn right here. The nation most likely to act as spoilers? Great Britain.
OTC vs 7:50.17
Women's 4×800 relay, Run Track Town High Performance Meet
Hayward Field, Eugene OR
Saturday evening
A quickie one-hour pro meet has been set up to follow Saturday's action at the World Junior Championships. It will offer some American athletes a chance to keep themselves sharp during the European circuit's three week long layoff, and it may entice some of the Hayward faithful to come out and see the World Junior meet. The events held and athletes competing are still in a bit of flux, but the headliner is an attempt on the women's 4×800 meter world record by the Oregon Track Club (at least four other teams are also committed to race against them). I don't see any chance whatsoever at the record–it is a relic of track's steroid era and there might not even be four runners in the world right now who can run the 1:57.5 average split necessary to break it–but a competitive 4×800 relay is a rare and delicious treat, even if the stated time goal is unachievable.
Canada vs Kenya (and a Kiwi)
Sunday, Commonwealth Games
Meet website
CBC coverage
The track and field portion of the Commonwealth Games begin on Sunday with the men's and women's marathons and the men's 5000 meters. The North American team to cheer for there is Canada, and they bring a couple athletes with a fighting chance to get on the medal stand against the Kenyan monolith.
The women's marathon, scheduled for 9:30am in Glasgow (4:30am ET), sees Kenya bring a formidable pair in Filomena Cheyech and Caroline Kilel, both of whom sport 2:22 PRs. But the withdrawal of their third entry due to injury opens up a medal spot, and new Canadian record holder Lanni Marchant just might be able to sneak in. She has the competitive chops suited to unpaced championship races over a challenging course.
Getting onto the podium in the men's 5000 meters (12:40pm ET) is a taller order as Kenya brings two of the world's best in Caleb Ndiku and Isiah Koech. New Zealand's Nick Willis is moving up to this distance and, based on his recent national record at 1500 meters, is going to give those two all they can handle and maybe more. Canada brings Mo Ahmed, who finished ninth in the 10,000 at last year's Worlds. Championship races can lead to some unexpected results and Ahmed is a smart racer, so while the odds are against him it's far from an impossible mission.
USA vs Ethiopia
Women's 1500 meters, IAAF World Junior Championships
Sunday, 6:55pm ET
The fact that the women's 1500 meters was scheduled as a highlight event in Sunday's grand finale is probably because organizers expected Mary Cain to be in it. She instead entered Thursday's 3000 meters, where she won a historic medal with a dazzling display of late-race power.
At first it was noted that it's the only WJC gold medal ever won by an American woman at a distance longer than 800 meters, and then I noticed that it was the first American WJC medal of any kind in the women's distance. And then Flotrack noticed that it was the first American WJC distance medal, period, by a man or a woman.
So the fact that the USA has a two more women's milers capable of winning a medal is remarkable. I've said that Alexa Ephraimson plays the role of Marty Liquori to Mary Cain's Jim Ryun, an athlete of prodigious talent who would be causing us to shake our heads in amazement if someone else hadn't just done so. And I guess that means Elise Cranny is Tim Danielson, the other sub-4:00 minute miler that came between Ryun and Liquori. These two are by far the fastest high school runners of all time who are not named Mary Cain.
Winning, however, is a tall order for either Ephraimson or Cranny. They are up against Dawit Seyaum–and if this were the old Mad Fold-In, her name would come out as Dayaum! She ran 3:59.53 for 1500 meters in June, which is better than Jenny Simpson's PR was when she won the 2011 World Championships gold medal. Gudaf Tsegay, Seyaum's teammate, has also run 4:02.83 (faster than Simpson ran in all of 2011, her championship year).
But if it comes down to tactics and finishing speed, as championship races often do, fasten your seat belt because it will be a wild and loud ride around the last lap in Hayward Field.