2 Comments
Monday Morning Run: Penn/Drake Relays Recap, Spring Marathon Report Card
In a perfect track fan's world, the Penn Relays and Drake Relays would fall on different weekends. I loved the 4.5 hours of uninterrupted track coverage on Saturday afternoon, but with so few domestic professional meets it seemed excessive to double up. However, watching the meets back-to-back did provide an interesting contrast.
The Penn Relays have long been the high point of the professional spring schedule. They have a historic venue, the grandiosely named "US vs. The World" format and the backing of Nike. Usain Bolt ran a leg of the 4 x 100 one year. Allyson Felix, Bernard Lagat and Sanya Richards-Ross all compete with regularity.
In 2013, the midwest supermarket chain Hy-Vee began pouring huge amounts of money into the Drake Relays held in Des Moines, Iowa on the same weekend as Penn. And in the bizarre world of professional track and field, a midwest supermarket chain's support is enough to change the game.
The plan was simple–if you pay them, they will come. The prize money for the last two editions of the meet has been enormous, especially by track and field standards. In the featured professional events the meet paid out $25,000 for first place, $15,000 for second and $10,000 for third. After he won the 400-meters on Friday night, Lashawn Merritt compared the field to a Diamond League race. He was probably underselling it. The Diamond League doesn't even pay as much as what Drake was handing out in novelty checks over the weekend.
This isn't to say that Drake was non-existent before Hy-Vee's backing. They traditionally put on a strong meet, but it wasn't on national television and it seemed stuck behind Penn in the second tier of American relay meets.  With the strong fields has come television coverage–a webcast on Friday night and two-hour broadcast window on NBCSN on Saturday, after Penn
Predictably, the format is working. Across the board the races this weekend were deep and competitive. Many featured match-ups with the medalists from last summer's World Championships.
Meanwhile, the Penn Relays felt a bit flat on Saturday. Some of that was due to the competition from Drake, but they also didn't land the big names for the relays like the have in the past. Kenya and Ethiopia didn't field a team in the distance medley relay. There was no Bolt, Yohan Blake, Shelly-Ann Fraser-Pryce, Veronica Campbell-Brown or Warren Weir for Jamaica. Even the American teams lacked pop.
I have no idea about Hy-Vee's financials or if they are making or losing money through their support of the Drake Relays. What I do know is that they are creating incentives for the best athletes to race against one another. In doing so, they are also creating some competition between the meets themselves.
The Medalists
The top three performances of the weekend…
Gold: Lashawn Merritt
The aforementioned Merritt took on a tough field at the Drake Relays and ran a world-leading 44.44 in the 400. Reigning Olympic gold medalist Kirani James kept it close and finished second in 44.60. Credit is due to James for 1) bouncing back after his disappointing performance at the World Championships last August and 2) not dodging Merritt this early in the season.
Merritt and James's willingness to race each other is one of the reasons it is the best rivalry in sprinting. A quick scan of the sprinting landscape confirms this:
There is almost too much parity in the men's hurdles (both 400 and 110) for their to be any true rivalries. Brianna Rollins and Sally Pearson has massive potential in the women's 100 hurdles, but they have rarely raced when both are in top form. In the flat races, there isn't much to choose from. Manny Pacquiao and Floyd Mayweather will fight before Usain Bolt and Yohan Blake race each other outside a championship. Shelly-Ann Fraser-Pryce vs. Carmelita Jeter looks like it is trending heavily toward the Jamaican. In the women's 400, Sanya Richards-Ross's health has been a bigger rival than any competitor on the track.
@HouseofRun As I watch Drake on DVR, I wonder why Merritt & James don't know how boring it is to see them race so often. #BoltBlakeLogic

— Jason Christian (@JasonC1975) April 27, 2014
Silver: Kristi Castlin
Out of lane eight, Castlin surprised a field of medalists, including the American record holder Brianna Rollins. Castlin's time of 12.571 is a world lead and was five one-hundreths faster than Rollins. Three other women went under 12.74. For Rollins, it was her first loss in the event since 2012. She looked far from dominant, but this is her first season running as a professional. Expect a much later peak for her this season.
Bronze: Hellen Obiri
In one of the rare races from Drake that wasn't competitive, Obiri dominated the women's 1500. She launched a massive kick from 300 meters out and left everyone in her wake to win in 4:04.88. Despite the win, and the world lead, Obiri is not on Kenya's roster for the World Relay Championships (more on that below).
The Americans didn't push Obiri, but there were a few solid performances. Brenda Martinez placed second in 4:06.96 in her first 1,500 of the year. Behind her, Heather Kampf, Shannon Rowbury, Treniere Moser and Morgan Uceny all finished within 1.5 seconds of each other. Considering the predictably slow early pace and the winds, the American women ran well. Expect another strong summer for them, especially when Mary Cain and Jenny Simpson get thrown into the mix.
Surging….
-Leo Manzano
Manzano got the baton with a substantial lead in the distance medley relay at the Penn Relays. Then, he ran a 62-second first lap and gave it all away. He sat behind Collis Birmingham of Australia until 200 meters remained. At that point, Manzano showed his patented kick and won easily. He covered his last 400 in 54.3 seconds and split a 3:57 for his 1600-meter leg.
It was a bit overly dramatic, but that is how these relays often play out. Even when a team has a big lead, they don't want to lead. The closing speed is a good sign for Manzano, particularly considering it was his third race of the week. This season will be an interesting year for him. Manzano's trademark is running well in championship races and there aren't of those to be found in 2014.
-Aman Wote
Remember Pre's first race at Hayward Field in Without Limits? Two Oregon runners are soaking their feet in the steeplechase pit when Pre streaks by. Nobody else follows. One of the guys turns to the other and asks, "Hey, where's everybody else?"
Friday, was Wote's "where's everybody else?" race. The World Indoor Championships silver medalists opened up a gigantic lead early in the race and nobody gave chase. His lead was around 70-80 meters at some points and he cruised to victory in 3:53.39. Very impressive for an almost solitary run.
Behind Wote, a second pack formed and ran a tactical race. Nick Willis placed second in 4:00.71. After the race, Willis told Lewis Johnson that he couldn't have stayed with Wote even if he tried.
-Christian Taylor
In terms of track and field doubles, Christian Taylor seems to be a class of his own. His accomplishments in the triple jump are well known, but what he is doing in the 400 this spring is remarkable. At Drake, he finished in front of Jeremy Wariner, Josh Mance and Tony McQuay and set a personal best of 45.17. Three of the men who beat him (Lashawn Merritt, Kirani James and Luguelin Santos) are probably the three best quarter milers in the world right now. Taylor stepped into a Diamond League field and ran like he is a 400-meter specialist.
With his new personal best, he certainly should be considered for one of the spots on the American 4 x 400 team for the World Relay Championships. Can you think of three Americans you would definitely take over Taylor right now? Excluding collegians, my list stops after Merritt.
Slowing….
-4 x 4 Handoffs
With all the nightmares American track fans have about 4 x 100 handoffs, it's not fair to torture them with the 4 x 400 too. In my time following track I've seen dropped batons, thrown batons, forgotten batons and mysterious floating batons. Until Saturday, I never had seen the shared baton phenomenon.
On the final exchange, America's anchor, Manteo Mitchell, lost track of the baton and actually grabbed the baton of the Bahamas.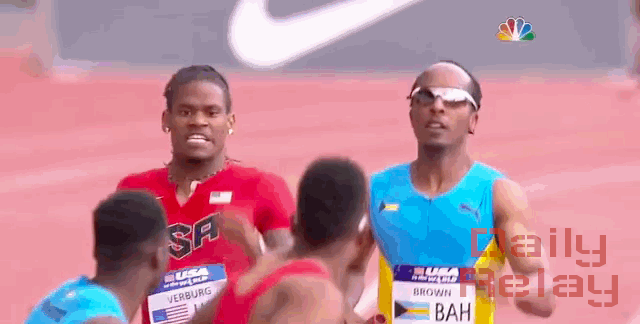 The mix up resulted not just from an intense love of sharing, but because of the confusion at the exchange zone. The passes were crisscrossed with incoming runners not lined up with the outgoing runners. Mitchell stuck his left hand out to receive the pass, but took his eye off the baton and ended up grabbing Bahamas's stick with his right hand. By the time he realized it, Mitchell had to go back and grab the baton from David Verburg. Bahamas won the race easily and the Americans held on for second.
One more time.  I think this is the exact moment Mitchell realized there was a problem.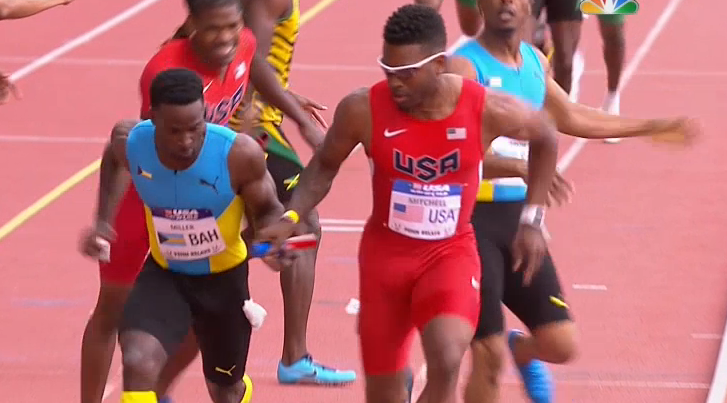 Under the radar
-Kenyan 4 x 1500
Rest assured, the Kenyan women has plenty of practice in the ever crucial baton exchanges for the 4 x 1500 relay. In a qualification meet for next month's World Relay Championships, the quartet of Irene Jelagat, Ann Karindi and Perin Nenkampi and Mercy Cherono set a world record of 17:05.72 in Nairobi.
After the meet, Kenya announced their full squads for the championships. The biggest omission is in the 4 x 800, where David Rudisha is not listed. The meet won't be made by one athlete, but Rudisha was one of the marquee names that I hoped to see compete. This is the struggle with relay meets. They are incredibly compelling to watch, but there are often too many competing interests to get the best races. As was clear with the Penn Relays, it doesn't take many runners to really dilute the level of competition.
While the 4 x 800 may not shape up the way we wanted, the 4 x 1500 is developing into a great race. Kenya will bring their top talent in that event, including Asbel Kiprop and Silas Kiplagat. Rudisha is scheduled to make his debut on June 14th in New York
-Eaton Hurdling
Ashton Eaton ran his second 400-meter hurdles race in as many weekends on Saturday in San Diego. He won the race in 50.01, equalling his time from his debut in Mt. SAC. Here is video last two hurdles. Looks like Eaton's competitiveness really kicks in when he is challenged after the last hurdle.
How much can Eaton improve? Let's look at another event. In the pole vault he went from somersaulting the wrong way over the bar to clearing 16'9 in the span of 18 months.
-Derek Drouin
The Canadian set a national record in the high jump, clearing 7-10 ½ at the Drake Relays. Drouin is a known commodity, but his performance just adds to an absurdly deep men's high jump field this year. Bohdan Bondarenko was dominate outdoors in 2013, Ivan Ukhov approached the world record indoors and Mutaz Essa Barshim won the World Indoor Championships. Throw in American Erik Kynard and it looks like 7-10 may not win many of the Diamond League meets this summer.
-Greg Rutherford
More field events! Rutherford set a British national record in the long jump last Thursday in San Diego. The 2012 Olympic champion jumped 27-11, bettering the old mark of 27-5 ¾. What is it going to take for the long jump to have a high jump-like renaissance?
Spring Marathon Grades
The spring marathon season has officially concluded.  Let's assign some arbitrary grades.
–Meb Keflezighi: A
There isn't much left to add about Keflezighi's win in Boston last week. His career has been built around rising from the dead.  When I looked back at his marathon career as a whole, I found four different times when it looked like he would never win another major marathon.
-21st at the 2006 New York City Marathon.
-2008 Olympic Trials he suffered a serious injury and placed 8th.
-6th in the 2010 and 2011 New York City Marathon.
-Withdrew from 2013 Boston Marathon and and placed 23rd in New York City.
That was supposed to be it.  Until Monday happened.
With all the analysis of the splits and tactics of the men's race, I tried to chart the average American's fan reaction of Meb's race.  All splits listed are in relation to second place finisher, Wilson Chebet.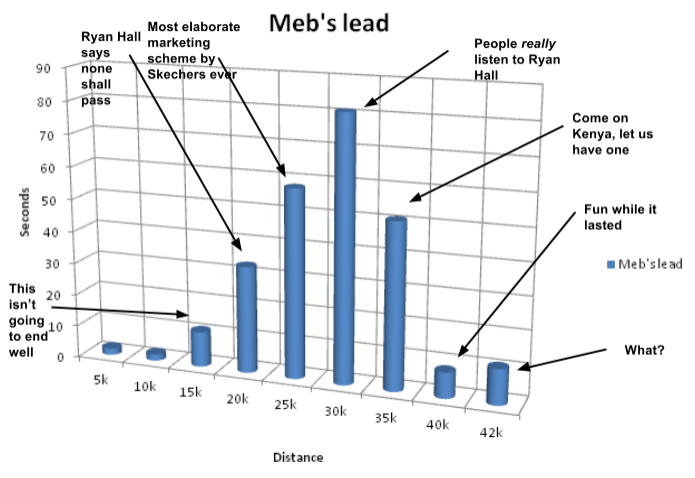 -Wilson Kipsang: A
At the moment, he is the most consistent of the top tier of marathoners.  Kipsang set a course record in London and beat most of the world's best in the process.  The only thing missing from his resume is a win in a non-paced race.  Right now, he holds the tenuous crown for the best marathoner in the world.
-Rita Jeptoo: A
Like Kipsang, her performance this spring makes her the best in the world.  She dominated the last several miles of Boston and beat the toughest assembled women's field of all the spring marathons.  Her winning time of 2:18:57 isn't equivalent to Geoffrey Mutai's course record of 2:03:02, but the winds weren't nearly as helpful on Monday as they were when Mutai ran in 2011.
-Edna Kiplagat: A
After seeing Jeptoo's time from Boston, Kiplagat's 2:20 in London isn't as remarkable, but she was able to beat Florence Kiplagat and Priscah Jeptoo.  The youth movement in the marathon has been well-documented, but between Kiplagat (34), Jeptoo (33) and Keflezighi (38) veterans fared well this spring.
-American field in Boston: A
They get points for strategy and for their performance.  Four American men finished in first 11 places and three were in the top eight.  Early in the race, they also played a role in ensuring that the chase pack of Kenyans and Ethiopians didn't hunt Meb down sooner. Incredible coordination on the fly from a group that does not train together.
-Tirunesh Dibaba: B
Aside from a mishap with one of her water bottles, Dibaba looked at home in her first marathon. She ran with the quick pace, made a strong move in the later miles and held her place when the Kiplagats took off.
-Kenenisa Bekele: B
I can't give him a higher grade because he was not challenged in his debut at the Paris Marathon. His time was a course record, but if he wanted to avoided the murder's row of London he could have opted for Boston.  This looked too much like the star sophomore runner opting out of the varsity race so he could win the frosh/soph championships by a 100 yards.
-Eliud Kipchoge: B
Probably the most overlooked of the spring marathon winners, Kipchoge posted his third sub 2:06 clocking of his career in the Rotterdam Marathon.  Like Bekele, he doesn't get an A until he wins a race that isn't built around him.  Marathons are too interesting to have non-competitive fields.
-Shalane Flanagan: B
She set a massive personal best, but was only able to finish 7th.  In a weaker year, she definitely would have been on the podium, but that is the nature of the marathon.  Does she stick with the front-running strategy in her next race?
-Mo Farah: C
Strangely enough, Farah ended up somewhere between 'certain world record holder' and 'complete hack who should never run another marathon.'  Eight place in London when nobody else faltered in front of him isn't a disaster. Neither is finishing within spitting distance of Geoffrey and Emmanuel Mutai.  No doubt he is disappointed in the time, 2:08:21, but it is far to early to offer a definitive evaluation of his potential at the distance.
-Ryan Hall: D
He played an integral role in the slowing of the chase pack, which gave Meb Keflezighi a little more breathing room. Hall's own race wasn't as successful.  He ran 2:17:50 and finished 20th in his first completed marathon since January 2012.
-Haile Gebrselassie: D
I'm still wondering what he was thinking when he was rabbiting the first few miles of the London Marathon.  14:21 only sounds good to the guy who can bail at any point.  Also, he withdrew from this weekend's Hamburg Marathon where he was attempting to run an age group record.
-Dennis Kimetto, Lelisa Desisa, Priscah Jeptoo: DN(F)
Three of the favorites didn't make it to the finish line.  Kimetto was especially surprising considering the tear he was on in 2013.  He will need to regroup in order to defend his title in Chicago this fall.  Ditto for Jeptoo, who is the reigning New York City Marathon champion.