No Comments
The Monday Morning Run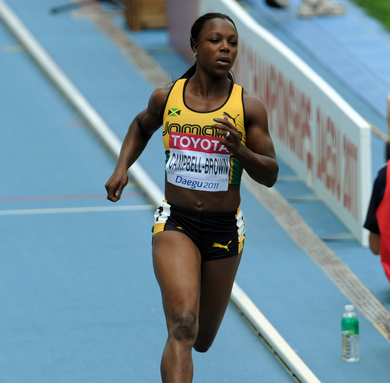 Kevin Sully | On 07, Oct 2013
Photo Courtesy of TrackTownPhoto
With no major competitions over the weekend, we begin with doping news. The Veronica Campbell-Brown case has turned into one of the most convoluted drug cases of the last few years. If you haven't been keeping up, Nick Zaccardi of NBC Olympic Talk has summarized the key points. Most recently, Jamaica's governing body, the JAAA, ruled that Campbell-Brown would receive a warning, and not a suspension, for her positive drug test in May.
Shortly after the decision, the Jamaican Gleaner reported that the IAAF may not accept JAAA's punishment for Campbell-Brown. We still don't know the actual drug in question, both furosemide and hydrochlorothiazide have been named. Hopefully more information will become available. In the meantime, here are a few questions that the case has raised for me.
Why a public warning and not a six month suspension?
From a competition perspective, this is a question of semantics. A six month suspension starting in October would mean that Campbell-Brown would not miss any meaningful races. If the JAAA had gone this route would the IAAF be more likely to ratify the decision? This week, the United States Anti-Doping Agency banned Jill Camarena-Williams for six months. In Camarena-Williams's case, the off-season suspension appears applicable. The drug she tested positive for was found in fertility medication and USADA found that she was not using it for performance enhancing purposes.
If the drug was declared, why was she suspended?
Reuters reported that Campbell-Brown declared the drug on her doping control form. If it was declared, does this mean she was issued a therapeutic use exemption (TUE)? If it was considered a TUE, why was she suspended in the first place? If it wasn't, why would it matter if the drug was declared?
On the same topic, if the drug wasn't declared as a TUE, shouldn't it  fall under WADA's "strict liability" tenet?
From WADA, "an anti-doping rule violation occurs whenever a prohibited substance (or its metabolites or markers) is found in bodily specimen, whether or not the athlete intentionally or unintentionally used a prohibited substance or was negligent or otherwise at fault."
That seems to leave very little wiggle room for accidents, good intentions or any other reason why a prohibited substance entered her system. It also would indicate that a stiffer punishment would be in order, especially since both of the suspected drugs are used as masking agents.
Should she have been allowed to compete while her case was processed?
Campbell-Brown was provisionally suspended once the positive test was announced. This procedure is used in virtually every doping offense–and usually for good reason. It doesn't make sense to have an athlete compete once they have returned positive "A" and "B" samples. But when the eventual punishment is a tap on the wrist, it certainly calls into question the point of the initial suspension.
More Doping
Long after the last track meet of consequence, there is a fierce battle raging to decide the nation with the most doping positives in 2013. Turkey seemed to have the title secured after 31 athletes were popped over the summer, including a teenage hammer thrower. Russia was not discouraged. Using a more methodical approach than their neighbor to the south, Russia now finds itself in a position to take the lead.
Over the weekend, European 5,0000 champion Olga Golovkina became the 32nd Russian athlete to test positive this year. It is unclear how many of the 32 are from track and field, so for now the golden syringe still rests in Turkey. But the competition is not yet over– the major meets may be coming to a close, but doping positives can come at any point in the year.
Cross Country
As always, Jesse Squire has a comprehensive look at the weekend action in cross country. Since his focus is on the NCAA, let me point out the recent occurrence of high schoolers running, and winning, amongst the collegians.
Last week, it was Elise Cranny of Niwot High School at the Rocky Mountain Shootout in Boulder. On Saturday, Camas High School junior Alexa Efraimson edged a Boise State runner to take the title at Oregon's home meet, the Dellinger Invitational. Two meets hosted by powerful cross country programs. Two women's races won by preps. What is going on here?
Both Efraimson and Cranny are huge talents and if it weren't for Mary Cain and Sara Baxter, we would probably much more familiar with them. By "we" I mean those who don't avidly follow high school results. Still, how do high school runners step into meets with more experienced and equally (if not more, talented) college runners and win?
Aside from boatloads of talent, there is a bit of a scheduling imbalance at play here. The high school season is at its midpoint making their runners much sharper than the collegians who were in the first weeks of the season. Efraimson's 16:35 5k at the Dellinger meet is good at any point in the year, but it is especially strong in early October. Add in the fact that college coaches traditionally keep a short leash on their strongest runners at this point in the year, and the "upsets" by Cranny and Efraimson make sense. More of these upsets would have occurred in years past if elite high school runners had the racing opportunities that they do currently. Call it a savvy recruiting tactic, or maybe high school coaches and athletes are more creative in finding quality racing opportunities for their prodigies, but more and more star recruits are finding their way into top flight collegiate competitions.
Speaking of Cain…
Since I'm the person who wrote/argued/yelled that Mary Cain wouldn't run in college, you shouldn't read anything into this picture from the Dellinger Invitational. Move along….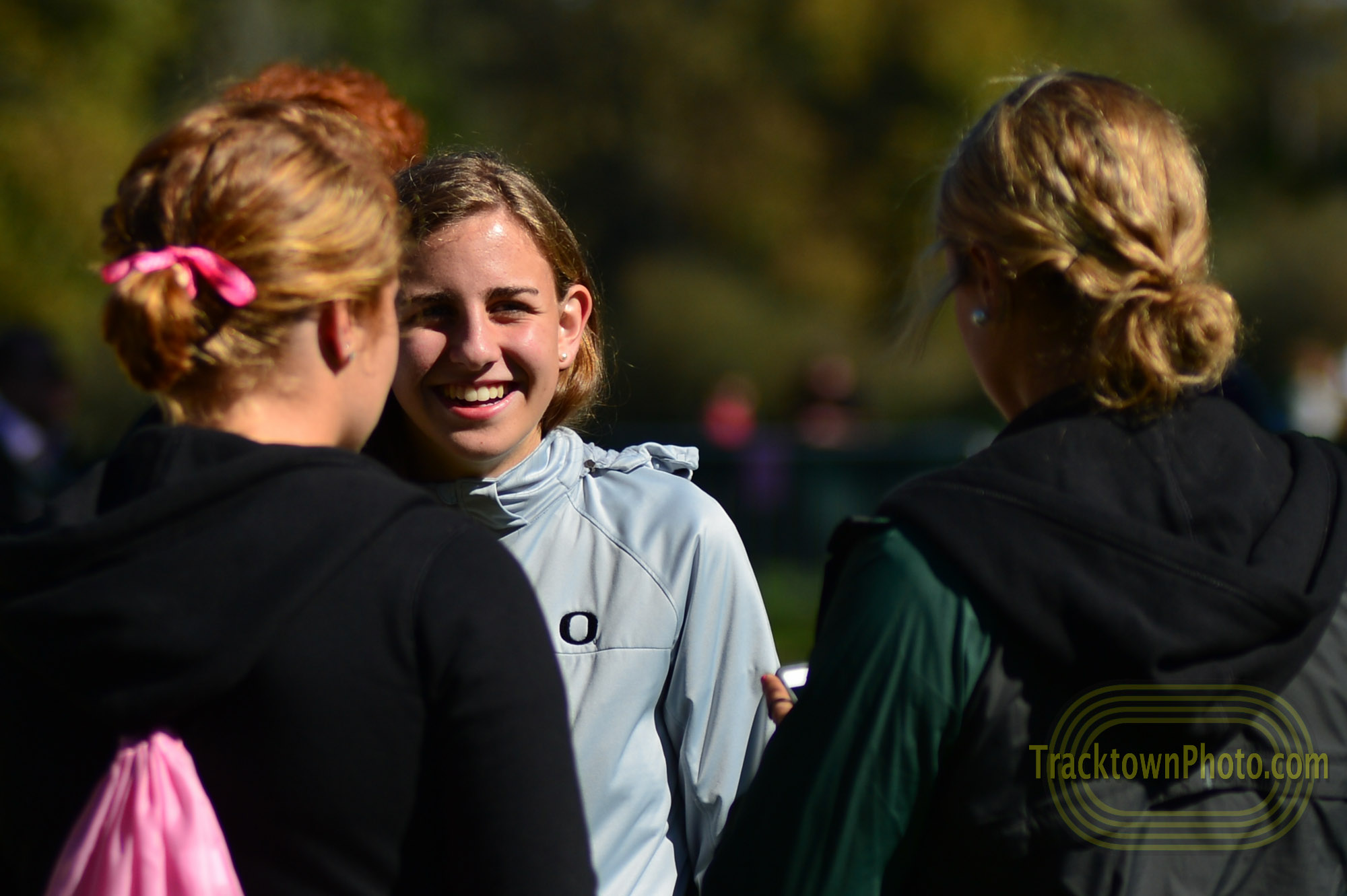 Photo courtesy of TrackTownPhoto
On the road and off the track
TMZ reports that Lashinda Demus received a temporary restraining order against her husband.
Phillips Idowu will appear in court in Great Britain on charges of drunk driving.
Nick Arciniaga and Annie Bersagel won the USA Marathon Championships in Minnesota on Sunday. Arciniaga outkicked Josphat Boit to win in 2:13:11, while Bersagel won by almost three minutes.
Haile Gebrselassie won the Great Scottish Run half-marathon with a time of 1:01:06. And he did it wearing a t-shirt under his jersey again.
The Week Ahead
For the pros, the Chicago Marathon takes center stage this weekend. The media guide with entry lists and elite athlete profiles can be found here.
When I compared Berlin and Chicago a few weeks back, I gave Berlin the edge for world record potential and American women's field (Desiree Davila), while Chicago seemed to have a better American men's field and overall men's field. The overall women's field I listed as a push. All of those projections look to be on line. Hopefully, the women's race is more competitive than it was in Berlin. On paper, it should be. Rita Jeptoo and Atsede Baysa will reunite after their photo finish last year and five other women have personal bests under 2:24.
For the men, Tsegaye Kebede will not be in Chicago to defend his title but there is still a strong and deep field. Moses Mosop and super rabbit Dennis Kimetto have the two fastest entry times. Behind them, there are three others under 2:06. If Kebede's record from last year (2:04:38) is threatened is should come from the group of Mosop, Kimetto, Ayele Abshero, Emmanual Mutai, Sammy Kitwara. Also, the running world waits for half-marathon world record holder Zersenay Tadese to break 2:10 in the marathon.
Americans will have their eyes on Dathan Ritzenhein and Matt Tegenkamp. Can Ritzenhein lower his lifetime best of 2:07:47 that he set a year ago in Chicago? Tegenkamp is the most heralded debutante for the Americans in any marathon this fall. He comes to the marathon after an uber-consistent career on the track, where he made every national team from 2007-2012.
Chicago doesn't have the celebrity star power of the New York City Marathon in its field. It does, however, have some big name rabbits. Jason Hartmann and Chris Solinsky are both listed as pacers on the start list. Hartmann will pace his friend Ritzehein for the first half of the race and Chris Solinsky is there presumably to help his teammate, Tegenkamp.
Stat of the Week
Via @chrisnickinson
Marathon world record for a dude wearing a @utahjazz jersey? #runchat pic.twitter.com/oewfIdMUWD

— Chris Nickinson (@chrisnickinson) October 7, 2013