No Comments
The Monday Morning Run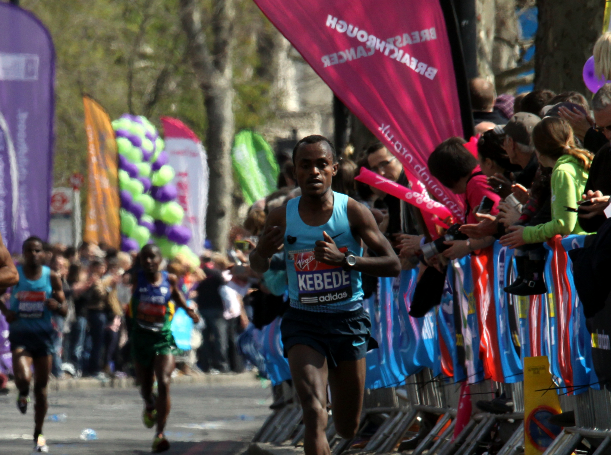 Kevin Sully | On 28, Oct 2013
Photo via Creative Commons
The Daily Relay will have on-site coverage from the New York City Marathon, including a comprehensive race preview later in the week. Before the press conferences, I wanted to start this edition of The Monday Morning Run with a quick look at the main contenders in the men's and women's fields. With each athlete I listed their last race (or my best attempt at finding their most recent race result), their best race (over the marathon distance) and their outlook for Sunday's race.
Men
Geoffrey Mutai
Last race: Udine Half-Marathon (1st, 59:06)
Best race: 2011 New York City Marathon (1st, 2:05:06)
This race: I begrudgingly list Mutai as the favorite for this race, but this is more of a reflection of the questions I have with the other runners in the men's field. His marathons over the past two years haven't inspired much confidence. He didn't finish the 2012 Boston Marathon, his win in Berlin was less than convincing and he put up another DNF in London earlier this year.
But perhaps I am nitpicking. It was unrealistic to expect him to run and dominate like he did in 2011. Outside of the marathon, he has still been the Mutai of '11. His tune-up race was phenomenal, a 59:06 half-marathon at the end of the September in Italy.
Stephen Kiprotich
Last race: World Championships Marathon (1st, 2:09:51)
Best race: 2012 Olympics (1st, 2:08:01)
This race: Kiprotich's specialty is the championship marathons–the fields aren't as deep, the weather isn't as pleasant and the pace isn't as fast. Regardless, he wins. He won gold in the Olympics last year, beating Emmanuel Mutai and Wilson Kipsang in the process, and then claimed the World Championship title this summer in Moscow.
Contending in New York will be difficult. He will be running on less than three months recovery from Moscow. With tired legs, it might be boom or bust for Kiprotich. He is one of only two athletes with a chance of winning the $500,000 World Marathon Majors championship. To do it, he will need a top two finish and some help. How will this factor into his race strategy? Will he run more aggressively? Will he attempt to control the pace in the early miles? Will he steal Tsegaye Kebede's water bottles at the aid stations?
Tsegaye Kebede
Last race: 2013 World Championships Marathon (4th, 2:10:47)
Best race: 3-way tie between 2010 London (1st, 2:05:19) 2012 Chicago (1st, 2:04:38), 2013 London (1st, 2:06:04)
This race: While I'm sure he would love to finish first in New York, Kebede might be paying more attention to winning the World Marathon Majors title and the $500,000 that comes with it. To do so, Kebede only needs to worry about one runner, Stephen Kiprotich. As long as he stays within one place of Kiprotich, he is guaranteed the half million. Shadowing Kiprotich seems like the likely strategy especially considering this will be Kebede's third marathon of 2013.
The Kiprotich/Kebede match-up will be the most interesting subplot to pay attention to as the race develops.
Stanley Biwott
Last race: Philadelphia Half-Marathon (1st, 59:36)
Best race: 2012 Paris Marathon (1st, 2:05:12)
This race: Before last year's race was cancelled, I was all in on Biwott. At the time, he had a similar profile to a pre-Chicago Dennis Kimetto–he had only raced a few marathons, had a good record and was poised for a breakthrough.
Biwott's half-marathon results in 2013 have been promising (58:56 in Saudi Arabia and 59:36 in Philadelphia). Back in April, he was part of the mass meltdown in London after the sizzling early pace and finished eight in 2:08:39. He has yet to hit a big one in a major and I think he could still be a solid pick for the win, especially if you put stock into fast half-marathons leading up to the race.
Meb Keflezighi
Last race: USA Half-Marathon Championships (2nd, 1:01:22)
Best race: 2009 New York City Marathon (1st, 2:09:15)
This race: Questions about his health, a modest tune-up race and the pressure of being the only American with a chance at the podium? This is setting up perfectly for Meb. He has made a career out of encouraging doubters and then making them look foolish after he exceeds expectations.
How you think Keflezighi will place depends largely on how you think the race will be run. If they model themselves after Chicago (or New York 2011) and run a fast first half, then he could be in perfect position to pick up the pieces when the lead pack breaks apart. As fast as Chicago was at the front, remember that fifth place was "only" 2:09:45. A few held on at the front, but most started running near 6-minute mile pace by the end. New York City isn't as fast as Chicago, but a similar effect will take place if the leaders push the tempo.
Eventually, Keflezighi will show his age. I'm not confident enough to think this will be the race where it finally happens.
Martin Lel
Last race: 2012 Lisbon Half-Marathon (1:01:28)
Best race: 2008 London Marathon (1st, 2:05:15)
This race: Lel is in his 10th year of marathon running. Though he is four years younger than Keflezighi, his results have been spottier. He was brilliant from 2003-2008, didn't run a marathon in 2009-2010, finished second in London in 2011 and 2012, and hasn't finished a marathon in the last year and half. Maybe those gaps are the key to his longevity. It is hard to know what to expect and how healthy he is. It doesn't appear that he has any results of note this year.
Wesley Korir
Last race: 2013 Boston Marathon (5th, 2:12:30)
Best race: 2012 Boston Marathon (1st, 2:12:40)
This race: The Subway eating member of Kenyan Parliament has kept a low profile in the running world since the spring. There is a tendency to describe his victory in Boston as a weather-induced fluke, but he has run 2:06 at Chicago twice. Even though 2:06s don't mean what they used to, especially on the Chicago course, Korir does have the ability to run fast and not just win races where most of the field has melted into the concrete. We don't have many clues on his form, but if he is in shape, he can definitely finish in the top five.
Peter Kirui
Last race: Amsterdam Dam to Dam 10 Miles (1st, 45:31)
Best race: 2011 Frankfurt Marathon (6th, 2:06:31)
This race: Kirui has been all over the running world, racing on the roads, running on the track and serving as a rabbit. His fastest times come from when he set the pace through 35-K for Wilson Kipsang. Previously, he paced Patrick Makau's world record in Berlin. When he has been scheduled to run the whole distance, he has been less successful. Recently, he didn't finish the Rotterdam Marathon and only managed 10th place in Amsterdam.
Women
Edna Kiplagat
Last race: 2013 World Championships Marathon (1st, 2:25:44)
Best race: 2012 London Marathon (2nd, 2:19:50)
This race: Like Kebede and Kiprotich in the men's race, Kiplagat will be on short rest from the World Championships in August. She has won championship-style races and has run fast times. At 33-years-old, Kiplagat may not be getting any better, but this is a veteran field all around.
Priscah Jeptoo
Last race: Bogota International Half Marathon (1st, 1:12:24)
Best race: 2013 London Marathon (1st, 2:20:15)
This race: In my mind, Jeptoo is the favorite on Sunday. Her preparations look to be on track (1:12 half-marathon at altitude) and despite having a 2:20 personal best, I don't think she has hit her ceiling. Everyone is capable of having an off day, but Jeptoo's last few years are a string of incredibly solid performances.
2011 Paris Marathon- 1st
2011 World Championships- 2nd
2012 London Marathon- 3rd
2012 Olympics- 2nd
2013 London Marathon- 1st
Firehiwot Dado
Last race: Lisbon Half-Marathon (3rd, 1:12:03)
Best race: 2011 New York City Marathon (1st, 2:23:15)
This race: Dado had won four consecutive marathons before she finished fourth in Boston in 2012. Where has she been since? The only major race I could find was this year's Lisbon Half-Marathon. She placed third in 1:12:03, which wouldn't be concerning except that there aren't many other encouraging signs from her since she won New York City in 2011. Her experience on the course might be helpful, especially if one of the others takes off quickly like Mary Keitany did in 2011.
Buzunesh Deba
Last race: 2013 Houston Marathon (2nd, 2:24:26)
Best race: 2011 New York City Marathon (2nd, 2:23:19)
This race:  Deba lives in the Bronx and has competed in New York City since 2009. In 2011, she came so close to winning the race after battling with Dado and a fading Keitany in the final miles. Although we haven't heard much about her preparations, she should have had plenty of time to get ready after her last marathon in January.  Also, she will contend with Meb for the best name on the bib: BUZU.
Jelena Prokopcuka
Last race: Great Manchester Run- 10k (2nd, 32:21)
Best race: 2005 New York City Marathon (1st, 2:24:41) and 2006 New York City Marathon (1st, 2:25:05)
This race: Prokopcuka has won New York City twice and has a 2:22 personal best. She is still competing at 39, leading many to refer to her as "The Latvian Meb." Ok, I made that up. A top five finish would be a huge accomplishment; she hasn't finished that high in a major marathon since 2008.
Kim Smith
Last race: BAA Half Marathon (1st, 1:09:14)
Best race: 2011 New York City Marathon (5th, 2:25:46)
This race: Aside from Deba, Kim Smith will be the other adopted American in the race. The Rhode Islander finished fifth in the last two editions of this race. Her fast half-marathons haven't quite transferred over to the full distance. Could this year be her breakthrough?
Amy Hastings
Last race: World Championships 10,000 (14th, 32:51)
Best race: 2011 Los Angeles Marathon (2nd, 2:27:03)
This race: Hastings is the only podium contender for the American women.  She comes in a bit banged up with injuries after a summer competing on the track.  At her best, she has shown great potential in the marathon.  She finished second  in her debut in Los Angeles and placed fourth at the Olympic Trials last January.  If healthy, the challenging course of New York would fit her grind-it-out style quite nicely.
Three ways to spend the off-season
Not all track and field athletes can spend their off-season trekking the globe like Usain Bolt. Some prefer a slower pace.  A few examples…
Eaton picks games…
Ashton Eaton was the guest picker on ESPN's College GameDay. He entered by clearing a hurdle and then made his selections on nine different college football match-ups and the World Series game. Should you bet with the world record holder? You are probably better off betting on him. He was successful on four of his 10 predictions on Saturday.
Eaton clears a hurdle, the Duck not so much https://t.co/DriFkrYv9t

— House of Run (@HouseofRun) October 26, 2013
Rudisha races kids…
I'm assuming David Rudisha has never seen "Prefontaine." If he has had, he would have remembered the scene where an overly competitive Prefontaine, played by Jared Leto, runs with a group of admiring school kids. When one speeds up and passes him, Pre catches up and tells him to slow down.
The reason? Pre later tells his love interest that he can't let a losing mentality seep in regardless of how prepubescent his opponent is. Rudisha broke all of those rules when he raced two school children in Ireland.
Nice gesture. Or maybe Pre was right and Rudisha needs to take these races a little bit more seriously. He is already vulnerable in races in the rain, does he now want to tell his opponents that it is open season on him indoors as well? Also, notice the kid from the crowd who stepped on to the track at the end of the first lap. We were a few feet away from the greatest 800 runner of all-time having his season ended by curiously oblivious seven-year-old.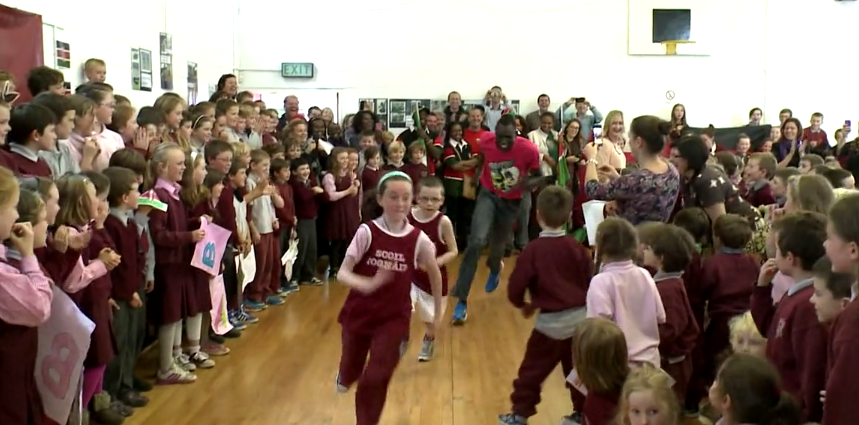 Lagat and Willis go golfing…
Bernard Lagat and Nick Willis competed in the Speedgolf World Championships over the weekend. Willis finished 13th and Lagat finished last. Highlights below. It looks very tiring.
Other News
-Silly Americans, just when you thought that part of the Kenyan marathon secret was having their youngest stars compete in the marathon, they trot out a 37-year-old debutant. Mark Kiptoo didn't win on Sunday, but he finished just one second behind Vincent Kipruto in windy conditions at the Frankfurt Marathon.
Kenya is waging intense psychological warfare against the rest of the world. It was bad enough when they were dominating with lifelong runners. Now they are sending out 37-year-olds who can run in the 2:06s. What else can you do to crush the world's sprit? Are you going to find a man who has only been running for three years to set a course record in a major marathon?
–Peter Vigneron of Outside magazine explains how the biological passport system works.
-In case you were asleep, or doing heavy training, Ryan Hall withdrew from the New York City Marathon last week. Hall's last completed marathon is from January 2012, where he placed second in the Olympic Trials. Toni Reavis puts the latest bit of bad news for Hall in context.
-Apparently WADA wasn't too fond of Jamaica's schedule. Instead of waiting until 2014 for an inspection of the island's anti-doping program, WADA will instead show up this week. Surprise! WADA Comin'