No Comments
Daily News Roundup: National Holiday?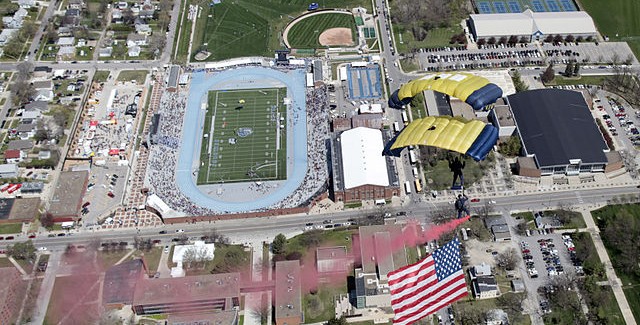 Forget baseball. This is where it's at.
A few days ago Budweiser announced it was leading a petition to make baseball's opening day a national holiday. USA Today then added six more sports days that should be holidays to the argument (including "every day of the Olympics").
Here at the Daily Relay we know that all these other sports are pale imitations of the real thing. Track and field and road running and cross country are the only sports worth getting the day off work. But which days?
Until two years ago the NCAA Cross Country Championships were nearly always on a Monday and I was never at work if the meet was within driving distance. But it's been moved to a Saturday now.
As far as a weekday goes, there are two that jump to mind. One is Patriot's Day, a state holiday in Massachusetts and the day of the Boston Marathon. It should go nationwide. I've burned a vacation day or two so that I could watch America's greatest race.
The other weekday that should be a national holiday very often comes just four days later: the Friday of Penn Relays and Drake Relays week. Like the first two days of the NCAA tournament, it's a day of total sports immersion and nonstop action all day and all night.
Both of these occasions have something in common with Opening Day: a celebration that spring is finally here. Most of the country has had a pretty nasty winter and we'll be ready to celebrate once it's over.
Links
Pat Price puts the five questions to Chanelle Price, the former high school star who is finally breaking through as a pro.
Results
Ashton Eaton and Brianne Theisen-Eaton went to Ireland to tune up for the World Indoor Championships, and Eaton broke a stadium record.
More from the Irish Examiner
News
Runner's World's Morning Report has all of yesterday's news: Mo Farah to run the NYC Half Marathon, Alberto Salazar apologizes to Lopez Lomong, and more.
Ken Goe's daily Oregon track & field rundown: it's time for USA Track & Field to address the TFAA petition and the Andrew Bumbalough DQ, plus the morning's news links.
Via its Apple TV app, ESPN will launch "TV" channels for fifteen NCAA conferences. This gives track and field fantastic opportunities that should not be missed.
More from Variety
Boston Marathon legends Dick and Rick Hoyt will do the race for the last time this year.
More from Runner's World
Chris Solinsky is moving up to the marathon this fall. No word yet on which race.
More from Flotrack
The Bring Back the Mile campaign has a sponsor: Hoka One One.
More from Bring Back the Mile
The USTFCCCA previews the weekend's conference championship meets in its Warm-Up Lap.
More from the USTFCCCA
Runnerspace will have a live Google Hangout with middle-distance star Brenda Martinez tonight at 8:00pm (ET)
More from Runnerspace
Video of the day
It's Throwback Thursday and the Big Ten Championships are this weekend, so it's time to pull out the Heather Dorniden (now Kampf) footage.