3 Comments
5 Questions with Chanelle Price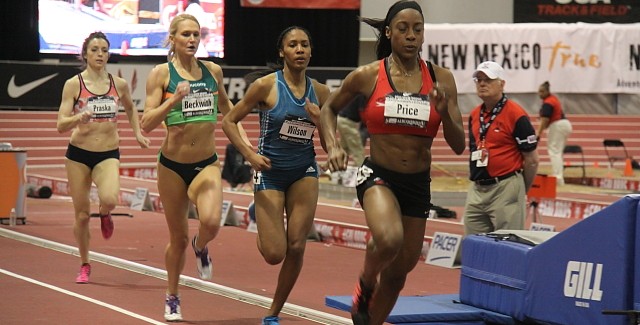 On

February 27, 2014

http://patprice.com
Welcome back to 5 Questions, where we pick the brains of people from all areas of the running scene. Today, we were lucky enough to catch up with Chanelle Price, as she just qualified for her first World team as a senior athlete. Check her out on Instagram and follow her on Twitter @ChanellePrice

5 Questions with Chanelle Price
1. Daily Relay: Congratulations on making the World team in the 800 this weekend in Albuquerque. You have had an excellent indoor season this year. What has changed that has led to your success?
Chanelle Price: Thank you very much. Coach JJ Clark has made a few adjustments to my training, but the biggest change this indoor season has been mentally. Prior to this year, I put A LOT of pressure on myself. Track was the center of my life. This year, I've really worked on taking that pressure away and reminding myself that I'm more than a runner. I currently have two part-time jobs and I am a big sister for the Big Brothers Big Sisters organization. Track is no longer my only focus, and I it like that way. Last year was my first year out of college, and when running was all I had to focus on, I burnt myself out physically and mentally. This indoor season, I've started to enjoy running again. I live by the motto: "Do your best, and leave the rest up to God." That's all we can do. Not only in track, but in all aspects of life. So I guess the biggest difference this indoor season is that I'm happy, I'm loving what I do, and I'm doing it for God's glory.
2. Daily Relay: Where is your current training base? Who is your coach and who are your training partners?
Chanelle Price: I train at the University of Tennessee under JJ Clark. On some days, I train with my former teammate, Brittany Sheffey, but for the most part, I train alone.
3. Daily Relay: You have had a strong career from high school to college to professional level. What are some consistent things about your training that have led to your success?
Chanelle Price: My high school training was a lot different from my college training. I did a lot of quality work, but not a lot of quantity. Adjusting to Coach Clark's training load in college took some time for me. This new training style coupled with injuries, weight fluctuation, confidence loss and academic stress made my college career quite the journey. However, as a collegiate and now as a professional, I've always stayed in the mix. My dominance may not be like it was in high school, but I have not completely fallen off the map. I credit this consistency not so much to my training, but to my support group. There's been times when I've gotten frustrated and wanted to give up, but I have SO many people around me who have encouraged me to keep believing in myself and keep on pressing on.
4. Daily Relay: There was a lot of emotion going on all weekend with Gabe Grunewald's DQ in the 3000. What was the vibe like for you as an athlete with this swirling?
Chanelle Price: I felt extremely bad for Gabe. I couldn't imagine being in her shoes. There was a lot of frustration and disappointment among all of the athletes, and I know a lot of us were torn because we wanted to stand up against the unfair treatment, but we also wanted to focus on our competitions. I handled the situation by keeping Gabe in my prayers and praying that justice would be served. I think Jordan Hasay handled the situation in a very professional and classy manner, and I'm glad that Gabe has been re-instated as the winner.
5. Daily Relay: You'll head to Sopot to represent Team USA. How much does it mean to you to wear the stars and stripes? Were you able to get into the Winter Olympics at all?​
Chanelle Price: I am extremely honored to represent Team USA in Sopot. We have a very strong team, and I'm excited to chase after some medals with my fellow teammates! I did not get to watch much of the Winter Olympics, but I did follow Lauryn Williams and Lolo Jones. Congratulations to Lauryn on her silver medal!
6. Daily Relay: What are your plans and goals for outdoors?
Chanelle Price: Since there's no major championships for us this outdoor season, I hope to run some PRs in the 400m and 1500m. Hopefully I will be selected to compete at the world relays in the Bahamas. I think that would be an awesome experience! I'll focus on the 800m at outdoor USAs and then hopefully do some racing overseas.
If you enjoy 5 Questions, check out the archive of previous interviews over at Writing About Running