One Comment
College Weekend Wrap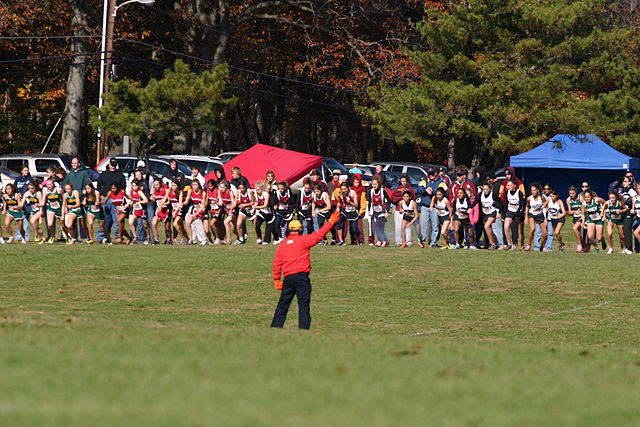 Jesse Squire | On 03, Sep 2013
Cross country starts now.
"Stadiums are for spectators. We runners have nature and that is much better." –Juha "The Cruel" Väätäinen
The College Weekend Wrap went on summer break on June 10. It's been putting in the miles this summer and is ready for the cross country season.
That season began this weekend with a wide collection of low-key competitions that is best compared to the NFL preseason. The NFL season is all about the playoffs and the Super Bowl, and the goal is to get into those playoffs in as good a position as possible. That's done through the sixteen games of the regular season.
College cross country is much the same. The season is all about the NCAA Championships, and the goal is to get there and be positioned as well as possible when you do. Remember, 18 teams automatically qualify at the regional championships, and then 13 more at-large teams get in based on points accumulated during the regular season.
But teams don't begin accumulating points until September 27. Nothing is on the line right now, so this weekend's meets were nothing more than a chance for B-team runners to get into the action and A-team runners to shake off the rust. This sounds an awful lot like the NFL preseason, and so I'm not going to pick Athletes of the Week right now. But I am going to talk about what was fun this weekend, and that starts with Durham, North Carolina.
Duke coach Norm Ogilvie came up with a brilliant idea last year. The Blue Devils opened their football season in Wallace Wade Stadium against crosstown "rival" North Carolina Central in one of those lopsided FBS vs FCS games, and fifteen minutes before game time the cross country teams lined up on the track for a dual meet. The teams took a lap in the stadium, then exited to adjacent trails for the remainder of the race. The men went first, followed one minute later by the women, and the results were shown on the stadium's videoboard during the game. It was a great way to cross-promote the program in front of thousands of sports fans. The two football teams met again this year, as did the cross country teams. This time it was also a farewell, the last race ever to be held on Wallace Wade Stadium's track (it will be removed in renovations). Meets held there include two NCAA Championships (1990 and 2000) and international duals.
This was just one example of some creative thinking in the weekend's cross country meets. Christian Brothers University in Memphis held an "under the lights" nightime race. McNeese State hosted a relay tri-meet against Lamar and Louisiana-Lafayatte, where "runners" were 2x3k teams. This is not a new idea; the Wabash College Little Giants also ran their 51st annual "Hokum Karem" relays, where two runners alternate three one-mile loops. UT-Tyler ran an ordinary cross country meet but went with the hard sell, calling it the King Campbell Spectacular. There were duals and triangulars all over the place.
(For the record: I am strongly in favor of dual meets in track and field but I don't find them a necessity in cross country. I think it's absolutely necessary for track and field to have a strong team element including team scoring, be held within a reasonable time frame, and have every team competing in every race. Cross country already has that in every meet.)
While it's not cross country weather yet, runners went back to cross country courses, as wide and varied as the runners and the colleges they represent. There are the usual assortment of golf courses and parks and even a few fairgrounds, but some are a bit different. New Hampshire's home triangular went through College Woods (where you'd half expect to see Henry Thoreau), Michigan's Hope College hosted a meet at a church, and Case Western ran their meet on a farm (the excellently-named Squire Valleevue Farm, to be exact). There was the beautiful; San Francisco's invitational was at Golden Gate Park. There was the historic; Emmanuel College's invitational was at Boston's Back Bay Fens. And there was the incomparable; Kansas opened its season at Rim Rock Farm, possibly the best cross country course in the nation.
Who won? Who lost? It doesn't matter right now (unless it was a win over a hated rival, like Bowling Green sweeping Toledo). The point is that college sports are back, and cross country is back, and college cross country has begun.