No Comments
College Track Recap: The Year in Dual Meets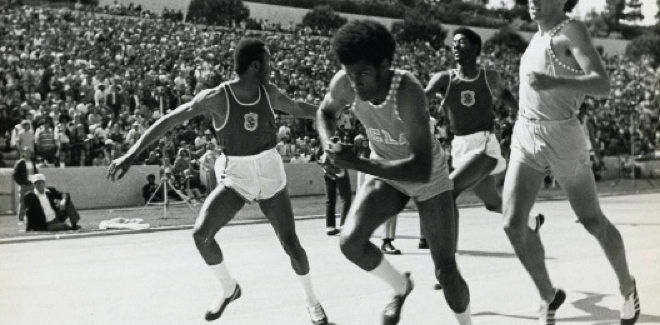 Jesse Squire | On 05, May 2014
The 1973 USC-UCLA dual took place in front of 12,000 fans.
The collegiate dual meet season ended with yesterday's USC – UCLA meet. The final dual meet team rankings (compiled by yours truly) will be released tomorrow at the Track and Field News website and mythical champions will be crowned. It's time to take a look at the best of the year in collegiate duals (and triangulars and quadrangulars).
Best Meet
Washington at Washington State
There were close meets, there were high-quality meets, there were great meets for one gender but not th other, and there were meets that both sides took seriously and laid it all out for the win. This year, none combined all of these factors quite like the annual "Apple Cup", the Washington-Washington State dual. Washington won the men's meet in an upset, and the Washington State women won by a single point. It had extra meaning since it was the last dual for longtime WSU coach Rick Sloan.
Paul Merca has the story.
Biggest turnaround
Purdue vs Indiana
Back in January I wrote about Purdue, the perennial Big Ten track and field doormat, and how they had lost to Indiana every year since the revival of their indoor rivalry dual. This year the Boilermakers swept the Hoosiers and it was the beginning of a turnaround season for Purdue.
Fantastic Finish
Navy at Army (women)
Army-Navy is the toughest and most intense meet around. This is partially due to the toughness and intensity of the competitors, people who are far from your ordinary college students, but also because they are the others' only true peer: the service academies are fundamentally different places than other universities. The Army-Navy meet is their "championship" meet.
The members of any team that wins an Army-Navy contest earn a star, the greatest athletic accomplishment that can be earned at either academy. No member of Army's women's track team possessed a star, since they hadn't won (either indoors or out) since 2008. That changed this year.
"The women came into the meet pretty significant underdogs," head coach Troy Engle said. "We were down our best sprinter on paper and the Academy record holder in the pole vault, but other people stepped up. Even with those people healthy we would have come in underdogs." Yet somehow, Army led Navy by two points coming into the concluding 4×400 relay, but the score was close enough that the meet was still in play. Anchor leg Samantha Murphy came from behind to win the relay and the meet.
Men's All-Dual Team
Last year I premiered the "All Dual Meet Team". The idea is to put together a roster of 32 athletes, all of whom competed in dual meets (and in the events for which they were selected), with the aim of going three deep per event. Versatility among several events is a plus, as is competing well in those duals.
Akron
Shawn Barber, pole vault
Arizona
Nick Ross, high jump/long jump/triple jump
Ross cleared 2.30 meters (7′ 6½") against Arizona State and Northern Arizona, one centimeter short of the all-time collegiate dual meet record. He scored in all three jumps both in that meet and in a dual at Oregon.
Lawi Lalang, 800/1500/3000
Lalang ran an impressive 3:41.88/8:05.61 double against Arizona State and Northern Arizona–which becomes even more impressive when you realize he ran a 1:52 800 meters in between those two races.
Collins Kibet, 800/1500
Arizona State
Ryan Milus, 100/200/4×100
Keith Cleveland, 400/4×400
Bryan McBride, high jump
Arkansas
Anthony May, high jump/long jump/triple jump
California
Randy Bermea, 110 hurdles/400 hurdles/4×400
Hammed Suleman, long jump/triple jump
Derek White, discus/hammer
Colorado State
Trevor Brown, 110 hurdles/400 hurdles
Eastern Illinois
Michael Viken, pole vault
Illinois State
Curtis Jensen, shot put
Michigan
Mason Ferlic, steeplechase
Monmouth
Vincent DuVernois, javelin
Navy
Jay Stell, javelin
New Mexico
Charles Lewis, 400 hurdles/4×400 (alternate)
Oregon
Mike Berry, 400/200 (alternate) /4×100/4×400
Greg Skipper, hammer throw
Stanford
Erik Olson, 3000 meters
Texas A&M
Deon Lendore, 400/4×400
Lendore ran the only sub-46 quarter in dual/tri/quad meet action this year, an indoor 45.74 way back in January.
UCLA
Julian Wruck, shot/discus/hammer
Wruck broke the dual meet discus record last year, one of the oldest on the books, but was unable to top it this year.
Nick Hartle, 800/1500
Even though it was first done in a dual in 1960, sub-1:48 times in duals are rare these days. Hartle ran 1:47.51 against Washington State.
Michael Woepse, pole vault
Woepse broke the USC vs UCLA meet record, which is a major accomplishment in any event.
USC
Aaron Brown 100/200/4×100
Brown ran 10.18 against UCLA, the fastest time in a dual meet in twelve years.
Beejay Lee, 100/200/4×100
Aleec Harris, 110 hurdles
Harris' 13.55 against UCLA moved him into the all-time top ten for dual meets.
Washington
Aaron Nelson, steeplechase/3000
Nelson ran a rare double in these events against Washington State. He won the steeple and his third-place finish in the 3000 sealed the win for the Huskies.
Quinn Hale, javelin
Washington State
Andrew Gonzales, steeplechase
Wyoming
Mason Finley, shot/discus
Men's dual meet awards
Outstanding single performance
Nick Ross, Arizona, 2.30m (7′ 6½") high jump vs. Arizona State and Northern Arizona
Outstanding single meet
Lawi Lalang, Arizona, vs Arizona State and Northern Arizona
6:55pm, 1500 meters (3:41.88, won by nearly 4 seconds)
8:02pm, 800 meters (1:52.06, fourth)
9:00pm, 3000 meters (8:05.61, won by nearly 12 seconds)
Most valuable (most points scored on a top-ten team)
Randy Bermea, Cal (hurdles and relays)
Dual Meet Coach of the Year
Montana State's Dale Kennedy wins the honor. Not because his team won any kind of dual meet championship, but because they competed in six dual/tri meets this year. That's truly old school scheduling.
Women's All-Dual Team
Akron
Annika Roloff, pole vault
Arizona
Shapri Romero, 200/400/4×400
Romero ran the 8th-fastest 400 meters in collegiate dual meet history against Arizona State and Northern Arizona.
Nnenya Hailey, 100H/400H/4×400 (alternate)
Julie Labonté, shot/discus
Arizona State
Shelby Houlihan, 800/1500
Arkansas
Tamara Myers, long jump/triple jump
Ariele Voskamp, pole vault
Colorado State
Jessica Sharbono, shot/discus/hammer
East Carolina
Tynita Butts, high jump
Kansas
Diamond Dixon, 400/4×400
Kansas State
Erica Twiss, 100 hurdles/400 hurdles
Kent State
Dior Delophont, high jump/triple jump
Michigan
Brook Handler, 1500/3000
Alex Leptich, steeplechase
Her 10:04.86 in the triangular against Cal and Virginia is the second-fastest ever in collegiate dual meet history.
Megan Weschler, steeplechase
Her 10:11.56 in that same meet puts her at #7 in collegiate dual meet history.
Missouri
Kearsten Peoples, shot put
Montana
Lindsay Hall, javelin
Oregon
Laura Roesler, 800/4×400
Roesler's 2:01.10 against Arizona is a new collegiate dual meet record.
Jenna Prandini, 100/long jump/4×100
Haley Crouser, javelin
Princeton
Julia Ratcliffe, hammer throw
Her 69.60 (228′ 4″) against Vermont, Monmouth and St. John's established a new record for collegiate dual meets.
Elizabeth Bird, steeplechase/3000
Stanford
Amy Weissenbach, 800 meters
Brianna Bain, javelin
Texas
Kaitlin Petrillose, pole vault
Texas A&M
Olivia Ekponé, 100/200/4×100
UCLA
Alexis Walker, 100 hurdles/400 hurdles/high jump
USC
Tynia Gaither, 100/200/4×100
Alexandra Collatz, discus/hammer
Vanessa Jones, 400/4×400
Washington
Katie Flood, 800/1500
Men's dual meet awards
Outstanding single performance
Laura Roesler, 2:01.10 800 meters vs. Arizona
Outstanding single meet
Shapri Romero, Arizona, vs Arizona State and Northern Arizona
6:30pm, 4×100 relay anchor
7:25pm, 400 meters (51.96, first)
8:37pm, 200 meters (23.55, first)
9:20pm, 4×400 relay anchor
Most valuable (most points scored on a top-ten team)
Mary Barnett, Washington State (shot put, discus, hammer)
Best Media Exposure
Three different duals are or were broadcast on the Pac-12 Network. Arizona at Oregon got love coverage, while USC at UCLA and the Arizona-Arizona State-Northern Arizona meets will be shown on a tape-delayed basis.
The Unthinkable?
The first 33 times the men's teams from USC and UCLA met, the result was the same: the Trojans won. The tables have turned so strongly in UCLA's favor over the last three decades that the Bruins are now just three years away from doing what was once unthinkable: tieing the all-time series standings.
Seven reasons I like duals
Done in three hours.
The athletes like them. One coach told me that when he was running back in the 60s, "the conference meet was what we all aimed for, but the weekly dual meet was what we looked forward to." When chatting with some athletes at my alma mater, they were excited and a little nervous about running at the Mt. SAC Relays–but when I brought up their rivalry dual, it was like I flipped a switch. They were hungry like the wolf, ready to attack that meet like nothing else.
Made for TV. Track isn't on TV enough, and there will be plenty of opportunity on cable college sports channels.
Heroes come out of nowhere. A freshman at my alma mater who had previously contributed little to the team set four PRs and won three events in the dual against their traditional rival. A meet I thought would be close turned into a blowout.
Sports hate. It's not real hate–it's a Bill Simmons term–and we don't have enough of that in college track. Dual meets bring it out.
Time doesn't matter. With rare exceptions, I find running against the clock to be very boring. Running against other people is exciting. Example: was anyone watching the clock last month as Meb Keflezighi ran down Boyleston Street?
You will never hear "next up, heat #45 of the 200 meters".