No Comments
America's Track & Field Stadiums: Rhode Island
Jesse Squire | On 12, Apr 2016
Welcome back to our 50-part series on America's track and field stadiums and facilities. In anticipation of the Boston Marathon, this week we go to New England, starting off with Rhode Island.
Largest: Brown Stadium
With a seating capacity of 20,000, Brown Stadium in Providence is by far the largest stadium in Rhode Island that hosts track meets. The Bears of Brown University host two meets this year. Look in the upper right hand portion of the header photo and you can see that the throws field becomes a parking lot during football season.
Track-specific: Bob Black Stadium
Robert J. "Bob" Black Stadium is less than five miles away from Brown Stadium, on the campus of Rhode Island College. It seats 1,500, which beats Providence's Ray Treacy Track, just a mile away.
Most picturesque: Brown Stadium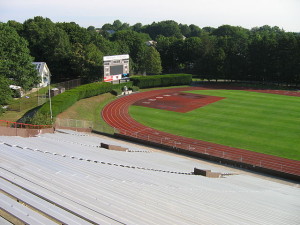 Opened in 1925, Brown Stadium has a number of quirks going for it. Dating from 1925, its grandstand has a distinctive trapezoidal shape and its facade has some ornate stonework. The hedge and embankment around the second turn gives it the feel of an old baseball park.