One Comment
America's Track & Field Stadiums: Maryland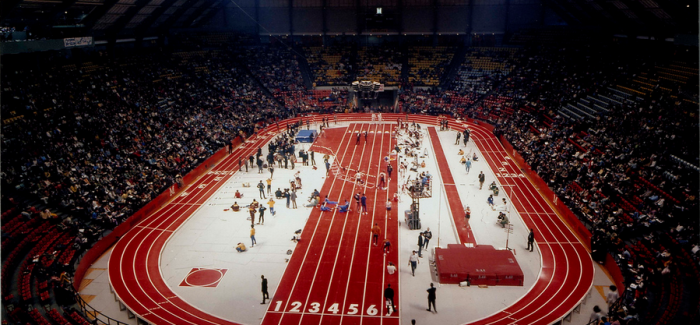 Jesse Squire | On 09, Apr 2016
Cole Field House was the home of Maryland Terrapins basketball through 2002, and also hosted fourteen editions of a major indoor invitational.
Our 50-part series on America's track and field stadiums and facilities goes to Maryland, just north of yesterday's post (Virginia).
Largest: Johnny Unitas Stadium
Towson's Johnny Unitas Stadium seats 11,198, which makes it the largest track stadium in Maryland. The stadium is on its third name; it was originally known as Towson Stadium, then renamed Minnegan Stadium to honor a former coach and athletic director. It was named for the Baltimore Colts legend because he had taken on the job of finding a corporate naming sponsor just a few weeks before his sudden death in 2002.
Track-specific: Ludwig Field
As with many track-specific facilities, Maryland's Ludwig Field is shared with the soccer program. The track is named for longtime coach Jim Kehoe, who turned the Terrapins into the ACC's dominant track program in the 1960s. Its current seating capacity is listed at 7,000, which makes it by far the largest track-only facility in the state.
Most Picturesque: Greenway Avenue Stadium
Maryland is a geographically diverse state, and most people don't realize how mountainous the western portion is. My parents briefly lived in Cumberland in the late 1950s and knew about the Greenway Avenue Stadium. This product of the 1930s Works Progress Administration has permanent seating for 6,054 but grass berms allow as many as 15,000 to view football games, track meets, and various community events.
Gone but not forgotten: Cole Field House
Cole Field House was the home of Terrapin basketball from 1955 to 2002, and it also hosted the CYO National Invitational indoor meet from 1970 to 1983. It was traditionally the first major meet of the year in the East, and at its peak it drew as many as 11,873 fans.