3 Comments
Daily Relay's 2013 Best of List
Daily Relay | On 18, Dec 2013
Below is the Daily Relay's "2013 Best Of" list, as compiled by Jesse, Kevin, and Pat. You can also check out some of the categories that didn't make the list in Kevin's most recent "Monday Morning Run." And if you missed it last week, be sure to check out our Holiday Gift Guide!
Jesse's Picks
Best Athlete
It's an honor to be nominated…
Usain Bolt
He won a lot. He ran fast. But he looked almost human this year, and it appeared that he was avoiding Tyson Gay in midsummer (when we didn't know Gay was running on borrowed time). That's not "best athlete" material.
Mo Farah
Farah again won double distance gold, this time at the World Championships, and surprisingly broke the British and European records for 1500 meters. But he won only a single Diamond League meet and that's not enough to earn Best Athlete.
Bohdan Bondarenko
Chosen as the European Athlete of the Year, he won almost every outdoor high jump competition of importance–the World Championships, five Diamond League meets, the European Team Championships–and took very real shots at the world record.
Valerie Adams
Adams was undefeated and unchallenged in the shot put. Unfortunately she doesn't get the recognition she deserves because a) she's a thrower and b) she'll never come close to the world record, set back in the 80s when there was little to no limit on PED use.
And the winner is…
Brianna Rollins
It's not just that she went undefeated in the hurdles, an unforgiving event. It's not just that she put together a very long season, going from January to August. It's not just that she made the most amazing recovery after being left in the blocks at the World Championships and storming back for gold. It's not just that she approached a world record that was thought to be unapproachable (see above, re: 80s PED use), running the fastest women's hurdles time in a quarter-century. It's that she did all of these things and did them better than anyone else, man or woman.
Best Rivalry
It's an honor to be nominated…
Erik Kynard vs. Derek Drouin
The two senior collegians/newly minted pros and Olympic high jump medalists went head-to-head on many occasions in 2013. It was a bit one-sided, with Drouin coming out ahead at the NCAA indoor and outdoor championships and World Championships and Kynard topping him just twice (Prefontaine Classic, Lausanne Athletissima). It's a reversal of last year, when Kynard won the NCAA and beat Drouin at the Olympics. This rivalry could last a long time and help the ailing North American pro circuit.
Meseret Defar vs. Tirunesh Dibaba
Even as they are aging, these are still the world's two best women's distance runners and they appear to have an intense dislike for each other. But can it really be a rivalry if they almost never race against each other? They met just twice this year, with Defar winning the 5000 meters in Zurich and beating Dibaba at the Great North Run half marathon (there, both were beaten by Priscah Jeptoo).
LaShawn Merritt vs Kirani James
A year ago, James looked like the next big thing in the 400 meters and I wondered if Merritt was past his peak. This year James won their first few meetings but then Merritt blew him out at the Worlds and dominated the rest of the season.
And the winner is…
Nick Symmonds vs Duane Solomon
This is a friendly but intense rivalry and the two half-mile stars are not afraid to race each other. They met 8 times this year, with Symmonds coming out ahead in six of them (but Solomon winning the national title). They are a contrast in styles: Solomon is the inveterate front-runner and Symmonds comes on in a late rush. They are two of the most interesting runners on the circuit, on the track or off.
Breakthrough Performance
It's an honor to be nominated…
Ryan Whiting
The Penn State alum has been knocking on the door but finally broke through to elite shot put status this year. His real "welcome to the big time" performance was at the Doha stop on the Diamond League tour, when he hit 22.28 meters (73′ 1¼")–the second-best mark in the history of the Diamond League.
Matt Hughes
The Louisville alum and former NCAA steeplechase champion took thirteen seconds off of his PR, broke the Canadian record, and was a surprise sixth-place finisher at the Worlds (the second-best in Canadian history). Canada had one of its greatest team performances ever at this year's Worlds and Hughes' success was the least expected.
USA Men's Cross Country
Let's Run's race recap of the World Cross Country Championships led with a simple statement: "USA men 2nd, Kenya men 3rd. Let's repeat that in case you don't believe it. USA men 2nd, Kenya men 3rd." It was the first USA silver and first defeat of Kenya since 1984 (when the Yanks were running on home ground in the Meadowlands). The Americans ran a perfectly executed race, trailing Kenya by 99 points at 2k and 40 points at 6k, and only overtaking second in the final 2k of the 12k race.
What's even more impressive is that this was not the USA's 'A' team. Dathan Ritzenhein earned a spot on the team at the USA Cross Country Championships but declined to compete. Considering that his form was top-notch this year and that his greatest strength is cross country, the USA might have had a shot at winning if Ritzenhein had participated. It's been 33 years since a team other than Kenya or Ethiopia won gold in the men's World Cross Country Championships.
And the winner is…
US middle distance running
At this year's World Championships, Team USA walked away with four middle distance medals, one each in the four events (men's and women's 800 and 1500 meters). The USA hadn't won more than two medals in these events at any Worlds or Olympics since World War I, and winning none at all has been the norm for the last two decades. In terms of medal count, the USA did the impossible: beat Kenya.
And yet, four medals seemed like a bit of an underperformance, if that's possible. Duane Solomon and Alysia Montano both narrowly missed medaling with fourth-place finishes in the 800. Teen sensations Mary Cain and Ajee Wilson were finalists but finished back in the pack in their first truly big-time races. Olympic silver medalist Leo Manzano didn't make it out of the semifinals. Believe it or not, the USA is the world's dominant force right now in middle-distance running.
Most Improved
It's an honor to be nominated…
Bohdan Bondarenko
Bondarenko seemingly came out of nowhere to dominate men's high jumping in 2013. He added an insane 10 cm (5 inches) to his PR and took serious attempts at breaking the 24-year-old world record. But he's not completely out of nowhere; last year he jumped 2.31 meters (7′ 7″), just 3 cm below the season' best of Olympic silver medalist Erik Kynard.
Like Kynard, he's young (24 years old) and started clearing big heights at a young age, going over 7 feet at 16 years old and 7′ 5″ at 17. But while Kynard's progress has been slow and steady, Bondarenko had breakthroughs and setbacks. It took him six years to get from 2.26 (7′ 5″) to 2.31 (7′ 7″), and then just one year to get from 2.31 to 2.41 (7′ 10¾").
Mary Cain
Cain was one of the best high school athletes in 2012 and ran well to finish sixth in the 1500 meters at the World Youth Championships. Her progress in 2013 was astounding. Seemingly every week she broke another age group record and held her own against seasoned professionals. She went from someone only known to true track nerds to the subject of a lengthy article in Sports Illustrated. Sixth at World Juniors to tenth at Worlds, Period, in one year? Unbelievable.
Brianna Rollins
At this time last year, Rollins was just another strong US hurdler. She was good–NCAA runner-up both indoors and out and sixth at the USATF championships–but there was little indication that she'd be a candidate for the Worlds team, let alone be World champion or a challenger for worldwide athlete of the year. She started 2013 with a bang, breaking the 60 hurdle collegiate record in her very first meet, and went on to improve her best time in the 100 hurdles by nearly half a second. She never broke 14 seconds in high school but three years later she nearly broke the world record.
And the winner is…
Kori Carter
The Stanford hurdler qualified to the NCAA Championships last year in both the 100 and 400 meter races, but didn't do much when she got there. She was sixth in her heat in the 100 hurdles and dead last in her heat in the 400 hurdles. No one saw her 2013 season coming, possibly not even Carter herself.
In 2013 she got better…and better…and better. She qualified to the NCAA indoor championships but didn't advance out of her heat. She successfully defended her Pac-12 title in the 100 hurdles and finished second at the NCAAs (behind the record-setting Rollins). The 400 hurdles is where the amazing improvement came, going from 57.60, good for 137th in the world, to 53.21 and the then-world leader.
She won the NCAA title and entered the USATF championships as the favorite, which put her in a difficult spot. If she qualified for the World Championships, she'd have to miss her sister's wedding, in which she was supposed to be a bridesmaid. She came up ill on the morning of the USATF final and did not run. Whether it was real illness or faked, or real but brought on by the stress of the situation, she did not say. But when you're ranked 137th in the world in one year, you usually don't make your plans around competing in the World Championships the next year.
Best Meet
It's an honor to be nominated…
World Championships
I suppose it has to be a nominee, but the lack of excitement in Moscow's Luzhniki Stadium was a real buzzkill. How bad was the attendance? The 2013 Tim Horton's Brier, the Canadian national curling championships, was about as well-attended as the 2013 IAAF World Championships. Yes, curling.
Oregon vs Arkansas
Two years ago, Oregon head coach Vin Lananna came up with a great idea: a tight, two-hour dual meet between the Ducks and the Hogs in the middle of the sprawling, multi-day Oregon Relays. He got everything he wanted out of it but a win.
The two best dual-meet teams in the nation see-sawed back and forth, delighting a crowd of more than 7,000. As all great meets do, it came down to the 4×400 relay, winner take all. Oregon All-American and Worlds medalist Mike Berry got the baton on the anchor leg just a step behind Arkansas' Akheem Gauntlett, bided his time, and made a charge off the final curve. The two were shoulder-to-shoulder until the final steps, when Gauntlett edged ahead by 0.25 seconds. It won the Hogs the mythical dual meet national title.
This brilliant idea was just a one-off occurrence, though. This year's Oregon Relays will return to its mostly high school format, and Oregon has just one dual meet on its schedule in 2014.
And the winner is…
NCAA Outdoor Championships
Despite the horrid ESPN broadcast of this meet (see: Worst. Announcing. Ever.), this meet ended on such a crazy note that it belongs on the old Alcoa Presents Fantastic Finishes. On the women's side of the meet, Oregon yet again came up short in the Ducks' bid for an outdoor national title (which they haven't won since 1985) and the Kansas Jayhawks won their first national outdoor title since 1970. But that outcome was determined well before the meet was ending.
On the men's side it was crazy. Heading into the last day, it was supposed to be a battle between Texas A&M and Arkansas, with Florida basically out of the running. With two events remaining, it was Texas A&M 51, Florida 43, Arkansas 34½, but both the Aggies and Razorbacks had major scoring opportunities in the 5000 and 4×400 relay. Texas A&M all but had it in the bag.
Then stud runner Henry Lelei dropped off the pace in the 5k and only managed to score a single point, but Arkansas couldn't take advantage as Kemoy Campbell could only score four. So it was Texas A&M 52, Florida 43, Arkansas 38½. The only was the Aggies weren't going to win is if they DNFed in the 4×400.
So what happened? Aggie leadoff leg Ricky Babineaux dropped the stick before he could get it to second leg Aldrich Bailey, and Texas A&M was relegated to last and one point. Florida could tie for the national title if their foursome of two freshmen and two sophomores could pull off the win. They did, capping off one of the craziest finishes in NCAA history…and the ESPN broadcasters went off the air still not knowing who had won the meet.
The picture says it all: Texas A&M coach Pat Henry is not happy about sharing the trophy while Florida coach Mouse Holloway is ecstatic.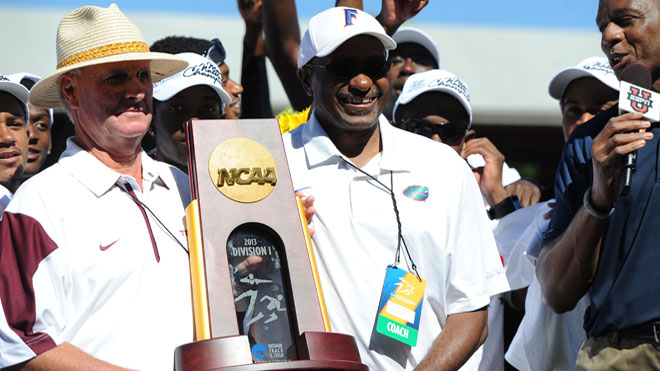 Kevin's Selections
Coach of the Year
It's an honor to be nominated…..
Robert Johnson
Oregon's women were a 1500 and a fully healthy English Gardner away from pulling off the first triple crown (cross country, indoor track and outdoor track) in NCAA history.  Johnson doesn't directly coach the cross country group, but he has been instrumental in building the foundation of the women's squad on the track, going back to his years as an assistant under Vin Lananna.  He also led the men's team to their 7th straight Pac-12 conference title.
Lawrence Johnson
In January, Johnson resigned as Clemson's head coach amidst confusion and controversy.  By December he was named USATF's Coach of the Year.  What happened in between?  Johnson's Boogie Fast Track Club (easy win for Name of the Year) produced two of the best hurdlers in the world in 2013.  You already know about Rollins and how she set the collegiate record on her way to a gold medal in Moscow.  Johnson also led 100 meter-hurdler Queen Harrison to a 12.43 personal best and a 5th place finish at the World Championships
And the winner is…..
Alberto Salazar
Salazar's top athlete, Mo Farah, won two more gold medals at the World Championships.  Behind him Galen Rupp had a quiet, but productive year placing 4th in the 10,000 and 8th in the 5,000 in Moscow.  Rupp won another US Championship in the 10,000 and was red hot during the indoor season where he broke the American record in the 3,000 and gave the American indoor mile mark a real scare.  In the shorter distances, Matt Centrowitz finished second at the World Championships adding to what is already a remarkably consistent career.
Salazar's best work though may have been managing the expectations of phenom Mary Cain as she vaulted her way into the professional track world.  In retrospect, Cain's racing schedule was timed perfectly throughout the spring and early summer.  She improved with virtually every race and somehow still had enough in the tank to place 10th at the World Championships in the 1,500.
Other Salazar success stories include the resurrection of Treniere Moser's career, despite missing the World Championships, and Dathan Ritzenhein's fifth place finish at the Chicago Marathon.
Best Kick
It's an honor to be nominated…..
Eunice Sum
A surprise winner of the women's 800 in Moscow, Sum used a late charge to catch American Alysia Montano and then hold off defending champion Mariya Savinova.  After Montano's, typical fast start the race became a test of who would slow down the least.  It worked out perfectly for Sum who, prior to this season, was a 1500-meter runner.
Mo Farah
The one blemish on the New Mo Farah's record came when Ibrahim Jeilan caught him in the final lap of the 2011 World Championship 10,000.  Since then, the races and results have been predictable.  The field starts conservatively.  Mo waits.  Mo kicks.  Mo wins.  The Moscow 10,000 didn't figure to be any different.
After that race in Daegu in 2011 Jeilan was virtually non-existent, his few results over the past two years weren't remarkable.  And then Moscow came, and somehow he found himself in the mix with one lap to go. It took Farah a 54-second final 400 to finally exorcise his Daegu demons.
And the winner is…….
Priscah Jeptoo
It's probably a stretch to classify the last half of a marathon, no matter how fast, as a kick.  Then again, I'm not sure what else you would call Jeptoo's final 13.1 miles in New York City.  She turned the marathon distance into a tactical 1,500 when she spotted Buzunesh Deba and Tigest Tufa 3 1/2 minutes before running them both down and winning in a route.  Jeptoo's split for the last half was 69:07.  Only one American (Shalane Flanagan) ran a half-marathon faster than that in 2013.
Best Match-Up Let Down
It's an honor to be nominated…
David Rudisha vs. the clock
If he were healthy, we could assume that Rudisha would have faced no resistance in the defense of his world championship title. The races would have been a formality–a 49/50-second first 400 that breaks open the field and then a methodical last lap where the outcome is never in doubt.  In that way, you could make an argument that the 800 as a whole was more exciting without Rudisha in the mix.  However, who wouldn't want to seem him take more cracks at his own world record?  He teased mid-distance fans with a dominant win at the New York Diamond League before he suffered an injury and called it a season.
Women's 4 x 100: Jamaica vs. United States
Two injuries (Allyson Felix and Carmelita Jeter) and two drug suspensions (Sherone Simpson and Veronica Campbell-Brown) really took the excitement out of this event.
And the winner is…..
Tyson Gay vs. Usain Bolt vs. Yohan Blake
This was to be the year.  Gay, finally fully healthy and poised for his last run at the top.  The up-and-coming Blake with sky high expectations after two individual silvers in the London Olympics.  And of course, Bolt, who managed to look both invincible and beatable in 2012.  Three men at different points in their career coming together for an epic clash in the 100 and 200 meters. Then, drug suspensions and injuries happened.
Announcing Moment of the Year
And the winner is……
Steve Cram
No debate here, Steve Cram's call of the Monaco 1500 where Mo Farah broke his British 1,500 record is in a class by itself.  "And Mo Farah, as I stand and commentate may well have just broken my British record for 1,500 meters."  Cram balanced that moment with the action at the front of the race, Asbel Kiprop's lone ranger 3:27, perfectly.
GIF of the Year
It's an honor to be nominated……
Tevin-Lloyd Thompson
Amidst the professional meet at the Penn Relays, the high school races still manage to grab some attention.  Even the most partisan American can appreciate the excitement and the enthusiasm that the Jamaican teams bring.  Exhibit A: Tevin Lloyd-Thompson of Kingston College.
One more time, Tevin-Lloyd Thompson of Kingston College dances at Penn Relays https://t.co/gwnwunlYJw

— House of Run (@HouseofRun) April 28, 2013
Ezekiel Kemboi
This one isn't from 2013, but it is timeless.  Also, track and field was short on GIFs this year.  Hopefully there is more falling, dancing and running into things in 2014.
And the winner is……
Clement Kemboi
Kemboi was supposed to rabbit the 3,000-meter steeplechase at the Ostrava Golden Spike Meet.  Then he met the first barrier and his day was done before he had even run 600 meters.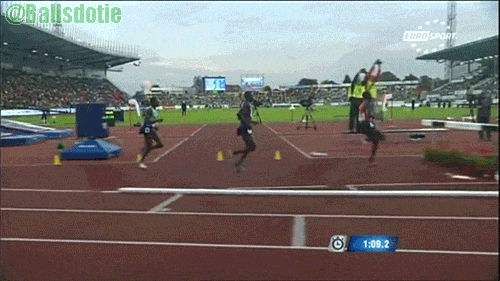 Pat's Quick Hits
Future Distance Star
Emily Infeld – started very late in the track season with a nice 3000 on the track, then followed it up with strong showings a win at Wharf to Wharf, runner up finish at the Tufts Health Plan 10k for Women, runner up finish at the road 5k champs and runner up at the NYRR Dash to the Finish. 2014 should be a big one on the track as well for Shalane Flanagan's (now) sole female training partner. Read our 5QW with Infeld here
Honorable Mentions: (tie) Laura Thweatt & Ryan Hill
Thweatt surged onto the scene with a strong podium finish at USATF 12k Champs and a win at Club Cross. Hill qualified for World Champs 5k Team and ran his way on with a World A Standard time of 13:14.22 at Heusden. Hill then closed his season with 4th place finish of 3:53.00 at the 5th Avenue Mile.
Best event switch
Jordan Hasay – 5k to 10k
After her tough 10k at NCAA regionals, who would have thought Hasay would battle back to run herself onto the World Champs team in Des Moines, and then later run the World B Standard in the much ballyhooed time trial? I wouldn't, but I saw it with my own eyes. Will be interested to see if she can further improve on her early success in the longer distance in 2014.
Honorable Mention: Shannon Rowbury – 1500 to 5k
Rowbury did what many thought was too tough at USA's and doubled back in the 5000 after disappointingly missing the team in her signature event of the 1500. She has run fast 5k times without ever truly focusing on it, so it will be interesting to see where her 2014 focus lies with Alberto Salazar at the helm.
Strangest event surrounding world championship
Tyson Gay positive test
No major explanation needed. He tested positive in Des Moines, after having an incredible meet. He said he would name names, and maybe that's what he's doing behind closed doors.
Honorable Mention: Treniere Moser injury
This was odd. One moment she was tweeting about being excited to be in Moscow, then what seemed like a few hours later, she's out and Sarah Brown was flying across the ocean to get to be her last second fill-in. Brown made it through the first round, which was a great achievement, considering her path to get there.
Best suited for event switch
David Torrence – 5000
Torrence has been showing his prowess for the 5000 for a few years now, running 13:16.26 at the 2012 Payton Jordan Invitational, and most recently winning the famed 2013 Silicon Valley Turkey Trot. Hopefully his focus will shift there in 2014, as Bernard Lagat isn't going to live forever, and Galen Rupp could move up to the marathon by 2016.
Honorable Mention – Will Leer – Steeple
There's a good chance Leer has tried the steeple in practice and it just hasn't been a good fit. Why do I think this? Because it's silly not to. He was a standout soccer player in high school, which makes me think he has the athleticism the steeple demands. He also is very good at the 3k and 5k distances. This kind of strength, matched with his 1500 speed, makes me think it would be worth a try in an off year.
Best new sponsors
Oiselle
At the 2012 Olympic Trials, I began to hear the Oiselle name, but in 2013 they began to supplant themselves as a major brand in the athletics world. They pushed their excellent looking uniforms through. They signed Lauren Fleshman. They created the Little Wing training group in Bend. And they had more awesome parties; one of which I attended in Des Moines, and I have heard their post-Club Cross party was the go-to event as well.
Honorable Mentions: (tie) Avery Brewing & Ninkasi Brewing
Avery got in the game early by sponsoring marathoner turned ultra marathoner, Sage Canaday. Ninkasi got in the game late by sponsoring Tommy Schmitz. Both moves will hopefully push toward having other sponsors make their way into track and field as title sponsors. I love shoe companies, but I know that McDonald's, Gatorade and Budweiser have a lot bigger advertising and promotional budgets than Brooks or Mizuno. Let's open it up IAAF!