No Comments
What2Watch: Pole Vault on Court Avenue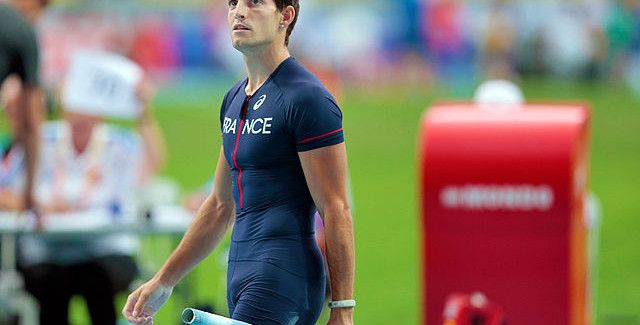 Jesse Squire | On 22, Apr 2015
World record holder Renaud Lavillenie is the headliner in Des Moines. (Photo credit: Augustas Didžgalvis)
This is by far the best week of the year for a track and field and running fan, and we're going to let you know what to watch each day this week.
Monday (Day 1) was the Boston Marathon.
Leading results | Kevin Sully's 26 Takeaways from the Boston Marathon
Yesterday (Day 2) was the Grand Blue Mile.
Results | Let's Run recap
The really big action—the Penn and Drake Relays and the London Marathon—is yet to come, but today's limited action is still first-rate. The Pole Vault on Court Avenue, a street vault held in downtown Des Moines in conjunction with the Drake Relays, will begin at 5:15pm local time (6:15pm ET).
It does not appear that this competition will have television or webcast coverage, but we will update if it becomes available. Live results available via Flotrack.
The men's field:
Renaud Lavillenie (France)
Mark Hollis (Nike)
Sam Kendricks (Nike)
Steve Lewis (Great Britain)
Brad Walker (New York AC)
Lavillenie is the world record holder and the undisputed #1 vaulter in the world. Kendricks won the USATF indoor championship last month and the outdoor title last June, where Hollis was runner-up. Walker is on the downside of his career but is the most decorated of all active US vaulters, with five medals at World indoor and outdoor championships.
The women's field:
Katerina Stefanidi (Greece)
Jenn Suhr (adidas)
Yarisley Silva (Cuba)
Mary Saxer (Oiselle/New York AC)
Marion Lotout (France)
Suhr and Silva were the world's top two vaulters last year, but Stefanidi had the best indoor season of the above. Suhr struggled with injury through the indoor season (and Silva just didn't compete), but no one is better when they're at full power. Saxer was runner-up at the US indoor championships (behind collegian Demi Payne). A leser-known name, Lotout was fifth at the European indoor championships.
Tomorrow—the Penn and Drake Relays begin in earnest, and we'll let you know what to watch in nearly every event!