No Comments
The Weekend's Best Matchups: Millrose Games, college action, and more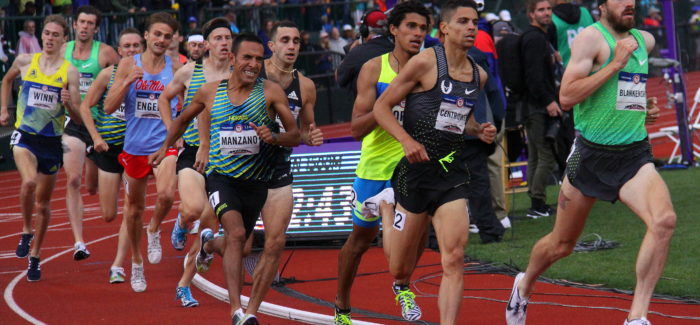 Jesse Squire | On 10, Feb 2017
Nobody stays in front of Matt Centrowitz for long, but he'll have his hands full at the Millrose Games. (Photo by Dane Schubert for Daily Relay)
There is no shortage of action this weekend. The Millrose Games take center stage in New York City on Saturday and will get live coverage on NBC. There are also several top-level collegiate meets scattered around the country, most notably the Tyson Invitational. There is top-level pro action in Europe, as the IAAF's World Indoor Tour goes to Poland and the Germans stage a different kind of a track meet in Berlin.
As always, go to our What2Watch page to see the TV and webcast lineup.
I have more than two dozen matchups I've highlighted for the weekend. My choice for the best of them all does come from the Millrose Games, but it's not the famed Wanamaker Mile. In fact, I think it's going to be twice as good as the mile…
Matt Centrowitz vs Andy Butchart
Paavo Nurmi Men's 2 Mile, NYRR Millrose Games
Armory Track & Field Center, New York NY
Saturday, 4:56pm
Meet website
Live TV coverage from 4:00pm to 6:00pm on NBC
Live webcast coverage from noon to 4:00pm at USATF.tv Plus (subscription required)
Previews: Let's Run | Armory Track | Runner's World
Attention at the Millrose Games is usually centered on the Wanamaker Mile, but this time around I think the best battle is going to be the 2-mile.
Matt Centrowitz (Nike Oregon Project) is the reigning Olympic 1500 meter champion and has shown good form in his two races. He's going a bit out of his comfort zone by moving up to the 2-mile but not by much. He'll be facing two of the USA's very best 5k runners in Ryan Hill (Nike Bowerman TC) and Ben True (Saucony), and while they are world-class runners they do not represent Centrowitz's biggest threat.
That comes in the form of Britain's Andy Butchart (New Balance). Two weeks ago he broke the Scottish record for the indoor 3000 meters (7:42.97), and last week he became the #2 Scot of all time for the indoor mile and recorded a world leader to boot (3:54.23). When you add in the fact that he finished sixth in the Olympic 5000 meter final last summer, the sum of all his parts indicate a runner who should probably be considered the favorite over Centrowitz. On the other hand, Centro doesn't lose many races, especially ones like this which rely on tactical acumen and finishing speed.
The rest of the weekend's best matchups, in chronological order…
Thiego Braz vs Piotr Lisek
Men's pole vault, ISTAF Indoor
O2 Arena, Berlin GER
Friday, 6:05pm local time (12:05pm ET)
Meet website | Live webcast link
The indoor version of the ISTAF meet has been around for a few years and is an interesting means for putting together a meet. The only track laid down at the O2 Arena is a 60 meter straightaway, so it's a field-and-sprint meet rather than a track meet. The pole vault here matches up Olympic champion Thiego Braz (Brazil) and 2017 world leader Piotr Lisek (Poland).
Silas Kiplagat vs Vincent Kibet vs Bethwel Birgen
Men's 1500 meters, Copernicus Cup
Hala Toruń, Toruń POL
Friday, 6:40pm local time (12:40pm ET)
Meet website
The Copernicus Cup is the fourth stop on the IAAF's World Indoor Tour and is named for the famed astronomer and native of the host city. (No, there is no model of the sun at the center of the track for the athletes to orbit around.) Kiplagat is a two-time Diamond League champion and the fourth-fastest of all time at 1500 meters, but hasn't yet shown that form during the indoor season. His two main competitors are likely to be Birgen and Kibet, the third and fifth fastest runners of the 2017 season.
Johnnie Jackson vs Gleb Dudarev
Men's weight throw, Iowa State Classic
Lied Recreation Center, Ames IA
Friday, noon local time (1:00pm ET)
Meet home page | Live webcast at Flotrack (subscription required)
This could be a preview of the NCAA championship final. LSU's Jackson is the collegiate leader and Kansas' Dudarev is #3.
Orlando Ortega vs Pascal Martinot-Lagarde
Men's 60 meter hurdles, Copernicus Cup
Friday, 7:45pm local time (1:45pm ET)
Orlando Ortega (Spain) won Olympic silver last summer and has been running well so far on the indoor circuit. Pascal Martinot-Lagarde (France) was fourth at both the Olympics and the 2015 World Championships.
Kim Collins vs Father Time
Men's 60 meters, ISTAF Indoor
Friday, 7:50pm local time (1:50pm ET)
Collins is the favorite in the men's 60 meters here. He's been around forever – last summer was his sixth Olympic Games and this is his 22nd year of competition on the international level.
Genzebe Dibaba vs record book
Women's 1500 meters, Copernicus Cup
Friday, 8:47pm local time (2:47pm ET)
Every winter Dibaba goes on a record-breaking tear. Forgive us if we are less than excited about the very real possibility of another world record.
Christoph Harting vs Piotr Malachowski
Men's discus throw, ISTAF Indoor
Friday, 9:05pm local time (3:05pm ET)
An indoor discus competition? Yes, they manage to pull this off at the O2 Arena. The field of competitors is excellent. Christoph Harting (Germany) and Piotr Malachowski (Poland) are the Olympic gold and silver medalists.
Nick Anderson vs Grant Holloway
Men's 60 meter Hurdles, Tyson Invitational
Randal Tyson Track Center, Fayetteville AR
Friday, 5:25pm local time (6:25pm ET)
Meet home page | Live results
Live webcast at WatchESPN
Kentucky's Anderson is the top returning high hurdler from last June's NCAA Championships. Florida's Holloway is a superstar freshman who is the second fastest of this year.
Teahna Daniels vs Mikiah Brisco
Women's 60 meters, Tyson Invitational
Friday, 6:10pm local time (7:10pm ET)
This is a rematch of last year's NCAA indoor final, where Daniels (Texas) was first and Brisco (LSU) was third.
Justin Knight vs Grant Fisher
Men's 3000 meters, section 1, Iowa State Classic
Friday, 8:00pm local time (9:00pm ET)
The Iowa State Classic is one of the collegiate mega-meets this weekend where everyone is trying to get fast times for qualifying marks. I prefer real, actual competition, but in a few cases we're likely to get some very good competition. Syracuse's Knight and Stanford's Fisher are a couple of top-notch runners who are good at everything from the mile on up to cross country. They were 2nd and 5th at the NCAA cross country championships last fall; it will be Fisher's first race of the year, while Knight already has a sub-4:00 mile under his belt.
Erin Farmer vs Maggie Ewen
Women's shot put, Don Kirby Invitational
Albuquerque Convention Center, Albuquerque NM
Saturday, 9:30am local time (11:30am ET)
Meet home page | Live webcast at Flotrack (subscription required)
Ole Miss' Raven Saunders is working on becoming the greatest women's shot putter in collegiate history and no one is going to beat her at the NCAAs next month, so the real battle is for second. It could be between these two women. Erin Farmer (Arkansas State) has the year's #2 collegiate mark while Maggie Ewen (Arizona State) is tied for #3.
Nethaneel Mitchell-Blake vs Kenzo Cotton
Men's Invitational 200 meters, Tyson Invitational
Saturday, 2:40pm local time (3:40pm ET)
LSU's Mitchell-Blake and Arkansas' Cotton were second and third at last year's NCAA indoor championships.
Molly Seidel vs Pros
Women's Invitational 3000 meters, NYRR Millrose Games
Saturday, 3:50pm
Notre Dame's Molly Seidel is the lone collegian in this field of pros. This is the second race back for the defending NCAA 3k champion after a long layoff — she missed last outdoor season due to injury and was out of cross country eligibility – and she might be a little overmatched here. Let's Run notes Brie Felnagle (adidas), the world leader in the mile, and Natosha Rogers (New Balance), tenth at last week's USATF Cross Country Championships. I wouldn't overlook Andrea Seccafien (Univ. of Toronto TC), the Canadian champion at 5000 meters.
Sandi Morris vs Kat Stefanidi
John Catsimatidis Women's Pole Vault, NYRR Millrose Games
Saturday, 3:58pm
Bless those fearless pole vaulters who will compete against anyone, anywhere, any time. Greece's Kat Stefanidi (Nike) and the USA's Sandi Morris (Nike) are the Olympic gold and silver medalists.
Clive Pullen vs KeAndre Bates
Men's Invitational Triple Jump, Tyson Invitational
Saturday, 3:00pm local time (4:00pm ET)
Arkansas' Pullen is the defending NCAA indoor champion, but he had a terrible day at the outdoor NCAAs where Bates came through for the runner-up spot. They are the top two jumpers of the 2017 collegiate season.
Trey Culver vs Randall Cunningham
Men's Invitational High Jump, Tyson Invitational
Saturday, 3:00pm local time (4:00pm ET)
This competition matches up the defending NCAA indoor champion, Texas Tech's Culver, and the reigning NCAA outdoor champion, USC's Cunningham.
Omar McLeod vs Jarret Eaton
Howard Schmertz Men's 60m Hurdles, NYRR Millrose Games
Saturday, 4:10pm
Jamaica's Omar McLeod (Nike) is the Olympic champion and figures as a heavy favorite, but don't sleep on Jarret Eaton (World Express), a Syracuse alum who's just on the cusp of being one of the world's best.
Tianna Bartoletta vs Dezerea Bryant
Women's 60 meters, NYRR Millrose Games
Saturday, 4:20pm
In addition to being the Olympic long jump champion, Tianna Bartoletta (Nike) is one of the best sprinters around, especially indoors. But this is her season opener and Dezerea Bryant (Nike) has several races under her belt, including a runner-up finish in Boston two weeks ago.
Mike Rodgers vs Ameer Webb
Joe Yancey Men's 60m Dash, NYRR Millrose Games
Saturday, 4:25pm
Mike Rodgers (Nike) has been the USA's most consistent indoor sprinter for many years, which is another way of saying he's getting old. Ameer Webb (Nike) is an ascendant young sprinter but the 60 might be a bit too short to play to his strengths. Others to watch include Clayton Vaughn (Nike), teenager Noah Lyles (adidas), and John Teeters (Under Armour), the fastest white American of all time.
Andres Arroyo vs Eliud Rutto
Men's 800 meters, section 1, Iowa State Classic
Saturday, 3:30pm local time (4:30pm ET)
Florida's Arroyo is one of the fastest half-milers in the NCAA and was an Olympian for Puerto Rico. Middle Tennessee's Rutto hasn't run as fast but was second at last year's NCAA indoor championships.
World record holder vs American record holder
Mel Sheppard Men's 1,000 meters, NYRR Millrose Games
Saturday, 4:31pm
The world record holder in this race is Cas Loxsom (Brooks Beasts), who broke the global 600 meter mark two weeks ago at Penn State. The American record holder is David Torrence (HOKA ONE ONE), who set the 1000 meter record three years ago. A third record holder in the race is Donavan Brazier (Nike), who broke the American junior 800 meter record last June. Loxsom is clearly in the best shape of the three, but things are complicated by the fact that 1000 meters is a long race for him.
Shaunae Miller vs Natasha Hastings
AT&T Women's 300 Meters, NYRR Millrose Games
Saturday, 4:44pm
Bahamian Shaunae Miller (adidas) is the Olympic champion at 400 meters and rates as a heavy favorite. However, she got married last week and it's unclear how ready to race she is. American Natasha Hastings (Under Armour) was fourth in that Olympic final and is always ready to race.
Quarter-Miler vs Hurdler vs Half-Miler
USATF Women's 500 meters, NYRR Millrose Games
Saturday, 5:20pm
The 500 is an in-between distance that doesn't favor anybody and this race brings together athletes who would otherwise never meet. Courtney Okolo (Nike) set the collegiate 400 record last year for Texas, Dalilah Muhammad (Nike) is the Olympic 400 meter champion, and Alysia Montano (NYAC) is one of America's best 800 runners.
Shannon Rowbury vs Sifan Hassan vs Kate Grace
NYRR Women's Wanamaker Mile, NYRR Millrose Games
Saturday, 5:27pm
This is a big field for an indoor race – 14 runners in all – and the depth is very good. But these three appear head and shoulders above the rest. Shannon Rowbury (USA) and Sifan Hassan (Netherlands) are now teammates at the Nike Oregon Project and are among the five or six best women's milers in the world. Kate Grace (Nike) is a fast-rising runner who probably has better finishing speed than anyone else. Two more to watch include Brenda Martinez (New Balance) and Amanda Eccleston (Brooks), who were just inches apart in third and fourth at last summer's Olympic Trials.
Kicker vs Kicker
NYRR Men's Wanamaker Mile, NYRR Millrose Games
Saturday, 5:50pm
If you want to win a big indoor race, you need to have a big kick and know how to use it. Robby Andrews (adidas) grew up running on the boards and his drives to the finish are legendary and electrifying. Clayton Murphy (Nike) is the kind of guy who magically appears out of nowhere on the homestretch, always in the right place at the right time. But, of course, the old adage is that the problem with big kickers is they often lose to other big kickers, and there is no shortage of those in this race.
Edward Cheserek vs Pros
Men's Invitational Mile, Husky Classic
Dempsey Indoor, Seattle WA
Saturday, 3:45pm local time (6:45pm ET)
Meet home page | Live webcast at Flotrack (subscription required)
Oregon's Cheserek has barely ever lost to another collegian, so Friday night's 5000 against the likes of Washington's Colby Gilbert isn't likely to be a great battle. This one could be, since "Ches" is up against some seasoned veterans: Evan Jager (Nike Bowerman TC), Lopez Lomong (Nike Bowerman TC), and Jordan McNamara (Nike Oregon TC).