No Comments
The Weekend's Best Matchups: Cross country showdowns, indoor track heats up, and more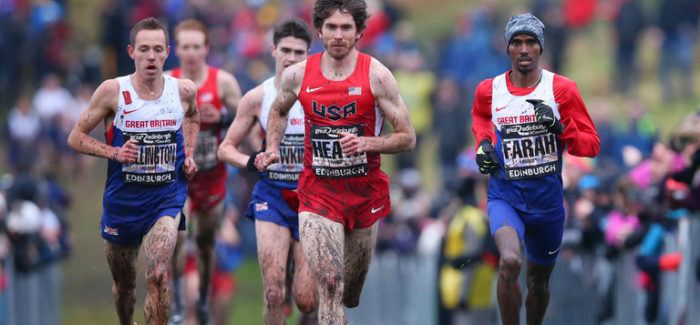 Jesse Squire | On 06, Jan 2017
Can Garrett Heath win yet another upset in Edinburgh?
The first full weekend of the new year already has some great competition, highlighted by a couple of great cross country meets. One of them is getting the most attention, and deservedly so.
Garret Heath vs Mo Farah
Men's 8k race, Great Edinburgh XCountry
Holyrood Park, Edinburgh, Scotland
Saturday, 2:13pm local time (9:13am ET)
Event website
Live webcast via USATF.tv+ (subscription required)
The USA's Garret Heath is a giant killer at the Great Edinburgh XCountry. During his three-year win streak at this event he's beaten Mo Farah (4-time Olympic champion), Kenenisa Bekele (umpteen-time world record breaker), and Asbel Kiprop (superstar miler), three of the greatest runners of the 21st century. Farah gets a rematch of last year's race, where he kicked late and couldn't catch Heath. Others to watch include Turkey's Aras Kaya and Polat Kemboi Arikan, who went 1-2 at the recent European Championships.
There is also a women's 6k race and junior races for men (6k) and women (4k). All four of these will be scored competitions between the USA, Great Britain, and an all-Europe team. One more elite race on the schedule is a mixed men's and women's 4x1km relay, and Laura Muir will run on the British team just days after shattering the UK indoor 5k record.
The rest of the weekend's best matchups, posted in chronological order…
Hellen Obiri vs Faith Kipyegon
Women's race, Campaccio International Cross Country
San Giorgio su Legnano, Italy
Friday, 2:10pm local time (8:10am ET)
Meet website | IAAF preview
The two Kenyan Olympic heroes are the top entries in this traditional IAAF Cross Country Permit event. Obiri won silver in last summer's Olympic 5000 meters, while Kipyegon won gold at 1500 meters. They went head-to-head in December in the Machakos stop on the Kenyan cross country tour, with Obiri coming out on top. A third contender is another Kenyan, Agnes Tirop, the reigning world cross country champion. The men's race is similarly deep, headlined by Olympic steeplechase champion Conseslus Kipruto and defending Campaccio champion Imane Merga.
Navy vs Princeton
Jadwin Gym, Princeton NJ
Friday, 11:00am
Meet information
This is an old rivalry, a men's only affair held in 45 of the last 60 seasons. Princeton leads the series with 23 wins to Navy's 22.
Indiana vs Tennessee
Gladstein Field House, Bloomington IN
Noon, Saturday
Host website
This is the second year of a revived rivalry. The Hoosiers and Volunteers faced off every year from 1980 to 1999. Tennessee leads the men's series by a 14-7 margin, but the Hoosiers won last year. The women's series is also led by Tennessee by a 9-2-1 margin, with that tie coming last year.
Illinois vs Iowa vs Missouri
Hawkeye Tennis and Recreation building, Iowa City IA
Saturday, 11:00am local time (noon ET)
Meet information
Dual and triangular meets are a great way to start off a season, which is why there are so many this weekend. This triangular series, known as the Border Battle, is just three years old, but the track is even newer. It was built in Portland last year for the World Indoor Championships, then sold to the Hawkeyes and shipped to Iowa. This will be the first intercollegiate competition for the track in its new home.
Jenn Suhr vs Mary Saxer
Women's Super Elite Competition, Akron Pole Vault Convention
Stile Athletic Field House, Akron OH
Saturday, 7:00pm
Meet information
Jenn Suhr was the odds-on favorite for Olympic pole vault gold until she contracted some kind of South American virus which sapped her strength. She qualified to the final and finished a remarkable seventh despite coughing up blood. The indoor world record holder came back to competition at a small meet at Kent State in December, where she was a no-height at 4.60 meters (15′ 1″). Suhr's top competition is likely to be Mary Saxer, the 2014 USA indoor champion and 2015 indoor runner-up. 2015 World Champion Shawn Barber headlines the men's competition.