No Comments
The Weekend's Best Matchups: World Cross Country, Texas Relays, and more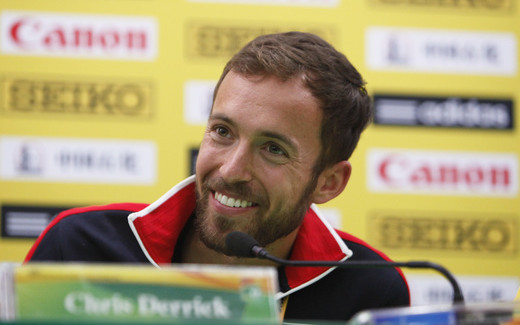 Jesse Squire | On 27, Mar 2015
Could Chris Derrick lead the US team to another Worlds medal? Yes. Could it be gold? Not likely, but stranger things have happened. (Photo: © Getty Images for IAAF)
The collegiate outdoor season get serious this weekend with relay meets in Texas and Florida, and there will be great road action in California. The top matchup of the weekend, though, is a faceoff between two neighbors and enemies.
1. Kenya vs Ethiopia
World Cross Country Championships
Guiyang, China
Saturday, 12:00pm local time (midnight ET)
Meet home page | Let's Run coverage
Live webcast link
TV coverage on Universal Sports on Sunday at noon
Two years ago, the US men scored a major upset by winning silver at the World Cross Country Championships. Could they win this time around? Almost assuredly, the answer is no. But thirty years ago this weekend no one thought Villanova had a ghost of a chance against Georgetown, and anything is possible in the world of sports. Upsets happen, but rarely—otherwise they wouldn't be upsets.
It took a perfect storm of difficult conditions and smart racing for the USA to beat Kenya last time around, and the odds appear against it happening again. The real contest is between Kenya and Ethiopia; one or the other has won every women's title since 1994 and every men's title since 1981. Let's Run rates the men's senior race as a toss-up and the Kenyans as favorites for a sixth straight win in the women's race.
Can the US get on the medal stand? Yes, but they'll have to run very well. On the men's side, Eritrea is a formidable opponent, but US men's long-distance running is experiencing its greatest depth in a generation. The US women haven't broken into the top two since 2002, when they brought a "A" team that included Deena Kastor, who went on to win Olympic marathon bronze two years later. This year's US women's team does not have the country's best runners at its disposal, but after the top two the rest of the field is a bit weak—there are only ten full women's teams entered.
The best of the rest, in chronological order…
Ohio State vs Florida State
FSU Relays
Mike Long Track, Tallahassee FL
Friday and Saturday
Meet home page
Live webcast at Flotrack (subscription required)
No, this is not some reimagination of the College Football Playoff. The FSU Relays is being rebuilt as a high school invitational along with a college quadrangular. North Carolina and Miami (FL) are also competing, but the team competition is likely to come down to the Buckeyes and Seminoles. The men's teams were #14 and #18 respectively in the Track and Field News pre-season dual meet rankings, and #16 and #6 in the women's rankings.
Crouser vs specialists
Men's discus, Texas Relays
Mike A. Myers Stadium, Austin TX
Friday, 4:00pm local time (5:00pm ET)
Meet website | Live results
Live and tape-delayed TV coverage on the Longhorn Network pretty much all weekend
Live webcasts via WatchESPN
The Texas Relays is the first really big meet of the outdoor season and it's getting wall-to-wall coverage on the Longhorn Network. The first interesting matchup of the meet is in the men's discus, where Texas' champion shot putter Ryan Crouser is facing off against most of the NCAA's top discus throwers: Tavis Bailey, Tennessee (3rd at last year's NCAAs), Sam Mattis, Penn (5th at last year's NCAAs) and Rodney Brown, LSU (best PR of any collegian this year).
Arkansas vs Clemson
Women's sprint medley, Texas Relays
Friday, 5:20pm local time (6:20pm ET)
The sprint medley is often a bit player in relay meets but I think this one deserves a whole lot of attention. Half of the race distance is covered by the 800 meter anchor leg, and we've got some good ones. The fastest collegiate half-miler of the indoor season was Natoya Goule, who is slated to run anchor for Clemson. The second-fastest was Crishuna Williams, who is slated to run for Arkansas. If either of those bail, Florida could be a factor with three excellent sprint legs who will hand off to Claudia Francis.
Stigler vs Downing
Men's 400m hurdles, Texas Relays
Friday, 7:00pm local time (8:05pm ET)
Michael Stigler (Kansas) and Quincy Downing (LSU) are the top two returnees from last year's NCAAs, and they are in lanes 4 and 3 respectively. Keyunta Hayes (UTSA) is a threat as well, and the top qualifier is Desmond Palmer (Pitt). He ran a massive PR in the heats (49.59), faster than all but Stigler and Hayes have ever run in their lives.
Acuff vs young 'uns
Women's high jump, Texas Relays
Saturday, 11:00am local time (noon ET)
Amy Acuff is scheduled to compete in the A section of the high jump, one of only two non-collegians in the field. Among her opponents is NCAA indoor runner-up Claudia Garcia Jou (Akron). Acuff won her first NCAA title in 1994, before some of her competitors were even born. She's attempting a comeback because she wants to make the Olympic team next year, which would be her sixth in a row.
Payne vs Morris
Women's pole vault, Texas Relays
Saturday, noon local time (1:00pm ET)
The is the "year of the vault" in college track and field, and Sandi Payne (Arkansas) and Demi Payne (Stephen F Austin) both broke the indoor collegiate record. This will be their first shot at the outdoor record. Payne has a 2-1 advantage in their three head-to-head meetings, including a win at the NCAAs (where Payne suffered the dreaded no-height).
Barber vs Blankenship vs Kendricks
Men's pole vault, Texas Relays
Saturday, 1:45pm local time (2:45pm ET)
The year of the vault continues with the men's competition. Indoors or out, only three collegians have cleared 5.80 meters (19' ¼") or better in the last eight years. They are, of course, Shawn Barber (Akron), Jake Blankenship (Tennessee) and Sam Kendricks. The latter gave up his final season of eligibility to sign with Nike. But the point remains that it has been twenty or more years since North America has seen such a glut of young pole vault talent.
Texas A&M vs Florida vs LSU
Men's relays, Texas Relays
Saturday afternoon
When you go to the Texas Relays, you go to see the relays. In Texas that means the ones where the legs are 400 meters or shorter. The first on the schedule (at noon CT/1:00 ET) is the 4×200, where the above three teams are the favorites (hosts Texas could be an interloper). The next is the 4×100 (1:30 CT/2:30 ET) and Florida is not entered, but watch the Baylor Bears and their superstar anchor, Trayvon Bromell. And then the big race finishes it out, the 4×400 (4:45 CT/5:45 ET), the race that almost ended in a fistfight at the NCAAs when LSU forced Florida off the track…and it just so happens that the Tigers and Gators are assigned to adjacent lanes.
Texas vs Arkansas vs Texas A&M
Women's relays, Texas Relays
Saturday afternoon
The women's relays may get a bigger crowd reaction than the men's due to the fact that the Longhorns are favorites in possibly all three distances, and their top competition should come from two of Texas' most-hated rivals.
Dibaba vs record book
Women's elite race, Carlsbad 5000
Carlsbad, CA
Sunday, 11:56am local time (2:56pm ET)
Race website
I suppose I should say which Dibaba sister is going for a record. It's Genzebe, who will be running her first-ever road race. She's gunning for the world record for the road 5000 (14:46 by Meseret Defar in 2006, also at Carlsbad). She ran 14:18.86 for an indoor world record in Stockholm six weeks ago, so it seems a more than reasonable goal.
Two Americans could break world masters' records: Deena Kastor (15:48 is the time to beat) and Bernard Lagat (13:55).