No Comments
The Weekend's Best Matchups: Glasgow Diamond League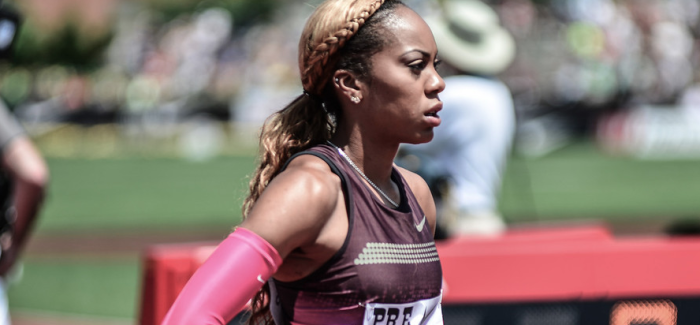 Jesse Squire | On 11, Jul 2014
Can Sanya Richards-Ross make her way back to the top of the 400 meters this weekend?
The Diamond League tour takes a one-off stop in Glasgow this weekend for the two-day meet normally held in London. With the Olympic Stadium under reconstruction and the Commonwealth Games soon to be held on the specially-built track in Glasgow's Hampden Park, this is a one-of-a-kind event.
The meet website has the schedule, start lists and live results.
TV coverage in the USA will be on Universal Sports from 2:00 to 4:00 PM (Eastern) on Friday and from noon to 2:00 PM on Saturday. Webcasts can be found at Universal Sports, Watch Athletics, and Trackie.ca.
Here are the best matchups to watch over the meet's two days.
Kovacs vs Hoffa vs Storl
Men's shot put
Three men who have won Diamond League shot put competitions this year are entered: USATF champion Joe Kovacs, Olympic and World champion David Storl, and veteran Reese Hoffa. Ryan Whiting is also here; he was the world's best putter last year and dominated this year's indoor season but has struggled with injury through the outdoor season.
Javier Culson vs Michael Tinsley
Men's 400m hurdles
Culson and Tinsley have traded wins and each has two Diamond League victories. The only other athlete who has a DL win is decathlete Ashton Eaton, although his win at Oslo was not an official Diamond League race, and he's here too.
Warren Weir vs Alonso Edward
Men's 200 meters
Weir and Edward are the winners of the last two Diamond League races, Edward winning in Lausanne and Weir in New York. Another athlete to watch for is USATF champion Curtis Mitchell.
Aregawi vs Obiri vs Hassan
Women's 1500 meters
Abebe Aregawi was the dominant women's miler from the end of 2012 into the beginning of 2014 but has now been beaten in two of her last three races. Hellen Obiri has had a great season and was the first to beat Aregawi, at the Pre Classic. Last week in Paris, a new star emerged in Sifan Hassan, who won that race in the year's fastest time (3:57.00).
Yenew Alamirew vs Edwin Cheruiyot Soi
Men's 5000 meters
Alamirew has won two Diamond League races, and when he hasn't won he's been second. One of his two losses came last week in Lausanne, where Soi came out the winner.
Parchment vs Shubenkov vs Wilson
Men's 110m hurdles
The usual situation in the hurdles is that pretty much all of the world's best go head-to-head in a Diamond League race. That's not quite what we have here, but three of the top five or so are here in Hansle Parchment, Sergey Shubenkov, and Ryan Wilson. Parchment is the heavy favorite after last week's win in Paris, where he ran the year's fastest time (12.94).
Sanya Richards-Ross vs Francena McCorory
Women's 400 meters
Richards-Ross is steadily improving after dealing with a toe injury that knocked her out of action for more than a year and won last week's Diamond League race in Paris. But there is one athlete she has yet to beat in 2014, and that's USATF champion Francena McCorory.
Yohan Blake, then vs now
Men's 100 meters
Yohan Blake earned the nickname "The Beast" for being the only sprinter in the same orbit as Usain Bolt. He is on the comeback from injury and has only looked good in one race this year, and that was when he nearly fell at the start and almost won anyway. Which Yohan Blake shows up here?
Silva vs Murer vs Suhr
Women's pole vault
The women's pole vault returns to the Diamond League after a hiatus of nearly a month. World indoor record holder Jenn Suhr is still adjusting to an equipment change. The top two on the tour so far this year are Yarisley Silva, the world indoor champion and winner in Rome, and Fabiana Murer, who won the last DL meet in New York.
Jeff Henderson vs Greg Rutherford
Men's long jump
British record holder Greg Rutherford will get big support from the crowd, and he's earned it with the year's longest jump. But he was beaten last week by Jeff Henderson, who may have emerged as the new American long jump star and holds a two-meet win streak in the Diamond League.
Tero Pitkamaki vs Viteslav Vesely
Men's javelin
The javelin is an event that tends towards unpredictability and inconsistency, but the two most consistent throwers of 2014 are Pitkamaki and Vesely. Each has won a single Diamond League meet and Pitkamaki was runner-up last week in Paris.
Carmelita Jeter, then vs now
Women's 100 meters
Jeter has been one of the top sprinters for years but has barely competed at all in 2014 and it will be interesting to see what kind of form she can bring to this race. Her rival, Shelly-Ann Fraser-Pryce, has also had injury problems this year and is not anywhere near her best. Look for Trinidad's Michelle-Lee Ahye to stretch her Diamond League win streak to two meets.
Blanka Vlasic vs Ana Simic
Women's high jump
Both Croatians, Vlasic and Simic are tied for the lead in the Diamond Race. Simic won the first meet of the year in Shanghai, while Vlasic completed her long road back to the top last week in Paris.
Emma Coburn vs Ethiopians
Women's steeplechase
This same matchup came up last week, and Coburn finished in between Sofia Assefa and Hiwot Ayalew. The three will go at it again, and Coburn might get the American Record she's been closing in on
Queen Harrison vs Lolo Jones
Women's 100m hurdles
Harrison has scored a top-three finish in all of her Diamond League races and won in New York, and is #2 on the world list for the year. But Lolo Jones is getting it back together after a two-year bobsled experiment and is probably the second-best hurdler in the race.
Will Claye vs Christian Taylor
Men's triple jump
Taylor finally beat Claye for the first time this year last week in Paris, but both lost to Benjamin Compaore. Nevertheless, they're still the top two in the world in this event. Claye has three Diamond League wins and Taylor has been second four times.
Allyson Felix vs Blessing Okagbare
Women's 200 meters
Felix's season ended last year with a torn hamstring and she's been slow to return to form. In her absence, the top long sprinter has been Okagbare, who is also one of the best long jumpers. They were the top two last week in Paris.