No Comments
The Weekend's Best Matchups: Cross Country and Marathons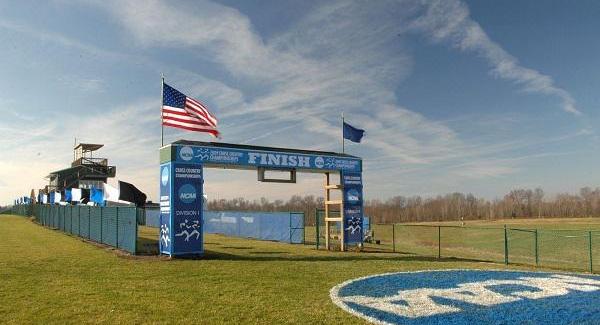 Jesse Squire | On 16, Oct 2014
It's not NCAAs yet, just Pre-Nationals. But it's getting closer. (Photo: XCTownUSA.com)
This is the biggest weekend so far in college cross country because everyone who is anyone will be racing at one of two meets, the Adidas Invitational at Wisconsin or the Pre-National Invitational at Indiana State. There are some interesting marathon matchups to watch as well.
What is the best of the nine matchups I have listed for you? Would you believe…
1. Guelph vs NCAA
Women's race, Adidas Invitational
Zimmer Championship Course, Madison WI
Friday, 11:00am local time (12pm ET)
Race website
USTFCCCA preview | Let's Run preview
Live webcast (subscription required)
I always find it fun to see how various non-Division I teams stack up against the NCAA's best. For example, over the years Adams State (D-II) has had some great teams that certainly could have qualified to the NCAA Championships and one or two of them could have snagged a top-ten finish. This weekend we'll get to see Canada's University of Guelph run against some of the best the USA has to offer at Wisconsin's Adidas Invitational.
The reason I list this as the weekend's top matchup is because Guelph just might win the women's race. Let's Run seems to think they're a threat to knock off #2 Michigan State, the top-ranked team in attendance, and they make a compelling argument. Two weeks ago the Gryphons easily beat #4 Georgetown (without two of their best runners) and #9 Florida State (full strength) at Lehigh's Paul Short Run. If eligible for the USTFCCCA coaches' poll, they'd definitely be in the top ten and maybe in the top five. If they could win this race, it might be among the bigger upsets in the history of college cross country.
None of the NCAA's top teams have much if anything on the line this weekend. Barring disastrous illness or injury, they'll qualify to the national championships with no trouble at all. For them this weekend's meets are nothing but high-level preparation. I find this race fascinating because Guelph probably has more on the line; the men's and women's races at Wisconsin are the only ones on their schedule that they're not guaranteed to win. They're so much better than the rest of the CIS that this could essentially be their championship meet.
2. Colorado vs Oregon
Men's Blue race, Pre-National Invitational
Gibson Championship Cross Country Course, Terre Haute IN
Saturday, 11:35am
Meet website
USTFCCCA preview | Let's Run preview
Live webcast (subscription required)
These are the #1 and #2 teams in the rankings and it's basically been that way all year. Colorado is built for cross country, with depth and toughness and long-distance emphasis, and Oregon has a deep stable of track stars led by four-time NCAA champion Edward Cheserek. I firmly believe that Colorado is the better team in cross country, but you never know how good the competition is until they get into a race and go after it. As Dennis Young noted in his USTFCCCA preview, every year the Buffaloes won the NCAAs they also won the Pre-Nationals. They won't hold back—so if Oregon can put up a fight, then the rest of the season ceases to be a coronation and becomes a bona fide race.
3. Houlihan vs Cranny
Women's race, Adidas Invitational
Depending on how it turns out, the team competition between Guelph and the NCAA might not even be the most compelling part of the women's race at Wisconsin. Arizona State's Shelby Houlihan and Stanford's Elise Cranny are the two most impressive individual runners through the early part of the regular season and they'll go head-to-head here. Houlihan, the reigning NCAA champion at 1500 meters, won the Roy Griak Invitational over tough competition such as Boise State's Emma Bates (2nd at last fall's NCAAs and the 10k champ in June). Cranny, just a few months removed from a 4th-place finish in the World Junior Championships 1500, dominated the Washington Invitational two weeks ago. Whoever wins here is the odds-on favorite for the national championship next month.
4. Korolev vs Zeineselassie vs Kebenei
Men's race, Adidas Invitational
Friday, 11:45am local time (12:45pm ET)
Stanford's Maksim Korolev topped off a dream season last fall with a third-place finish at the NCAA Championships, but in other seasons he's been an unpredictable hot-and-cold runner. He looked good at Stanford's home invitational but we still don't know what we're going to get. Northern Arizona's Futsum Zeineselassie was one place back at the NCAAs in fourth, and Arkansas' Stanley Kebenei came sixth. All three will face off at Wisconsin's meet.
5. Northern Arizona vs Portland
Men's race, Adidas Invitational
Speaking of Northern Arizona, at #3 they are the top-ranked team entered at the Adidas meet and Portland is next at #5. The Lumberjacks looked good but not great in their last outing at the Washington Invitational, and the Pilots just haven't raced seriously at all yet. This is an intriguing matchup of mid-major programs at the top end of decades of success.
6. Michigan vs Oregon
Women's Blue race, Pre-National Invitational
Saturday, 11:00am
This is a #1 versus #3 matchup and on paper it would be a great one, but Oregon isn't running at full strength. Neither of the Ducks' two best runners, Waverly Neer and Sarah Baxter, are entered. I don't know why but top athletes rarely rest at this point of the season unless they're redshirting or injured. #4 Georgetown could be a factor, but they're sitting one of their top five as well. Look for Michigan to be in control.
7. Mascari vs the big boys
Men's Blue race, Pre-National Invitational
If you're looking for a long-shot small-school upset in the style of Hoosiers, Indiana State's John Mascari is the guy to watch. He finished 32nd at last year's NCAA Championships and followed it up with 11th at the NCAA Championships 10k last spring, and he's running on his home course. I don't expect him to beat Oregon's Edward Cheserek—no one is going to do that—nor most of Colorado's top guys, but even being at the front and mixing it up with the major players would be a big deal.
8. Abel Kirui vs Wilson Chebet
Men's race, TCS Amsterdam Marathon
Sunday, 9:30am local time (3:30am ET)
Race website
Kirui is one of the most successful championship marathoners of recent years, winning the 2009 and 2011 World Championships and finishing second at the 2012 Olympics. But there's no guarantee that he'll win here. Partly it's because nothing is ever guaranteed in this tough, harsh, highly competitive world where today's champion is tomorrow's road kill. Partly it's because he lost last season to a stress fracture. But it's also because he's up against Wilson Chebet, the three-time defending Amsterdam champion and course record holder. They sport PRs of 2:05:04 and 2:05:27 respectively.
9. Eric Gillis vs the record book
Men's race, Toronto Waterfront Marathon
Sunday, 8:45am
Race website
Live webcast info
There aren't a whole lot of national marathon records older than Canada's. The legendary Jerome Drayton ran 2:10:09 at the 1975 Fukuoka "World Championship" Marathon, back when runners like him squeezed high-level training around a full work schedule. Thirty-nine years later it still stands. The only other two Canadians who could challenge it, Dylan Wykes and Reid Coolsaet, are both injured at the moment, so the annual "when will it happen" expectations rest on Gillis. He's probably capable of it, but so much in the marathon depends on everything falling just right: the athlete, the weather, the pacing, and more.