10 Comments
The 2013 Track and Field Draft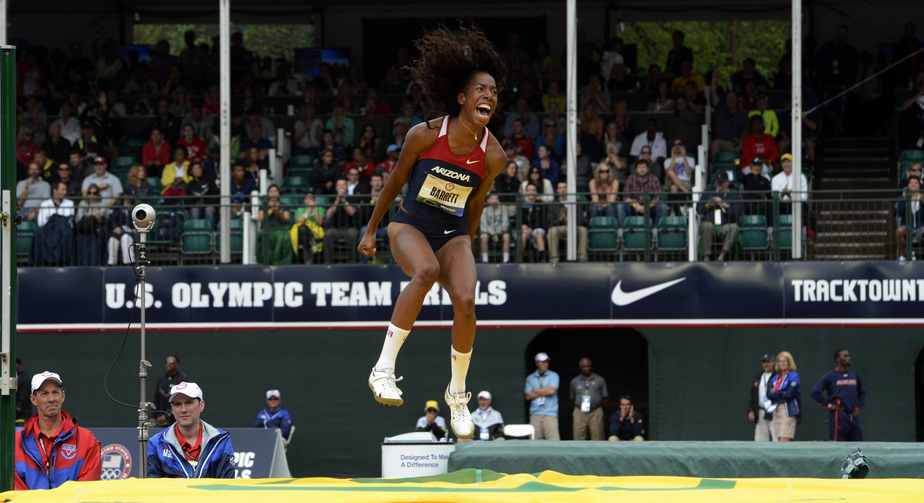 Kevin Sully | On 28, Jun 2013
Photo courtesy of trackandfieldphoto.com
Track and field fans love hypotheticals. They are obsessed with Jeremy Wariner's potential in the 800, even though he says he will never run the event. They speculate what Alan Webb's career would look like if he stuck it out with Alberto Salazar. They break down the perfect distance for a mythical match-up between David Rudisha and Usain Bolt that in all likelihood won't ever actually happen.
So it is a shame that followers of the sport don't get a chance to join in the crown jewel of theoretical sporting events, the draft. After watching the NBA's version of the non-event last night, I wanted to change that. I began reviewing results, defining what it means to be marketable and looking for "character issues" (there weren't many, this is track). The result is the first round (30 selections) of how I thought a track and field draft would unfold using athletes who competed in college this season.
The ground rules were:
-Marketability, potential, longevity, ability to win major championships were all factored into the draft order. This hurt field events and athletes who compete in countries where it is hard to make a national team (apologies to Lawi Lalang and every long jumper).
-Like all drafts, there was a high level of subjectivity. Athletes weren't picked based on how many team points they could score (because they don't do that in professional track), or how dominant they are in their event. Rather, they were rated on their perceived value as a professional athlete.
-An NBA draft isn't going to feature an entire first round of just points guards, so where possible I tried to fit in lower profile events.
-Some of the athletes below have already signed professional contracts. Some are underclassmen/women and haven't yet decided their future or are returning to college. I included them all because it is never too early to start thinking about the 2014 Track and Field Draft. But first, let's roll out the 2013 edition.
1) Brianna Rollins, Clemson: 100 hurdles
The clear number one based on both her potential and her current standing in the world. Rollins seems guaranteed to have a long and successful career starting with a world championship gold medal this year and potentially, a world record. She already has an American record, a US title, and a Nike contract. Because she is a hurdler, she will race frequently throughout her career giving her plenty of chances to be seen. The only concern is the consistent competition she will face from American hurdlers year in and year out. However, if she is running under 12.3, it won't matter how deep the Americans are. All in all, a much safer first pick than Anthony Bennett.
2) English Gardner, Oregon: 100/200
The 2013 US and NCAA champion is off the charts on marketability. She ran for the marquee collegiate track and field program in the country in the sport's glamour event. Never has the enthusiasm of Track Town been so solidly behind a sprinter. Her 10.85 in Des Moines ranks her near the top of the world and with Carmelita Jeter and Shelly-Ann Fraser-Pryce entering their third Olympic cycle, Gardner could contend for medals immediately. If she can remain healthy (she was injured during the 200 at NCAA Championships, but recovered to win the 100) her selection at number two will be well justified.
3) Kimberlyn Duncan, LSU: 100/200
The LSU senior comes with lots of experience and three NCAA 200-meter championships in a row. She leapt up my hypothetical draft board when she beat Allyson Felix at the US Championships to win the 200 in a wind-aided 21.80. Duncan is stronger in the 200, but also has had success in the 100. LSU has raced her quite a bit in the past four years, so longevity could be an issue. Then again, she look as good as ever winning her first US title last weekend.
4) Brigetta Barrett, Arizona: High jump
Four picks in and we have our first field event athlete! Barrett is the Olympic silver medalist, NCAA champion, singer, actress, celebrator extraordinaire. If this were NFL or NBA draft they would ask the stupid question–With all these activities away from the track, how committed is she to the high jump???? Luckily Skip Bayless and Colin Cowherd don't talk about track. Her various interests help attract attention in an event that is always overshadowed.
5) Charles Silmon, TCU: 100/200
Silmon was anonymous to all but the most devoted track fans until the NCAA Championships. Then, in Des Moines he finished behind Tyson Gay and Justin Gatlin to claim his spot on the team for Moscow. Even though he is now a known commodity, he is a wise selection at number five. His time in the 100 has improved each season in college and the two veterans in front of him (Gay and Gatlin) are both north of 30. There looks to be many national teams, relay medals and possibly individual medals in his future.
6) Bryshon Nellum, USC: 400
Nellum has a silver from the 4 x 400 in London and an NCAA title in the 400 this year. His backstory is well chronicled and was the inspirational story of the Olympic Trials. His draft position slipped when an injury caused his early exit from the US Championships last week. Nellum is 24, middle aged for a quarter-miler, but posted his best time ever this season, 44.73. He may never win a gold medal with the younger and faster Kirani James in the picture, but he figures to be in the mix for the near future.
7) Jordan Hasay, Oregon: Distance
Hasay has huge name recognition from her time as a prep phenom and all of her years competing in Eugene. Until last week's performance, you could make an argument that her senior year hurt her draft stock (much like Matt Barkley). Then, she went pro, joined the Nike Oregon Project and she finished 2nd at the US Championships in the 10,000. I'm not sure what event she will end up focusing on, but after looking like she had plateaued she now finds herself in a great coaching situation (like Matt Barkley?).
8) Isiah Young, Mississippi: 100/200
If you don't remember that Isiah Young ran the 200 in the Olympics that is probably because you are an American and you tried to forget that they had a 200-meter team in London. Young made the semifinals in the Olympics and came back to Ole Miss and finished second in the 200 and third in the 100 in NCAA Championships. In Des Moines he finished runner-up to Tyson Gay, making his second straight US team. A solid, not flashy, pick at number 8.
9) Ashley Spencer, Illinois: 400 and 400 hurdles
The World Junior and NCAA champion said she is returning to Illinois, but that was before her coach left to the University of Texas. Only a sophomore, she will be going to Moscow after finishing third at the US Championships. If you are an American female 400 runner you can be prepared for loads of medals and television time during the 4 x 400.
10) Emma Coburn, Colorado: Steeplechase
She was hurt this year, but not before winning a NCAA title. Last season, she was ninth at the Olympics and the American record isn't completely out of the questions (about 11 seconds away). Her training set-up moving forward is promising. She is sticking with her college coach, Mark Wetmore, and will continue to train in Boulder with the American record holder, Jenny Simpson.
11) Kori Carter, Stanford: Hurdles
Carter is world-class at both hurdle events. She would have been much higher pick, but she withdrew from the US Championships after the first round. Her time from the NCAA Championships of 53.21 is the fastest in the world this year. After dropping four seconds from 2012, how much more can she improve? If she decides to stay in college, we might have to wait another year to find out. Despite, the great year she manages to be a bit of an enigma at 11.
12) Georganne Moline, Arizona: 400 hurdles
Moline was always just behind Carter on the track this season so it is fitting that she is one spot below her in the draft. Unlike Carter, Moline was healthy in Des Moines and qualified for her second US team. 5th in the Olympics in London, her international experience will prove to be a great asset. Twelve picks in and there are already two Arizona Wildcats selected.
13) Octavious Freeman, Central Florida: 100
English Gardner and Kimberlyn Duncan have overshadowed Freeman during her two years at Central Florida. That won't be the case anymore. She had a breakout performance at US Championships finishing second in the 100 in 10.87. Although it would be completely reasonable for her to want to race against professionals, she might want to stay in college and continue to build her resume now that Gardner and Duncan are gone.
Editor's note: Freeman has in fact turned professional.  
14) Elijah Greer, Oregon: 800
Greer ran a personal best of 1:45.04 in Des Moines, but was the first man out at US Championships. Oregon's last great 800-meter product, Andrew Wheating, had a meteoric rise that culminated with two NCAA outdoor titles and a summer in Europe where he ran 3:30 in the 1500. Greer has kept a much lower profile. Like Wheating, he will compete with the Oregon Track Club in Eugene. Will he be able to crack an 800-meter team for the US? Nick Symmonds can't race forever.
15) Erik Kynard, Kansas State: High jump
Another high jumper! For good reason too. This high jumper also won a silver medal in the Olympics. Kynard was second to Derek Drouin at the NCAA Championships, but has the ability and charisma to keep him relevant. Besides, if this were like the NBA Draft, Kynard would be my pick to have the most unique fashion sense.
16) Lawi Lalang, Arizona: Distance
Our first international athlete comes off the board. How does Lalang fall to sixteen after beating Kenenisa Bekele? Great question. Even with his 13:07.13 personal best he is still one of many Kenyans running fast times in the 5,000. Making a national team won't be impossible, but it is much more difficult than if he were American. Still, Lalang is a bargain at sixteen because he is relatively new to running and has room to improve. Training with Bernard Lagat will also help.
17) Shaunae Miller, Georgia: 400
Miller has a personal best of 50.70 and was the 2011 World Youth Championship. She is just a freshman and probably wouldn't go pro but already has Olympic experience (a brief one because she injured her hamstring in the first round).
18) Derek Drouin, Indiana: High jump
Drouin is the NCAA champion and Olympic bronze medalist for Canada. He has been neck-and-neck with Kynard and falls just below his rival here. There aren't a preponderance of high jumpers in Canada so he shouldn't have any problems making national teams.
19) Abbey D'Agostino, Dartmouth: Distance
Dartmouth hasn't had a player selected in the NBA Draft since 1990 so D'Agostino's selection at 19 is a big win. She won three NCAA titles this year, but only finished 6th at USAs. She competes in an event that is dominated by Kenya and Ethiopia at the moment so her she currently has a low chance for international medals. The junior will most likely stay in college and rack up a few more national championships.
20) Shalaya Kipp, Colorado: Steeplechase
"Steeplechase U" gets its second pick in the first round. Kipp redshirted this track season, but was the 2012 NCAA champion when Emma Coburn was redshirting. She was third in the Olympic Trials, and was third again this year at US Championships.
21) Arman Hall, Florida: 400
Only a freshman, Hall was third and NCAAs and third at the US Championships. Florida has produced a sea of successful 400-meter runners over the past several years. Hall should stay in that system and continue to develop, but given the shelf life of quarter milers (as we have discussed with Nellum) I wouldn't count on him being around Gainesville for long.
22) Mac Fleet, Oregon: 1500
The recent NCAA champion has recovered from years of injuries to live up to the high expectations that have followed him since high school. Fleet backed up the performance in Des Moines when he made the final and finished eight. His name will certainly help with sponsorship opportunities. Just two syllables–a less hokey, track version of Johnny Football.
23) Natoya Goule, LSU: 800
Why no Jamaicans until pick 23? This is the direct result of the top Jamaicans choosing to stay home in Jamaica to train instead of running in the NCAA. Understanding that, it is fitting that the only Jamaican in the top 30 is an 800 runner. Goule was the NCAA indoor and outdoor champion this year. Recently, she ran 1:59.93, which solidified her place in Moscow. She has many major championships in future and seems ready to surpass what her countrywoman, Kenia Sinclar, achieved in the event.
24) Dentarius Locke, Florida State: 100/200
Locke was sixth in the US Championships and has run a wind-legal 9.97. I'm old enough to remember when that time was good by professional standards, now it doesn't even get you in the top 20 of my fictitious draft. Don't fret Florida State fans. I seem to remember another Seminole who was drafter 24th and turned out pretty well. Sam Cassell.
25) Ryan Crouser, Texas: Shot put
The first thrower of the draft is the NCAA champion and current holder of the fifth best throw in the world. He struggled at US Championships and only finished seventh. The shot put is a traditional strength for the American men so making teams will be a constant battle for the sophomore. His family's success in track and field (and throwing in particular) also makes him an appealing pick.
26) Deon Lendore, Texas A & M: 400
Another sophomore, the Trinidadian has a personal best of 44.94. He was second to Nellum at the NCAA Championships and has qualified for the World Championships. Expect a big improvement next season.
27) Julian Wruck, UCLA: Discus
The junior from Australian is fourth on the world list this season. He has dominated the NCAA competition but is hurt by the fact that he competes in a less publicized event. Also, due to Andrew Bogut, there is a bit of trepidation with picking an Aussie in the top ten.
28) Omar Craddock, Florida: Triple jump
With Craddock you get a NCAA champion, US champion and a member of a very successful pipeline of jumpers at Florida. He is way down on the world list, but he did just beat Olympic medalist Will Claye.
29) Andrea Geubelle, Kansas: Long/triple jump
The United States has no presence in the women's triple jump. The top American is 44th on the world list this year. Guebelle is the US chamption and doesn't have the A or B standard. All looks bleak in the world of the hop, step and a jump. From this darkness, maybe Geubelle can emerge and be the one to galvanize the nation and inspire a people.
30) Reggie Wyatt, USC: 400 hurdles
He was the NCAA champion in 48.58. He appeared to be heading toward Moscow until he was disqualified in the semifinal in Des Moines. Who are the best available picks remaining? My board says Ryan Hill, who was a surprise third in the 5,000 at the US Championships, Ameer Webb of Texas A&M and Diego Estrada of Northern Arizona. But I will spare you from a second round.