No Comments
Stanley Biwott: The right man for the job in New York City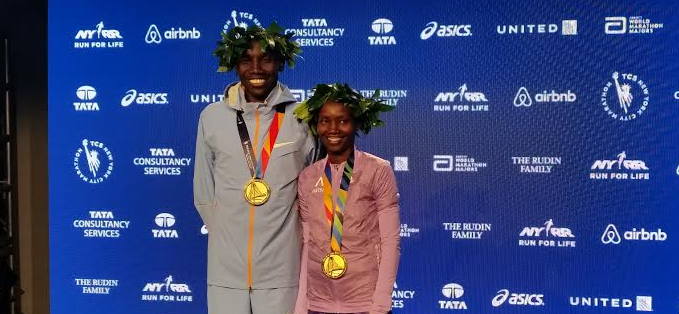 Daily Relay | On 01, Nov 2015
Stanley Biwott's winning performance at Sunday's TCS New York City Marathon served as testimony to two foundational traits of top runners: speed and perseverance.
Leading up to his victory in New York City, Biwott's career had been characterized by unfulfilled expectations and criticism. Despite entering with three top-five finishes in major marathons, Biwott, at 29, seemed to be just another fast half-marathoner who might never translate his speed into major marathon wins.
But he finally put together a full 26.2, closing with a blistering last 10K to win in 2:10:34 over second-place finisher and 2014 World Champion half-marathoner, Geoffrey Kamworor.
"During my training for the three months, I trained longer, increased the distance," said Biwott, who had tended to fade after 35K in previous marathons, although he was only beaten in London in 2014 by Wilson Kipsang, who set the course record. "During my previous London and New York Marathons, I was not able to run after 35 kilometers at a consistent speed. For my preparation for this marathon, I train for the 42 kilometers, not the 35. I was able to prove my endurance and finish with a strong speed."
This was the second straight year in which the men's race was won in slower than 2:10 flat. Prior to 2014, every winner since Martin Lel in 2003 (2:10:30) had broken 2:10. Unlike last year, when extreme winds forced a slow pace, there were fewer excuses Sunday.
Instead, in slightly mild and humid overcast conditions, the top runners proved cagey. The lead men went through halfway at 1:06:49 and, at 20 miles, the pace was still just the equivalent of a 2:13 marathon. Clearly the elites had some speed to burn over the final 10K, and maybe it shouldn't be a surprise that the only two men in the field who've broken 59 minutes in the half marathon this decade were the two with the most speed left.
"There was definitely a lot of teamwork with the Ethiopians and Kenyans," said American Meb Keflezighi about the slow pace. "It was great to see Nick [Arciniaga] and Craig [Leon] here and be with my fellow Americans. But I think the weather — because everybody said it might be warm, it might be warm — with the humidity, I think about 45 or 50 percent or so."
At the 20-mile mark, there were still eight men in the lead pack, but that's when Kamworor, who won silver at August's World Championships in the 10,000m, started to push. He immediately split that pack, leaving behind, among others, 2015 World Championship marathon silver medalist Yemane Tsegaye, Japanese citizen-runner Yuki Kawauchi and Keflezighi. Those three would finish fifth, sixth and seventh respectively.
Just Biwott, Kamworor, Kipsang and Lelisa Desisa were left in the lead pack, and even though the latter two were the ones with the major marathon titles, Kipsang was the first to drop. Desisa hung on to Kamworor and Biwott through 23 miles, despite a killing 4:29/mile pace from the 20- to the 23-mile marker.
Things began to fall apart for Biwott's remaining competitors as the three approached the rolling hills of Central Park and two hours on the clock. Biwott slowed to 4:44 on the uphill mile 24, but Desisa slowed to 5:00 and Kamworor, who had missed his bottle at 35K, began to show signs of strain.
With mile 25 presenting a little downhill in the park, Biwott cranked out a 4:36 mile and finally put a gap on Kamworor, who dropped five seconds back with a 4:40. That five seconds grew to 14 by the finish. No one besides Biwott could hold onto the pace Kamworor himself had set after 20 miles. Desisa would finish 1:36 behind the winner.
Biwott's 28:35 final 10K, which included a long uphill on Fifth Avenue plus the hills of Central Park, was faster than Dennis Kimetto's closing 10K (29:00) in his world record from Berlin in 2014. This is not to say that Biwott's effort on the day was similar but it makes clear just how fast that finish was.
"When I reached back, I knew the course," said Biwott, who finished fifth in 2013 in a time just seven seconds slower than his winning time Sunday. "It was important to push forward to maintain high speed, looking forward to the finishing line. So I was able to maintain high speed."
Keflezighi's eyes opened wide when he was asked about Biwott's closing 10K split.
"This is the first time I'm hearing about the time," he said. "We were 1:06 something, 1:07 for the halfway point. You know it's going to crank up at one point."
Biwott, whose training partner Dickson Chumba won Chicago three weeks ago, was the only man who finished in the top five Sunday who came in with a full buildup to the race. Desisa, Kipsang and Tsegaye finished third, fourth and fifth, respectively, after running the marathon at the World Championship, and Kamworor, of course, medaled in the 10,000m. Kipsang dropped out in Beijing after 35K and called his effort there "a long run," but the 2:11 Biwott put on him after mile 20 perhaps showed otherwise.
After the race Keflezighi indicate that Tsegaye was clearly hurting by the end, and Desisa himself implied that he came to New York because he was asked and because he loves the race, even though his recovery from Beijing and buildup to New York City was not complete.
Biwott took advantage of a race made for a half-marathoner's strengths as he took down competitors who were not fully prepared for the heat Biwott was able to apply over the final 10K. Could he have won off a faster pace against runners coming in off full buildups? Maybe not, but the question is moot.
Stanley Biwott is your New York City Marathon champion for 2015.