One Comment
NXN Rapid Recap
Daily Relay | On 06, Dec 2014
Chris Chavez was on site in Portland, Oregon for this recap. Full results are available here. Chavez has written for ESPN Endurance, Flotrack, and more, all while studying at Marquette. Follow him on Twitter @Chris_J_Chavez
NXN Rapid Recap
Allie Ostrander didn't dream of being a national champion until last night. Shortly after crossing the finish line in 17:19, she pinched herself several times. The dream was a reality.
"I had a dream that I won nationals," Ostrander said. "It was a little closer than today and I had to sprint by at the very end."
Then she woke up in the middle of the night.
"I said to myself, 'Wow. That was awesome. I feel so relieved. It's all over.' Then it hit me that it was a dream," Ostrander said.
When she toed the start line, she was nervous. Weeks ago, she didn't even know if she would make it to the national stage. She lost the Nike Cross-Country Nationals Northwest Regional after a six-week hiatus from racing. She never lost confidence in her fitness.
"I just wanted to show people that I could compete at the national level," Ostrander said. "I focused on making that negative performance into a positive. I learned a lot from that race – especially what I needed to do in order to be successful here at nationals."
Ostrander pushed the pace with Fiona O'Keefe of Davis (California) early on, but eventually made her move to pull away shortly after the fourth kilometer. With a new course at Glendoveer Golf Course, Ostrander battled up the final hill and captured the 2014 title.
"I just can't wait to go eat some pancakes with my sister Taylor," Ostrander said. "That's how I celebrate. It's both of our favorite foods."
Ostrander will celebrate and then get ready to play point guard for Kenai Central High School, where her only goal is to continue to "try hard."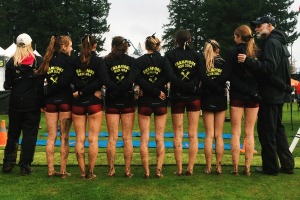 Fay-Man Doubles
Coach Bill Aris had a good day. The boys and girl's team captured team titles with scores of 111 and 70 points respectively.
The girl's team rebounded after a disappointing second place finish in 2013 that snapped their winning streak after seven consecutive victories. The move from Portland Meadows brought along that winning tradition.
"I was very pleased that they righted the ship and got us back on course after a disappointing second place finish last year," Aris said.
After 11 years without a victory, the boy's side accomplished its mission led by junior Peter Ryan, who finished eighth overall in 15:40. Senior Bryce Millar, who led the team for the majority of the season, took 14th in 16:00. 49 seconds separated their first five runners.
"I couldn't put together a better team than this," Aris said. "I've been here every one of those 11 years and this is the first time the boys won, but it couldn't be sweeter with the girls win today."
The defending champion girls Wayzata finished sixth (240 points), but their boy's team surprised some with a second place finish with 159 points. They were led by senior Connor Olson, who finished sixth in 15:39.
Tanner Anderson does it for North Central
Senior Tanner Anderson entered Saturday's race as the clear favorite. He was the top returner from 2013 and ran the fastest performance at the Washington State Meet with his 14:32 5K. Last year he finished third while his teammate Kai Wilmot won the individual title. 2014 was his turn.
"I talked to Kai about the win all the time and he said it was just something I had to experience," Anderson said. "He said it was so overwhelming and joyful and I get what he was talking about that now."
Anderson pulled away from Olin Hacker and Eric Hamer with 800-meters to go. He didn't take any risks by looking back and only realized the victory was all his with 50-meters to go. He won in 15:11.
"I threw a smile on my face and was so excited," Anderson said. "I thought about my little brother, because it's his birthday today. Definitely got him a great birthday present with the win."
Anderson is among the final top recruits in the country that has yet to decide on a college for 2015. While schools like Colorado, Stanford, Oregon and Washington had coaches in attendance at the course, Anderson told the Daily Relay he will take his time with a decision and announce his selection by mid-January.
(Photos by Mitch Kastoff)