No Comments
NCAA Championships at Halfway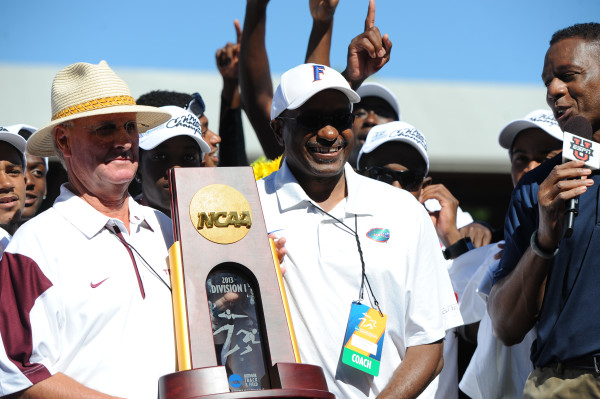 Bizarre things happen at NCAA Championships. Remember when these two coaches had to share this trophy?
We're at the halfway point of the NCAA indoor track & field championships, and it's time to take stock of what has happened and what might yet happen.
The most important thing to look at is the race for the team championships. Two days ago I posted some scoring predictions, with the caveat that they were not going to be accurate (scoring predictions never are) but that they were a baseline for watching how the meet unfolded.
Below I have the top teams in the competition and a brief summary of their current status. Remember to follow us on Twitter for scoring updates, and everything you need to know about the meet is at the USTFCCCA's National Championship Central.
Men's Teams
Oregon
Points on the board: 24
Projected points: 52
Maximum possible: 92
Today's competitors: Dakota Keys (hept), Mac Fleet (mile), Jon Cabral (60H), Mike Berry (400), Edward Cheserek (3k), Parker Stinson (3k), 4×400 relay
The Ducks brought a lot of qualifiers but weren't expected to score big. That calculus has changed. I had freshman superstar Edward Cheserek down for 8 points (second place) in the 5000 meters, but he pulled off one of the bigger upsets in meet history by outkicking Arizona's heavily favored Lawi Lalang. Even more surprising in that 5k was the third-place finish (6 points) by Parker Stinson, who I had down for no points at all.
The distance medley relay–running without Cheserek, Stinson, or reigning NCAA 1500 champ Mac Fleet–upset the formcharts and got second. Heptathlete Dakota Keys recorded two PRs and looks headed to a 5th place finish (4 points). Considering how well Cheserek, Parker, Fleet, quarter-miler Mike Berry and hudler Jon Cabral ran yesterday, they should score high today as well. The Ducks are in the driver's seat.
Arkansas
Points on the board: 12
Projected points: 47
Maximum possible: 88
Today's competitors: Kevin Lazas (hept), Andrew Irwin (PV), Anthony May (TJ), Jeremiah Green (TJ), Omar McLeod (60H), Tomas Squella (800), Patrick Rono (800), 4×400 relay
Arkansas has so many qualifiers that the Razorbacks are in contention and ready to take advantage of other teams' missteps. Heptathlete Kevin Lazas is locked in a tight battle with Georgia's Maicel Uibo for second place. Long jumper Jarrion Lawson saved the Hogs' bacon with a clutch sixth round effort, a 27′ 6½" (8.39m) stunner that broke his PR by 16 inches and is the longest jump by an American in three years (and the longest in a decade by someone other than Dwight Phillips).
Freshman hurdler Omar McLeod ran the second-fastest semi time, and two half-milers got to the final as well. Throw in three more field event entries, including defending pole vault champion Andrew Irwin, and a quality 4×400 relay and you've got a team that has plenty of chances to get on the board. Head coach Chris Bucknam steels his team for these kinds of battles with plenty of scored meets, and the Hogs almost always seem to find a way to win.
Florida
Points on the board: 13
Projected points: 45
Maximum possible:95
Today's competitors: Eddie Lovett (60H), Arman Hall (400), Antwan Wright (60), Ryan Schnulle (800), 4×400 relay
The Gators came into this meet as the favorites but can't be called that anymore. 18 points were expected in last night's 200 meters but they only got 13. They had two top qualifiers in the 400 but only one got to the final, and only one of three entries in the 800 qualified to today's final. Defending long jump champion Marquis Dendy had foul trouble and ended up last.
The Gators are still in contention, but they don't have a lot of room for error anymore. Eddie Lovett is the favorite in the hurdles, and Arman Hall could contend for he title in the 400. The 4×400 team is the second-fastest in collegiate history. But magic number is 50 points, according to Oregon head coach Robert Johnson, and for Florida to get there, the other two qualifiers will have to run well beyond expectations.
Arizona
Points on the board: 16
Projected points: 36
Maximum possible: 56
Today's competitors: Pau Tonneson (hept), Jovon Cunningham (TJ), Lawi Lalang (mile, 3k)
The Wildcats are not in contention for the win and are simply battling for one of the trophies that go to the top four teams. Arizona's hopes always rested on a Lawi Lalang distance sweep, which is already off the table, plus points from field events. Neither heptathlete Pau Tonneson nor triple jumper Jovon Cunningham are expected to score.
Florida State
Points on the board: 10
Projected points: 34
Maximum possible: 74
Today's competitors: Jonathan Reid (TJ), James Harris (400), Dentarius Locke (60), 4×400 relay
The Seminoles have outperformed expectations so far, and if they do win a top-four trophy then the hero will be James Harris. He won the high jump with an upset, is one of the top contenders in the 400, and is likely to anchor the relay as well.
Alabama
Points on the board: 12
Projected points: 28
Maximum possible: 42
Today's competitors: Kyle Felpel (SP), Jeremiah Green (TJ), Diondre Batson (60)
The Crimson Tide has come from way off the radar into contention for a trophy. Diondre Batson won the 200 yesterday and is the top qualifier in today's 60 meters, and Elias Hakansson scored some surprise points in the weight throw. Jeremiah Green is expected to score some big points in the triple jump, and if Kyle Felpel sneaks on the board in the shot put then the Tide could get to 30 points. That might be enough to finish in the top four, an amazing turnaround for a program that really wasn't much of a team just a few years ago.
Women
Florida
Points on the board: 19
Projected points: 62
Maximum possible: 79
Today's competitors: Brittany Harrell (pent), Taylor Burke (HJ), Ciarra Brewer (TJ), Cory McGee (mile), Robin Reynolds (400), Shayla Sanders (60), 4×400 relay
The Gators had just about everything go right yesterday. They scored three runners in the 200 meters for 14 points and got fourth (5 points) in the distance medley. Shayla Sanders recorded the year's second-best collegiate time to qualify to the 60 finals. Today they have the favorite in the mile in Cory McGee, two sprint finalists guaranteed to score (so long as they finish and don't DQ), and are expecting good points out of two field events. To cap it off, the Gators bring one of the best 4×400 relays in the nation. It will be hard for them to not get to 50 points, and it will be hard for anyone else to get there.
Oregon
Points on the board: 6
Projected points: 44
Maximum possible: 94
Today's competitors: Chancey Summers (HJ), Lauren Crockett (HJ), Sasha Wallace (60H), Phyllis Francis (400), Jasmine Todd (60), Jenna Prandini (60), Laura Roesler (800), Megan Patrignelli (3k), 4×400 relay
Right now it doesn't look good for Oregon's chances at a fifth straight NCAA indoor title, but there's a lot of running left to do. The problem is that they're already 14 points behind Florida and it's going to be hard to catch up. Hard, but far from impossible.
The Ducks have the 800 meter favorite in Laura Roesler and the top qualifier in the 400 in Phyllis Francis. Other than those two, they're not looking at big-time points from any of the other seven competing today. But that also means they have "upside", they have room to improve on expectations. Florida may be in command right now but it could very easily turn around.
Texas
Points on the board: 10
Projected points: 43
Maximum possible: 64
Today's competitors: Shanay Briscoe (HJ), Ashley Spencer (400), Courtney Okolo (400), Kendall Baisden (400), Morolake Akinosun (60), 4×400 relay
It's possible that Texas could contend for the championship but unlikely. They have too low a ceiling on their score and it would take everything going perfectly–which never happens in track meets. Things have already gone extremely well; pole vaulter Kailtin Petrillose won yesterday in a bit of an upset, and with a new collegiate record to boot. The Longhorns are a real contender for runner-up, though, and in very good position for one of the trophies that go to the top four teams.
Georgia
Points on the board: 11½
Projected points: 38½
Maximum possible: 55½
Today's competitors: Kendell Williams (pent), Lucie Ondraschkova (pent), Quintaya Chapman (pent), Leontia Kallenou (HJ), Carly Hamilton (mile)
The Dawgs could come away with a top-four trophy, but all their points are front-loaded early in the day. They have three in the pentathlon; Kendell Williams is a contender for the win and Lucie Ondraschkova is expected to score high as well. Surprise SEC high jump champ Leontia Kallenou is the co-favorite here.
Kentucky
Points on the board: 10
Projected points: 34
Maximum possible: 40
Today's competitors: Allison Peare (mile), Kendra Harrison (60H), Dezerea Bryant (60)
The Wildcats' hopes for a top-four trophy rest in very few hands. Dezerea Bryant is the favorite to win the 60 meters for a sprint sweep after winning last night's 200. Kendra Harrison is among the favorite in the hurdles, and miler Allison Peare is a scoring contender. But that's all they have.
Texas A&M
Points on the board: 16
Projected points: 33
Maximum possible: 56
Today's competitors: Jena Hemann (pent), LaQue Moen-Davis (TJ), Shamier Little (400), Jennifer Madu (60), 4×400 relay
The Aggies have been so good for so long that it's odd to see them listed as "only" a contender for a top-four finish. The team took a big hit when star sprinter Kamaria Brown came up hurt in the 200 meters last night and that will affect what the 4×400 relay can do. Jena Hemann is expected to score some points in the pentathlon, as is LaQue Moen-Davis in the triple jump, but Shamier Little and Jennifer Madu just barely squeaked into their 400 and 60 meter finals. Still, getting close to 40 points is within the realm of possibility and that would probably do the trick.