No Comments
Monday Morning Run: Meb stuns in Boston, Jeptoo dominates, Eaton's newest challenge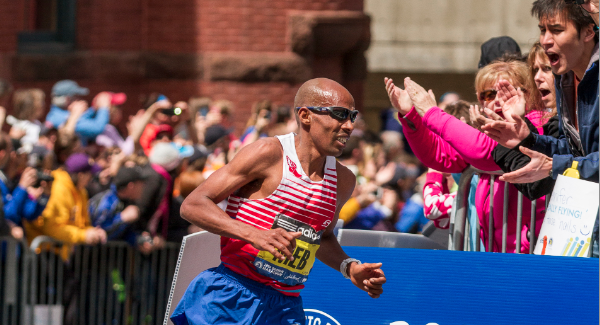 Photo via Kevin Morris
For the second straight year, I had difficulty processing what was taking place in Boston. There was Meb Keflezighi on my television screen hanging on to a lead as the final miles ticked away.
But it wasn't the lead itself that was jarring. It was that nobody was in the picture.
An hour earlier, the gap between him and the chase pack seemed like a fleeting gift. One that would quickly evaporate once Dennis Kimetto, Lelisa Desisa and the rest decided that it was time to get serious and go for the win.
I wasn't born the last time an American man won the Boston Marathon, so I watched with doubt that something was going to stop it from happening this year.  How could Meb be doing this? And on this year of all years?  It was too neat.  Too perfect.
The lead began to evaporate.
First it was 1:21, then it was 45 seconds. Here we go, I thought.
Meb looked to be slowing. He wasn't dead in the water, but his shuffling stride looked a bit more labored. Finally a runner, Wilson Chebet, came into the picture. Meb's margin shrunk to 20 seconds. I waited for the inevitable takeover.  8 seconds. 6 seconds. And then it happened.
Not the pass we expected, but separation. I couldn't tell if Meb was speeding up or if Chebet was slowing. Regardless, the the two were getting farther apart. By the time Meb reached Boylston Street, he knew it. He waved, crossed his chest and ran by the site of last year's bombings to become the first American Boston Marathon champion since 1985.
Of course it was Meb.
Shalane Flanagan received most of the publicity entering the race and for good reason. She is a Massachusetts native, and more practically, she had an actual chance to win the race.  But it had to be Meb. Not for any logical purposes, but because he has made a career out of over-performing.
Most with a working knowledge of the race thought a great day would mean a top five finish. At times it looked like Meb didn't believe he could win either. Normally composed, he looked over his shoulder on several occasions in the final miles to see if anyone was giving chase. One time, he pirouetted almost 180 degrees to catch a glance before focusing his attention back on the road in front of him.
Maybe the favorites didn't take him seriously either.  And why should they have? Meb was 23rd in his last major marathon and his half-marathon tune-up for Boston didn't give any clues that he was a podium contender.
None of it made any sense.
Boston stunned me again.  This year, it was a healthy shock.  A shock that happens in sports when something doesn't seem to gel with reality.  The kind that come when a 38-year-old in the twilight of his career wins the most important race of his life under the most dramatic circumstances.
The Medalists
The top three performances of the week
Gold: Rita Jeptoo
At least in the United States, Jeptoo's performance was overshadowed by the men's race. The defending champion crushed the old course record, running 2:18:57 and winning by over a minute. Much of the credit for the fast time should go to Shalane Flanagan, who looked great until she fell off the pack around the 18-mile mark. Flanagan shattered her old personal bests, but finished in seventh place.
For her to win, she needed the others around her to falter or make a tactical blunder. Neither happened. In fact, almost all of the elite women exceeded expectations. Buzunesh Deba, Mare Dibaba and Jemima Sumgong all went under the old course record to finish 2-3-4. The early pace proved too much for everyone, except Jeptoo who ran half-marathon splits of 1:09:29 and 1:09:39. She ran the final two kilometers in 6:51, just 3 seconds slower than Meb.
With three major marathon wins in a row, Jeptoo is now the best female marathoner in the world. How long will she hold the title? Who knows. A little more than a week ago we were convinced Priscah Jeptoo was at the top of the list and she did not finish in London.
Silver: Meb Keflezighi
I'm trying to separate myself from any US bias with this pick. Meb's win was historic, unbelievable and inspirational, but based on the numbers, Jeptoo's race was better.
Then again, Jeptoo doesn't have a website devoted to inserting her face in historical pictures.
A solid day for the other American men as well. Behind Meb, Nick Arciniaga finished seventh, Jeffrey Eggleston placed eighth and Josephat Boit was 11th. No doubt the deep London field from last weekend took some steam out of the elite entrants, but four runners in the top 11 is still a surprisingly good result for the US. Ryan Hall struggled and finished 20th in 2:17:50. I'm sure folks will pile on, but something about Meb's win tells me not to give up on a runner in the marathon until he fully calls it a career.
Bronze: Duane Solomon
At the Mt.SAC Relays, Solomon ran a world-leading 1:43.88 in the 800. I tend not to get carried away with world leads in the spring, however that is awfully fast for April. More impressive is that Solomon ran the time without a rabbit, leading wire-to-wire against a strong field.
After the race, his coach, Johnny Gray, hinted that Solomon is getting to the point where he can challenge David Rudisha and Mohammed Aman. A bit premature, but Solomon was Rudisha-esque in the way he dragged the others to fast times on Saturday. Erik Sowinski and Wesley Vazquez both set personal bests in second and third, finishing in 1:44.58 and 1:44.64 respectively.
Solomon is planning to target Gray's American record at the Prefontaine Classic in what should be the first of many record chases this summer. Gray ran 1:42.60 in 1985. Solomon's personal best comes from the 2012 Olympic final where he clocked a 1:42.82.
Surging….
-Ashton Eaton
I went to the Mt. SAC Relays on Saturday. Typically they put together some solid fields, but the main attraction was Ashton Eaton's debut in the 400-meter hurdles. The opportunity to watch the beginning of something great was enough to get me away from the beach and on to the six freeways that took me to Hilmer Lodge Stadium.
In a non-championship year, Eaton's decision a few months ago to focus on the 400 hurdles is one of the major stories in track and field. His dominance of the multi events is comical. He holds all three major championship titles and two world records.
Coming into 2014, he had essentially three choices. Option one, continue to focus on the multi-events, with occasional appearances in individual events throughout the summer. Second, focus all his attention on one of the disciplines in the decathlon. He is already world class in the long jump and the 110-hurdles and most likely could improve with increased attention. Or, he could choose an event that he has no familiarity with. Predictably, Eaton chose the hardest route. The 400 hurdles plays on skills he already has, but it is still a brutal combination of strength, speed, technique and rhythm.
Saturday was his first test. And by all accounts he passed. In a tough field featuring an NCAA champion and World Championships qualifiers, he finished fourth in 50.01. Not bad for someone who is still training as a decathlete and has only run 300-meters with hurdles once in practice. Even the patron saint of hurdling, Edwin Moses, didn't break 50 seconds until his third race.
But Eaton is a perfectionist, so he didn't seem interested in patting himself on the back.
"I kept trying to make a move and then a hurdle would come," Eaton said after the race. "I don't know what foot I'm going over with, so I slowed down."
I guess you don't get to be the best in the world by going easy on yourself.
The steps were an issue. He managed 13 strides between the hurdles through six hurdles, but then lost his rhythm.
"If I get my steps down after five or six I think I'll be pretty good to go. I don't think there is any reason why I wouldn't be able to run 48," he said. "Before hand I had no idea, I thought, hell I don't know 48 or 50 or 52, who knows, but now I think 48 is possible."
As a reference, 48.09 was third at the US Championships in 2013. At the 2012 Olympic Trials, 48.89 was enough to clinch a spot on the team.
Eaton was unsure of his future in the event, even beyond Saturday's race. But with all his success, where does he really have to go?  He can't chase a big medal haul like Usain Bolt or Carl Lewis and the only records he will break will be his own.  Perhaps success in the 400-meter hurdles is the only thing that can make the World's Greatest Athlete even greater.
–The Boston Crowd
Over one million lined the course from Hopkington to Boston.
Slowing
-Pros sprinting at Mt. SAC
The elite sections of the women's 100, women's 4 x 100, women's 100 hurdles, men's 100, men's 200 and men's 110 hurdles were all won by collegians. The pros aren't as sharp in April, so this shouldn't be terribly shocking, but is still was a little strange to see, for example, English Gardner finish behind her former teammate Jenna Prandini in the women's 100.
Two men that the US might use on the 4 x100 in next weekend's Penn Relays, Ryan Bailey and Mike Rodgers, placed fourth and eighth respectively in the 100. In the men's 110 hurdles, Omo Osaghae and Ryan Wilson finished second and fourth.
-Mariya Ryemyen
The Ukranian sprinter reportedly tested positive for the anabolic steroid Dianabol. Ryemyen has been a key member of Ukraine's relay squads and recently dropped her personal best in the 100 to 11.06 after several years in the 11.20s.
Dianabol was one of the drugs of choice during the 1970s and 80s. In terms of success rates, you would probably have a better chance getting a set of kitchen knives through TSA than you would passing a drug test with Dianabol in your system.
–JADCO
The Court of Arbitration of Sport filed their report on the Veronica Campbell-Brown doping case and leveled harsh criticisms against Jamaica's anti-doping organization, JADCO. CAS's reported cited many mistakes in the handling of Campbell-Brown's sample including:
– the sample was not sealed in a special-purpose partial collection container.
– the partial sample was left in an unsealed container with a lid containing a small spout.
– the sample stayed in possession of the athlete, not the doping control team.
– when Campbell-Brown was ready to give another sample, she was told to use the same container, rather than a new one.
– the drug-testing officer failed to record any information about the partial sample in the doping control form.
All of this confirms the statements that former JADCO Executive Director Renee Ann Shirley made in a Sports Illustrated piece last year.  With problems like these, expect more scrutiny from WADA in the coming years.  Either the unprofessional collecting of the sample gave Campbell-Brown a false positive (and as a result, a nine-month suspension she didn't deserve). Or, she got off due to the incompetence of her own nation's anti-doping program.  Neither option reflects well on JADCO.
Keeping Score
Every Friday, Jesse lays out his best match-ups of the weekend. Some of them live up to the hype, other never materialize. Here are the results of a few of the non-Boston face offs.
Nick Willis vs. Leo Manzano, B.A.A. Mile
The ever-consistent Willis got the win in 4:11.3. Manzano placed third, two seconds back, but was in high spirits after the race. This is his first competition with a new sponsor and a new coach.
Americans vs. Victory, B.A.A. 5k
American went 1 for 2 in its battle against victory on Saturday. Molly Huddle ran 15:12 to beat Mamitu Daska by two seconds. Ben True gave Dejen Gebremeskel all he could handle in the men's race, but ultimately finished second.
Kim Conley vs. Phoebe Wright
Put this under the category of "never materialized." Conley finished fourth behind Sara Vaughn, Lea Wallace and Laura Thweatt and Wright struggled in 17th.
Ryan Whiting vs. Reese Hoffa
Hoffa got the better of the World Indoor champion, but both men finished behind Christian Cantwell and Kurt Roberts. American men's shot putting keeps getting deeper and deeper.