One Comment
The Monday Morning Run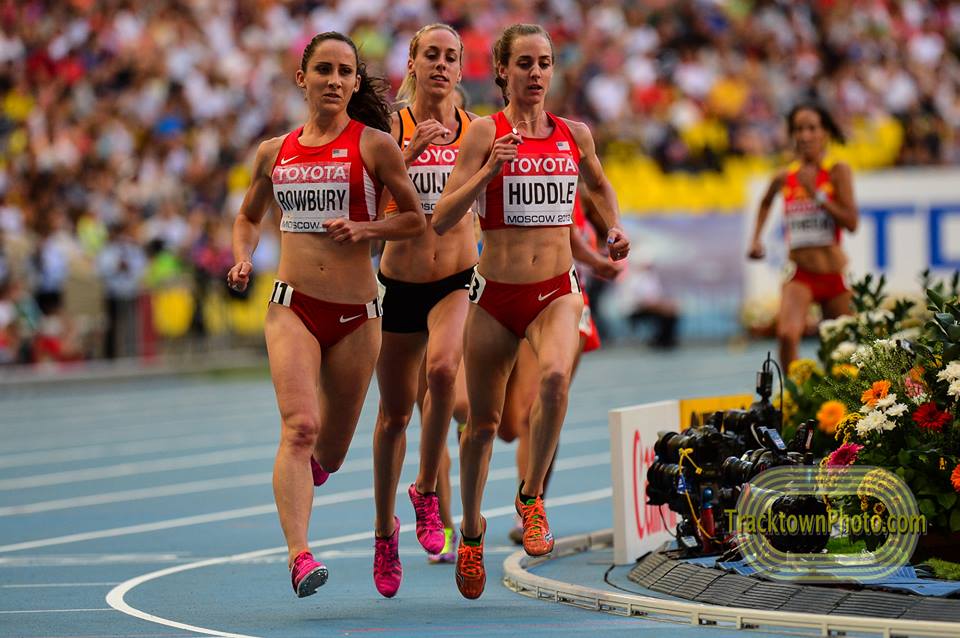 Kevin Sully | On 19, Nov 2013
Photo via TrackTownPhoto
Track and field stories rained down on us from the heavens last week. Most of them originated from Monaco, where the sport convened for the IAAF awards. A prodigy turned pro, an American city won the right to host a global championship, the dust-up over doping became more heated and the Athlete of the Year honors were handed out.
Cain
Mary Cain announced on Friday that she will turn professional and forego competing collegiately. Since early in the spring, this looked to be a possibility and it soon turned into a certainty when she finished 10th in the World Championships in August. I won't rehash all the reasons why I feel this was the best decision for Cain's professional prospects (you can find that here), but I will say that if she does struggle this year, the year after, or in 5 years, it won't be because she skipped college running.
The 1500 is a fickle race and if she continues with that distance she will be prone to the same ups and downs that other professionals encounter each year. Then, there is the question of the longevity that every prodigy faces. Cain is so far beyond any of her predecessors in this area that it is hard to find an accurate comparison. Only one American track and field athlete has ever turned professional while still in high school, and it was a sprinter (Allyson Felix). With all these unknowns, there exists a remote possibility that Cain, at 17, is at or near her ceiling. I don't think that this is the case, her improvement curve and long season last year lead me to believe she still has plenty of room to develop.
Academically, there are fewer questions. Doug Binder reports that she will attend the University of Portland where I'm sure she still is eligible to compete in intramurals in case one of the sororities need a ringer.
Portland gets World Indoors
Also in Monaco, the IAAF announced that Portland, Oregon will host the 2016 World Indoor Championships. It is very rare for the United States to host World Championships of any kind in track and field so the American track community met the news with enthusiasm.
Portland's 11th hour bid was spearheaded by Vin Lananna, whose group was also behind Eugene's successful effort to land the 2014 World Juniors and the 2012 and 2008 Olympic Trials. Everything that Lananna has his hands on in track and field usually can be marked down as a big win.
Are there any downsides to Portland? Alan Abrahamson notes the disadvantages to not hosting the meet in a major market:
It's fine, maybe even great, that TrackTown has lit a –or, maybe more accurately, capitalized on the –spark in Oregon. There's a lot of Nike money behind all this, in Oregon. At the same time, Oregon is a long way away from pretty much everywhere else. Anyone who has ever been to Eugene knows it is hard to get to. And almost no one who gets drafted by the Portland Trail Blazers ever goes, wow, that was my first choice.

When was the last time you ever heard any of your European, Asian or African friends say, gee, you know, I want to vacation in the United States and I think I'm going to go to — Portland? San Francisco, absolutely. New York, definitely. Disneyland, for sure. Portland? Get real.
Abrahamson is right–Portland isn't New York. It also isn't Los Angeles, Dallas, San Francisco or Chicago. But I don't think that matters. In 2013 (and even more so in 2016) a sporting event doesn't need to take place in a "major market" to receive attention. It needs to get on television and sell some tickets so it looks good when it is on the screen. Will Portland be able to fill the 8,400 seats at the Oregon Convention Center? Yes. Will the meet take place at a time that is conducive to a live broadcast in the United States? Yes.
Both of these things are possible in other cities, of course, but none of those other cities put a bid forward. Hosting an indoor meet isn't nearly as difficult as putting together an outdoor championship. Oregon is doing it with a convention center and a yet-to-be built track. Virtually all mid-sized cities, from Tulsa to Tallahassee, have a venue that can hold at least 8,400 people, yet Portland was the only American city to throw its hat in the ring.
World Indoors won't be a game-changer for track and field in the United States. After all, it is just indoors. But the location of meets isn't what is keeping track from going mainstream. In a parallel universe where track did join the major sports, it would be because cities would see Oregon and try to emulate its infrastructure and enthusiasm.
AOY
To nobody's surprise, Usain Bolt and Shelly-Ann Fraser-Pryce won the IAAF World Athlete of the Year awards. As long as he keeps winning golds, it appears Bolt is a lock to win this award. The last time he didn't win was in 2010, a non-championship year. Perhaps an opening exists in 2014 when Bolt won't have any titles to motive him. Then again, if he breaks 19 seconds in the 200, he won't have to worry about outside competition.
For the women, Shelly-Ann Fraser-Pryce won the award for the first time. Zuzana Hejnova and Valerie Adams were the other finalists.
Dope Talk 
Before the ceremony, the Fraser-Pryce made news when she said she was considering boycotting competition unless Jamaican officials support their athletes against claims of doping.
Assuredly, this is not the headline the country wanted coming out of a weekend of such great success. Some Jamaican officials have been quick to defend their athletes during the on-going debate around the effectiveness of their anti-doping problem. However, Herb Elliott's name calling toward whistle blower Renee Anne Shirley probably encouraged more suspicion than it warded off (Elliott is also facing questions about the accuracy of his resume).  It appears Fraser-Pryce wants a more robust defense.
A quicker route to credibility lies in beefing up the anti-doping program in the country. Jamaica, with an assist by IAAF President Lamine Diack, seems reluctant to do this. First, JADCO attempted to delay WADA's audit in October. Then in Monaco, Diack stirred the pot again.
"I read in the newspapers and it was like a campaign against Jamaica and I think it was ridiculous," Diack added. "They are the most tested athletes in the world!"
The head of the IAAF should know how little the phrase "most tested athletes in the world" means. We aren't in 2003 anymore. He should also know that it is especially useless when using only in-competition tests to arrive at that figure. Rather than beat the drum of a conspiracy, couldn't Diack acknowledge that the sport has had difficulties this year with doping, while stating that he is going to do everything he can to support a transparent and effective system?
WADA as an agency isn't beyond reproach, but their recommendations and findings do carry substantial weight in today's sports world. Jamaica and the IAAF would be wise to cooperate with if they want track to not lose anymore footing with the public.
One more thing on doping….
Anyone else wondering which company Usain Bolt was referring to when he said this?
"When a sponsor came up to us and was saying 'we'd like to sponsor you'. They then used an agency that does background checks to figure out if it's viable to sponsor you and it came back that Wada had said I would not be eligible to run at the next Olympics."
Yeah, Usain we would love to sponsor you, but instead of checking with someone who actually knew what was going on, we read an article that said you would be ineligible to run in the Olympics so we decided to drop the whole thing. I know, I know it didn't look right to us either, why would the IOC ban their number #1 star in what is likely his final Olympics? It seemed really weird, but it was on the internet so we went with it. Sorry we can't work together. Do you have Phelps's number?
.US
Molly Huddle won the .US National Road Racing Championships 12-k and set a "world best" (the name given to obscure world records) of 37:49. Shalane Flanagan was also under the old mark finishing in 37:57. The 12-K isn't quite as random as the indoor 600 or the 2,000-meter steeplechase, but it is rarely run, especially in world-class races on a fast course.
Prior to Sunday, Lineth Chepkurui reigned over the 12-K. She had the old record of 38:10 from the 2010 Lilac Bloomsday race and also had an uncertified 38:07 at the Bay to Breakers in San Francisco to her name. Now, Huddle is atop the 12-K mountain as an American swallows up another Kenyan distance record.
In the men's race, there were no world records, or even world bests. Aaron Braun won in a time of 34:27. Aside from the record, a few takeaways from the race:
-I joke about the 12-K record, but Huddle and Flanagan were running fast by any standard on Sunday. The field wasn't world class, but it was deep with top American runners. Despite this, Flanagan beat the third place runner by 1:17.
-Although she has never explored the longer distances, Molly Huddle's marathon potential is intriguing. She has focused most of her attention on the 5,000, but has had success in cross-country and on the roads. The marathon is a long way from 12-K and requires a different set of skills than the 5,000. Maybe Huddle, has it, maybe she doesn't, but it would be interesting to find out. She is only 29, the same age as Flanagan when she debuted in New York City in 2010.
–Chris Solinsky and Matt Tegenkamp were the biggest names entered in the men's race. Considering the Chicago Marathon was just over a month ago, Tegenkamp did well to finish eighth in 34:50. Six weeks after a marathon, most of us aren't even running three miles in that time. Tegenkamp's teammate, Solinsky, struggled. He did not finish the race after passing the 5k mark with the lead pack. Two weeks ago at the Dash to the Finish Line 5k, he was clearly frustrated with his 14th place finish.
Ever since his American record in 2010, Solinsky hasn't had a full healthy season. Is a move up to the longer distances imminent?
Taking shots
-You know it was a busy week, when a Lolo Jones tweet doesn't get top billing. Apparently she is no fan of Nike.
.@HedgeyeRetail I'm not sponsored by nike. I'm sponsored by Asics, they actually care about their athletes.

— Lolo Jones (@lolojones) November 13, 2013
-In Monaco, Maurice Greene did not mince words when he spoke about Olympian Ryan Bailey.
"I see Ryan (Bailey) and I have seen what he has done. I think he has the potential, but I don't think he has the will and the want," Greene said. "A lot of things always happen to him. He has a lot of people in his ear also, and I think he is going to have to sit down and stick to a plan. He can't go on listening to four or five people, which always messes you up. He gets in his own way. He certainly has the potential and ability, but I don't see it with the road that he is going on," said Greene. 
Farewell
Doc Patton formally announced his retirement on Monday. The three-time Olympian leaves the sport with personal bests of 9.89 and 20.03 and five major championship medals. He is also great when mic'd up, which is disappointing to discover on the day of his retirement. Why are we just now learning about this? One more season Doc!