One Comment
IAAF Presidential Election History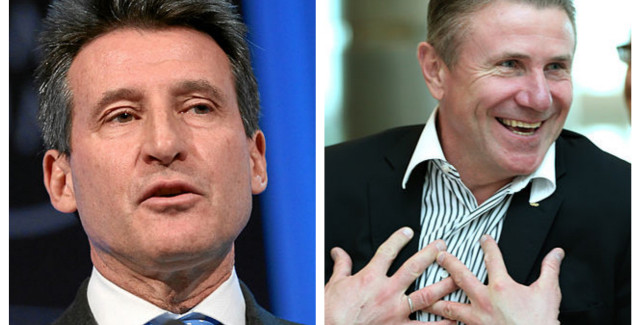 Jesse Squire | On 18, Aug 2015
The IAAF will open its 50th Congress tomorrow in Beijing, and chief amongst its business will be to elect a new president. The two candidates are Sebastian Coe and Sergey Bubka.
Both are former world record holders and Olympic champions who went on to become capable administrators, and whoever wins will face big challenges. Doping problems are stealing the headlines right now, but the popularity of track and field has been declining for quite some time and the IAAF has had to fight just to keep all of its events on the Olympic program.
This year marks the very first time that candidates have engaged in protracted campaigning—and in fact, it will only be the second contested presidential election in the organization's 102-year history.
As of the latest count, 36 nations have pledged support for Coe and just five for Bubka, but that leaves 173 member nations unaccounted for. The vast majority of them are small nations that have virtually no impact on worldwide track and field, and the one-nation-one-vote system means that the Federated States of Micronesia has the exact same voting power as the United States of America (thanks to a change pushed through in 1987).
To see where you're going, sometimes you need to see where you've been. Below is a short history of the IAAF Presidency, an office as of yet held by only five men.
Founding of the IAAF
Depending on your definition, the IAAF was founded either in 1912 or 1913.
An assembly of 27 delegates representing 17 nations was organized in Stockholm's Parliament House on July 17, 1912, three days after the final athletics event at that year's Olympics. The major accomplishment was to organize a Congress to be held the following year in Berlin, beginning on August 20, in which the IAAF was formally founded.
The goals for the organization were to address three items that had become sticking points as track and field moved from a sport held largely on a local and/or national basis to one that was becoming increasingly international in scope.
They were:
1. To establish and agree rules for international competitions;
2. To approve World and Olympic records;
3. To draw up a common amateur definition for international athletic competitions.
Establishing a common set of rules that didn't change when athletes crossed borders was a need that had become obvious at the 1908 Olympics, where the men's 400 meters resulted in controversy. American John Carpenter blocked Britain's Wyndham Halswelle, which was legal according to US rules but illegal according to British rules. Carpenter was disqualified and the final was ordered to be rerun. The other two finalists were both Americans and both refused to run, so Halswelle won in a walkover. This was the biggest controversy resulting from a lack of an international rulebook but certainly not the only one.
Sweden's J. Sigfrid Edström was elected chair of the 1912 Congress and the next year was elected president by acclamation—no ballots, just hands in the air.
J. Sigfrid Edström
After being elected in 1913, Edström was re-elected in 1914, 1924, and 1936. IAAF records are spotty due to a chaotic move in 1993, but it appears that he ran unopposed each time. He was a powerful person in many ways, eventually becoming an IOC vice-president but also being known as Sweden's leading industrialist. During his years as president, the chief concern in track and field and all Olympic sports was enforcing the amateur code—one that tightened during his presidency.
Most track fans know that Jim Thorpe dominated the pentathlon and decathlon at the 1912 Stockholm Olympics but was subsequently declared a professional and had his titles stripped. What most of them don't know is that the IOC's own rules weren't followed. There was a 30-day statute of limitations for challenging an athlete's amateur status, but knowledge of Thorpe's payment in professional baseball wasn't known until six months after the conclusion of the Olympics. He should never have been disqualified.
The 1925 IOC Congress—with Edström acting as chair—updated its amateur definition.
The following are ineligible to take part in the Olympic Games:
1. anyone who is, or knowingly has become, a professional in his sport or in any other sport;
2. anyone who has received reimbursement or compensation for loss of salary.
The 1926 IAAF Congress stipulated that "no athlete could receive travelling and other expenses and that stays abroad had to be concluded with the agreement of the athlete's national federation."
Edström is best known as the man who declared Paavo Nurmi a professional, doing so on the eve of the 1932 Olympics. It's often seen as a singular act, but a lengthy analysis by Leif Yttergren shows it was much more than that.
Another development that occurred during Edström's presidency was tiered voting. Nations had equal voting from the IAAF's founding until 1938, when nations were split into three groups based on competitiveness and participation
Edström left the IAAF presidency in 1946, when he was elected IOC president. He'd been the acting president since his predecessor, Henri de Baillet-Latour, passed away in 1942, and the IOC wisely put off its congresses until after World War II was over.
Lord David Burghley
Burghley was named acting president in 1946 when Edström resigned and Bo Ekelund, his longtime Secretary-General, retired. He was formally elected president at the 1947 IAAF Congress. Again, no records are available, but it appears that he ran unopposed, both then and every time he came up for re-election. The job wasn't exactly a glamorous one at the time; the organization's meager income came almost exclusively from membership fees paid by national governing bodies. And Burghley was a busy man; he was president of the British Olympic Association and the Amateur Athletic Association, chairman of the 1948 London Olympic organizing committee, and became an IOC vice president (and twice ran for its presidency).
The sport modernized more during Burghley's presidency than could ever have been imagined. It went from what had been the genteel competition shown in Chariots of Fire–in which Burghley was depicted in the character of 400 hurdler Lord Lindsay–to a worldwide spectacle on live television, thrust into the middle of the Cold War.
Burghley presented the medals for the men's 200 meters at the 1968 Olympics, and when later asked about the black gloves worn by Tommie Smith and John Carlos he replied "I thought they had hurt their hand." But he was no fool, he knew exactly what was going on. At his retirement speech in 1976 he warned that athletes who wore the logos of sportswear suppliers risked turning themselves into tailor's dummies.
Adriaan Paulen
Paulen had been a three-time Olympian for his native Holland, and became a sports official after fighting with valor in World War II. In 1964 he became the president of the powerful European Athletics Association, and immediately began to modernize it. For example, the European Cup team competition was started under his watch.
With the retirement of Burghley in 1976, the IAAF had its first—and to date only—contested election. Paulen faced off against Britain's Fred Holder, then the IAAF's Secretary-Treasurer, and won by a count of 276 to 96. The election didn't seem to be a big deal at the time; I cannot find any report about it in the pages of Track and Field News.
Both the IAAF and the job of its presidency changed quickly under Paulen. Its first non-Olympic competition, the World Cup, began in 1977 and Paulen began the processes that led to the first World Championships in 1983. The IAAF created the Golden Series (the precursor of the Grand Prix/Golden League/Diamond League circuits) in 1978. Money began to flow in via television rights. And with money came influence-peddlers, such as adidas' Horst Dassler.
It's hard to understand exactly how little money the IAAF had before the television era. "We worked out of two rooms near [London's] Victoria Station," said Holder. "We were so short of funds we had only one secretary. She even had to pay part of her own fare to attend the Melbourne Olympics in 1956 and to save money she stayed with a local family". But once satellite television came on the scene this all changed. TV rights brought in cash, but TV also made sponsorship worthwhile.
A tough old bird with military and sports backgrounds and known for his principles, Paulen didn't need or want the trappings of wealth and could resist the sway of major corporations. He was quoted as saying "Once you have been bought, you are not free any more".
In Dishonored Games: Corruption, Money & Greed at the Olympics, Vyv Simpson and Andrew Jennings say this is exactly why Paulen did not retain the IAAF presidency. Adidas' Horst Dassler wanted a leader who would be indebted to the sportswear giant, and he looked no further than Primo Nebiolo.
Primo Nebiolo
Nebiolo was on the IAAF's Council since its expansion at its 1976 Congress, and planned to run against Paulen in the 1980 election. The conventional wisdom is that Paulen would have won re-election in a landslide, but the 1980 Olympic boycott gave Nebiolo an opening. On the supposition that many nations' delegates would not be present at the 1980 post-Olympic Congress in Moscow, Nebiolo worked his connections to push the election back a year. In the meantime, he and Dassler made sure that no other candidates entered the election—and once it was set as a one-on-one contest, Dassler convinced Paulen that he hadn't any chance at winning and that he should withdraw to avoid embarrassment.
It worked. Nebiolo ran unopposed and overtook control of the IAAF. He never faced a contested election, either for the presidency of the IAAF or any of the many other sports federations he headed.
Track and field was still nominally an amateur sport in 1981, but that quickly changed. Money flowed into track and field in general and the IAAF in particular, and Nebiolo championed its commercialization. Whereas Paulen had eschewed a lavish lifestyle and Burghley had always lived one due to his lordship, Nebiolo made sure he lived the high life and always on someone else's dime.
There is not enough space here to list all the corruption of which Nebiolo was accused. Upon Nebiolo's death in 1999, Italian Olympic sprint champion Livio Berruti said he "trampled over and polluted the sporting ideals that I believed in and which young people today believe in as well. Unfortunately, it is death that has removed Nebiolo from sport and not a movement from within the sporting world itself to defend certain basic rules such as respect, justice, impartiality and love."
I can definitely say one thing in his favor: if Nebiolo was a criminal, he was our criminal. During the massive expansion of the summer Olympics from 1981 to 1999, track and field maintained its position at the top of the heap of Olympic sports. That cannot be said about the sixteen years since then. He advanced his own career and took himself near the top of the IOC power structure—he was president of the Association of Summer Olympic International Federations from its founding until his death—but he also made sure that track and field kept its power as well.
Lamine Diack
Diack was the IAAF's first vice president and became acting president upon Nebiolo's death of a heart attack in 1999, and was re-elected without opposition in 2001, 2003, 2007 and 2011.
During his tenure, everything has gone backwards. Television exposure in the United States for the IAAF's signature events has imploded. The organization appears rudderless to combat doping. It is fighting to keep events like the World Cross Country Championships relevant. It is even fighting to keep its entire slate of events on the Olympic program.
Everything you need to know about Diack's presidency can be summed up by the 2011 investigation into alleged briberies. The BBC reported that in 2003 Diack received $30,000 from the now-defunct International Sports and Leisure in relation to television contracts. Of course an international sports executive is going to be bought off—but for that little? You have to be on FIFA's very bottom rung to even consider taking that kind of money.
Who's next?
Whoever wins tomorrow's election has a lot of work ahead of him. The IAAF is in a bad situation right now. The sport needs to convince sports fans that track and field, road running, and cross country are worth watching (and sponsoring) and that what they see is genuine and not the product of doping allowed with a wink and a nod.