2 Comments
Harrison joins all-time hurdle list, Grenada's 4 x 400, Boston Marathon sans Americans and Walter Dix!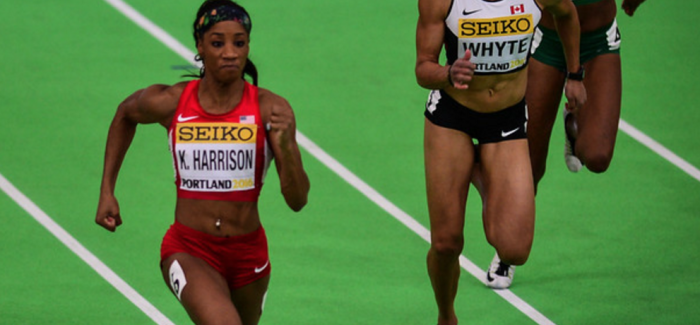 Kevin Sully | On 12, Apr 2016
I'm a day late this week. A healthy reminder never to name a recurring column after a day of the week.
Twitter questions from readers at the bottom, but first a quick review of the road and track highlights of the week.
The Medalists
The top three performances of the weekend
Gold: Keni Harrison
At a Friday meet in Georgia, Harrison moved into the top ten all-time in the women's 100m hurdles with a time of 12.36. It was also the fastest time in April and the best season opener in history, though Harrison did run indoors.
And where does this type of historical mark get you in the United States? Recent history gives us two blueprints in the women's 100m hurdles.
In 2013, Brianna Rollins started the season fast and continued to chop off time almost every meet. Eventually she leveled off, but not before she broke the American record. She flirted with the world record and though she never got it she was still better than everyone else that year and won the World Championships.
Same event, one year later. Jasmine Stowers has a three week stretch in April and May where she runs 12.40, 12.39 and 12.35. This was early enough in the season to rightly justify world record speculation. An American record seemed imminent.
Then, she had a few bad races, crashed into a hurdle and her momentum slowed. At the US Championships, she finished fifth. In the span of six weeks or so she went from likely gold medalist and possible world record holder, to not qualifying for the World Championship team.
Where does Harrison fit in with these two scenarios? Will it be more like Rollins? Stowers? Somewhere in between? Something even better? It's hard to predict. Despite missing the team, Stowers still had a tremendous season–her first as a professional. So even "bad" in this scenario isn't all that bad. But her 2015 serves as a reminder that the women's high hurdles in the United States is so competitive that the gap between winning gold and not even being in the race is microscopic.
Silver: Marius Kipserem
Kipserem ran 2:06:11 on Sunday, fast enough to win the Rotterdam Marathon, but not quick enough to enter the Kenyan Olympic marathon picture. It was a solid win for a runner that few had heard of. Kipserem beat several top runners and took three minutes off his best time in the distance.
Bronze: Bralon Taplin
Taplin ran 44.41 in Tempe, Arizona, tops in the world this year by a huge margin. He took .4 off his best time in the event, which came from the same meet last year.
Meanwhile, Grenada's 4 x 400m team gets a little bit better. Pairing Taplin with Kirani James and two others looks like a top eight team, but Grenada has not been able to qualify in the past (I don't think they've ever qualified for a major championship men's 4 x 400m, if I'm wrong let me know). Two years ago, James spoke about putting a group together, but they didn't have at team at the World Relays in 2014 or 2015 or the 2015 World Championships.
Surging…
-Walter Dix
Here's Walter Dix, yes that Walter Dix, running a wind-aided 10.03 in Florida.
I don't want to read into this too much, especially because it is so early in the season and Dix hasn't broken 10 seconds in the 100 since 2013. But here is more evidence of the magic of the Olympic year where veterans pop their heads up and make one last run.
If the current American sprint picture remains relatively unchanged, Dix will have to run well under 10 seconds in the 100m and break 20 in the 200m to be in the mix for a top three finish. Not all together impossible even for a 30-year-old. I'm sure many people thought after the past two years that him running low 10s was out of the question.
-Elaine Thompson
Before last season, 11.07 would have been a huge lifetime best. But in 2015, Thompson lowered her best mark in the 100m from 11.17 to 10.84.
Over the weekend, she tied the world lead running 11.07 in Jamaica. A good start to her season and a reminder of just how much a jump she made in 2015.
-Andre De Grasse
In Arizona, De Grasse ran 20.23 in the 200m, looking around several times on the straightaway.
It's never too early in the season to practice shutting it down with 50 meters remaining. Running fast while looking nonchalant is a skill. A skill that isn't just haphazardly thrown together in August without any preparation.
Slowing….
-Geoffrey Mutai
Withdrew from Boston last week because he did not meet his training goals. He hasn't been the same runner since his win at the 2013 New York City Marathon. Until recently, it's been difficult to totally discount him because he was so good from 2011-2013. Now, I think it is safe to say he won't return to the top of the world in the marathon.
-American field in Boston
This is the natural by product of an Olympic year. Any of the top American marathons either qualified for the Olympics in February, are focused on the track season in hopes of making it to Rio or aren't all that interested in running two marathons in two months.
The depleted fields are a worthy trade off for a conducting a Trials race. Still, it is bit weird to see a race in Boston where the top Americans have personal bests of 2:13 and 2:32.
-Ethiopian Olympic marathon selection
Last week we dove deep into the Kenyan Olympic marathon selection morass. I'd say it's equally jumbled in Ethiopia. Like Kenya, they don't have a Trials race or a clear selection process (at least none that has been publicized). The Rotterdam Marathon didn't provide any clarity. Tsegaye Kebede and Ayele Abshero finished fifth and 12th respectively, with neither running a particularly quick time.
Over the past two years, Lelisa Desisa has been the most consistent men's marathoner for Ethiopia. He is set to race in Boston along with five other Ethiopians with personal bests under 2:06. The women's field has five runners with personal bests faster than 2:22:03. It's shaping up for Boston to function as a de facto Trials race for Ethiopia, except that the London Marathon is pulling a few of the country's best (especially in the women's competition). I'm not sure how they are going to sort it out. Last Olympics, the men's entrants were decided by who had the fastest times–a choice that resulted in 3 DNFs. Not ideal.
Twitter Questions
Send them to @HouseofRun or @DailyRelay
-NCAA adds road racing to outdoors. Which individuals/team would flourish? Race distances to add? How to score?
@schwartzevan
It would have be longer than the longest distance on the track, so let's just jump all the way up to the half-marathon. They'd need to give it the same weight as the other events, which means top eight placers in the tradition scoring system.
Who flourishes? I'm guessing the same people who do well in cross country. Colorado has a deep team and I always got the feeling that the 10K distance in cross country is too short for them. Individually, I'd say Edward Cheserek, but he lost this weekend so what can we really believe any more?
One more winner from the half-marathon in the NCAAs idea is………….the future of the American marathon. It's much easier to go from 13.1 to 26.2 than from 10K all the way up to a marathon. Athletes would get exposed to the longer distance before they left college and agents/coaches are more aware of who can translate to the full distance.
-What would be the track equivalent of Leicester City's year to year performance…???
@hansonpt
For the non-soccer fans, Leicester City is on the verge of winning the English Premier League. If they pull it off "it would be as if a minor league baseball team won the World Series two seasons after being promoted to the big leagues."
Ok, for the non-soccer, non-baseball fans just know that Leicester had 5,000 to 1 odds to win the league at the beginning of the season. They were promoted to the EPL two years ago and their budget is dwarfed by their rivals.
Comparing individual accomplishments to a team sport is tough. I think you need to look to something that already has a natural team component, as well as a division structure in place. I guess a Division 2/3 team moving up to Division 1 and two years later winning the NCAA Championships might be the best equivalent.
You can look at incredible upsets (like Meb winning the Boston Marathon) or improbable rises (Boris Berian going from working at McDonald's to the Diamond League in one year), but it isn't quite the same. There are fewer barriers to entry in track and field/road racing than team sports. Meaning, there isn't an existing league/team structure that creates, and then ultimate exacerbates, the gap between the haves and have nots. This is, however, still prevalent in the NCAA system which is why I think they are the best example of Leicester City.
In the professional running world, there are differences between athlete's support in training, shoe contracts and race opportunities. But there still exists a clear path to reach the top strata of the sport. It's hard, but a different kind of hard than what Leicester faces.
-Biggest late-race (individual) or late-meet (team) self-immolation in recent track/running memory?
@tracksuperfan
Another cross-sport inspired question. Jordan Spieth had a disastrous final nine holes of the Masters on Sunday where he lost a five stroke lead and went from sure winner to tied for second.
There have been plenty famous blown leads in running be it from starting out too quickly, early celebrations or simple hubris.
Jesse nominated the women's 5000m at the 2012 Olympic Trials, which I think is a correct answer, not because it fits any of the categorizes above, but because it was a crushing loss after the outcome looked to be decided.
Julia Lucas went from first to fourth in the last 300 meters. More specifically, she went from third to fourth in the last five meters. Lucas opened up a gap on the field with three laps remaining. It was an ambitious move, and it looked like it might hold up with 800m left.
But as she slowed the crowd got anxious. I was watching from the top of West Grandstand at Hayward Field that night and the last lap looked like every runner's nightmare.
Big lead, sure win and then your legs just stop working.
I'm convinced that the crowd would have cheered for Lucas even if she wasn't wearing an Oregon Track Club jersey. They respected the move and didn't want to see someone lose their spot to London in the last stride of the race.
Excitement rippled through the crowd when Kim Conley looked like she might make a race of it for that third spot. Even when Julie Culley and Molly Huddle caught Lucas, Lucas's lead back to Conley looked insurmountable. At that point, you could root for Conley's resilience without thinking Lucas's spot on the Olympic team was in jeopardy–the gap was just too big.
I'm not sure how fast Lucas ran the final 200m, but she looked like she was running in quicksand. The cheers for a close race were tinged with a little bit of guilt after watching the final meters. After all that leading, Lucas was passed by Conley on the outside and lost by .04 seconds.
-What running tradition is unlike any other?
@HouseOfRay
Top male sprinters ducking each other, wind-aided times from the state of Florida, getting overly excited about indoors, getting overly excited about World Juniors, overhyping a debut marathon, calling Kenya and Ethiopia the "Yankees vs. Red Sox," complaining about the television broadcast, races run under protest, races where nobody follow the rabbit, discovering another Borlee brother.
Real answer: Boston Marathon. It's 110 years old, it melds elite and commoners and takes place on a state holiday.
-Odds one of the 2 HS kids at Arcadia make it beyond 1st round at the trials? (Assuming running Sr Nationals)
@hansonpt
I believe this is in reference to Michael Norman and Josephus Lyles, who ran 45.51 and 45.94 in the 400m at the Arcadia Invitational. It made me nostalgic for years past when 47 seconds was incomprehensibly fast for someone that young and high schoolers didn't run times that would put them in a Diamond League meet.
In the last two US Olympic Trials, 46 low was good enough to advance past the first round. The question is whether Norman and Lyles can maintain their current form to July. That's impossible to know for sure, especially with high school athletes who are on a whole different competition calendar. Arcadia is an important meet, one of the best on the high school schedule, so I'm sure it commanded a good deal of their focus, but teenagers seem to be increasingly interested in competing past the end of their traditional season. If they do compete in the Olympic Trials, I'll say it's 50/50 that one gets out of the first round.
-In regards to possible Russia, Kenya Olympic bans: of all Olympic nations, whose participation is most essential to success of track and field in 2016 Olympics?
@scichon25
If success is defined as overall competitiveness, then the answer is the United States. They have medal contenders across the board and big ticket stars like Allyson Felix and Ashton Eaton. Taking them out would put an asterisk on most events.
But in terms of entertainment or public interest, there is a strong argument that Jamaica is more essential than the US because of Usain Bolt. If you believe that people tune in mostly for one event (100m) and more specifically, one person (Bolt), then taking away the most popular athlete in the world would be disastrous.
-Will the Sad Jordan meme still be a thing when it's time for @Rio2016? Top 5 people most likely to Sad Jordan at the Trials.
@jmcdannald
It will be because that thing doesn't die. Our attention spans have supposedly shrunk to infinitesimal levels and yet we are going on a whole year of pasting Jordan's face onto hapless athlete's faces.
Predictions…….hmmmmm….Isn't the magic of Crying Jordan is that you never know who it will claim as its next victim? Maybe the USATF in some form will be included. This, of course, will increase the degree of difficulty for all the photoshoppers out there who now need to attempt to stick a human face onto a governing board.