4 Comments
Future Tripping: How might World Junior Champions fare?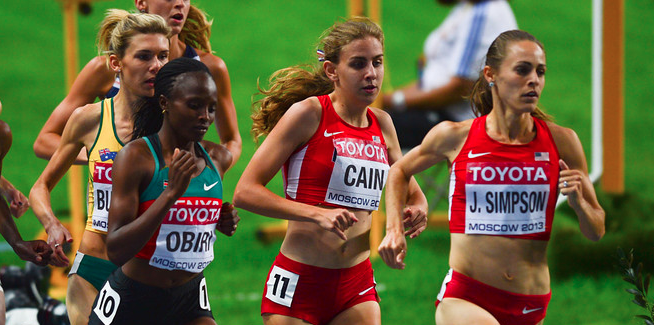 Daily Relay | On 25, Jul 2014
Photo Via TrackTownPhoto
The mind tends to live in the future. Rather than savor a championship it prefers to guess if another is on the horizon. It's how we're wired. Paul Simon captured this best: Everybody loves the sound of a train in the distance. Everybody thinks it's true.
The World Junior Championships (WJC) in Eugene is a Rorschach test in this regard. How much can we enjoy these races on their own merits? Or will our minds start to wander – to the Rio Olympics, to the 2017 World Championships, and beyond – and search for prophecies of bigger victories to come?
I've decided to unapologetically gaze into that unknown future and try to answer a simple question: What is the probability that a runner winning an individual WJC medal in Eugene will go on to win an individual World Championship (WC) or Olympic (OLY) medal in their running career?
First, a qualifier. I've specify the words runner and individual medal. I didn't have enough time to consider field events, so my apologies for this all-too-common bias. The same time constraint meant that I didn't factor in any runner who might have won an individual WJC medal and then gone on to win a medal only in a WC or OLY relay.
This was far from rocket science. I used the 10 WJCs from 1992 to 2010 as my data set. I ignored the 2012 WJC in Barcelona because there has only been one WC since and it usually takes athletes at least three years from a junior classification to begin their medal producing peak. I then cross-referenced those approximately 600 male and female WJC medalists from 1992-2010 against the WC and OLY medalists from 1993-present. The result? If I was a doctor this would be the time to affect a serious demeanor and say, "I think you better sit down."
Let's start with the less-bad news first. If a runner wins a WJC gold there is reason for legitimate hope. First, the men:
(Note: To avoid double counting, athletes who won WJC medals in multiple years, i.e. Nancy Langat and Kirani James etc., are counted in the probabilities based only on their best result.) 
Probability a WJC gold medalist wins any WC/OLY medal as a professional:
Men's Sprints: 28%
Men's Middle Distance: 20%
Men's Long Distance: 27%
That's somewhat encouraging. They all have a better chance of winning a professional medal than Ryan Howard does at getting his bat on the ball against a left-handed pitcher. But that's not saying much. The probabilities for women are pretty similar, except for the sprints, which look dire:
Probability a WJC gold medalist wins any WC/OLY medal as a professional:
Women's Sprints: 7%
Middle Distance: 16%
Long Distance: 28%
What explains the 7% outlier is the fact that from 1992-2010 only Veronica Campbell-Brown and Lauryn Williams have won a WJC gold in any of the three individual sprint events and then won an individual WC/OLY medal in one of those events during their professional career. Kaylin Whitney, our nation turns its lonely eyes to you.
From there the data gets more bleak.
Probability a WJC silver/bronze medalist wins a WC/OLY medal as a professional:
Men's Sprints: 3.5%
Women's Sprints: 5%
Men's Middle Distance: 5%
Women's Middle Distance: 3%
Men's Long Distance: 7%
Women's Long Distance: 6%
Those are intimidating odds, but one man's trash is another man's treasure. The ranks of WJC silver medalists include two of the most dominant runners of the past 20 years – Kenenisa Bekele and Tirunesh Dibaba – who each won 10 WC/OLY medals. So take heart Elvis Cheboi, nestled within the disappointment of Tuesday night's runner-up in the 10K could be a seed of future dominance.
The hurdles are a Tale of Two Distances: winning the 400H is the best of times; winning the 100H is the worst. It's only a 10 race sample size so I'll express it in absolute numbers rather than percentages.
Men's 110H: 1 gold and 2 silver medalists from WJC have won a WC/OLY medal
Men's 400H: 5 gold and 3 silver medalists from WJC have won a WC/OLY medal
Women's 100H: 0 gold and 0 silver medalists have won a WC/OLY medal
Women's 400H: 3 gold and 3 silver medalists have won an WC/OLY medal
The goose eggs in the women's 100H tell one of the most interesting stories in this entire jungle of data. I looked back to the first WJC in 1986 and found that no woman who has won a WJC medal in the 100H has ever gone on to win a WC or OLY medal in that event. Sally Pearson almost did, but missed the WJC medal stand by 1/100 of a second in 2004. On Sunday Kendell Williams can take her first step to doing what Sally couldn't. Although she'll probably end up concentrating on the Heptathlon as a professional and this streak will live to haunt another set of Junior hurdlers.
So where does it all leave us? It's inevitable that fans will hear the sound of many trains in the distance in Eugene. Sadly, most of them won't be true. If you need a soundbite to impress someone at a party, use this: If a runner wins gold at a WJC there is roughly a 1-in-5 chance of someday winning a WC/OLY medal; come in second or third and you are looking at 1-in-20.
If you prefer to believe in minor miracles, be encouraged. Once a decade there seems to be one WJC race that defies all probabilities. The 1992 WJC men's 5k medal stand looked like this: Haile Gebrselassie (gold), Ismael Kirui (silver) and Hicham El Guerrouj (bronze). Ten years later the 2002 women's 5k medal stand did it one better: Meseret Defar (gold), Tirunesh Dibaba (silver) and Vivian Cheruiyot (bronze). Those are the only two times all three athletes on a WJC medal stand would go on to win World Championship and Olympic medals. Another decade has passed. Do you believe in miracles?
In the meantime, if you find an establishment – legal or otherwise – that will let you place a prop bet on "Will Win an Individual WC or OLY medal during their career", the data suggests you should put your money on whoever wins the men's 400 Hurdles. If you want to trust a slightly larger sample size, bet big on the most dominant male sprinter or female long distance runner of the weekend. Don't forget to send me a share of your future winnings.
The alternative is to try and shut off the part of your mind fixated on the future, take five deep meditative breaths and live solely in the present moment. But what fun is that?
Garth Poorman (@DolphusRaymond) lives in Philadelphia. He is a former Junior Writing Medalist who has not made any Pulitzer Prize medal stands as an adult.