3 Comments
Five Things We Learned in Lausanne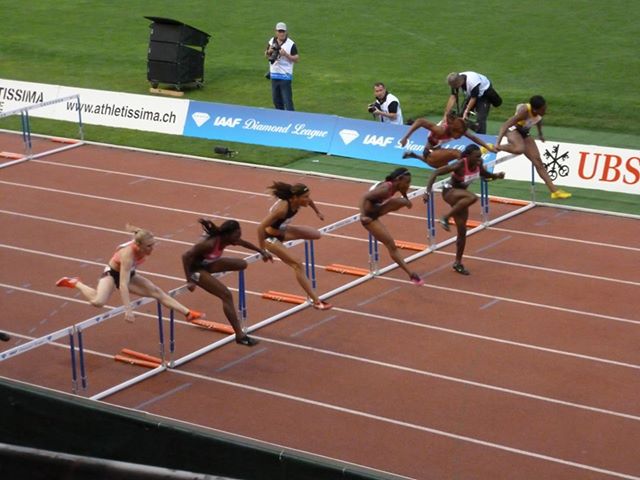 Jesse Squire | On 04, Jul 2013
Sally Pearson (far left) hasn't been this far back in a hurdle race in more than three years.
(Photo courtesy IAAF World Athletics Club Facebook page.)
Five quick reactions to today's Diamond League meet in Lausanne…
Men's high jump is the field event to watch.
No event has a greater collection of young talent than the men's high jump. 22-year-old Mutaz Essa Barshim cleared 2.40 meters (7′ 10½") at the Prefontaine Classic, the best outdoor clearance in 13 years, but has been out with injury and already eclipsed. Ukrainian Bogdan Bondarenko is having a breakthrough season and won today with 2.41 meters (7′ 10¾"), the highest clearance in 19 years, and then took three decent shots at a world record height of 2.46 meters (8′ ¾"). This is only the fourth outdoor season in history with two men over 2.40m.
22-year-old Erik Kynard led Bondarenko with a first-attempt clearance at a PR of 2.37 meters (7′ 9¼"). When he missed his first attempt at 2.39 and Bondarenko made his, he was forced into trying at 2.41. He didn't make it but Martin Bingisser, the track blogger on the ground in Lausanne, said he thought he would have made 2.39. If (when?) Kynard does, that will make 2013 just the second outdoor season in history with three men at 2.39 or better.
And all of this is without the reigning Olympic champion, Ivan Ukhov, who is getting a bit of a late start to the serious part of his season and who will miss some Diamond League action in favor of the World University Games as they are being held in Russia this year. Add in other young stars like Robbie Grabarz and Derek Drouin and this is an amazingly deep year in high jumping, maybe the best ever.
Asafa Powell isn't done.
The former world record holder had a rough start to his 2013 season, with a truly awful 7th-place finish at the Jamaican Championships. Today he had a great run, finishing second to Tyson Gay with a 9.88 run, his fastest since 2011 (and on this same track). Possibly more notable is Kim Collins who ran 9.97 in fourth place. It represents a PR for the man who was world champion some ten years ago, and it's the fastest ever for a man 36 or older (Collins is 37). Gay ran well with 9.78 but his start needs to be better if he's going to have any chance at Usain Bolt.
Lolo Jones is taking bobsled seriously.
Jones said today's races (hurdles and relay) were her last of the season and she'll be prepping for bobsled. She has little to run for now, as she won't be on the US team for the Worlds and isn't in contention for the Diamond Race (as if anyone cares about that anyway). In bobsled she has a real chance at being an Olympian; she and driver Jazmine Fenlator were the USA's #3 sled and 13th overall at the 2013 World Championships.
Did she purposely pick the 4th of July to end her track season and begin prepping for national team duty? It would be totally appropriate, and Jones understands better than most that being an athlete whose income depends on endorsements means being a professional celebrity as much as a professional athlete.
There is a third contender in the triple jump.
The top man in the triple jump over the last two years was Christian Taylor, winning gold at the Worlds and Olympics. In the two years before that, young Teddy Tamgho was the top guy. He missed most of 2011 and 2012 with injury and surgery but served notice that he's back on form last week in Birmingham, and he and Taylor are #3 and #4 on the all-time world list. But neither was on form today and a third beat them both, a Cuban named Pedro Pablo Pichardo. He turned 20 years old last week and has improved massively this year, going from 16.79 meters (55′ 1″) to 17.69 (58′ ½") in one year. Today he won decisively.
Sally Pearson is behind the 8-ball.
Australian track writer Pat Birgan:
Pearson 12.69 w100mh in 7th. Out very well at the start. As good as ever. Just not race fit. Didn't want to talk to me after 🙁 #LausanneDL

— patbirgan (@patbirgan) July 4, 2013

Pearson ruled the women's hurdles in 2011 and 2012 but tore a hamstring earlier this year and is short on time to be ready for the Worlds. She's gaining form nearly as quickly as in past years–this was her fourth hurdle race of 2013, and she'd broken 12.50 by her third race last year–but new pro Brianna Rollins has already run faster than Pearson's PR.
Meanwhile, the men's high hurdle picture remains as muddled as ever. Five Diamond League meets have held the men's 110 hurdles and there have been four different winners. If you figure the US Championships hurdle final as being at least as good a race as at any Diamond League meet, then it's five different winners in six major races. Today David Oliver won in a world-leading 13.04, his first win since running a then-world leader in Beijing in May.