4 Comments
Five Questions with Penn's Sam Mattis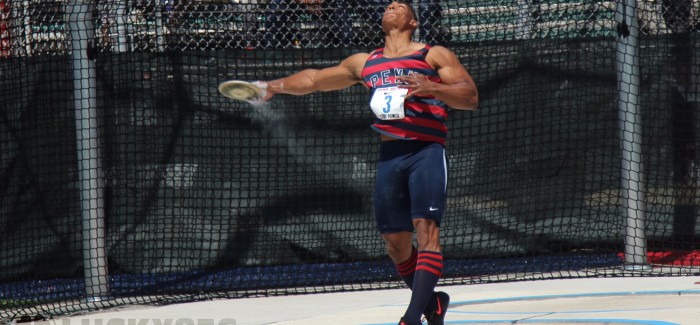 Jesse Squire | On 23, Mar 2016
Last weekend the track world's attention was focused on Portland and the IAAF World Indoor Championships. Over on the other coast, the Penn Quakers opened their home season with the Philadelphia College Classic.
Senior Sam Mattis, the defending NCAA discus champion, unleashed a massive series of throws. His best was 67.45 meters (221′ 3″), a world leader, Olympic qualifier, and second-best in collegiate history. He also hit 66.51 (218′ 2″) and 67.21 (220′ 6″), the third and seventh best throws in collegiate history. Only three athletes anywhere in the world beat 67.45 last year.
Mattis's big throws were on his 22nd birthday but the discus is not a young man's event. He is now by far the best American ever under age 23 and sixth-best in world history. And it's worth noting that a mid-67-meter throw would have won last year's World Championships.
I caught up with Mattis earlier this week.
Daily Relay: Congratulations on your big throw on Saturday! Can you describe how the competition went, and were you expecting a big mark?
Sam Mattis: To answer your first question, I knew on a good day I was capable of having a really solid throw but I definitely wasn't expecting 67 meters and definitely not on Saturday. We're still training through most of our meets at this stage of the season so I wasn't feeling physically great and on top of that it was snowing during the meet – not quite the greatest conditions for a big throw [ed.: no quartering wind either]. I honesty thought that my first throw was somewhere between 62 and 63 meters; turns out my training partner, Noah Kennedy White, and I had done some serious mis-measuring when we originally marked off the field a few weeks ago and have been underestimating our throws by 3-4 meters.
My first throw felt okay – didn't feel like anything special – so I was shocked when I heard the official say 67. It took me a few rounds to calm down and get ready to throw again but by the fifth throw I was in the zone again and honestly the fifth and sixth throws felt better than the first, they just didn't fly as smoothly. Overall it was obviously an incredibly exciting meet especially considering the time of year and conditions. The whole throwing team did great and we're all excited to see what we're capable of accomplishing the rest of the season.
DR: Last year was inconsistent for you but it finished strong with an NCAA win. I understand you are are in Penn's Wharton School of Business and last year you had a demanding and tiring schedule. What was it like and how did it affect your training and throwing?
SM:
Last year definitely had its ups and downs. I really don't think I was happy with a single throw I had the entire season except for my last throw at NCAA's. And then USATF's afterwards were pretty disappointing. I think I can partly attribute the inconsistency at the end of the season to my summer internship – I was waking up at 5 am to train at a park in NYC and then not getting back home from my job [internship with JPMorgan Chase & Co. in their commercial mortgage backed securities capital market group] until about midnight most nights starting in early June. But the rest of the inconsistency throughout the season was just due to training through meets during the season, some unfortunate weather conditions and mostly just bad throws. I had some great throws in practice towards the end of the 2015 season but I was just never able to carry them over and produce the same results at a meet.
As far as being in Wharton goes, it's definitely been a struggle at times, but at this point my schedule is so light that I just basically train full time which is a pretty sweet deal. Up until the end of last year I was really loading up my schedule to try to get ahead of graduation requirements so I could have a relaxed senior year and all that hard work is finally starting to pay off. But the additional stressor of being at one of the toughest schools in the country is something every athlete at Penn has to deal with and outside of some weeks of little to no sleep while I was an underclassmen I feel that I've adjusted to it fairly decently and been able to handle it well.
DR: So would you say the big jump in performance is due to better rest, or more time to absorb training and practice, or some of both?
SM: I'd contribute the breakout performance to a few things. But the first thing I would say is that this is really only a breakout performance on paper. Towards the end of last year I was throwing close to 65m in practice and I've been throwing about 67-68m in practice recently, I just didn't know it because we had the field marked incorrectly. Regardless, being able to essentially solely focus on track, having time to do all the extra recovery work like stretching, eating right and sleeping and just being more focused and driven than I ever have been are what I think have made the difference this year. I come to practice every day trying to fix at least one aspect of my technique, not just to throw a few dozen times, and I think that focus has been a major key.
DR: These days it's fairly unusual for a thrower of your caliber to not be a single-event specialist. You still put the shot and throw the weight and hammer. Is this because you want to help the team, or to develop all-around athleticism, or because you just like to throw things?
SM: I would say I'm a single event specialist – I practice disc every day and the other events once, maybe twice a week. But it's generally just fun (though often incredibly frustrating) to throw things and this spring I believe Penn has its first legitimate shot at an Ivy League Championship in a long time [ed: last won in 1988 2002] so I'm going to try to get the team as many points as I can. Perhaps more importantly, my dad still has the family hammer record so I have to try to beat his mark, however unlikely that is.
DR: Obviously you set up your last few years to give yourself a chance at the Olympic team, but since you now have a qualifying mark that's almost assured. But obviously you've also set out an ambitious career path. Have you thought about whether or not you want to pursue throwing full-time after graduation?
SM: I definitely have. Last summer after NCAA's I took a while to think about what I wanted to do the next few years and I decided I'm going to pursue throwing until at least 2020. The folks at JP Morgan were incredibly supportive of this decision and are letting me defer my full-time offer for a few years while I continue throwing.
It's always been a secret dream of mine to be a professional athlete after school and even though track isn't the most lucrative or high profile sport, it's what I love and I have a once in a lifetime chance to follow my dreams so I'm going to take it.