One Comment
Daily News Roundup: Running Bums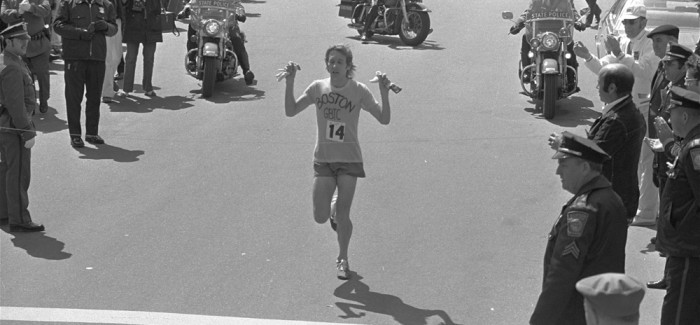 The world's most famous running bum.
David Monti, Race Results Weekly publisher and the elite athlete coordinator for the New York City Marathon, sent out this tweet earlier today.
Good thread on @letsrundotcom about the "running bum" lifestyle, patterned on the ski bum. Admirable or not? http://t.co/Ta9zlhUTIJ

— David Monti (@d9monti) March 12, 2014

Follow the link and it takes you to a long thread about the subject of young runners just out of college working at a running store or some other low-wage job in order to pursue qualifying for the Olympic Trials or some other racing-related goal. The discussion is unusually civil and productive given the Let' Run message board reputation.
I know a few people who fit the description. One of them works at our local running store, another had a contract with Hansons-Brooks Original Distance Project for a short time. I have a few thoughts on the issue myself.
One is that recent college graduates face a horrible job market. If you figure that you're going to be broke in the near future regardless of whether or not you try running to the best of your abilities, then the choice is easy. At least running bums get something out of being broke.
Another is that the so-called "Millenial generation", to which all these twenty-something runners belong, has much different attitudes towards hallmarks of stability than those of previous generations. For example, a much smaller portion has tied themselves down to things like marriage and home ownership than did previous cohorts at the same age. The "running bum" lifestyle just isn't that unusual for them.
Running bums aren't a new phenomenon, either. They were a part of the 70s running culture and bled over into the 80s a bit too, until the conformism of the 80s and 90s stamped out free spirits. And the word "bum" fit a bit better back then; it implies someone who has no concrete plans at all, whereas the discussion above is about people with specific goals within a specific time frame.
Finally, one of the most beloved characters in American running was nothing but a running bum in his early days. Bill Rodgers was working menial jobs in the Boston area after college at Wesleyan (where he did not exhibit any potential to be a world-beater) and just ran. It turned out pretty well for him–and even if it hadn't, he'd have experienced something few of us ever could.
News
Runner' World's Morning Report has all of yesterday's news: US 5k record holder Molly Huddle is running Sunday's NYC Half, Arizona's Lawi Lalang is attempting an NCAA distance triple, and more.
Ken Goe's daily Oregon track & field rundown looks at whether Duck freshman Edward Cheserek, the reigning NCAA cross country champion, can break up Lalang's triple.
The USATF Championships are being held in Sacramento this year. Word has now come out that they'll return to the California capitol in 2017–but only if total paid attendance at this year's meet exceeds 22,500. To my knowledge, this is the first time that this kind of stipulation has been in place–but it shouldn't be difficult; total attendance (paid or otherwise) was 32,048 in 2010 (Des Moines) and 30,050 in 2006 (Indianapolis). Reading between the lines, this implies that some other yet-to-be-announced site will host the '15 nationals ('16 is the Olympic Trials, already set for Eugene).
More from Track and Field News
NCAA Championships start lists are up, and meet director Rich Ceronie has compiled deep all-time lists for the Albuquerque Convention Center.
The New York Road Runners Club will give out financial support to Olympic marathon trials qualifiers: $2016 to NYRR members who qualify at any time, $500 to non-members who hit the standards at the biggest NYRR races (such as the NYC Marathon).
More from NYRR
From Race Results Weekly comes seven storylines in this Sunday's New York City Half Marathon.
More from RunnerSpace.com
Another bizarre blog post from half-miler Pheobe Wright, this time about conversations during long runs.
More from Phe800
Writer Jim Gerwick discusses something missing from today's younger online track media: a sense of our sport's history.
More from Run On Thoughts
Let's Run has seven thoughts on the World Indoor Championships. One of them appears to include the idea that being considered a "US distance runner" might include the same requirements as for POTUS eligbility. It also includes the statement about "US women who didn't ultimately use drugs during their careers" when what they probably mean is "US women who weren't suspended for a doping violation", because proving someone hasn't used banned drugs or methods is about impossible.
More from Let's Run
David Owen reviews The Peerless Four, a novel that fictionalizes the experiences of the first women competitors in Olympic track and field.
More from Inside the Games
Video of the day
The men's 3000 at the 1992 NCAA indoor championships.
)