3 Comments
College Recap: Florida Relays, Duals, Fast Distance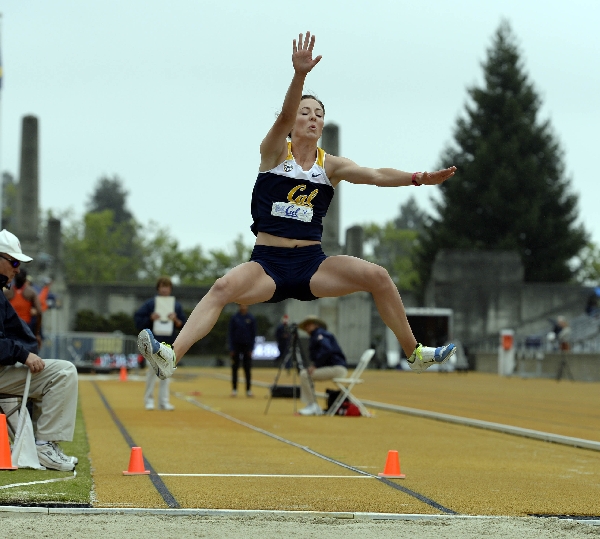 A surprising team is in the running for the men's collegiate dual meet championship.
There was plenty of action this weekend. The Florida Relays gave us some great sprints and sprint relays, dual meets renewed rivalries, the Stanford Invitational supplied fast distance times, and more. A surprise team is in the running for the national dual meet title, I look at names that came up this week, and pick my athletes of the meet.
First, we go to Gainesville.
Florida Relays
The Florida Gators put on a show at their home relay carnival, punctuated by the meet's last race. They won the men's 4×400 relay over a "pickup" pro team of David Verberg, Torrin Lawrence, Christian Taylor, and Kerron Clement in a time of 2:59.73, the second-fastest in collegiate history and just 0.24 off the collegiate record. Anchor leg Arman Hall took his team from third to first on that final lap and reportedly split somewhere in the range of 43.7. The only college team that could beat the Gatos when they bring their 'A' game is Texas A&M, and they'll meet three more times this season: the LSU Invitational (May 3), the SEC Championships (May 18) and the NCAA Championships (June 14).
Gator sprinter Dedric Dukes blazed through the 200 meters in 19.97, becoming just the 8th collegian to ever break 20 seconds (and doing it earlier in the season than any of the others ever did). He had quite the weekend, also running 10.27 for 100 meters and running on the winning 4×100 and 4×400 relays (with a 44.8 split on the latter). Sean Obinwa won the 800 meters in a collegiate-leading time of 1:46.68.
The up-and-coming Gator women had their share of successes as well. Shayla Sanders was the top collegian in the 100 meters (11.29), Kyra Jefferson was the top collegian in the 200 (22.78), Robin Reynolds and Ebony Eutsey went 1-2 in the 400 (51.57 and 52.33), Rebekah Green won the 1500 (4:19.68), Bridgette Owens won the 100 hurdles (12.90), and they won the 4×100, 4×400, shuttle hurdles, and distance medley. Whew.
The recap video from GatorZone.com:

What about Trayvon Bromell? Baylor's star freshman sprinter created a stir at the Texas Relays last week with 10.01, a world leader which tied the world junior (under-20) record. This week he won the top-seeded college heat with a significantly slower time of 10.16. Was last week a fluke? Is he coming back to earth?
Well, last week he had a tailwind of 1.5 meters per second. This week he had a headwind of 0.1 m/s. This handy calculator says last week's run was "worth" 10.09, this week's was worth 10.15. That's still a difference but a much smaller one.
Dual Meets
Arizona at Oregon
The top dual meet of the weekend turned out to be a one-sided affair. The Arizona Wildcats came into Hayward Field and got spanked. Oregon won by scores of 114 to 47 (men) and 106 to 52 (women). Oregon's men haven't won by this much since a 184½-51 trouncing of UC Irvine in 1997, and haven't beaten a Pac-12 rival by this much in 20 years (115-47 over Washington in '94). The Oregon women simply haven't had a true dual meet of any kind since 2002.
Even the hyped individual matchup between milers Mac Fleet (Oregon) and Lawi Lalang (Arizona) wasn't all that close; Fleet won as he pleased, running on Lalang's shoulder for about 1430 meters before blowing past him on the homestretch.
This was the second meet televised on the Pac-12 Networks this year, and the first to be carried live. I got to see it–I haven't the foggiest idea why the Pac-12 Network is carried by a small locally-owned cable company in northern Ohio, but I'm not complaining–and it was pretty good. The announcing team of Ato Boldon, Paul Sunderland, and Tom Feuer was competent, prepared and knowledgeable, which is a nice change from the foolishness we get when Larry Rawson and Dwight Stones do SEC or NCAA championship coverage. The camera work was good and there was at least nominal attention given to field events. There is room for improvement; running team scores could be put in an on-screen graphic (as every other TV sport has done for the better part of two decades) and there's no reason that field events couldn't get live updates. But if this is how the infancy of the Pac-12 Network is treating track and field, then it's a very good thing for our sport. It's already the best domestically-produced coverage and likely to get better.
As for individual performances, there were several notable ones. First and foremost was Laura Roesler's 2:01.10 in the 800 meters, a new record for collegiate dual meets (breaking the 2:01.18 set by LSU's Natoya Goule last year against TCU and UCLA). She had a stated goal of breaking 2:00 and went for it, hitting 400m in 59 seconds and 600m at 1:29, but a stiff headwind on the homestretch was her undoing. It should be noted that sub-2:00 is really fast for a collegian; only Wisconsin's Suzy Hamilton and Cal's Alysia Montaño have ever done it, and even then only at the NCAA Championships. It's hard to tell for certain, but it appears that Roesler's run on Saturday is the fastest ever this early in the outdoor season.
Oregon had another pair of breakthrough marks of note, Greg Skipper in the hammer and Phyllis Francis in the 200. Skipper hit a new PR of 70.57 meters (231′ 6″), which bodes well for the Ducks' hopes to win their first men's outdoor national title since 1984. He was fourth at last year's NCAA Championships and has now PRed in two of his first three meets. He looks ready to score some big points in June.
Francis ran a wind-aided 22.82 in truly horrid conditions (for sprinting, at least). Her wind-legal PR of 22.77 was set at last year's Pac-12 Championships in warm and sunny Los Angeles. Ato Boldon was truly impressed with her run and his accolades are not easily earned. Whether or not she'll be asked to double at the NCAA Championships is an open question (if she and coach Robert Johnson have already made a decision, they'll play it close to the vest) but strictly on its own terms this run makes it clear that no one will be able to touch her in her specialty, the 400 meters. But I suppose we already knew that.
The biggest thing I got out of watching this dual meet was that Oregon has created something over the last ten seasons that is completely unmatched in this day and age. They're not a national championships juggernaut like Texas A&M or Florida–while the Ducks have won a raft of indoor national titles, the outdoor championship has remained just beyond their grasp–but they have built something much more important to the sport of track and field. They have built a program. They have an army of athletes, capable of fielding deep and competitive entries in every single event. This early-season home meet got (quality) national TV coverage, and more than 5,000 fans showed up on a cold, blustery, rainy afternoon for what was obviously going to be a blowout. It's a real, live team with real, live support and interst. This is what every college track program should seek to do if our sport is to thrive.. Few if any track teams have a facility like Hayward Field or a benefactor like Phil Knight or support like the Oregon Track Club. But it has to be remembered that the current state of affairs was the result of a lot of hard work, and Eugene's interest in track was much lower in 2002 than in 2014. Coaches have to think bigger than just scoring points at the conference and national championships and work on the bigger picture: getting your community to care about how many points your team scores.
Cal & Michigan at Virginia
This is the second of a three-year series between programs that consider themselves "public Ivies", elite universities in both academics and athletics. Last year's meet was in Berkeley, this year's meet was in Charlottesville, and next year it will move to Ann Arbor. (I'll advise the visiting teams to pack their parkas, because the first weekend in April in Michigan can be dicey; it could be 70 degrees, or you might need to punch a hole in the ice in the steeplechase pit.)
Michigan (157) won the women's competition over Virginia (132) and Cal (85). The most notable mark for the Wolverines came in the steeplechase, where Alex Leptich won in 10:04.86, the second-fastest ever run in a collegiate dual/tri/quad meet. Michigan's greatest successes in recent years have been in the distance events, particularly the team-oriented ones of relays and cross country, and they look like they'll be ready to challenge for big wheels at the Penn Relays in three weeks.
The men's winner was Cal (142) over Virginia (124) and Michigan (108), and this brings up a very interesting possibility: Cal could challenge for the men's national dual meet championship. Cal? Yes, Cal.
How does Cal rate so highly? My system rewards teams for wins and losses and for breadth and depth of marks and the Bears are doing well on both fronts. But there are a few other men's teams who rate better, whose marks indicate that (on paper, at least) they would beat Cal in a head-to-head matchup. Those include Texas A&M, Oregon and Nebraska. But the Golden Bears have something else going for them.
My rankings system also rewards teams that take dual meet competition seriously. Cal earns a lot of bonus points here. They had an early-season quadrangular against UC Davis, San Francisco, and a partial Stanford team. There was this triangular, and then next week they face Stanford in the 120th running of "The Big Meet". Only one other major-conference team (UCLA) has three dual/tri/quad meets on its schedule, and while the Bears' opponents are mostly outside the top 25 they aren't exactly patsies either.
Last year Cal beat Stanford for the first time in six years, and if they can repeat that feat this week then they will be 6-0 in duals, a record that no other major conference team can match. The Bears highest-ever final ranking is third (1986) and last year was their first appearance in the top ten since 1988. I can't say yet if the Bears are going to be #1 when the new dual meet rankings come out on Tuesday, and even if they do there's no guarantee they'll stay there for the rest of the season. But there's no doubt that this Saturday's Big Meet is even bigger than it usually is.
Rivalries
Cal versus Stanford is the oldest rivalry in college track, but it is not the most intense. That title goes to Army versus Navy. How intense is that rivalry? It got coverage in a 2012 Running Times article titled Track and Tradition, where it was explained:
In his interview for the Navy job, head coach Stephen Cooksey was asked what he would think of a season in which his teams lost every meet but beat Army. He replied that he wouldn't consider that year much of a success. He was quickly corrected, and told that he would, in fact, have accomplished his assignment. "If you've never been a part of it," says Troy Engle, Army's head track coach, "you can't understand the importance of it."
Navy won the men's meet with relative ease, 124-79, and that means the all-time series is now tied at 44 wins each. The star was javelin thrower Jay Stell, who broke the meet and the Naval Academy record with 70.72 meters (232′ 0″), which ranks him 11th in Division I.
The exciting action, the kind that makes meet like this wonderful things to see, was in the women's meet. Like every classic meet, it all came down to the 4×400 relay. Army's women hadn't beaten Navy since 2008, indoors or out, an unacceptable state of affairs in West Point. It was supposed to be more of the same this year, but the Black Knights somehow held a two-point lead going into the mile relay. Navy could salvage tie if they won, but anchor leg Samantha Reid overtook the lead and kept it for the win. Army coach Troy Engle:
We were down our best sprinter on paper and the Academy record holder in the pole vault, but other people stepped up. Even with those people healthy we would have come in underdogs, but the women knew exactly what they needed to do to step up and win the meet. It is probably the best team performance we've had in close to a decade.
Lehigh and Lafayette have the oldest rivalry in college football but their track rivalry is relatively recent. They split their dual meet, Lafayette's men narrowly winning 92-91 and Lehigh's women taking it by the score of 107-96.
The Albany Great Danes and UConn Huskies annually meet in a men's only dual, the "Dog Fight", and this year it matched up the reigning indoor champions of the America East and American Athletic conferences. Albany hosted the meet on a brand-new track and their 90-73 win apparently proved they are America's team.
Stanford Invitational
The Stanford Invitational is centered around distance races, and in some case the word "race" isn't the best description of what happens. Case in point: Oregon's distance trio of Edward Cheserek, Parker Stinson and Trevor Dunbar. All are among the NCAA's best runner, and Cheserek is doubtlessly the best, period, but all three simply ran together for 25 laps in the 10,000 meters and finished well back in the pack. They were running what amounted to an official time trial, recording marks to use for NCAA Championships qualifying. In no way were they actually racing.
This is a problem for track and field. It's an old cliche to say that "champions are made when nobody is watching", which refers to the idea of doing the extra work in training necessary to excel beyond those who only do what's asked of them and nothing more. But in track and field, we quite literally qualify to championships when nobody is watching. Irish miler Ciarán Ó Lionáird recently told Spikes Mag about how he qualified to the 2011 Worlds in a race in the middle of nowhere. It's presented as a cute story but I think it's a tragic example of how track and field is still stuck in a mid-20th-century model. Cheserek, Stinson and Dunbar were sent to a dull festival of time trials instead of running in front of a home crowd of 5,000 because that's just how it works. Ugh.
I could blame the whole global track and field system of time-based qualifying for why Oregon had to send their most popular runners away from a home meet, but even the IAAF isn't as thick-skulled as the NCAA. If college qualifying were run the same way the IAAF runs its qualifying system, then Cheserek would already have every qualifier he needed before the outdoor season even began. He could use indoor times for outdoor championships. He'd have a 10k qualifier by virtue of winning the cross country championship (as would everyone else who finished in the top 15). But the NCAA clings to this idea that outdoor track, indoor track and cross country are wholly separate sports–this despite the fact that no one gets separate athletic scholarships for the three "different" sports, and no university has different head coaches for indoor and outdoor track. It is an exercise in pure semantics to say that they are not the same sport.
In any case, there were a few surprising wins in this meet. The fastest time in the four heats of the men's 5000 meters was 14:43.05, run by Eric Avila. If you've never heard of him, there's probably good reason; he runs for Southern Oregon, an NAIA team. Avila won the NAIA cross country championships last fall, and this race was a PR by over 20 seconds.
Likewise, the fastest time in the three heats of the steeplechase was 8:38.46, recorded by Tabor Stevens, running for D-II Adams State. The fastest collegian of the meet in the women's 1500 was Hillary Holt (College of Idaho), who ran 4:16.75, or about five seconds slower than the NAIA record she set last year.
The only Division I runner who really impressed with an unusually fast run was Texas' Marielle Hall, who won the women's 5000 with a time of 15:19.26. That's just outside the all-time collegiate top ten (and 6th all-time among US collegians). She didn't qualify to the NCAA indoor championships and didn't even get to the outdoor "preliminary round" last year, but it appears that she could be a factor at this June's outdoor championships. Remember, the Longhorns missed winning the indoor team title by a lean at the finish of the 4×400, so any points she can earn her team will be very helpful. But remember, time trialing under optimum conditions is a very different thing than running for points in a championship meet.
Another notable result in women's competition was in the 10,000, where UAB's Elinor Kirk moved into the all-time collegiate top ten with 32:17.05. Kirk is not as much of a surprise as Hall; she was third and tenth in the 3000 and 5000 at last month's NCAA indoor championships.
Other meets
LSU hosted its annual Battle on the Bayou against a quality field of teams (Ohio State, Kansas, UCLA and Mississippi State) and swept the men's and women's titles with relative ease. UCLA's discus champion, Julian Wruck, hasn't lost to a collegian in two years but the Tigers' Rodney Brown was awfully close here, losing by just 17 inches.
Akron swept area rivals Kent State, Ashland and Youngstown State in their Northeast Ohio Quad. The Zips' Shawn Barber, the reigning NCAA indoor pole vault champion, had a second straight subpar outing , losing on the countback to Kent State's Jesse Oxley.
Bucknell's men and Rutgers' women were the winning teams at William & Mary's Colonial Relays, a massive regional relay carnival with a team-scoring twist.
The Week in Names
Best name for a sprinter: Cal's Dash Oliver, who scored for the Golden Bears in the 100, 200 and 4×100 in their tri-meet win over Virginia and Michigan.
Best name for a high jumper: Boston University's Allison Barwise, who won the high jump at the Florida Relays. I suppose it's too much to hope that she'll go to on to law school after graduation.
Alright, alright, alright! East Carolina's Matthew McConaughey finished twelfth in the javelin at the Florida Relays. I bet he gets a lot of that.
Penney for your thoughts: Possibly the closest and most interesting matchup in the Oregon-Arizona dual was between sisters Sarah and Kate Penney, running for the Ducks and Wildcats respectively. Sarah broke away on the backstretch of the bell lap to claim victory, with Kate in second.
The Way It Is: Oregon junior Russell Hornsby finished second in the 800 meters against Arizona. His father is Bruce Hornsby, who hit it big in the 80 with Bruce Hornsby and The Range and has since performed with the Grateful Dead, Ricky Skaggs, Bela Fleck, and other famous musician that no one under age 40 (heck, 50) has ever heard of. What is it with the Pac-12 and forgotten rockers' kids? Steeplechaser Aric Van Halen, the recent Colorado grad, is the son of drummer Alex Van Halen.
Time for karaoke! Miami (Ohio)'s Rob Stein broke the Redhawks' 59-year-old school shot put record, a mark set way back in 1955 by former NCAA champion Tom Jones. I can't hear that name without wanting to jump up and sing!

Awards
In the style of pro hockey, here are the weekend's three stars…
MEN
The first star: Dedric Dukes, Florida
The junior won the 200 at the Florida relays in 19.97, won his heat of the 100, and ran tough legs on the winning 4×100 and 4×400 relays.
The second star: Arman Hall, Florida
The sophomore ran a fantastic anchor leg on the 4×400 and also ran on the winning 4×100, took the 400 in 45.19, and ran a 20.46 PR in the 200.
The third star: Jason Witt, BYU
Witt won the 10,000 meters at the Stanford Invitational in a collegiate-leading time of 28:36.64. It appears to be the first track 10k of his college career.
WOMEN
The first star: Marielle Hall, Texas
Hall's win in the 5000 meters at the Stanford Invitational, 15:19.26, represents a PR by more than a minute. As stated above, it's the sixth-fastest ever run by a US collegian.
The second star: Laura Roesler, Oregon
Roesler's 800 meter win against Arizona in 2:01.10 is the fastest ever run in a collegiate dual meet and appears to be the fastest ever run this early in the season, and it was run in anything but "time trial" conditions.
The third star: Elinor Kirk, UAB
Kirk moved to #8 on the all-time collegiate list with her 32:17.05 win in the Stanford Invitational 10,000 meters.
Team Player: Nick Ross, Arizona
In the dual against Oregon, Ross won the high jump and triple jump and took third in the long jump. He accounted for nearly 25% of his team's points.
D-II athlete of the week: Roxroy Cato, St. Augustine's
Cato won the 400 hurdles at the Florida Relays in a time of 48.67, the all-division college leader and the fastest ever run by a D-II athlete during the college season.
D-III athlete of the week: John Crain, North Central
Crain ran 28:52.73 for 10,000 meters at the Stanford Invitational, the second-fastest in D-III history and just 4 seconds off the record set 20 years ago.
NAIA athlete of the week: Hilary Holt, College of Idaho
Holt was the top collegian in the 1500 at the Stanford Invitational, running 4:16.75 for an all-division collegiate leader.
Coming up next week
The view turns west as the Mt. San Antonio College Relays take center stage in sunny Southern California, Cal and Stanford meet in "The Big Meet" with the national dual meet title in play, and Arizona hosts the five-time Jim Click Shootout. Check out the USTFCCCA's page for more.