No Comments
Breakfast in Beijing: Dibaba cruises, Americans struggle, Rudisha plays defense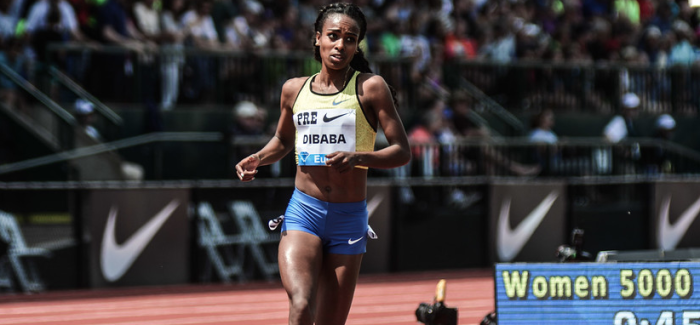 Kevin Sully | On 25, Aug 2015
Genzebe Dibaba got a nice little workout in this evening in Beijing. She started off with a 2:25 first 800m, which probably isn't fast enough to qualify as tempo run pace for her, but it's still a good warm-up. It did allow her to run with a group for a bit. Nobody wants to do a workout by themselves.
From there, Dibaba accelerated and ran a 57-second lap. That's quick and everyone else was now strung out behind her. She slowed only slightly toward the end, but that was because she started celebrating with twenty meters remaining. I'm guessing she doesn't do that in every workout she runs, but in this case she got a gold medal so I understand her excitement. Dibaba ran her last two laps in 1:57. Like the 1500m today, her race in the 5000m later on in the week will be a formality. A more interesting contest would be her in the 800m. Even then, I don't see her getting beat.
There was something positively Rudisha about the way Dibaba ran (the David Rudisha of 2012, not the Rudisha who won today). Even though the race started slowly, Dibaba ran harder than she needed to in order to win. That 57-second lap mid-race could have easily been a 61 and she still would have left everyone in shambles by the finish. The pace was ungodly fast the last two laps and she still managed to pull others along. The times won't reflect that because of the slow start, however Faith Kipyegon and Sifan Hassan ran really well to stay in the same camera shot as Dibaba and finish in second and third.
The pace fluctuations didn't help the Americans, Shannon Rowbury and Jenny Simpson, both of whom were medal contenders entering the race. Simpson lost her shoe with 600 meters remaining and fell back to 11th. Rowbury kept her footwear, but only managed seventh. This is what happens in the 1500m when the rhythm of the race takes precedent over season's best times. Both Americans were in better form than they were in 2009, 2011 or 2013 when they won medals at this meet and yet today they didn't make the top five. Simpson's going half-Bikila didn't help on the last two laps. Those are the types of random occurrences that seemed to crop up so often in the 1500m.
Americans shut out
The 1500m struggles embodied the U.S.'s performance at the meet on Tuesday. There were five finals and they didn't come up with a single medal. Two of those events, women's discus and men's 800m were expected, but between the men's long jump, men's 400m hurdles and women's 1500m there were six legitimate medal opportunities.
Jeff Henderson and Mike Hartfield came up empty in the long jump. Kenya, Russia and the Bahamas went 1-2-3 in the men's 400m hurdles leaving Kerron Clement and Michael Tinsley off the podium. The problems in that event really started in the first two rounds with Bershawn Jackson and Johnny Dutch failing to qualify to the next round in subsequent days.
Kenya increases sphere of influence
It didn't help the Americans that the low hurdles underwent a sea change this year. Kenya put two men in the finals. Let's start calling it the mini-steeplechase. The man who won the race, Nicholas Bett, did so from lane nine and ran a world leading 47.79.
SWEET JESUS! I just replayed the 400H race and watched Bett from start to finish…He 13 stepped 9 hurdles with a right lead leg. OMG!

— James Carter (@MrJamesCarter) August 25, 2015
This is the first gold medal for Kenyan in a race shorter than 800m. Beyond Bett, the entire competition in the 400m hurdles was funky.  Jackson and Dutch went out early.  Javier Culson, the best bet behind Jackson, didn't make the final.  You had to have spent a bunch of time on the IAAF website to recognize more the four or five names of the group that eventually lined on Tuesday.
Rudisha wins Amos-less race
Freed from the presence of the pesky Nigel Amos, David Rudisha lorded over the 800 again. He beat back all challengers and defended his front runner spot for a wire-to-wire win. Rudisha opened with a conservative 54 second lap, but nobody was willing to take on the pace. Adam Kszczot tried to pass on the inside with 250 meters remaining and Rudisha responded with a box out that Charles Barkley would have been envious of.
Rudisha held his position into the homestretch. Amel Tuka made a late run, but was too far back and could only settle for bronze behind Kszczot.