2 Comments
Bracketology: Second Round Begins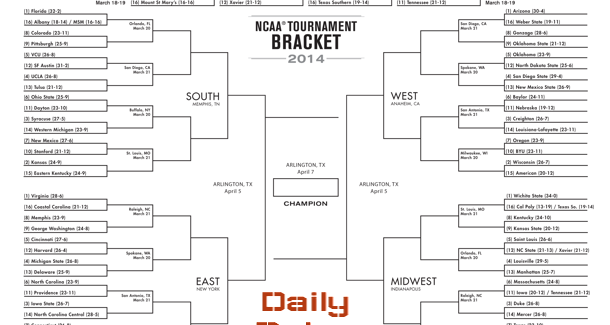 Here we go with the second round of the tournament!
A quick reminder of how this works:
We started with the bracket for this year's basketball tournament. Each "game" matches up great track and field athletes in each university's history, with the winner decided by career accomplishments and a subjective decision of who was "better".
But the key is that once an athlete has been used, he or she cannot be used again. So, for example, Ohio State will keep Jesse Owens in reserve until he's really needed. Thus the "best" athlete in each school's history might not come up until later rounds–-but they might have to be used in early rounds to get past a tough opponent, leaving the team vulnerable in later rounds.
Today's action…
Pittsburgh vs Florida
Pitt beat Colorado in the first round with 30s half-miler John Woodruff. Florida beat Mt. St. Mary's with 90s sprinter Dennis Mitchell.
For the second round, Florida brings out Kerron Clement, the 2007 and 2009 Worlds gold medalist in the 400 hurdles, the 2008 Olympic silver medalist in the same event, and a three-time relay gold medalist. The only Pitt Panther who can top him is Roger Kingdom, the two-time Olympic high hurdle champion. Kingdom's best year was 1989, when he broke the world record and was named Athlete of the Year by Track and Field News.
Winner: Pittsburgh
North Carolina State vs Manhattan
NC State got through the "first four" and then won the first round with 90s distance runner Laurie Gomez-Henes. Manhattan beat Louisville with 1952 Olympic sprint champion Lindy Remigino.
NC State was one of the top teams in early collegiate women's distance running, and Betty Springs (Geiger) was one of their best runners. She won a pair of NCAA championships in 1983, the 5k and 10k, plus the very first NCAA championship ever held for women, the 1981 cross country title, plus the 1983 championship as well. She won the 1986 USA title at 5000 meters. Manhattan has a long history in the hammer throw, and the Jaspers' best in that event is Jake Freeman, who has won the NCAA hammer, the NCAA weight throw, and the USA hammer once each.
Winner: NC State
Texas vs Michigan
Michigan won the first round over Wofford with 80s long-distance runner Lisa Rainsberger. Texas beat Arizona State with quarter-mile star Sanya Richards-Ross.
Texas brings decathlete Trey Hardee, who won the 2009 and 2011 World Championships. Michigan answers with long jumper DeHart Hubbard, the 1924 Olympic long jump champion. Hubbard was the world's best long jumper for each of six years in a row and held the world record for three years, and added an NCAA title in the 100 yards for good measure. He still holds the meet record in the Ohio State-Michigan dual meet series, set way back in 1925.
Winner: Michigan
San Diego State vs Oklahoma
San Diego State beat New Mexico State in the first round with 30s pole vaulter Jack Rand. Oklahoma beat North Dakota State with active shot putter Tia Brooks.
Oklahoma's Danny McFarlane is one of the few athletes who has won a major medal in both the 400 hurdles (silver, 2004 Olympics) and the flat 400 meters (bronze, 2001 world indoors). He was a mainstay on Jamaica's 4×400 relay team and competed in every World Championships from 1993 to 2009. San Diego State's Arnie Robinson won the 1970 NCAA title in the long jump, then won Olympic bronze in 1972 and gold in 1976. He won the US title six times.
Winner: San Diego State
Ohio State vs Syracuse
Ohio State won over Dayton in the first round with 30s high jumper Mel Walker. Syracuse beat Western Michigan with turn-of-the-century long jumper Meyer Prinstein.
For the second round, Ohio State trots out 400 meter star Harry "Butch" Reynolds, who set the world record in 1988 and a pile of silver and bronze medals at the Worlds and Olympics, but never gold. Syracuse answers with Allen Woodring, the upset winner of the 1920 Olympic 200 meter final. He won two national collegiate titles (when the IC4A was the de facto national championship) but never captured a US championship.
Winner: Ohio State
Wisconsin vs Oregon
Wisconsin beat American in the first round with 40s miler Don Gehrmann. Oregon beat BYU with 70s and 80s discus thrower Mac Wilkins.
Wisconsin is up against one of the all-time track powerhouses and has to bring out the best runner in Badger history: the famous (and infamous) Suzy Favor Hamilton, winner of nine NCAA individual championships. Oregon can beat her on nearly all fronts with Steve Prefontaine. Pre won seven NCAA titles (even while never competing at the indoor championships), was more accomplished on the international level, and is more famous for running than Favor Hamilton is for, well, not exactly running.
Winner: Oregon
Harvard vs Michigan State
Harvard won the first round over Cincinnati with turn-of-the-century sprinter Bill Schick. Michigan State beat Delaware with 20s sprinter Fred Alderman.
This is a very close call. Harvard long jumper Ned Gourdin won Olympic silver in 1924, the same year he broke the world record. Michigan State's Judi Brown-King also won Olympic silver, in the 1984 400 hurdles. Gourdin won three US titles, one in the long jump and two in the pentathlon, while Brown-King won four straight national titles in the hurdles. Gourdin inches ahead because of his world record.
Winner: Harvard
Connecticut vs Villanova
UConn won over St. Joseph's in the first round with still-active hurdler Phylicia George. Villanova beat Milwaukee with 80s miler Sydney Maree.
U Conn's Dudley Dorival competed for Haiti on the international level and his career highlight was a bronze medal in the 110 hurdles at the 2001 Worlds. Villanova's Ronnie Delaney won four NCAA titles, three in the mile and one in the 880, won Olympic 1500 meter gold in 1956, and bronze at the European Championships two years later.
Winner: Villanova