4 Comments
Bolt From the Heavens for Photographer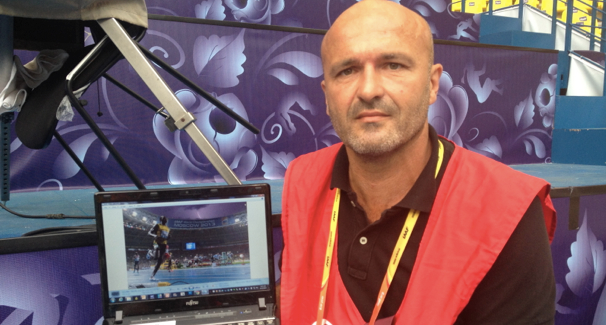 Sunday at the World Championships started off for Olivier Morin like a day at any other world class track and field event. The photographer, who's been shooting professionally with AFP for the past 24 years, took his customary spot in the first row of the photographer's tribune shooting and setting up five remote cameras near the finish line.
Little did he know that Mother Nature would lend some light at a very opportune moment, allowing him to capture a once in a lifetime image: The Double Bolt.
"A half an hour before the race everybody saw the beginning of a thunderstorm and many lightnings. All of us were trying to get those lightnings with the 10,000m which was just before. But to combine the lightning and the racers, it's already difficult with two parameters at the same time," explained Morin.
As Usain Bolt crossed the line and passed by the tribune during the 100m final, Morin took shots and activated his remote cameras. While Bolt entertained the crowd on his victory lap, Morin processed his images trackside on his laptop.
"I'm editing…the remote cameras on this laptop after (from trackside). I went through all of the remotes (cameras) and this is the last one. The fifth one, I go to directly the pictures that are there. I didn't see all of it at first when it was the small images. I just saw Bolt in the frame, because the image was a small size. I say 'Ok, Bolt is in and he looks sharp'. Then I open the picture and say 'Ooo'. There's lightning there and a second shot with lightening, Oh!" And then I notice that there is something there. So here we go."
The image of Usain Bolt and the lightening bolt has now gone viral on social media and other media outlets. In the day and age of Photoshop, the shot looks too perfect. Even the photographer has difficulty to put the image into words.
"It's a difficult picture to talk about, because this one is 99% of fortunate (luck). To instance of lightening. I could have not preplanned this."
"The only thing I am responsible for is the framing and the timing of pressing the button (for the remote camera). The rest is out of my control. The god of weather was with me last night," said a humble Morin.
Morin is insistent that he was just in the right place at the right time. His photographer colleagues have been letting him hear about his new found fame. "Right after, I received a couple of comments. It was mix of teasing and congratulations. All my colleagues know that with this kind of shot is just a lucky day. So it was my day yesterday."
Usain Bolt struck gold for another world title, but lightening also struck for Olivier Morin on Sunday in the form of one in a lifetime image. "To have this lightning just at this moment for Bolt himself. I've got to say, it was my day."
Camera Set-up: Nikon D4, 24 70mm 2.8, 15mm framing lens ; framing on "Moscow 2013 Banner"
Frame Shutter 1/1000 sec 5.6, 4000 ISO, prefocus
Special thanks to Nick Zaccardi @nzaccardi & @NeilYoung