One Comment
2015 College Track Awards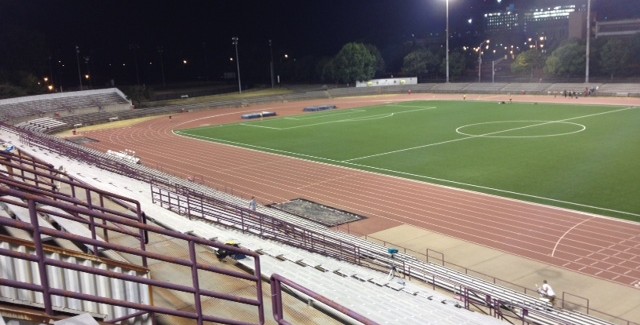 Jesse Squire | On 17, Jun 2015
The season is over and the stadiums are empty. Let's take a look back at the best of the year in college track.
Best Meet, national championship division
The NAIA men's outdoor championship came down to the 4×400. Concordia (Nebraska) was unexpectedly leading by just two points and had to hold off pre-meet favorites Indiana Tech, the top qualifiers in the 4×400. Tech appeared headed towards the win until anchor leg John Hester pulled up with a hamstring injury. Tech scored one in last place, Concordia scored three in sixth place, and the Bulldogs won their first national title in any sport. Other than the 4×400, Concordia scored all of their points in field events or decathlon.
Best Meet, conference championship division
Sacramento State had a healthy lead at the men's competition at the Big Sky outdoor championships with two events to go, but the notoriously deep Northern Arizona distance corps scored 24 points in the penultimate 5000 meters and cut the Hornets' lead to 4½ points.
If Sacramento State could finish in the top three in the 4×400 they would guarantee themselves the win, but the finished fourth by a hair (0.15 seconds) while NAU won the race. It appeared that the Lumberjacks had pulled out the win—but a reread of the meet's results put that on hold. Some field event ties hadn't been scored correctly and fixing those gave Sacramento State a half point. The meet ended in a tie.
"This was the most dramatic finish ever at a Big Sky meet," said Sacramento State head coach Kathleen Raske. "Once I was told that we tied, some of the women ran over to tell the guys and it was pandemonium."
Best Meet, dual division
USC vs UCLA was a classic. The Bruin men were going for a fourth straight win over the Trojans. Early on they lost a point in the 400 hurdles, when Jarrett Gonzales was disqualified. Late in the meet they got it back with an unexpected third place in the triple jump. It all came down to the 4×400, when USC anchor Davonte Stewart pulled away and the Trojans won by that one single point.
Best Race, relay division
I suppose it's debatable whether the Penn Relays men's 4xmile was the "best" relay of the year, but there's no doubt that it was memorable. Since it's debatable, I'm going with the Penn Relays women's sprint medley. Oregon's Annie LeBlanc, who hadn't qualified to the indoor NCAAs, got the baton even with Clemson's Natoya Goule, a three-time NCAA champion. Goule got a lead but somehow LeBlanc hawked her down from behind on the homestretch.
Best Race, individual division
The men's 200 at the NCAA Division I championships was set up as a three-way battle. Each of the three heats was won by a different athlete, all in world-top-ten times: Florida's Dedric Dukes in 20.03, Baylor's Trayvon Bromell also in 20.03, and USC's Andre DeGrasse in 20.09. As they settled into the blocks we already knew it would be the best men's 200 meter race this year, far better than any Diamond League race, but we didn't see the result coming. DeGrasse exploded for a wind-aided 19.58 and left Dukes and Bromell even though they each ran 19.86.
Best Field Competition
At the NCAA outdoor championships women's pole vault, Arkansas' Sandi Morris and Stephen F. Austin's Demi Payne had just barely gotten started when they both surpassed the old meet record of 4.45 meters (14′ 7¼"). Morris faltered first, taking two attempts to clear 4.60 (15′ 1″) while Payne made it on her first attempt. It happened again at 4.65 (15′ 3″), and when Payne made 4.70 (15′ 5″) and Morris missed, she had to pass to 4.75. Neither could make that height and that was that.
Best Athlete, Male
In team sports, "best" and "most valuable" are usually kind of interchangeable. This is not so in track and field and I've separated the awards accordingly. Despite Andre DeGrasse's stunning one-day sprint double at the NCAA Championships, I don't think he deserves the award. Heading into the NCAAs he wasn't even on the watch list for the Bowerman award. For season-long dominance I have to give it to Akron pole vaulter Shawn Barber. Among Barber's many accomplishments this season was taking on and beating the world record holder at the Drake Relays.
Most Valuable Athlete, Male
Oregon's men were a great team this year, and every one of their big meets saw Edward Cheserek playing a huge role. At national championship meet he scored 38 individual points plus a relay leg. He was the fulcrum of two relays at Penn. He was NCAA cross country champion. Honorable mention goes to Illinois' DJ Zahn, a quarter-mile workhorse who played a large part in Illinois' many team wins.
Best Athlete, Female
I have to call this a tie between two pole vaulters, Arkansas' Sandi Morris and Stephen F. Austin's Demi Payne. Between the two of them they hold all of the top ten marks in NCAA history. They each won an NCAA title (Morris indoors, Payne outdoors). They each hold a collegiate record (Payne indoors, Morris outdoors). They split their six head-to-head meetings.
Most Valuable Athlete, Female
I hesitate to give this to Oregon's Jenna Prandini, since she did not compete at the Pac-12 championships and ran only one event at the indoor MPSF championships. But she scored 26 points at the outdoor NCAAs and 23 at the indoor NCAAs and no one else comes close. Honorable mention goes to Arkansas' Dominique Scott, who played a big role in the Razorbacks' wins at the NCAA indoor championships and indoor and outdoor SEC championships.
Team Player
What's a team player? This award winner cannot be an individual star (although they probably would be considered so on 95% of the teams in the NCAA). This person has to be versatile enough to fill holes for the team and do it well.
This year's award goes to Oregon's Annie LeBlanc. She ran the 800 and 1500 and put points on the board at every scored meet save the NCAAs. She ran on the distance medley, sprint medley, and 4×400. She was their #5 runner during cross country season. If stars like Jenna Prandini and Jasmine Todd were the bricks in Oregon's wall, then LeBlanc was the mortar.
Best New Thing
By far the best development in college track is the Pac-12 Network's coverage of track and field. In just its second year, the channel covered seven meets, most of them live, and with high-quality camera work and planning. Improvements can and should be made, but in two years the operation has gone from zero to the best TV in college track.
Worst Moment
Losing when you should have won is bad, and catastrophic injury is worse, but these things are an essential part of sport since the first caveman raced the second caveman from here to there. What should not be part of sport is the shitshow pulled by Beth Alford-Sullivan when she came in as Tennessee's new head track coach. If you don't already know the story, follow the link. It is truly appalling.